One Comment
Ultimate 6er | Vikings: Beer, Books & Binge-Watching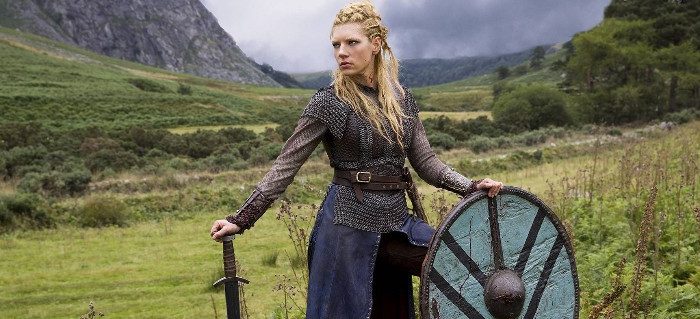 "Soon I shall be drinking ale from curved horns." ~Ragnar Lothbrok, Vikings.
The History Channel's globally-popular Vikings is set to return for its Season 5, Part B this fall. While the drama takes creative license with history, the show itself is captivating and as a bonus, the show sheds light on Nordic (including Viking) culture, which has inspired many to investigate Nordic history. Mostly, it's just a fun TV show and perfect for pairing with beer. Here are six themes (mostly derived from seasons 1-3) coupled with both beers and history books that are meant to help enhance your Vikings-viewing experience. So, binge watch the old shows and then get ready for some more action this fall.
Ragnar Lothbrok & the Viking-England Connection
Book: The Sagas of Ragnar Lodbrok, translated by Ben Waggoner. Troth Publications, 2009.
Beer: Bent Paddle | 14° ESB (ABV: 5.6% | IBU: 32)
An ESB, akin to the Ragnar character, is not what it seems on the surface. ESBs rarely present drinker with any noticeable bitterness; ESBs are usually sweet and malty. However, Bent Paddle 14 Degree ESB (a three-time GABF medal winner), refuses to let its patrons get deceived. The addition of Amarillo hops provides the bitterness along with notes of pine and citrus that play nicely with the sweet, malty flavors typical of most ESBs.
It's a fitting beer for viewing any of the first few years, dominated by the presence of Ragnar. Though he's a skilled, deadly warrior, he is also thoughtful, prefers peace to war, a mere farmer at heart, and a loving father. Moreover, his life is not driven by blood lust, but an immense curiosity about other cultures and lands. His curiosity drove him to defy his Earl (Chiefton) and sail west from Scandinavia to new lands. Sure enough, they discovered England and that drastically changed his fortunes as well as those connected to him.
The Siege of Paris & Rollo Lothbrok
Book: From the Vikings to the Normans, by Wendy Davies. Oxford University Press, 2003.
Beer: Hill Farmstead | Bière de Norma — Bière de Mars style. (ABV: 7%)
https://www.instagram.com/p/BgcIcenhcTC/?taken-by=hillfarmstead
The true historical account, it is argued, of the Viking Seige of Paris occurred in late March, 845. So, what better beer to honor the TV show's portrayal of the French connection than with the March-brewed cousin of the Bière de Garde: the Bière de Mars (March), traditionally brewed by French farmers in late winter or spring. Hill Farmstead Bière de Mars is conditioned in oak barrels with its resident microflora.
As portrayed on the show, Ragnar's brother Rollo continually waffled between his love and dedication for his powerful brother and resenting him and fighting against him. Rollo fought with his brother Ragnar in the first attempt on Paris, only to be thwarted by the Frankian troops inspired by Princess Giselle. By the second siege, Rollo had already switched sides, marrying Giselle and leading the Frankina army in its defense against Ragnar and the Vikings. In real life, Rollo grew to become Duke of Normandy, though he often struggled with his loyalty to the Christian Franks vs his Viking roots.
God vs. Odin & a Conflicted Athelstan
Book: Norse Mythology by Neil Gaiman, W.W.Norton & Co. Reprint 2018
Beer: Lost Abbey | Devotion Belgian Blonde Ale (ABV: 6%)
https://www.instagram.com/p/BkOY1k0Dvta/?taken-by=lostabbey
One consistent theme involves both Christian and Viking devotion to their respective faith, be it Odin or God. So, what better way to honor that idea than to drink Lost Abbey Devotion, dedicated to the monks who brew. The beer enjoys profound hoppy aromatics and flavor, along with sweet and earthy notes. But its lightly-bodied nature and dry finish make for a crushable beer.
Speaking of monks, no one character personifies the show's spiritual conflict more than Athelstan, an English monk (priest) taken as a slave by Ragnar in the first season. Ragnar eventually comes to love him deeply as a trusted friend, if not an adopted brother, which troubles many. Athelstan turns away from God to Odin & Thor, only to go back, and then back again — it's a struggle for him. To Ragnar he proclaims, "In the gentle fall of rain, I hear my God. But in the thunder, I still hear Thor."
In a later episode, both King Ecbert (or Ecgberht) of Wessex and Ragnar discuss their respective religions and, while they proclaim faith to their respective gods, also note agnosticism because they are not entirely sure they believe either God or Odin to be real. 
Blood: Faith & War
Book: A History of the Vikings, by Gwyn Jones. Oxford University Press, 1984.
Beer: Dogfish Head | Flesh & Blood IPA  (ABV: 7.5% | IBU: 45)
https://www.instagram.com/p/BknaNtZFnBn/?taken-by=dogfishhead
Christ shed his blood. The Norse gods require its followers to make a pilgrimage to Uppsala, which includes an animal and human sacrifice (according to the storytellers in Vikings) — blood is shed, blood is honored. And, of course, blood is part of war. In fact, the more the two cultures clashed, the more blood was shed. But, whether it be for war or faith, blood always came as form of sacrifice.
With that in mind, it's almost too fitting that Dogfish Head makes a beer named Flesh and Blood. Dogfish Head describe the beer eloquently, "Brewed with mouth-puckering lemon flesh, sweet orange peel and blood orange juice, Flesh & Blood balances the resinous hoppy characteristics of an American IPA with the explosive zesty fruitiness and subtle drying tartness of citrus to deliver a highly quaffable ale that's incredibly unique and lovely to down the whole year round."
Strong Women
Book: Women in the Viking Age, by Judith Jesch. Boydell Press, 1991
Beer: Urban Growler | Golden Hammer IPA (ABV: 7% | IBU: 70)
There are innumerable strong women depicted on Vikings. The women are part Jane Addams, part Dolly Madison, part Joan of Arc and part Wonder Woman. The women on the show fight, care for the young, support male leaders, are leaders themselves, care for the community, and endure a multitude of strife.
You might even say quite a few women on the show are full-on bad asses, especially Lagertha.
A wonderful beer to toast Viking and Norse women while watching the show is Golden Hammer IPA from the female-owned Urban Growler. The beer combines the warrior-mentality of a hoppy, bitter, West Coast IPA with the tenderness of an Eastern U.S. malty brew. And with a name like Golden Hammer, I mean, c'mon — perfect!
Loki, Shipbuilding & Sailing the Seas
Book: Vikings: The North Atlantic Saga, edited by William W. Fitzhugh and Elisabeth I. Ward, Smithsonian Institution Press in Association with the National Museum of Natural History, 2000
Beer: Longship Brewery | Loki's Wit with Blueberries (ABV: 5.25% | IBU: 20)
https://www.instagram.com/p/Bki89aoFS-q/?tagged=lokiswit
Loki is both a Norse god and a character on the show — though just a man on the show. Loki built the (tremendous) ships that allowed Ragnar to sail west.. A subtle point made by the Vikings show is that the Vikings could only do their exploring and raiding if they not only proved to be good navigators but had ships that could endure a multitude of oceanic conditions.
Loki proved to be a multi-layered, complex individual, and Loki Wit is multi-dimenstional in that it offers banana, fruity esters, orange and coriander, and a bit sweet maltiness and just the slightest hint of chilies. And the addition of blueberries make for one flavorful beer. Complex, indeed.
---
In the end, this video says it all about the show and the mainstream view of Viking culture. 
---