No Comments
Hill Farmstead | Daybreak Imperial Stout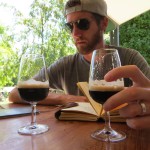 10% ABV
Driving up the snow covered dirt road to Hill Farmstead Brewery brought flashbacks of days growing up in the green hills of Vermont. Once the cell service vanished and 4-wheel drive became a necessity to get up the hill of ice, I drifted toward those memories of younger times. Today was apparently a good day because the line was only an hour long and remained contained indoors. As a 'newb' to the brewery, I tried to act natural and not stick out like a leaf-peeper (someone who visits Vermont to look at the foliage) and rehearsed my order over and over in my head. As my time came to order, I purchased everything they had to offer. One bottle I was particularly excited for was the Daybreak Imperial Stout, which is an Imperial stout brewed with citrus and aged in French orange liqueur barrels. It was a limited release collaboration with Mikkel Borg Bjergsø of Mikkeller and only available at the brewery.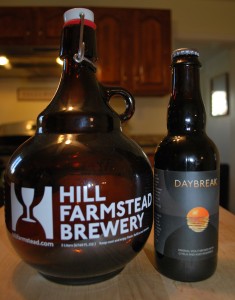 Immediately after opening it, the dark chocolate aroma was quickly overtaken by the sweet smell of the alcohol. The presence of the French orange liquor barrel flooded my senses. Under the sunlight, the thick, dark, brown color turned to a range of hues ranging from orange to red. Upon first taste, the creamy soft brew is reminiscent of a barleywine, with bittersweet chocolate and stale espresso on the front of my tongue. Instantly the warmth from the alcohol showed up in the back of the mouth and throat.
I'm always excited to try anything from Hill Farmstead and I highly recommend taking a trip there. Only a few bars in Vermont have Hill Farmstead on tap (usually only Edward), so if you want to try the other amazing beers you'll need to make the trek yourself. It is truly an experience of uniqueness of what they have to offer. If you get up there in time, pick up a Daybreak, a true solid Imperial stout to store until the next winter night.