No Comments
Dogfish Head Expansion into Canned Cocktails Was Only a Matter of Time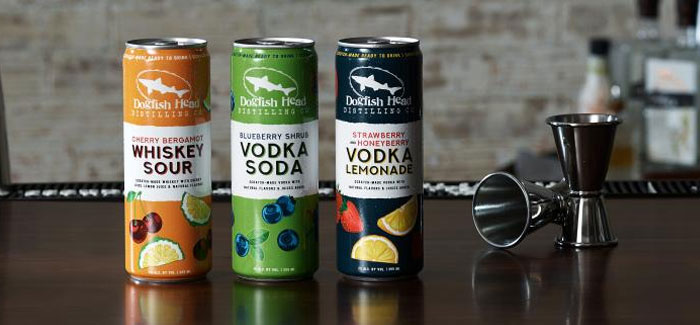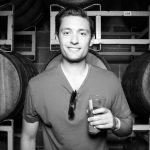 Growing a sustainable, repeatable business is the dream for any business owner. When you have both of those tenets down, the next step is a bit harder. Do you stick or twist? Do you keep with the status quo, with what works; or do you move, expand and innovate to stay ahead of market forces and competitors alike? Whether it's a foray into NA, good-for-you beverages, an ambitious oat-milk Hazy IPA collaboration or an adventurous brewpub expansion in Miami, it's clear that Delaware-based Dogfish Head Brewery continues to twist. Their recent expansion of taking their canned cocktail program nationwide, by leveraging their in-house distilling program and national distribution network, is yet another example of how the brewery continues to make moves in the face of a tumultuous craft beer marketplace. Here are the details.
Interested drinkers can now find Dogfish Head Blueberry Shrub Vodka Soda, Strawberry and Honeyberry Vodka Lemonade and Cherry Bergamot Whiskey Sour canned cocktails at stores across the nation. The launch represents the first time that folks outside of Delaware and the mid-Atlantic can get a taste of the spirits produced by Dogfish Head's distillery program. 
Much like making a cocktail, having all of the necessary ingredients needed for the perfect drink — or to expand into the canned cocktail business — makes the initial undertaking a heck of a lot easier. Dogfish Head has been using their scratch-made spirits, which are produced in-house by their distilling program, to create drinks for their James-Beard nominated cocktail program for years. They also have nationwide influence and a national distribution network you'd need for a large-scale launch of a canned cocktail product.
Developed to accentuate the nuances of our malt whiskey, our ready-to-drink Whiskey Sour Canned Cocktail is made with our scratch-made whiskey distilled with tart cherries and highly-fragrant, citrusy bergamot oranges then blended with our house-made sour mix. 🍒 #exploregoodness pic.twitter.com/clYZpszVxK

— Dogfish Head Brewery (@dogfishbeer) May 12, 2021
The one hurdle left was regulatory. While Dogfish Head's beer is available nationwide, it turns out that it's a lot more difficult to get canned cocktails launched in similar markets due to the unique spirits-based liquor laws of each state.
"Bringing our Canned Cocktails to markets across the U.S. required a lot of research to understand each state's alcohol laws as they relate to spirits, spirit-based beverages, FMBs and more," said Sam Calagione, Dogfish Head's founder and brewer. "We had to develop an understanding of how each market views a Canned Cocktail beverage … can it be sold with the FMBs? Does it have to be sold only in state-controlled liquor stores? The questions were rigorous, but our awesome teams of co-workers were able to navigate the regulatory waters with grace and I'm beyond excited that our Canned Cocktails are now available in 38 states across the nation."   
The new canned cocktails also give Dogfish Head the ability to expand the brand beyond its customary packaging. While tenured Dogfish Head drinkers are used to the customary dogfish shark emblem and primary green labels on 12oz aluminum cans and glass bottles, the packaging for the Canned Cocktails is a bit different — plus it'll be present in a different aisle of your liquor store entirely. 
Each 'skinny' can of Dogfish Head Canned cocktail boasts a wrap-around color meant to highlight the high-quality culinary ingredients found inside. For example, the Whiskey Sour variety boasts an orange color theme, meant to invoke the citrusy bergamot orange flavor notes that pair delightfully well with the Dogfish Head Distillery malt whiskey inside. As a side note, this one was my favorite of the three. The Dogfish Head logo is still there, but the company makes it clear that these drinks are spirit-forward with the addition of the Dogfish Head Distillery label prominently displayed on each can. 
Our Blueberry Shrub Vodka Soda was inspired by the bartenders at #ChesapeakeAndMaine, our seafood & cocktails spot in Rehoboth Beach! The deep, burgundy-colored libation is a flavorful refresher, with two shots of our vodka in each 12 oz. can! 🍹 #exploregoodness pic.twitter.com/j5uMYNqXJE

— Dogfish Head Brewery (@dogfishbeer) June 3, 2021
While the new branding might seem a bit off-base at first for drinkers, Calagione is confident that the off-centered branding that has become customary for the growing drinks company will shine through in the end. "It may take a little more time for folks to get used to seeing us in the Canned Cocktail space, but I believe wholeheartedly that the same off-centeredness portrayed by our beer packaging is present in our Canned Cocktails packaging too."
What's next for Dogfish Head? According to Calagione, the issue that is top of mind is getting these drinks in stores across all 50 states, which means 12 more state regulatory hurdles to go. With the launch in 38 states fully underway, Calagione expressed excitement on how consumers have reacted to the new drinks, especially in markets that might not have had access to Dogfish Head distillery products beforehand. 
"The drinker response for our Canned Cocktails has been overwhelmingly positive," said Calagione. "The Dogfish Head fans and off-centered spirits lovers outside of the coastal Delaware and Mid-Atlantic areas seem to be the most excited, as they can now purchase some of our scratch-made distillery products in their home markets."
Dogfish Head canned cocktails are available now. If you're sick of hard seltzer or curious about spirit-forward drinks, I recommend you check them out. 
Feature photo courtesy of Dogfish Head Brewery
Disclaimer: Dogfish Head sent me samples of the canned cocktails 
---