No Comments
Perfect Timing: How the New Dogfish Head + Brouwerij Rodenbach Partnership Came to Be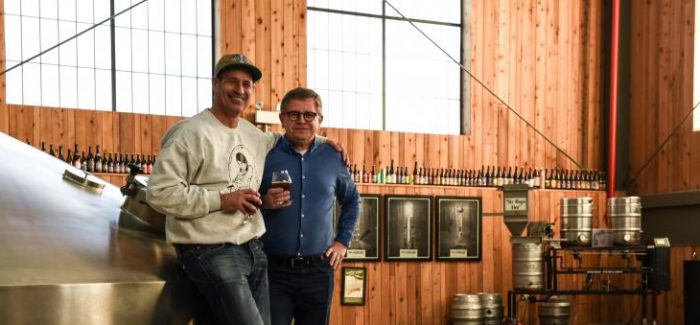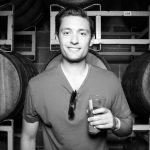 Brewers collaborate with each other all the time. The results are usually pretty good and often buzzworthy. Then, there are those collaborations that make your eyes light up and your tastebuds salivate at the thought of two sour beer-brewing masterminds coming together to create something truly special that is primed to set the market ablaze – if executed properly. The new international collaboration between Delaware-based Dogfish Head and Belgium sour stalwart Brouwerij Rodenbach has the potential to do just that.
The inspiration behind the new partnership wasn't planned or scheduled; instead, it came as purely coincidence during a sour beer panel at the 2018 Craft Brewer's Conference in Nashville, Tennessee. RODENBACH's head brewer, Rudi Ghequire, was speaking on the panel that also included Bill Marchi, head of "Wooden…It Be Nice!," Dogfish Head's wild beer and barrel aged program. The two quickly hit it off; they bonded over the similarities between the two brewing behemoths located thousands of miles apart.
"We noticed striking similarities between our breweries – family-owned, independent and a deep expertise in brewing which got us talking and thinking that now is the right time for RODENBACH to take this step, and Dogfish Head was the perfect partner for us," said David van Wees, President of Swinkels Family Brewers Imports, the North American importer for RODENBACH.
After discussions at Dogfish Head's Milton, Delaware facilities later that year, the two sides came to an agreement and the partnership was born. The new sour beer will merge together the oak-aged mixed-fermentation ale brewing expertise of RODENBACH with Dogfish Head's experience crafting light and approachable session sours like the fast-selling SeaQuench Ale. It is also the first time that RODENBACH has collaborated on a beer in it's nearly 200 year history. A pretty big deal indeed.
https://www.instagram.com/p/BtRTssqgpOF/
To illustrate just how exciting the announcement is, PorchDrinking was able to get a few exclusive quotes from the brewers behind the new collaboration. We asked them what they're most excited about with this new sour beer.
"We have been brewing sours and wild ales for over two decades.  It's humbling to think Rodenbach has been doing it for over two centuries.  We had a creative breakthrough when we came up with the recipe for SeaQuench Ale a few years ago and it is now the best-selling sour.  I am confident between our brew team and Rudi's we are going to create something similarly groundbreaking with our collaboration recipe." – Sam Calagione, founder and CEO Dogfish Head

"Getting to know Sam has been a great pleasure already, and we can't wait to get started on creating a beer for all to enjoy.  We're also really excited to learn from the best on how to promote a beer in the US market, opening up new doors to consumers who may not be familiar with our products." – Rudi Ghequire, Master Brewer, Brouwerij Rodenbach
The two breweries plan to brew and blend the sour beer in America sometime later this year; their ultimate plan is to launch the new offering in early 2020. After the American launch, there's also potential for a secondary release in RODENBACH's home market. If the beer is as good as the brewers making it and the hype they've created, craft beer fans will line up in droves to try it out. I know I will. Cheers!
Feature image courtesy of Dogfish Head
---