No Comments
A Tale of Two Sours | Anderson Valley Gose and Great Divide Belgian-Style Sour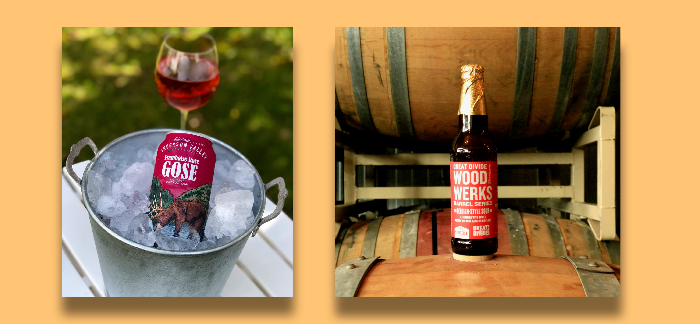 It was the best of sours, it was the best of sours. My apologies to Mr. Dickens, but the tale of these two sours from two different breweries located in two different regions, and enjoying two different histories, is a joyful one. So, do you prefer California or Colorado? Kettle or Barrel? Belgium or Germany? It doesn't matter. You can have whatever you want because beers like these exemplify how we as craft beer fans are indeed living in the best of times.
Wood Werks Barrel Series #1: Belgian-Style Sour | Great Divide Brewing Co.
Ale brewed with spices and aged in red wine barrels on plums
ABV: 9.3%

Let that title and description sink in before you read this. Sure, the infamous Great Divide Yeti might be the face of the brewery, but the sour Belgian-Style Tripel is emblematic of the brewery's skill in developing a diverse, well-crafted beer portfolio. And there are more sours to come from the Denver/Boulder brewery because, as noted by CraftBeer.com in January, Great Divide recently invested in two temperature and humidity controlled barrel aging rooms that will allow for more sour-beer production.
The yeast-forward Belgian tripel spent 15 months in red wine barrels and then, when it emerged, presented to drinkers a lovely, tart Belgian-style ale complemented by spices, French oak infusions and stone fruit notes imparted by the plums. The dry finish offers an experience similar to wine or cider (the golden appearance almost looks like a cider), but that's where the comparison ends. The base beer shines while the funky sour notes hit the nose the second one pours the beer—a superb example of a well-crafted, barrel-aged sour beer.
Though its coming to the end of its availability, one would suspect that there's still a few around. If not, the beer sheds light on Great Divide Brewing's deft skills in managing a barreling program and producing a variety of sour beers. So, If you missed this one, get the next one.
We've still got a few of these gems left! The first release in our newest barrel aging series, Wood Werks, this Belgian-style sour really set the bar high for the rest of the series. If you haven't tried it yet, hurry in to snag one of the last bottles ever! pic.twitter.com/OZkkP6oUjX

— Great Divide Brewing (@greatdividebrew) March 28, 2018
Gose brewed with rose hips and fresh raspberry puree.
ABV: 4.2%
The genesis of gose-style beer occurred during the 10th century, receiving its name from the saline-rich River Gose in Germany and praised by Emperor Otto III (ruled 983 – 1002), according to the The German Beer Institute. However, the Bavarian purity law (Reinheitsgebot) put the kibosh on the gose for several hundred years.
But, that's not a problem anymore, proven by the vast selection of gose-styles produced by Anderson Valley Brewing. I suspect if Otto III could find a DeLorean, he'd travel to 21st-Century California and pull up a stool in the Anderson Valley tasting room.
The kettle-soured Framboise Rose includes the addition of rose hips (an accessory fruit of a rose plant) to the boil, and then fresh raspberry puree gets added towards the end of the fermentation process. The beer pours golden with a light ruby hue color. One will discover berry flavors on the nose and then the gose provides drinkers with a complex, but well-composed, flavor profile consisting of the necessary saltiness along with tangy raspberry and hibiscus-like notes. Framboise Rose is part beer, part beer-cocktail, allowing it to satisfy a multitude of individual tasting preferences.
Sundays were made for Rosés. pic.twitter.com/jv3zMtYGiw

— Anderson Valley Brew (@avbc) April 1, 2018
Conclusion
The beauty of craft beer is not that you need to like every beer, but rather that you can appreciate the brewing prowess demonstrated by the likes of Great Divide and Anderson Valley. Great Divide's homage to Belgium and Anderson Valley's resurrection of an old German brewing style speaks to their skill (and creativity).
What beers like this truly demonstrate is that the worst of times, say pre-1980, has transitioned to the best of times… and there's no end in sight. The convergence of historical techniques and modern ingenuity continue to propel the industry forward. So, revel in it. Enjoy it. Drink it up!
Feature image courtesy of Great Divide Brewing and Anderson Valley Brewing.
---