No Comments
Begyle Brewing to Release their Barrel-Aged Beers Starting Friday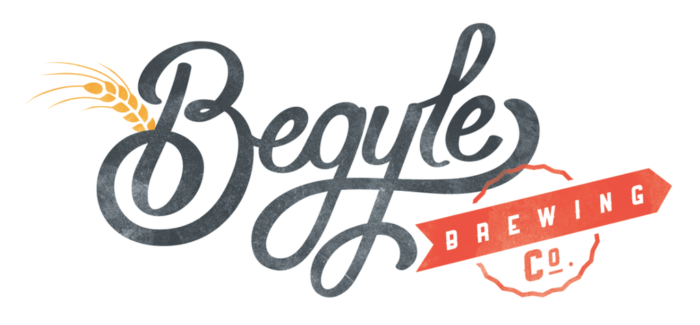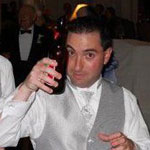 In Chicago, in November, it's almost impossible to not run into a great barrel-aged beer. Begyle Brewing will release two of its own starting on Friday (Nov 17) and both are worthy of standing in line to get. Barrel-Aged Imperial Pajamas will be released on Nov 17th, with Batch 500 being released the following Friday.
A smaller barrel-aged lineup than some of the other breweries in Chicago, both of Begyle's barrel-aged beers are incredibly well done and posses complex flavors and tasting notes. I got to try Barrel Aged Imperial Pajamas, an oatmeal stout, and Batch 500, a Barleywine, before the release. Here's what I thought.
Barrel-Aged Imperial Pajamas | 13% ABV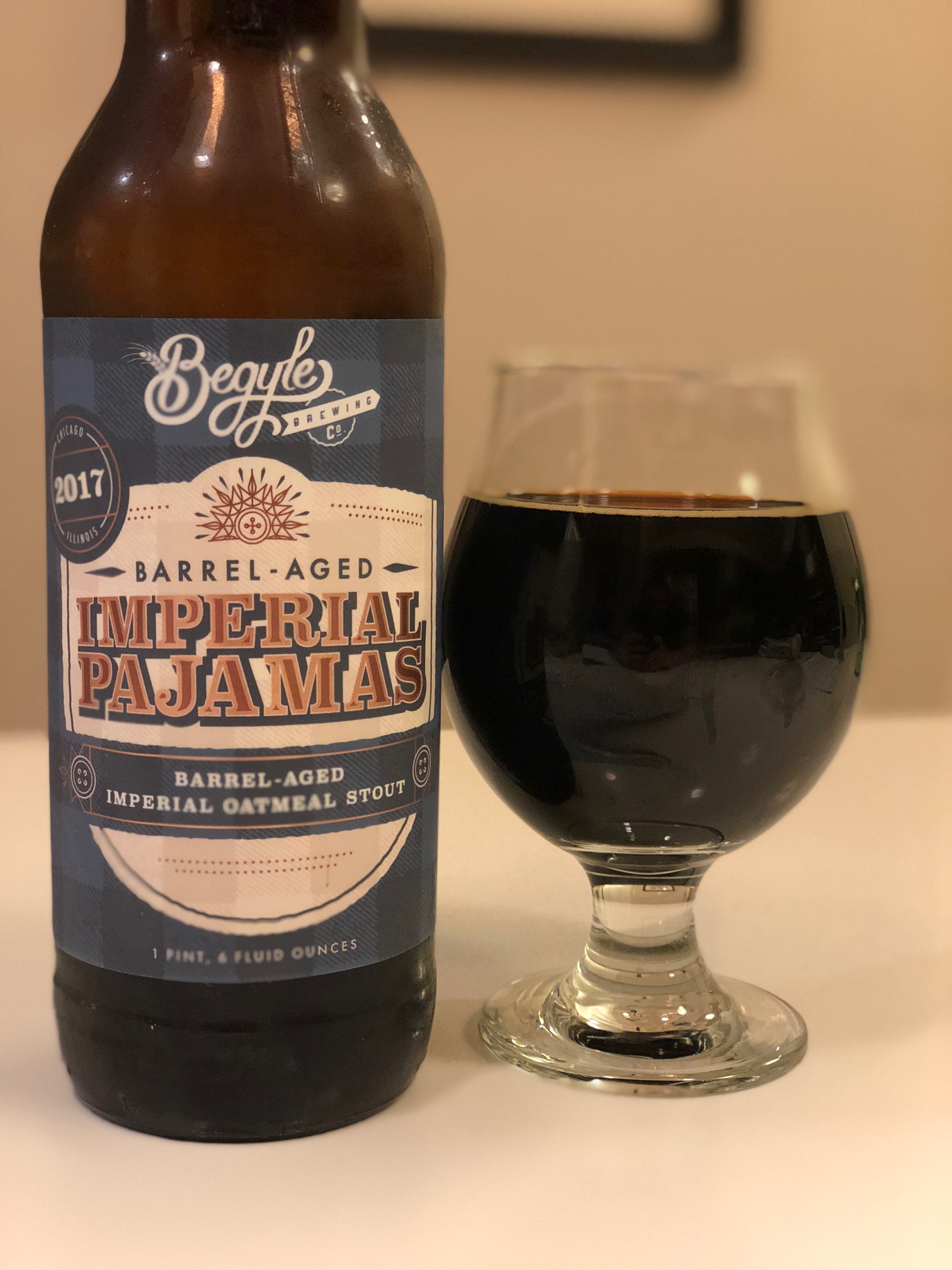 Perhaps one of the most complex flavor profiles of any barrel-aged stout I've ever had, Imperial Pajamas can best be described as a melody of flavors that changes throughout the taste.
BA Imperial Pajamas spends six months in Heaven Hill barrels, resulting in a smooth and velvety sip.
The aroma of this beer might be a bit misleading. A strong whiff of bourbon, oak and caramel flood your nose and you might think the beer will be a little hot. Make no mistake, the nose, while a bit more forward of bourbon and oak than other barrel-aged beers, is pleasant and not harsh at all.
When you go to take your sip you'll quickly see what I'm talking about. There's very little heat to this beer as the flavors are the star and not the booze. As I mentioned above the flavor profile is incredibly complex.
It starts with the bourbon, oak and caramel flavors you got on the nose. But then notes of toasted coconut come next and it's wrapped up nicely with chocolate that lingers on the tongue following the sip.
In one sip you go through a wide variety of flavors that is fantastic. Each level plays off one another well and it's a very enjoyable beer. I really loved how the chocolate stayed on the tongue once you were done with the sip. The late sweetness stays with you as you finish taking your drink.
Batch 500 | 12.7% ABV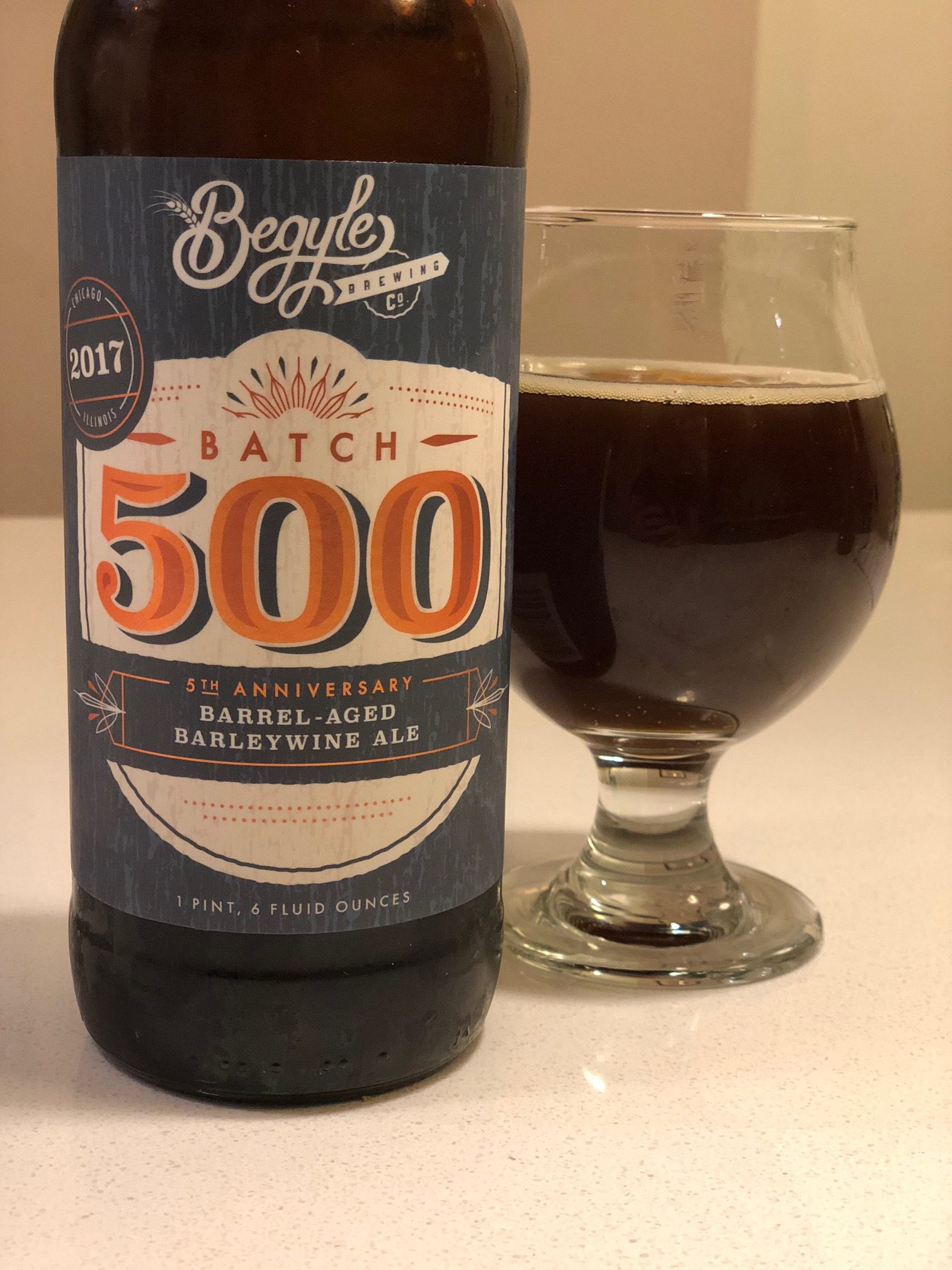 Celebrating its fifth anniversary, Begyle made the barrel-aged barleywine its 500th beer. Spending six months in four-grain whiskey barrels from Koval Distillery, its a quintessential barleywine-style beer.
The color is simply sublime. That dark amber/caramel color pours with little head out of the bottle. A heavy aroma of raisin and molasses stays true to the barleywine way.
As with BA Imperial Pajamas, Batch 500 is exceptionally balanced with a little heat and the barrel infusing terrific flavor that contrasts with the base beer nicely.
On the taste of Batch 500, you'll get strong molasses flavors tied together with caramel and of course raisin. Late oak from the barrel rounds out the taste.
I really like when a barleywine heavily features molasses and caramel rather than go heavy with raisin notes. That is what Batch 500 accomplishes. All the flavors are there, but not one overpowers the rest, creating a really delicious barleywine.
Release Information
November 17, starting at noon.
22 ounce bombers: $18 each 

9 ounce pours: $13

5 ounce pours: $5
For all the information on the release, click here.
MIKE ZOLLER IS THE MIDWEST EDITOR FOR PORCHDRINKING.COM. FOLLOW HIM ON INSTAGRAM: @CHICAGOBEER AND PORCHDRINKING CHICAGO'S TWITTER FEED FOR THE LATEST CHICAGO CRAFT BEER NEWS: @PORCHDRINKCHI.
---