One Comment
Great Divide | 20th Anniversary Celebration Recap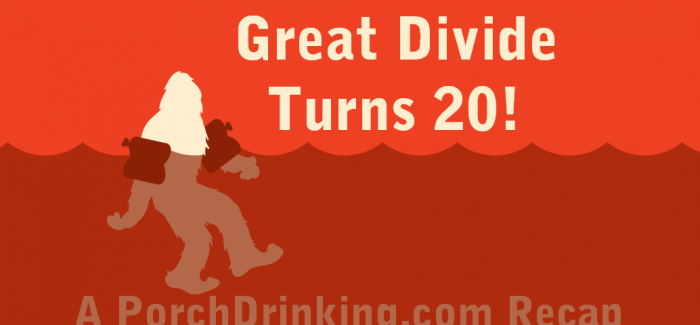 This past Saturday we celebrated Great Divide Brewing Company's 20th Anniversary with 2,000 of our hop cone compatriots in Denver, CO!
A long, line of craft beer connoisseurs formed on Brighton Boulevard. Cars slowly passed by looking for open parking spaces; patrons cruised in on their two wheelers and entered into the queue for bicycle valet (free courtesy of our friends over at Denver B-Cycle). A line of kegs outlined the entryway with Great Divide staff members donned in their 20th anniversary red shirts and sporting the largest of smiles. They knew what we were in for as we were wrist banded. . .
A food ticket for a hefty snack from one of Denver's finest food trucks( Basic Kneads Pizza – PinkTank – Burger Radio Food Truck– Street Eats 5280 – White Whale – Big Country Bar B Que ), "CORNHOLE" boxes set out for those gaming folks, live music from Gin Doctors | VARLET | Dirty Few | Confluence | MILE HIGH SOUL CLUB, barrels on barrels of special beers straight from the barrel and jockey boxes full of tasty pilot series beers, and photo booth. Oh, and then the rain gods let the sky crack open and provide some much needed reprise from the hot summer sun. Sure, we took cover from the big rain, that didn't stop us one bit from running out for the fanatically awesome liquidity waiting for us at each brew tent!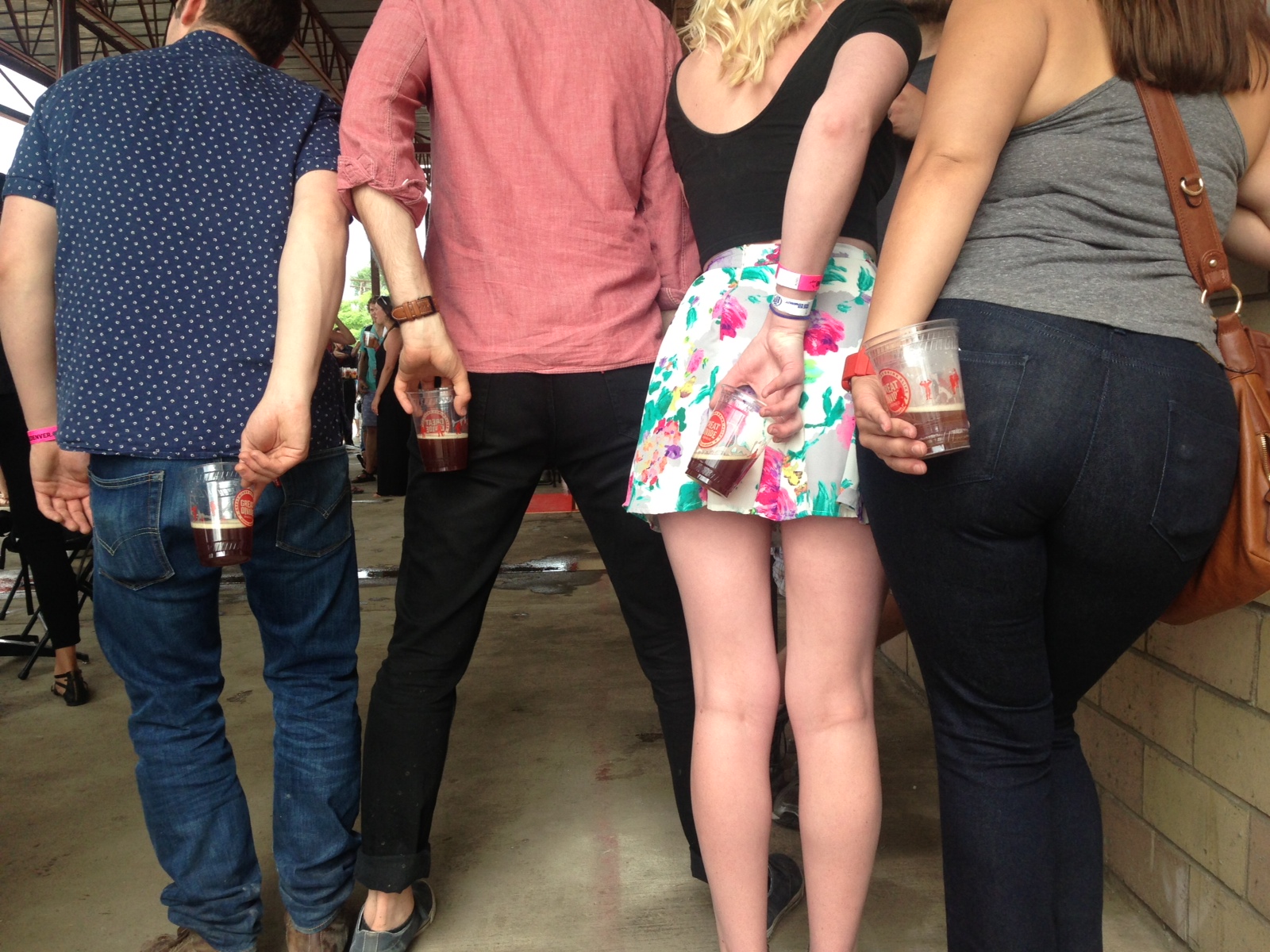 Fast forward 18 hours, the Denver PD'ers (Christopher Day, Chelsea Mitchell, Laura Graham and yours truly) recap the events that transpired.
What was everyone's favorite beer?
Red Comet was our group favorite. It was almost a consensus all around. We can't wait for a bigger production of this to be bottled or in accounts around town. It was also our "holy shit, it's raining but I need a beer" beer. Chris we huddled around the prized possession after each PD'er made it back with the bounty. All of us looking like baby birds waiting for breakfast. In short, please please keep making this a Flanders-esque dark brown sour ale – sweet with pucker power and notes of fruitiness. Chelsea's notes on this beer were as follows, "I would run through the rain to drink it." And that's just what she did. And we are so thankful she tromped through the rain to snag that delicious goodness.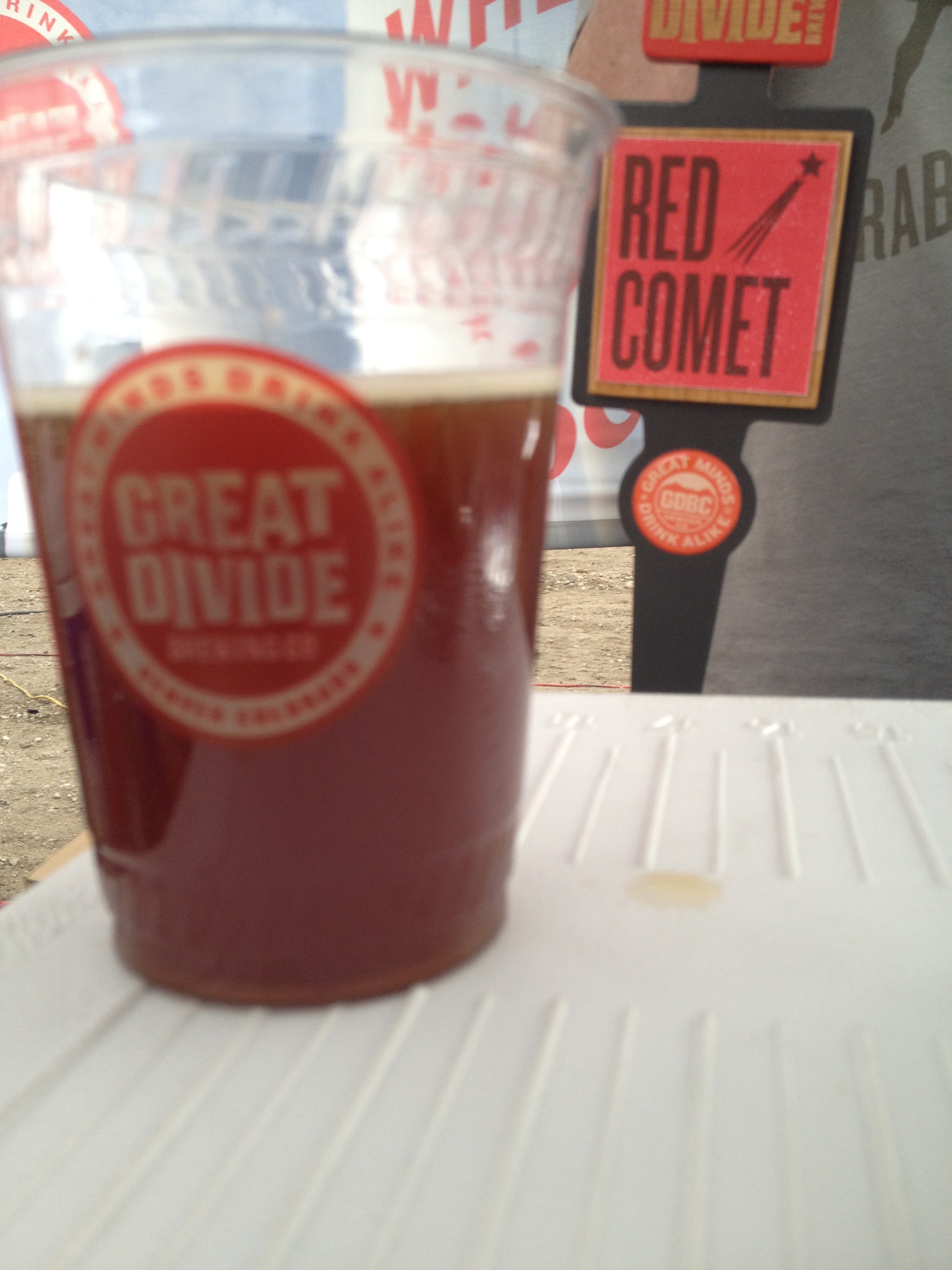 Some of our other favorites were of the saison persuasion. "Yeiser" was tart, well carbonated, fruit, and high alcohol. A specialty grain, brett barrel aged Colette. This is another pilot beer we would love to see more of.  *hint, hint* For now, we will have to stick to "Hey Day." Or as Chelsea rightly stated, Hey Day is like Yeiser's weaker, less sour sister for when you just need something light and tasty on a hot day by the pool.
Another pilot series saison we fell in love with at the anniversary was another variation of Colette, named Barbara. Laura reports back on the beer the best by saying, "Barbara all day every day. My favorite used to be Collette until they started offering it year round. Barbara's pretty little face stepped in and filled that hole!"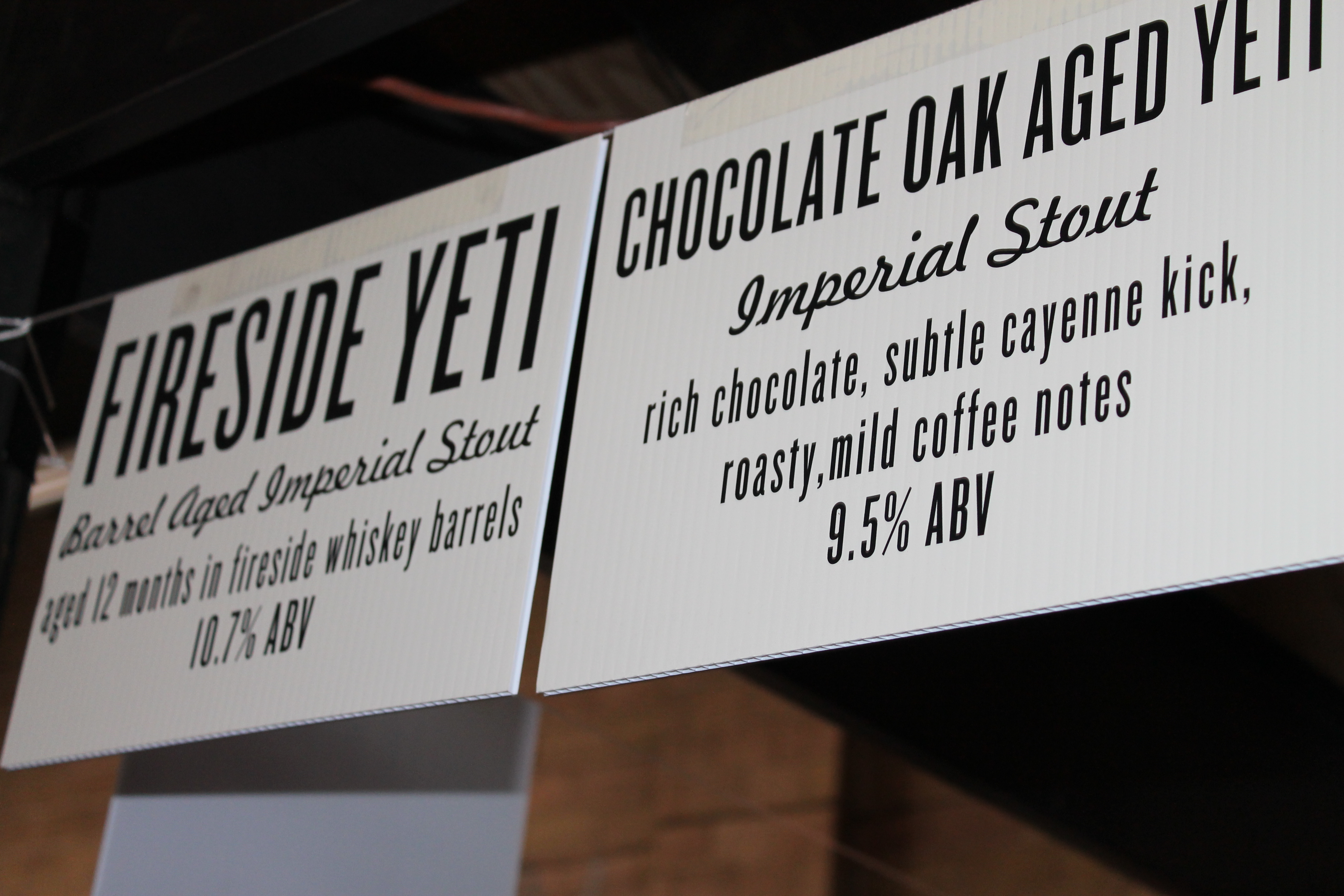 Sadly we missed out on the Vanilla Bean Yeti. We really wish we would've tried the Vanilla Bean Yeti. Chris was able to sample some O.G. Yeti in one of the floats that White Whale was crafting up. I sampled the Fireside Barrel Aged Yeti and luckily it was only a six hour pour. Because . . . that shit is trouble! It was sooo good. This variation on the mythical beast and the already expansive #Yetimafia portfolio is a deep, inky, intensely coffee-tinged brew that shows huge notes of molasses, licorice, bitter chocolate, roasted figs, gunpowder, and a deep, satiny java character that's absolutely seductive.
What food trucks did everyone hit? Any pairings that were to die for (run in the mud and rain for)?
Chelsea M: I got the when in Rome by Pink Tank and I was drinking hey day at the time. The pairing wasn't intentional but it was great. Hey day was the perfect thing to cool off the fire blazing in my mouth from the sandwich – I'm a baby when it comes to heat.
Cory P: I got the half double from burger radio and was drinking the Cathy saison. Also unintentional but now that I know it was a match made in heaven, I want it right now! #droolstatus
Laura G: I had the chicken and waffles from Pink Tank and I stole my friend's Helles to drink with it. It was a great choice to offset the salt and spice.
Cory P: Yum. That was the chicken leg and quarter piece? I saw that. Gah. It looked so good.
Chelsea M: Should we go grab some beers and chase food trucks around?
Christopher Day: I had a chicken taco from Moontower while drinking Lasso – perfect pairing.
Great Divide gave us a handful of reasons to attend the event in advance. We took their advice without a second though, and were we ever blessed by following their advice? You better believe it! You know what? They were not fooling! That was one hell of an event!
After snagging a few more tasty beers (Showdown Rye IPA and the hoppy wheat, H'Wheat to just name drop a bit), the event closed 30-45 minutes later than scheduled to make up for the time lost while patrons were hiding out from the aforementioned rain and mud bogging. The cloudy night set over the lot that would soon be the future second home of Great Divide. We looked back knowing that we had experienced just a taste; a sip of the "true" party to come.
Looking back, we rejoice in our memories of another successful anniversary party that was as tasty as lightning in a bottle and we bid adieu until we step inside their taproom next. We wish them the best of luck on their upcoming expansion and on their next twenty years!