No Comments
Brewing News Roundup | Several New Beers Are On The Way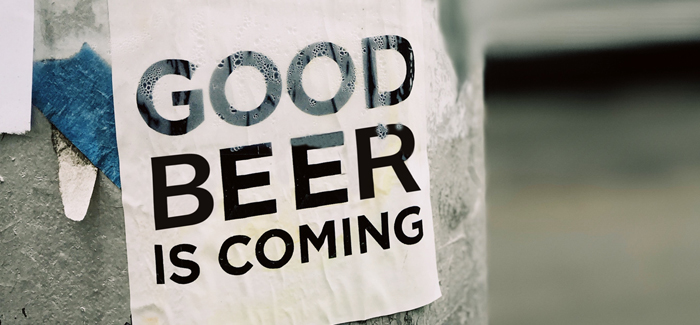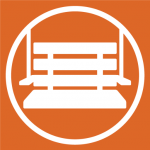 While we can't pretend to list every new beer release, here are several tasty tidbits that have come across the PorchDrinking.com desk from around the nation. New beers, new packaging, new collaborations and so much more.
Jump to the beer release(s) from the following breweries:
Avery Brewing | Bear Republic | Bell's Brewery | Brewery Ommegang | Firestone Walker | Forbidden Root | Fremont Brewing | Green Flash | Great Divide Brewing | Modern Times Beer | Moody Tongue | New Belgium Brewing | Reformation Brewery | Rogue Ales & Spirits | SweetWater Brewing | Terrapin Beer Co. | Hopstix
Avery Brewing | Botanicals & Barrels Series: Ginger Sour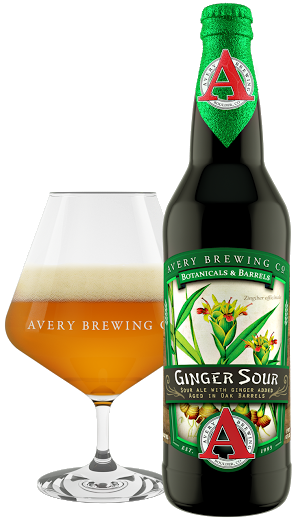 Boulder, CO – June 12th, 2017 — Avery Brewing Company, a Boulder-based craft brewery and maker of White Rascal Belgian-Style White Ale, is thrilled to announce the release of its sixth installment of the Botanicals & Barrels series, Ginger Sour. This bright, spicy, and tart barrel-aged sour ale is available starting on June 16th.
Ginger juice, hailed for its cleansing and restorative flavor, is being sourced from a local Boulder company, Pressery. "This beer is definitely on the spicy side because we are getting very fresh ginger juice from the Pressery and are using it within the first 24 hours", says Andy Parker, Chief Barrel Herder at Avery Brewing Company.
Ginger Sour will prove to be a new flavor experience for a lot of people since it is quite different from the popular non-alcoholic ginger beer that most are familiar with. The tart, dry component of the sour shines through the spicy and herbaceous character of the ginger. Coupled with months spent aging in oak barrels, this beer is complex and earthy. It is the perfect palate cleanser and pairs extremely well with sushi and Asian-inspired dishes.
"We have been making ginger sours in the taproom for four years and every time we put one on tap, it instantly becomes one of our top sellers", says Parker. "Since it is a new flavor profile for many craft beer drinkers, we sometimes have had to give a sample to those who are a little skeptical, but one they try it, they are always a huge fan".
With the addition of Ginger Sour, the Botanicals & Barrels series is complete (for now). After many years of development, Avery Brewing is proud to display a line-up of six beers, Vanilla Bean Stout, Raspberry Sour, Tangerine Quad, Apricot Sour, Coconut Porter, and Ginger Sour, all aged in oak barrels for at least three months and only use real ingredients.
"We are not only focused on making our barrel program the biggest out there with annual production of multiple different styles of barrel-aged beer" says Adam Avery, founder and CEO of Avery Brewing, "but more importantly we are committed to making it the best and highest quality. I couldn't be more excited to see the reaction of our fans when these barrel-aged beers get in their hands".
All six Botanical & Barrels beers are available year-round in 22-ounce bottles and nationally distributed.
(Back to top)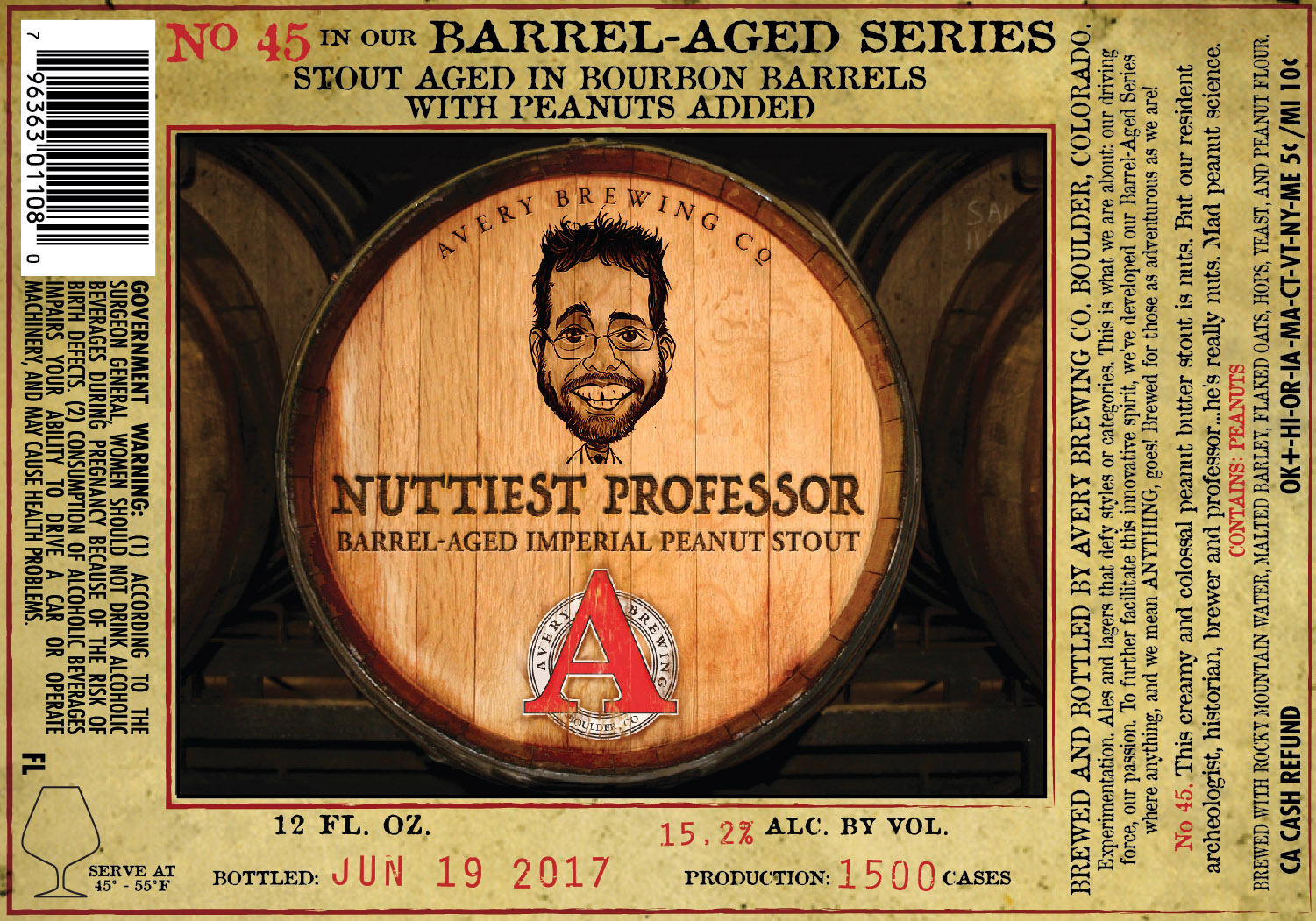 Boulder, CO – June 16, 2017 — Avery Brewing Company, a Boulder-based craft brewery, and maker of White Rascal Belgian-Style White Ale, is thrilled to announce the release of Nuttiest Professor, a bourbon barrel-aged peanut stout. It will be available on draft at the Boulder-based brewery on June 26th and will start to hit shelves across the nation throughout July. This beer is Avery's 45th Barrel-Aged Series beer, which is made up of small-batch, highly experimental beers that are only brewed once.​
Nuttiest Professor is a creamy and colossal peanut butter stout that clocks in at 15.2% ABV. Avery Brewing has been working on a peanut stout for years, but always had difficulty with the addition of peanut flavor. Unwilling to compromise, years of experimentation has finally yielded a beer that uses real peanuts to create a rich and decadent stout that allows all elements—the bourbon character, peanuts, and dark malts—to shine.
This beer was originally inspired by Travis Rupp, Avery's Research and Development Manager and Beer Archaeologist. He is also a professor at the University of Colorado and was just "nuts" enough to continue to work on perfecting this beer for years. As a tribute to his dedication, his face graces the bottle's label.
"This beer was actually inspired by a homebrew that I did before I even worked at Avery," says Rupp. "Those initial batches were difficult to produce and there was so much oil from the peanuts that there was no head retention at all. Fast-forward many years, I'm now part of the Special Projects team at Avery and we decided to recreate this beer, but do it right this time. We use finely ground peanut flour instead of just adding peanuts, which will give this beer a blast of peanut flavor, but also will help the head retention due to reduced oil".
Nuttiest Professor will be available at Avery's brewery and distributed to select locations nationwide. If you see it, make sure to stock up, because once it is gone, it's gone for good. Mad peanut science.
NOTE: As mentioned in this press release, this beer does contain real peanuts and should be avoided by those with a peanut allergy. 
Vanessa Cory, Avery Brewing
---
(Back to top)


Sonoma County, CA (June 26, 2017)— With Summer in full swing, Bear Republic's seasonal offering, Apex, is back to play. As part of Bear Republic's Double IPA Series, this IPA (India Pale Ale) will be available for a limited time only, July through September.
A Strong IPA, Apex is full-bodied and packed full of hops.
Brewmaster and COO, Richard G. Norgrove, states "We hope you enjoy our 2017 offering of Apex. This year's version highlights some of our favorite hops, First Gold; Ella; Hallertau Blanc; Hull Melon; and Cascade."
Rich and hoppy, this beer represents Bear Republic's search for the elusive apex of malt and hops.
Norgrove continued, "Each year this beer focuses on different hops. It's also what makes this beer so awesome to brew and to drink. I hope our fans continue to enjoy this journey, along with me."
Making the ideal companion to your summer meal, Apex pairs perfectly with spicy and savory dishes. Hard and aged cheeses also act as a wonderful balance to the beer.
Apex will be distributed for a limited time to all available markets in draft, 6-packs, and 22 oz. bottles.
Bear Republic's Healdsburg brewpub will have Apex available on tap beginning Friday, June 30, at 5:00 pm. From 5:00-8:00 pm, join the Bear team for the Apex release party in the Bear Republic courtyard.
Bear Republic Brewpub Courtyard
345 Healdsburg Avenue
Healdsburg, California 95448
Entrance Fee: Free
THE EVENT INCLUDES:
Six-packs, 22 oz. bottles, and cases available for purchase at the event only, available after 8:00 pm at the bar.
16 oz. draft pour of Apex – $5 each. ($7 with pint glass)
Pulled pork slider and fries – $5 each.
Commemorative Bear Republic tasting glass.
Live music from Choppin' Broccoli.
Beginning July 1, find Apex near you! Visit www.bearrepublic.com/bear-tracker.
Beer Stats:
ABV: 8.25% – IBUs: 100+ – Color: Light Copper – Double IPA
Untappd: 4 stars – Beer Advocate: 94/100
Silver medal winner in the American-Style India Pale Ale category at the 2006 Great American Beer Festival®.
Tasting Notes:
Pairing Suggestions: Wings, Burgers, Spicy Dishes, Savory Dishes, Beef, Poultry, and Pork Dishes, Hard Cheeses, Aged Cheeses, and Sheep's Milk
Overall: In racing, the apex of the turn is approached differently as conditions dictate, but always with a forward looking mindset. This beer is the culmination of years of brewing and drinking hop forward IPAs.
Founded twenty-one years ago by the Norgrove family, Bear Republic Brewing Company is one of the largest independent craft breweries in Northern California. With a constantly growing portfolio of craft beers, Bear Republic maintains a sense of loyalty and tradition from eras gone by.
#BEARREPUBLIC #APEXIPA #DOUBLEIPA #CRAFTBEER #SONOMACOUNTYALES #HONESTALES #INDEPENDENTFAMILYBREWERS
Founded in 1995, we are a family-owned brewery located in the heart of Sonoma County, California. Founded by third and fourth generation Sonoma County residents, we pride ourselves on heritage. Our love for quality craft beers grew us into the family-owned and team-oriented business we are today. Our brewpub is located in historic Healdsburg, California, where cultivation, art, and creativity have thrived for centuries. The brewpub hopes to create an atmosphere that locals can call their own and makes visitors feel at home.
Sonoma County Ales®
Independent Family Brewers
~ Kate Davis, Marketing & PR
---
(Back to top)
A new Bell's coffee milk stout, made with Michigan roasted beans, to debut in bottles and draught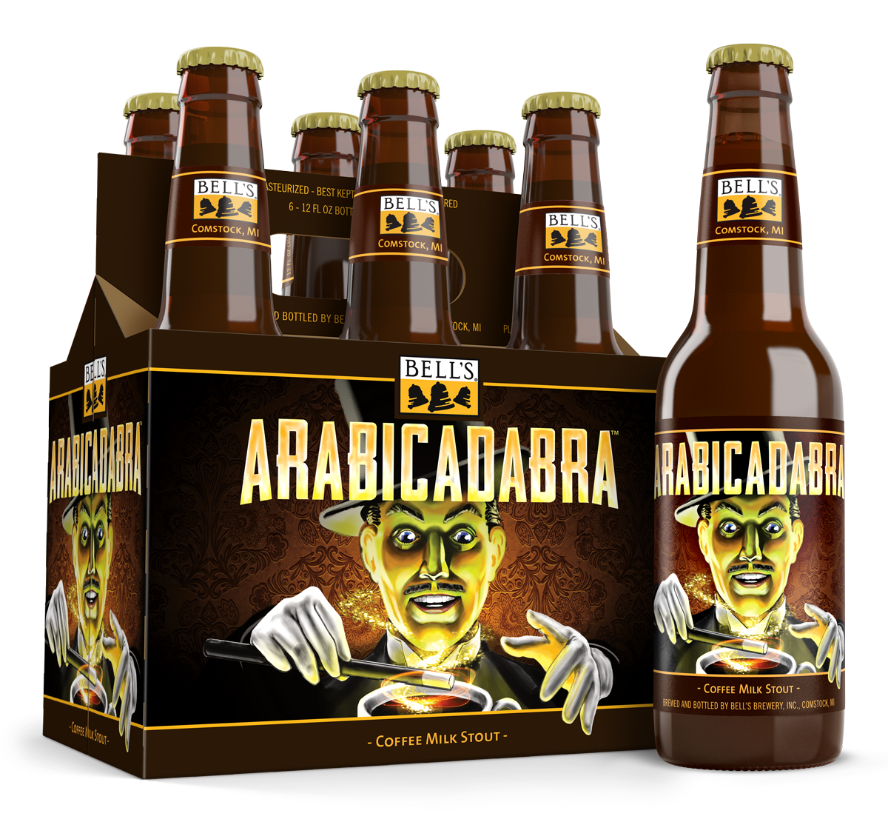 June 21, 2017, COMSTOCK, Mich. – Bell's Brewery is proud to announce a new addition to its seasonal specialty lineup for release this fall.
Arabicadabra, a coffee milk stout with an ABV of 5.5%, will debut on draught and in 12-ounce bottles, packaged in six-packs, this October.
"When we announced this year's release calendar late last year, we knew there were a few more surprises to come. This is one of them," said Bell's CEO Laura Bell.
"It's really fun to see new favorites move to a wider audience. This is another example of how we continue to explore new ingredients and flavors. The spirit of innovation that set us on this path is still a huge part of who we are and we will continue to look for ways to showcase that innovation across our distribution area," Bell said.
Brewed with 100% Arabica coffee beans roasted by Ferris Coffee in Grand Rapids, Michigan, this beer will stand in for Java Stout, another Bell's specialty coffee stout, for 2017.
"Java Stout will always have a special place in our portfolio and isn't being permanently retired. This year, we are changing things up a bit. Arabicadabra is a different take on a coffee stout and very similar to a local favorite that was released at our pub and at some events. It's time to share it with an even larger audience," she added.
Arabicadabra is brewed with a cold coffee extract made at the brewery using a combination of fair trade, organic Nicaraguan coffee beans and Sumatra coffee beans. Lactose is also used for creaminess (those with dairy allergies or sensitivities should take note). It was inspired by Milchkaffe, another specialty Bell's beer. That sweet, milk stout, was only available on draught and debuted in 2015.
Arabicadabra will ship to Bell's entire distribution footprint, including New Mexico which Bell's will begin distributing to in the fall.
Additional details will be shared online at bellsbeer.com and on Bell's social media as they become available.
~ Josh Smith, Communications Manager
---
(Back to top)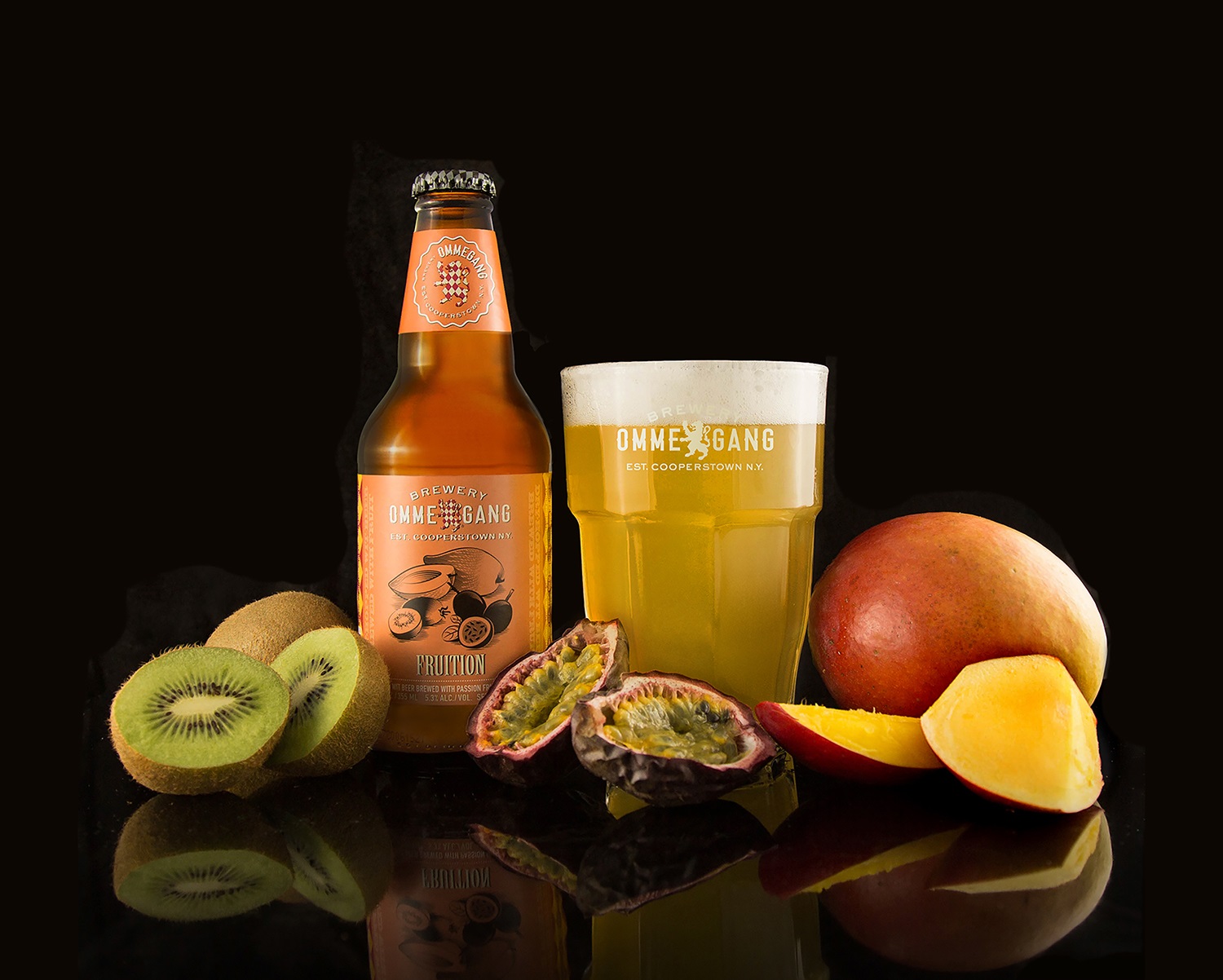 Have you seen an Ommegang beer with a tropically pink label on the shelves lately? That's Fruition, a brand new, year-round offering that's been moving out from the brewery as the warm weather has been moving in. And on this very first day of summer, we're excited to share all the details with you and tell you where to find it.
Fruition is a refreshing 5.3% ABV dry-hopped wheat ale that begins with our award-winning Witte as the base beer and is then given a tropical twist with the addition of mango, kiwi, and passion fruit juices. The result is a slightly tart and fruity, hop-forward beer that's exceptionally drinkable. It's the perfect beer to pair with summer.
Brewmaster Phil Leinhart says: "As with every beer we brew, we strive to make all the elements blend together, and we think we're succeeded in that quest with Fruition. This beer is our first foray into the tropical fruit flavors that consumers find so appealing with New World hop varieties, and we look forward to feedback from fans."
Brewed with malted and unmalted wheat and oat flakes, and spiced with sweet orange peel and coriander, Fruition is fermented with mango, kiwi, and passion fruit juices then dry-hopped with Citra and Cascade hops.
Fruition pours a pale straw color with moderate haziness and a fluffy white head. Tropical fruit and citrus aromas dominate the nose and the flavor follows suit with tart tropical fruit and citrus up front, followed by a smooth mouthfeel with a medium body. The finish is resoundingly dry with nice effervescence. The dryness and acidity of Fruition make it a perfect beer to pair with all manner of cheeses, particularly cheeses with some funk. The effervescence also makes this beer a great pairing with saltier foods – try Fruition with Belgian frites or chicken & waffles.
Fruition is available now in 12 oz. six-packs and on draft in the following states: AL, AR, AZ, CA, CT, CO, DE, FL, GA, IL, KS, KY, MA, MD, ME, MI, MN, MO, NC, ND, NE, NJ, NV, NY, OH, OK, OR, PA, SC, SD, TN, TX, VA, VI, VT, WA, WI, and Washington D.C. You can use our beer finder to search for retailers near your zip code.
Have you tried Fruition? Tell us what you think!
Note: This entire selection was taken from the Ommegang Newsletter & Blog  Click to see it and much more news from Ommegang!
---
(Back to top)
Improbably Brewed for Summertime Sipping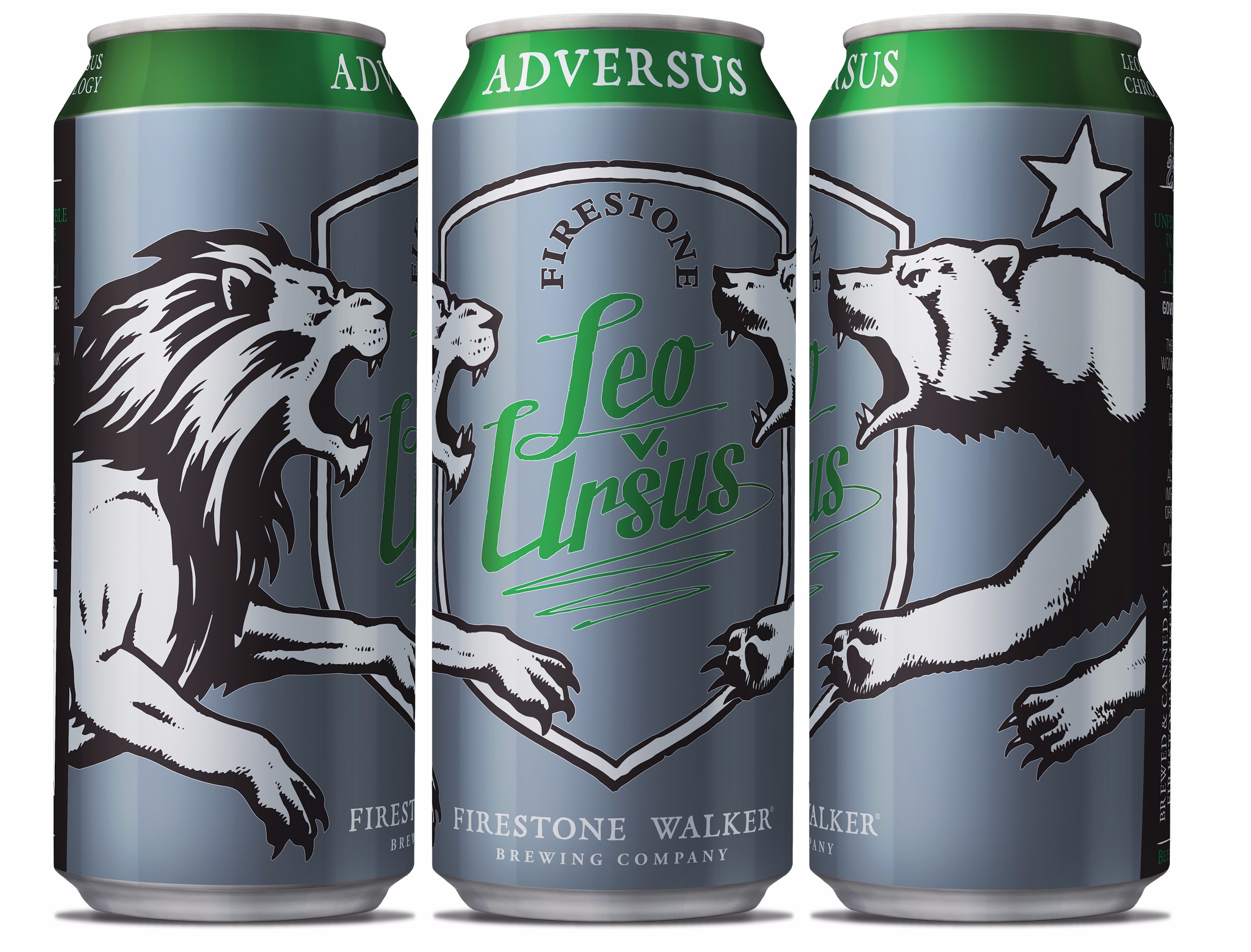 Paso Robles, CA: Combining the aggression of North American hops with the tranquility of traditional pilsner malts, the next release in Firestone Walker's Leo v. Ursus Chronology achieves the improbable: a big, bold beer made for summertime sipping.
Adversus—an unfiltered double IPA—is set to be unveiled at all Firestone Walker locations this Saturday, and will roll into Firestone Walker's national markets for a limited time starting next week.
"We've always wanted to use a light European-style pilsner malt for brewing an IPA, and this was our opportunity," said Brewmaster Matt Brynildson. "Some of the more delicate malt nuances might be lost because we are hopping the bejusus out of this beer, but the pilsner malt still provides a certain palate levity that is fitting for the summer season."
Adversus marks the second release in the Leo v. Ursus Chronology that was launched in late February. The chronology is composed of limited one-off beers released on a quarterly basis. Adversus will land in different Firestone Walker markets at variable times this June in both draft and 16-ounce can (four-pack) formats. It will be available for a short period before yielding to the next release in the Leo. v. Ursus Chronology.
High and Dry
"Adversus is high on aromatics, balanced in bitterness and relatively light in color owing to the pilsner malts," Brynildson said.
Adversus is prodigiously dry hopped with a blend of Pacific Northwest hops, with an emphasis on Ekuanot—creating an intriguing aroma profile of stone fruit, pineapple, mango and pine resin. There is also a pungent element that creates a suggestion of, in Brynildson's words, "dank piña colada."
The hoppy character is balanced on the palate with a sense of dryness rooted in pilsner malts from Gambrinus Malting, a small malt house in British Columbia managed by Matthias Haaben.
"For me, it's the most authentic pilsner malt malted in North America," Brynildson said. "Matthias is a classic German brewing school graduate, and everything they do is very artisanal in style and method."
He added, "The touch of dryness is what distinguishes Adversus. From the nose, you might expect something stickier, but instead you get this soft, refreshing finish."
Sean C. Weir, Moonwatcher.com 
---
(Back to top)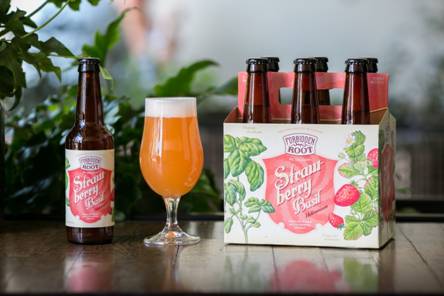 Hits Store Shelves June 19
CHICAGO—(June 13,  2017)—Forbidden Root Brewery is introducing a new seasonal beer to its line-up.  Strawberry Basil Hefeweizen is a 5% ABV wheat beer brewed with wild strawberries and fresh basil. The banana-like esters of the Hefeweizen yeast balance beautifully with the strawberries and the basil creates a third dimension of flavor and depth. This brew will be released seasonally in a six-pack of 12-ounce bottles to accompany Forbidden Root's core beers: Money on My Rind, Sublime Ginger, and Wildflower Pale Ale.
"Since we put out the first batch at the brewpub, Strawberry Basil Hefeweizen has been a fan favorite and people always ask for this beer in package. We're thrilled to be able to offer it," says Robert Finkel, Forbidden Root owner & founder.
Strawberry Basil Hefeweizen will be distributed throughout the Chicagoland area and in Forbidden Root's other markets in Massachusetts, Ohio and Florida.
Forbidden Root & Artist Tom Patrick Collaboration | Radio Swan
Release party, July 18 at 6 p.m.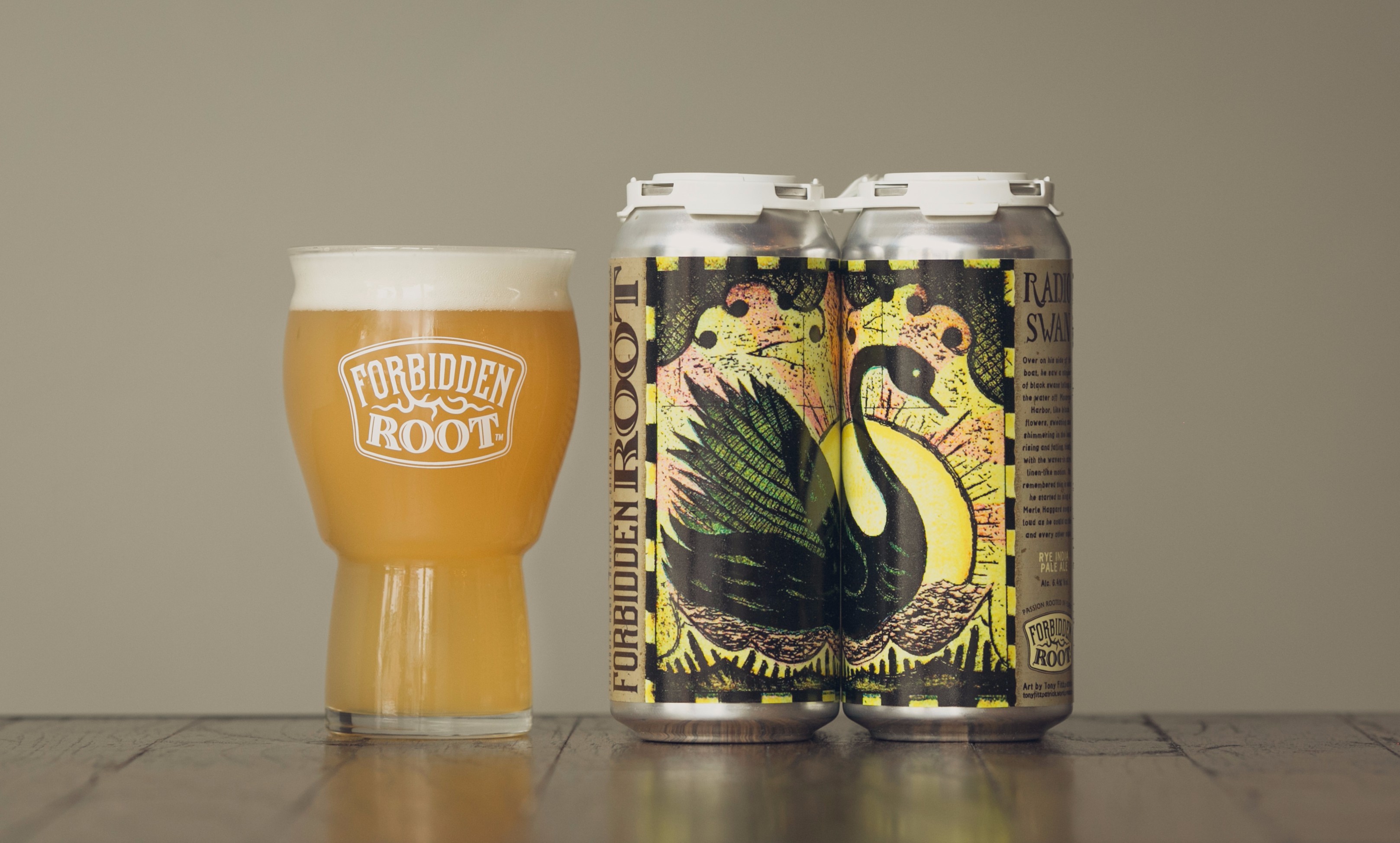 CHICAGO, IL—(June 29, 2017)— Forbidden Root Brewery will release Radio Swan, the first beer in a collaborative series with renegade artist Tony Fitzpatrick, in 4-packs of 16oz cans on Tuesday, July 18 at 6 p.m. at their brewpub, located at 1746 W. Chicago Ave.
A friend of the brewery, Fitzpatrick worked with the Forbidden Root team on the idea of pairing his artwork with head brewer BJ Pichman's New England-style IPAs. After discussing beer profiles and artwork, liquid gold was born in the form of Radio Swan, a beer inspired by Fitzpatrick's collage of the same name.
"I've always wanted to have my art on a beer can. That way I can reasonably ensure my friends and family will see my work," jokes Fitzpatrick. "In all seriousness, I'm delighted to collaborate with Forbidden Root. They're a Ukrainian Village neighborhood joint, and I'm a neighborhood guy."
Radio Swan is a 6.4% NE-IPA brewed with rye malt, Mosaic and El Dorado hops, and a touch of lactose. The brew has dank aromatics with a touch of bright fruit. A creamy mouth feel starts out sweet and juicy, and then rounds out to finish dry with an echo of rye complexity.
"It's a real honor to work with a Chicago artist as iconic as Tony," says Pichman. "Radio Swan [the collage] just spoke to me. At first glance it's simple. But you sit with it and the complexity grows, not unlike the beer. I'm really excited for the upcoming releases in this series. Keep an eye out for Atomic Child and Night Moth coming later this year."
Radio Swan will be tapped at the launch party where attendees can meet Tony Fitzpatrick, as well as have an opportunity to purchase 4-packs, a limited edition tote featuring the Radio Swan artwork, and Forbidden Root glassware. All profits from the sale of non-consumable merchandise will benefit LaBagh Woods. Details can be found on Facebook.
About Tony Fitzpatrick
A Chicagoland native, Fitzpatrick began drawing earnestly in the 1980s, getting gallery shows in Chicago and New York City. Fitzpatrick's autobiographical mixed media collages combine imagery from street life to Catholic icons–a renegade style informed by years as a printmaker. Fitzpatrick's love of the written word is also present in his work, and he's published several books that interweave art and poetry. Fitzpatrick's work belongs to public collections across the nation, including at the Art Institute of Chicago and the Museum of Modern Art in New York. In conjunction with Firecat Projects, Fitzpatrick helped found AdventureLand Work on Paper Gallery to help young artists realize goals of working for themselves.
~ Shannon Bunting, Solstice P.R.
---
(Back to top)
Back by Popular Demand! Fremont Brewing Announces Year-Round Production
SEATTLE — – Fremont Brewing of Seattle, Washington will reintroduce their wildly popular Lush IPA as a year-round brand in June. Lush will be available on tap and to-go in 6-packs and 22oz bottles at Fremont's Urban Beer Garden on Saturday, June 10th. Full distribution across Washington, Oregon, Idaho, Colorado, and Southern California will follow shortly thereafter.
"Lush was first released as our new spring seasonal in January 2017," said Matt Lincecum, CEO of Fremont Brewing. "It was so… well, luscious, that we decided to make it available year-round!"
What the can says:
LUSH IPA
We bring this tropical treat to you as a gift from the Pacific Northwest. Lush is brewed with a hand-selected blend of malts and lush, tropical hops reminiscent of lime, mango, and guava…Because Beer Matters! "For a moment, nothing happened. Then, after a second or so, nothing continued to happen." – Douglas Adams
DOWN & DIRTY:
2-Row Pale and Honey malts with Citra® and Mosaic® hops and Citra® Lupulin Powder.
ABV: 7.0%
IBU: 80
COLOR: Bright orange
AROMA: Melon, tropical, citrus, spice
FLAVOR: Juicy, tropical, citrus, pepper
AVAILABILITY: When you want it
~ Sara Nelson, Co-Founder/Special Ops at Fremont Brewing
---
(Back to top)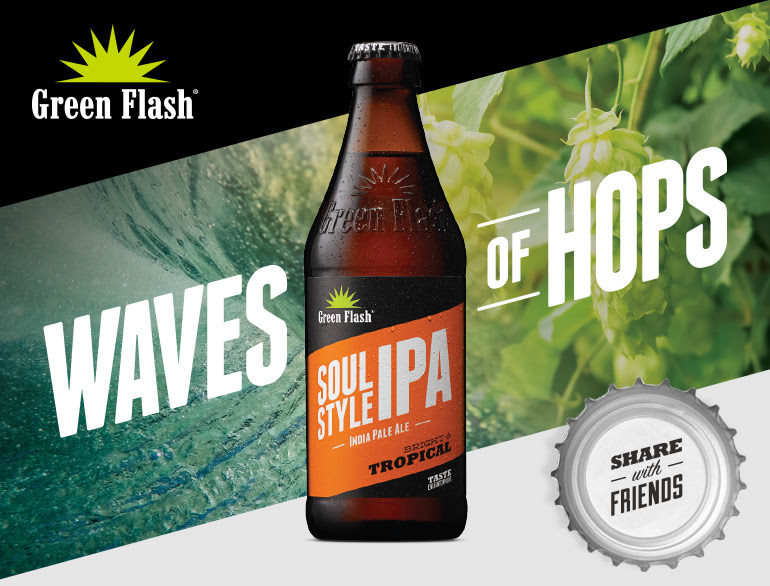 Get Stoked on a Single
Bright and tropical, Soul Style IPA is a refreshing summer favorite. And it's now available everywhere in both bottles and cans. Bold aromas of ripe mango and zesty clementine transport you to paradise even before the first sip. Citra, Simcoe, and Cascade hops are layered, allowing flavorful citrus and floral notes to break gently on the palate.
The Beer Tasting Sheet Notes:
Our brewers rip—creating huge and complex double and triple IPAs at the pinnacle of craft beer enlightenment. Soul Style is their effortless and pure manifestation of the Single IPA. Citra, Simcoe, and Cascade hops are layered, allowing bright tropical waves of flavorful citrus and floral notes to break gently on the palate. Get stoked on a laid back single and ride a wave to soothe your soul.
Catch a wave of hops near you, by picking up Soul Style in your area:
~ Green Flash Brewing Newsletter and Website 
---
(Back to top)
ABV: 4.2% | Available: April – July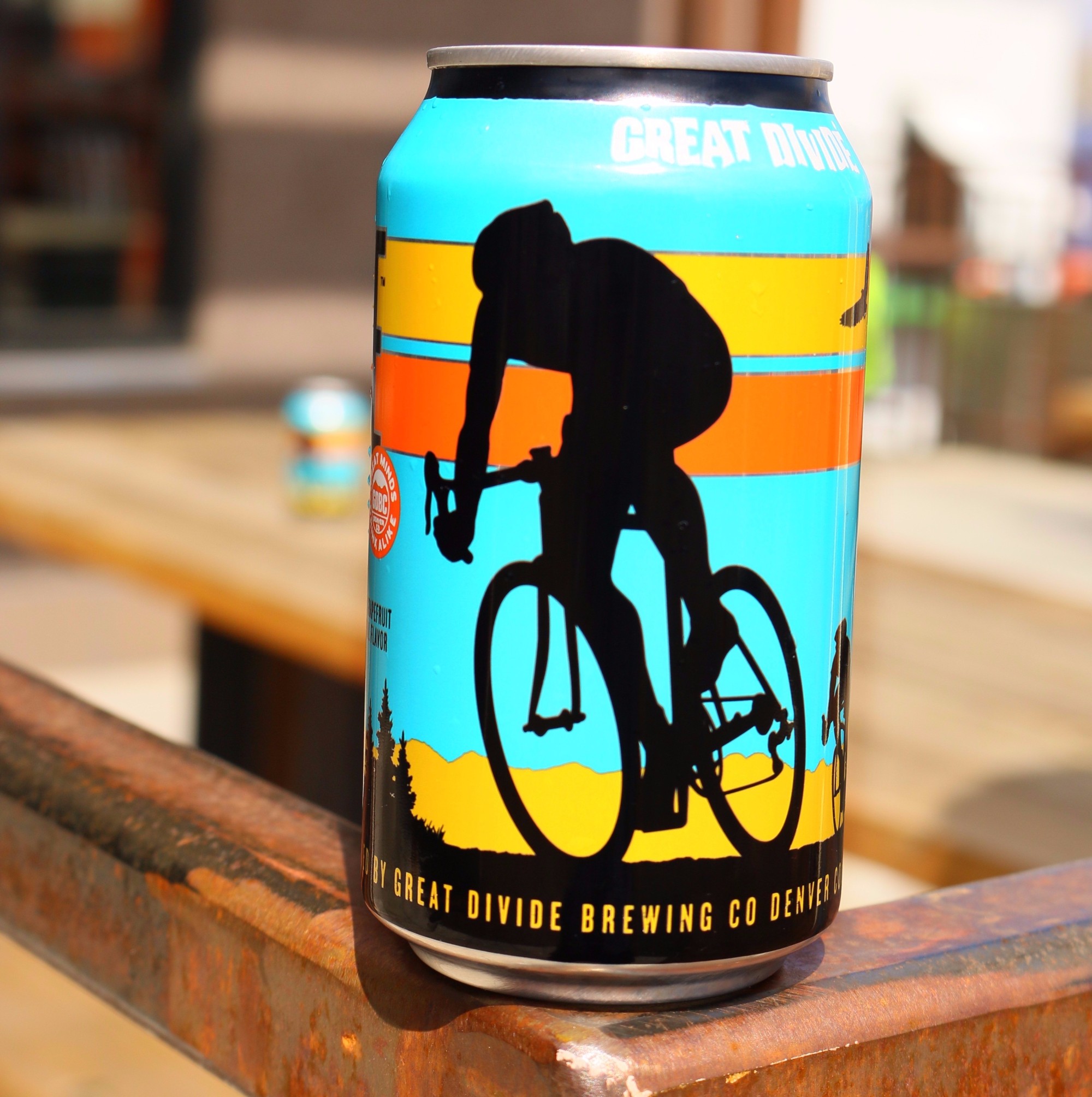 DENVER – March 29, 2017 –  Great Divide Brewing Company is expanding its seasonal portfolio with the addition of Roadie Grapefruit Radler. Brewed with natural grapefruit puree, this easy-drinking ale pours a hazy sunrise gold and is bursting with citrus aroma. This beer was named both for the road biking cyclist, roadie, and the German word for cycling, radler.
"Creating a radler is wildly different from anything we have brewed before," said Brian Dunn, owner and founder of Great Divide Brewing Company. "Traditional radlers add finished soda to the beer, but we wanted to do our own take on the style. After almost a year in development and a huge amount of effort from our production team, we achieved our goal for this Colorado Radler using an obscene amount of grapefruit-puree and omitting the soda."
As an avid cyclist, Great Divide founder Brian Dunn has a personal history on the bike. His experience expands from riding through the French mountainside as a child, to racing after college and eventually passing the love of the sport onto his twin sons. He has also instilled this passion for cycling in the brewery.
Great Divide has been a part of the cycling community throughout the years with the creation of the Great Divide Racing Team, annual employee participation in the Bike MS race and the annual BoulDurango, as well as donating profits from their Tap Room Giving Program to organizations like Bike Denver and the Bicycle Racing Association of Colorado.
Inspired by the brewery's roots in the cycling community and the camaraderie surrounding the sport, Roadie Grapefruit Radler is an ode to cyclists everywhere.
"Grapefruit is one of the most refreshing fruits around, and with its relatively low ABV of 4.2 percent, this radler is  a natural fit for a refreshing post-ride beer," said Dunn.
Roadie will be available is 6-packs, 15.5 gallon and 5 gallon kegs starting April 1st.
~ Alexandra Weissner, Lexa PR for Great Divide Brewing
(Back to top)
Great Divide Brewing Company Packages Strawberry Rhubarb Sour Ale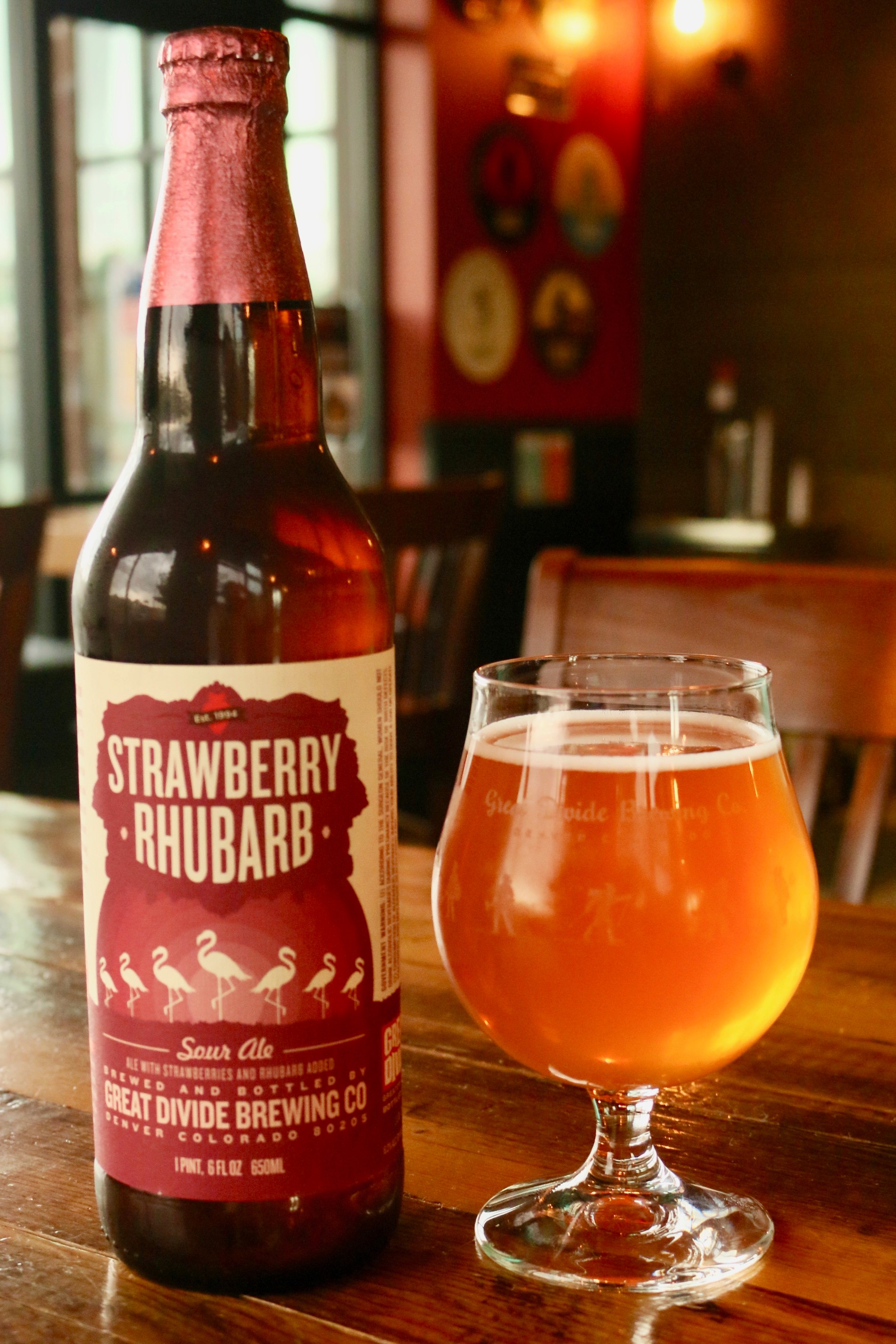 DENVER – June 23, 2017 – Great Divide Brewing Company is adding a new sour beer to its year-round lineup, Strawberry Rhubarb Sour Ale. Previously released as a specialty beer, Strawberry Rhubarb has found a permanent home in the brewery's core portfolio on tap and in 22 oz. bombers.
"Beer drinkers may be familiar with this beer as it was brewed in 2013 under the name Demeter," said Brian Dunn, founder of Great Divide Brewing Company. "People have been lining up for it at our Anniversary parties and GABF in past years, so we've known that it's a winner. It took some time to figure out how to brew bigger batches of it given the incredible amount of fruit and extra labor required but we're excited to finally be able to release this beer into our year-round lineup."
Bright and effervescent, this sour is a fun and refreshing lip-puckering brew that's perfect for every occasion. A gift to the taste buds, the sweetness of the strawberry balances out the tartness of the rhubarb. This beautiful partnership of sweet and tart creates a beer that glows ruby in the glass, bursting with strawberry aroma, and bites with each sip.
Strawberry Rhubarb Sour Ale comes in at 6.2 percent ABV, and will be available year round in 22 oz bottles and draft.
~Lexa PR for Great Divide Brewing
---
(Back to top)
THE ICE-CAN COMETH.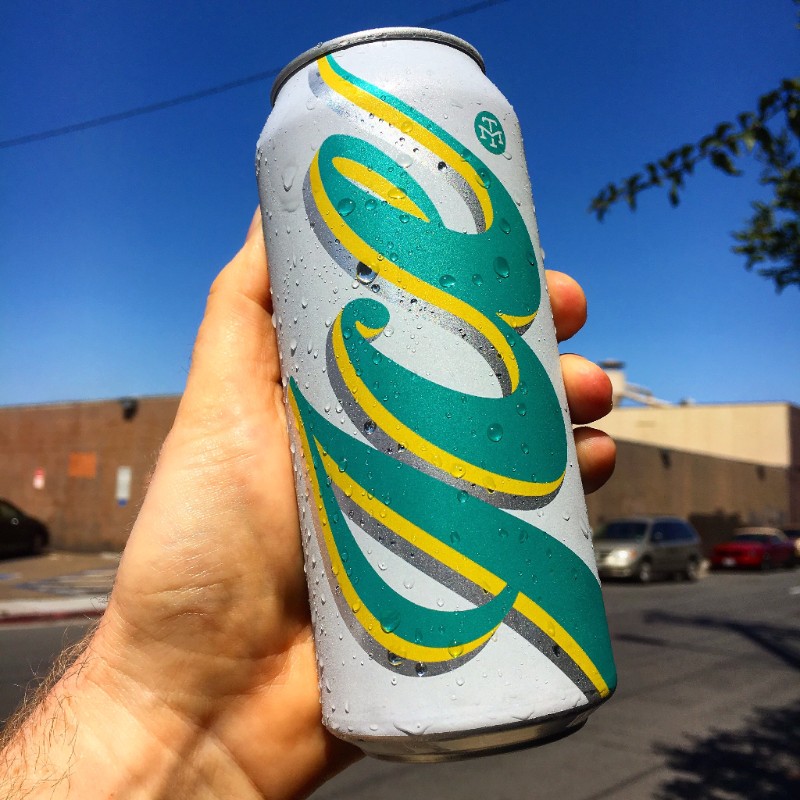 Modern Times Ice is officially hitting taps & shelves in our distro areas, and not a moment too soon for the onslaught of summer weather. If you've yet to experience this towering bastion of refreshment, prepare your flavor-buds for a masterfully woven flavor-tapestry, lovingly layered with Saaz hops and extensively lagered to achieve levels of refreshment never experienced by mortal humans. We absolutely love this beer, and are extremely hyped to share it with you.
If you're having trouble locating it (and are in one of our current distro areas), feel free to hit us up at [email protected] and we'll see what we can do.
~ Modern Times Newsletter
---
Moody Tongue | Peeled Grapefruit Pilsner
(Back to top)
Your Essential Summer Beer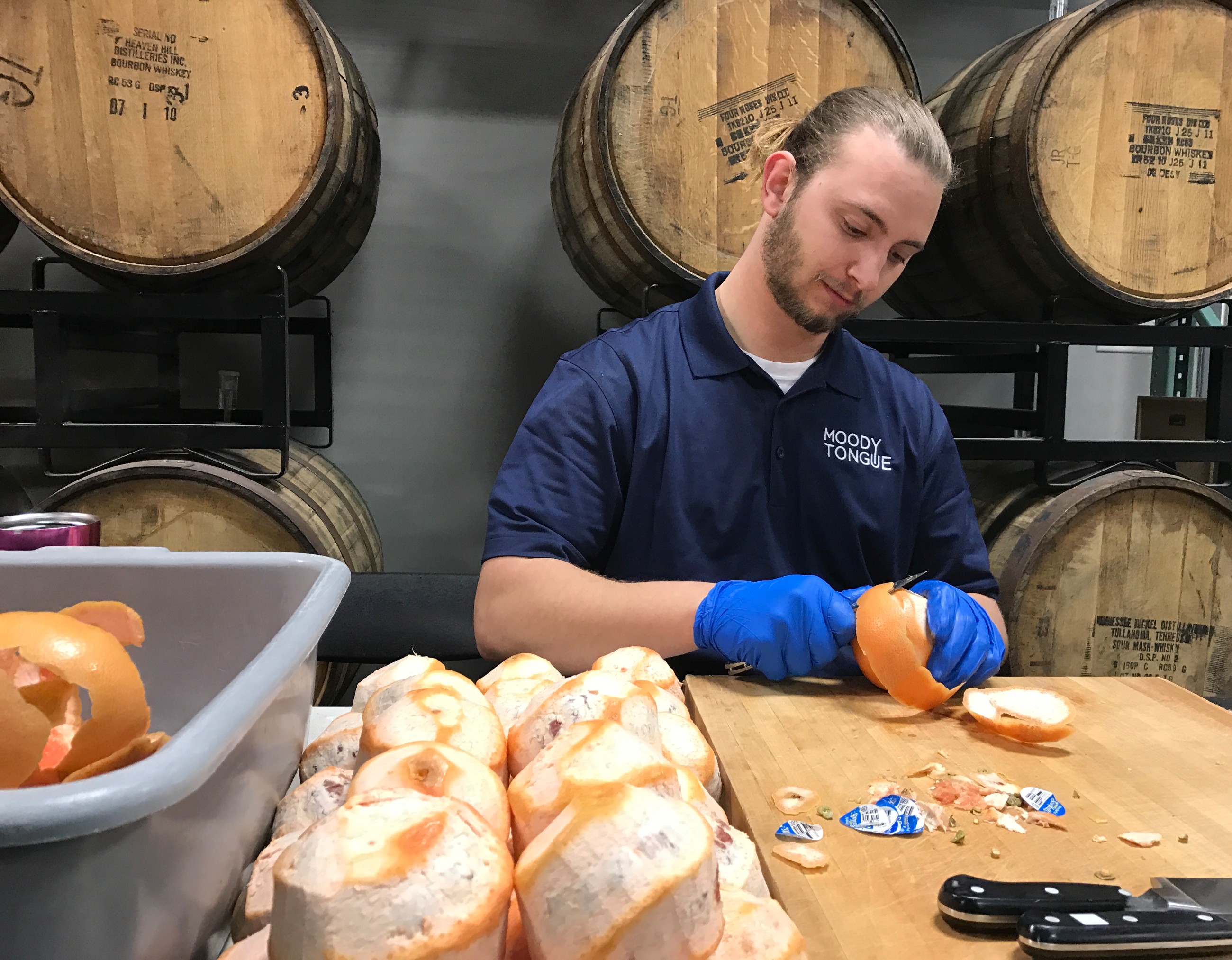 Just in time for the summer temps to rise and the grills to get going, the Peeled Grapefruit Pilsner offers a refreshing beer with the flavor of grapefruit sorbet. Grapefruits with their high acidity, are a natural candidate to wake the palate and provide a balance with the sweetness of malt. This Pilsner captures the sweet, sour, and bitter tastes from the grapefruit within a light, refreshing body.
Coming in at an ABV of 4.5% with a subtle citrus flavor and effervescent body, this beer is best enjoyed with sunshine and grill, and pairs perfectly with summer-centric dishes such as ceviche and grilled salmon or sweets like a Strawberry shortcake.
~Maisssah Amin, Wagstaff Worldwide/Wagstaff Chicago
---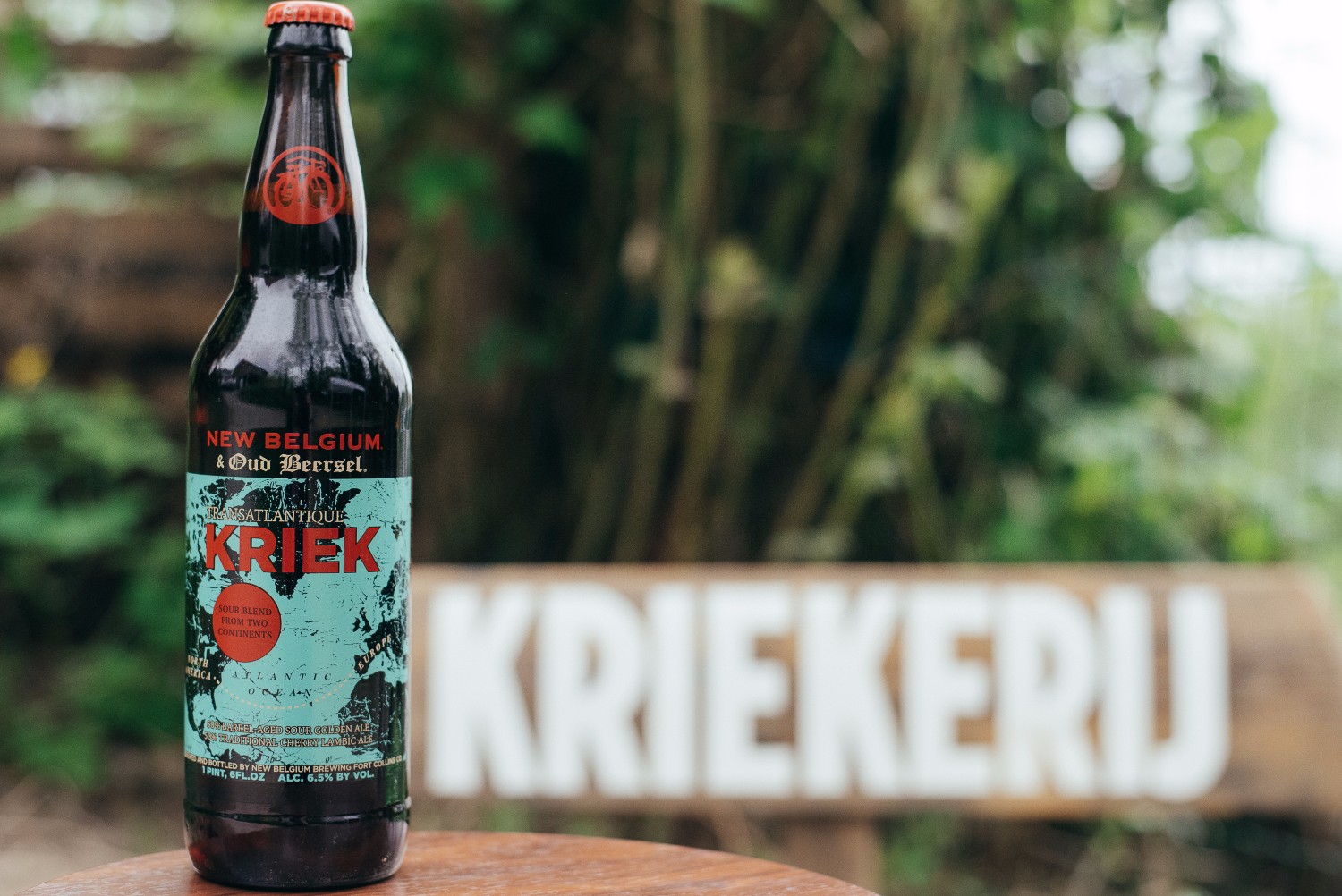 A 100% Wood-Aged Sour
The beer blends a New Belgium Golden Sour with an authentic Kriek Lambic;
Also, just released is Passionfruit, the latest addition to the Voodoo Ranger Special Release Series
Ft. Collins, Colo., June 12, 2017 – New Belgium Brewing's 2017 blend of Transatlantique Kriek is out now and it's the first time the beer is 100% wood-aged. The sour is a mix of 50 percent New Belgium Foeder-aged Golden Sour and 50 percent Authentic Kriek Lambic from Brewery Oud Beersel in Belgium.
"This year's beer is particularly iconic because it's 100% wood aged," said Andrew Emerton, New Belgium Specialty Brand Manager. "Because of our process with this beer, we actually had the incredible honor of having Transatlantique Kriek at this year's Toer de Geuze in Belgium, the premier sour beer event in the world."
"We showcased our beer alongside 12 other authentic lambic producers," added Lauren Limbach, New Belgium's Wood Cellar Director & Blender. "It was an incredible honor and a total dream come true!"
The kriek lambic process takes place in Belgium at a few select breweries including Oud Beersel, New Belgium's collaborative producer. Authentic lambic is spontaneously fermented beer that is soured in oak barrels. Oud Beersel then matures the lambic on Polish cherries for months to produce the kriek, which is then sent from Belgium to New Belgium to blend with an oak-aged sour golden.
New Belgium has a rich history of brewing sour beers and this year marks its 14th year of Transatlantique Kriek. The beer's flavor profile is spritzy, mouthwatering and fruity, along with tartness from the cherries. The 2017 Transatlantique Kriek is 6.5 percent ABV and is available in 22 oz. bottles and on draft.
New Belgium Brewing  | Voodoo Ranger Passionfruit Imperial IPA

New Belgium Brewing also just released its latest addition to the Voodoo Ranger line, a specialty brew called Passionfruit Imperial IPA. Tropical aromas and passionfruit flavors are backed by a strong presence of Citra and Galaxy hops. The double IPA's crisp and refreshing taste is perfect for the summer weather.
Passionfruit Imperial IPA is 8 percent ABV and is available in both 22 oz. bottles and on draft for a limited time only.
To find either of these beers, along with others from New Belgium, visit the libation locator at http://www.newbelgium.com/beer/locator.aspx or download New Belgium's Beer Mode app.
Jenny Foust, Communication Strategy Group 
---
(Back to top)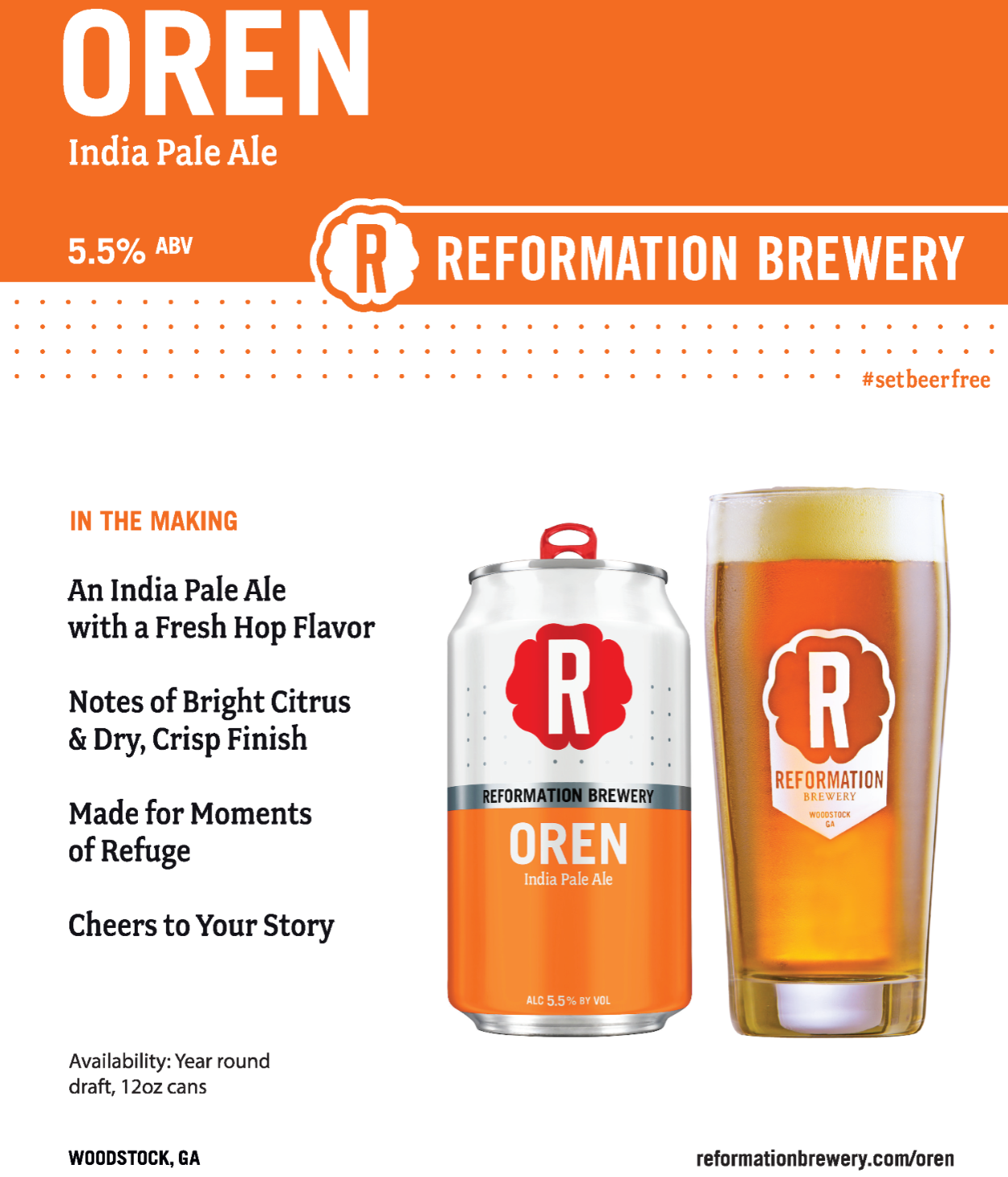 Woodstock, GA (June 16, 2017) — County and state officials declared July 1st, "​Set Beer Free Day" in 2016 and​ Reformation Brewery in Woodstock, Georgia is carrying on the tradition in 2017 with a celebration that includes the debut of a new IPA, Variety Box Set with their Belgian-Style favorites, plus local BBQ & live music.
Patrons can celebrate from 1-9pm at Reformation Brewery on Saturday, July 1st and get a taste of the newest in Reformation Brewery's year-round offerings. Also on tap, award winning BBQ from Four 41 South will be available all day, and live music from local musicians Jonathan Peyton, and Kira Annalise & The Trainwrecks begins around 4pm.
On draft at taps near you beginning July 1st, Oren is an India Pale Ale by style and described as having notes of bright citrus, with a dry, crisp finish. A 12 oz canned pre-release​ of Oren will be​ available from the brewery's tasting room on "Set Beer Free Day." Cans are expected to land on shelves at retailers late July.
Reformation's new IPA, Oren, is "designed for moments of refuge" and is the result of a series of Pioneer test batches — small batch, draft only experiments in the brewery's tasting room. These Pioneer "Hop Expeditions" allowed brewers to test different hop and malt combinations, and solicit consumer feedback before finalizing the beer. The result is a refreshing, low alcohol IPA with a citrus forward hop aroma.
Also debuting July 1st, Reformation re-introduces three of their core favorites in a Variety Box Set (12 pack) including: Cadence Belgian-Style Ale, Jude Belgian-Style Ale, and Haddy Belgian-Style White Ale. CEO Spencer Nix explains, "We've always loved our Belgian's as gathering point. They have a way of bringing people together."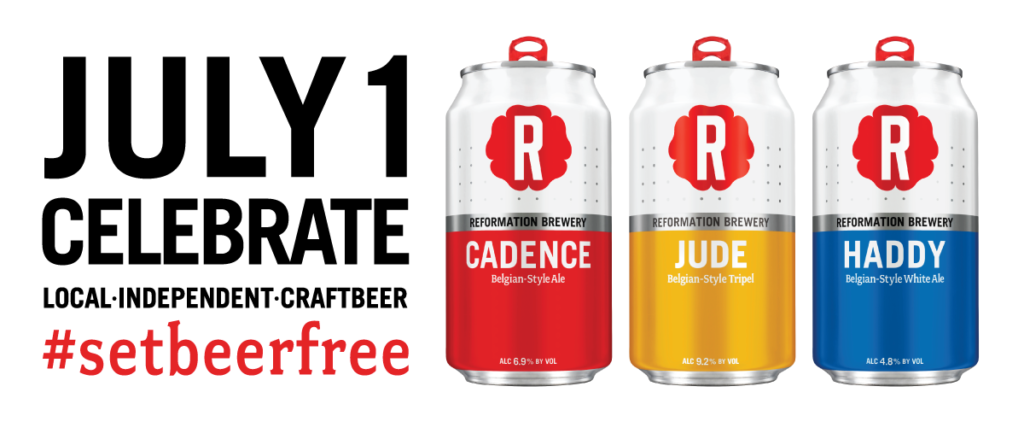 Recent expansion to new markets, including local Savannah retailers and Chattanooga, has Reformation Brewery poised to double capacity this July with the addition of 4 new 10 hectolitre tanks. Three 85 barrel fermenters and one 85 barrel brite tank will increase fermentation space by nearly 4000 barrels annually, for a total capacity of 12000 barrels of beer per year.
Sharing your gifts with your neighbor are some of life's most meaningful moments. The growing pains are real, but the thing about beer is that the work always leads to new connections and that brings us joy," Spencer Nix adds.
Celebrate the release of Oren on draft and in 12oz cans this July. And look for a Reformation Variety Box Set at independently owned retailers near you July 1st. Learn more at reformationbrewery.com/stories.
~ Jessica Miller, Reformation Brewery Marketing Manager
---
(Back to top)
Good Chit Coming Your Way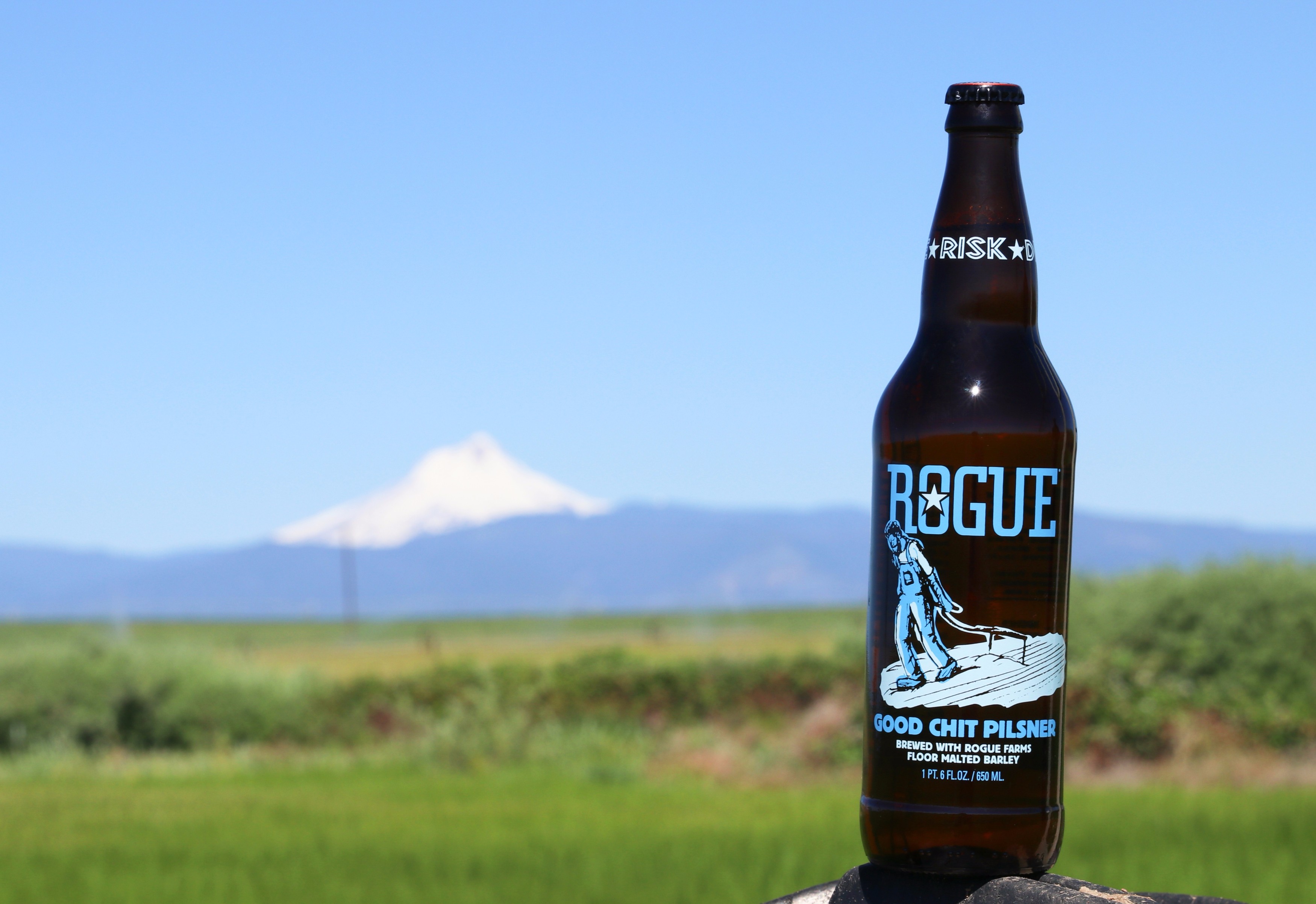 Newport, Ore. – Coming off a 100-acre barley harvest, Rogue Ales & Spirits announces the 2017 release of Good Chit Pilsner.
Grown in Rogue Farm's volcanic-rich soil at Tygh Valley, Ore., the barley is harvested, combined and delivered to Rogue's on-site malt house to be floor-malted. The golden grain is spread across a specialized floor, where it is hand-turned every 12 hours over the course of eight days. Once the barley creates "chits" or sprouts that start to grow as a result of the floor-malting process, it is transported to Rogue's brewery in Newport, Ore., to become Good Chit Pilsner.
"The floor-malting process is an ancient brewing practice that best represents our farm-grown pilsner," said Rogue General Manager Dharma Tamm. "It creates a unique experience in every bottle of Good Chit."
Good Chit Pilsner is available now on draft and in 22oz bottles nationwide. For more information about Rogue Farms and how to Grow the Revolution, visit Rogue.com.
~ Anna Abatzoglou & Rogue News Wire Services
---
(Back to top)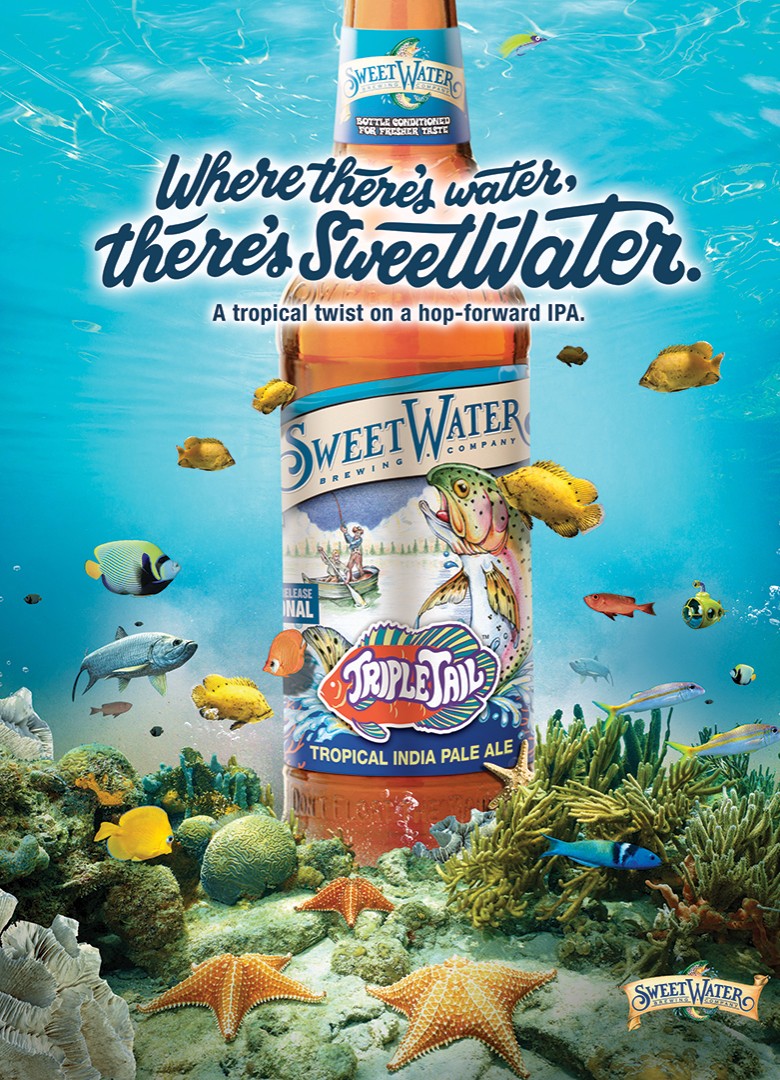 The five hop additions give this beer its lush, tropical flavors and aroma. SweetWater's brewmaster Mark Medlin hand-selected these hops during harvest time; with Denali standing out as the one that would provide the big juicy, tropical, citrus flavors, while the bittering hop (Bravo) would give it the nice orange flavor.
Malts: 2-Row, Pilsner, Carapils
Bittering hops: Bravo, Mosaic, Denali
Dry hops: Mosaic, Denali, Waimea, Citra
Yeast: House English Ale
ABV: 5.5%; IBUs: 57
Available Mid-June – October 
On draft
Bottles, 12 oz 6-packs and Fall Variety 12-packs
Cans, beginning July in Fall Variety 12-packs
Style: Wasabi infused blonde ale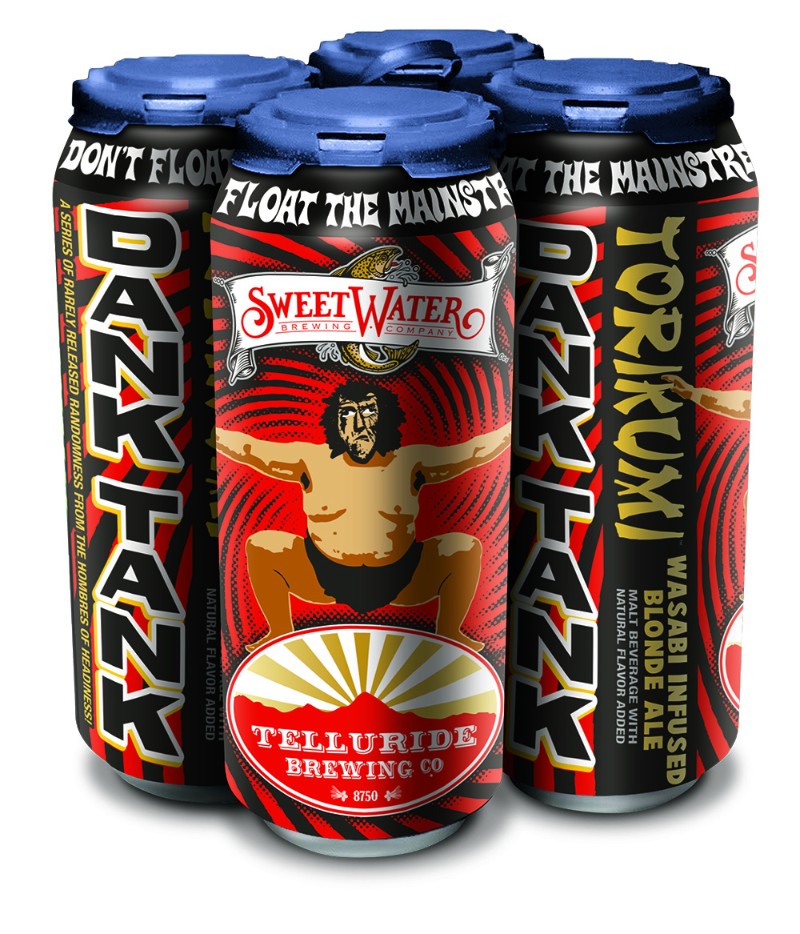 Telluride Brewing Co. brewmaster Chris Fish visited Atlanta to see what he and SweetWater head brewer Nick Nock could cook up for a collaboration brew. A trip up Buford Highway inspired the brewers to experiment with wasabi – added to a blonde ale, the wasabi provided some serious heat and a flavor profile that knocked the brewers' mawashis off. This is a beer to share with friends and experiment with – try pairing it with sushi, ginger, Japanese noodle dishes, or just some grilled chicken.
Malts: 2-Row, Wheat, Carapils, Rye Malt, Oat Flakes
Hops: Magnum, Saaz, Sorachi Ace
ABV: 7.5%
IBUs: 27
Available in 4 pack 16oz cans and on draft starting week of June 12.
~ Tucker Berta Sarkisian, "Talking Head," SweetWater Brewing Company
---
(Back to top)
Terrapin's Side Project Steps Behind the Bar

Blueberry Thyme Saison is Shipping Now:
June 19th – Athens, GA: The next side project in Terrapin's series has a culinary twist, inspired by craft cocktails. Blueberry Thyme Saison (#31) will be releasing this June as a nod to the culinary world that beer lives in.
Terrapin's Side Project series has always been about creativity with brewing ingredients, and this beer doesn't disappoint. Flavorful and bright, this beer can also be used as an ingredient in your own beer cocktail. (Or sub it in for blueberry shrub in this one: http://www.saveur.com/carolina-blueberry-shrub-cocktail-recipe)
Blueberry Thyme Saison is a blend of fresh summer flavors. The tart sweetness of ripe blueberries combined with the floral warmth of thyme play together with the flavors of traditional Saison yeast.
Releasing at the brewery on June 21st. The beer will be available in 500ml bottles and limited draft.
Beer Info: http://terrapinbeer.com/portfolio-item/blueberry-thyme-saison/
~ Leah Kuck, Marketing & Communications Lead, Terrapin Beer Co.
---
(Back to top)
"Third Rail Ale" Benefits Local Organization and Brings Arts to Forefront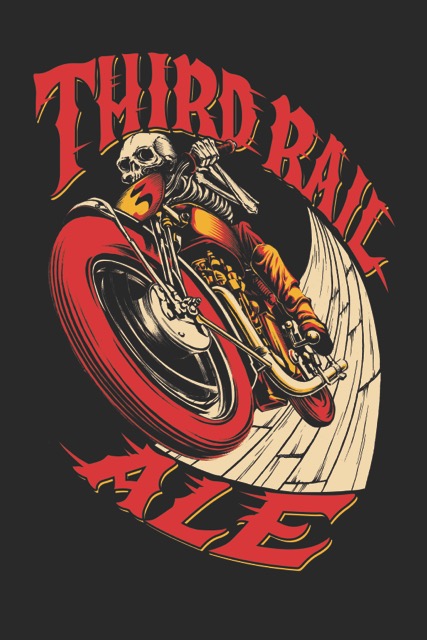 Metro Atlanta (June 27, 2017) – Chamblee's first and only brewpub, Hopstix, and Georgia's newest purpose-built film and television production studio, Third Rail Studios, today announce their partnership in a new beer: Third Rail Ale. A portion of all sales of Third Rail Ale will benefit re:imagine/ATL, a local organization empowering the next generation of storytellers by providing mentorship and training in film, music, podcasting and other media outlets.
A Belgian Witbier inspired by Thai flavors and brewed with fresh orange peels, lemon grass, galangal root and lime leaves, the limited-release Third Rail Ale will be the perfect addition to summer in Atlanta. When conceiving the beer, Hopstix founder/brewer Andy Tan wanted to "capture Chamblee, as it's the melting pot of Atlanta." The Third Rail Studios team were brewery guests on June 12, when the batch was created.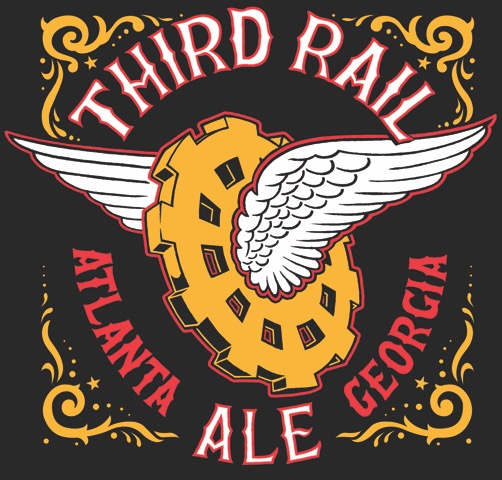 "Third Rail Ale is a great way for our surrounding communities to connect with Third Rail Studios," said Dan Rosenfelt, president of operations for Third Rail Studios. "For us, partnering is a top priority, and having the sales of this beer benefit a new generation of artists is steadfast with our mission. The beers at Hopstix are all fantastic, but this is going to be an easy favorite."
Third Rail Ale is currently being brewed in the microbrewery of Hopstix. The beer will be available to the public on June 30. Twenty percent of proceeds from the beer sales will be donated to re:imagine/ATL, which empowers Atlanta teens from all backgrounds.
"Beer is part art, and part science. This launch is a perfect example of the artistic side and we're proud to support the growing local art scene," said Andy Tan. "Hopstix strives to be a place where community members can come together over fresh food and great beer, and this partnership is a great story on two local companies coming together in recognition of the arts."
Third Rail Studios, located one mile from Hopstix in Assembly Yards, is currently filming New Line's monster movie, "Rampage", starring Dwayne "The Rock" Johnson. Hopstix's menu is full of beer-friendly, Asian-fusion starters and entrees, along with the robata grill and raw bar items.
~ Sarah Weston, SPR Atlanta
---