No Comments
Beer & Book Club | American Gods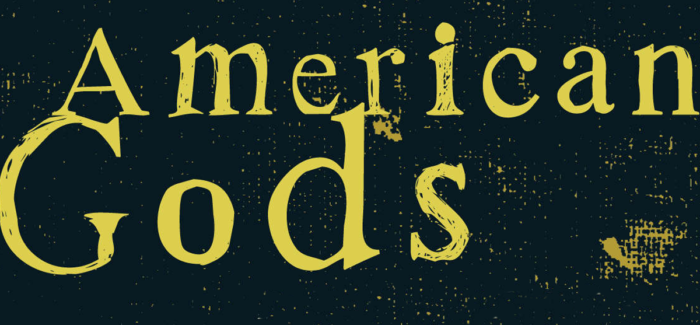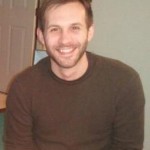 Fellow readers and PorchDrinkers, I apologize for my extended absence. You see, I've been reading a big book; more than 500 pages of fantastical mythology weaved with American sensibilities. I'm talking, of course, about Neil Gaiman's American Gods.
The Book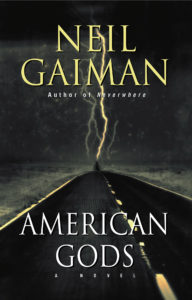 American Gods is a tale that follows the recently incarcerated and even more recently paroled protagonist, Shadow, as he wends his way through America in search for, if nothing else, a place to call home. He's a big guy with an affinity for coin tricks, and really just wants a bit of peace and quiet. Unfortunately, an early tragedy washes away his sense of direction, and so he is set adrift.
Soon after, he encounters the dubious Mr. Wednesday who clearly knows more about Shadow than he lets on, and ultimately offers him a job as an errand-boy/bodyguard.
Along the way, Shadow meets Mr. Wednesday's associates, many of whom are gods or goddesses, leprechauns or kobolds, most of whom hail from different parts of the world. What are they doing in America? you might wonder. They were brought to America in the hearts and minds of their believers, and so they are sustained, at least until they are forgotten.
The conflict arises when Shadow finds himself the unwitting captive of the "new gods," gods of television, the internet, entertainment. He's roughed up a bit, just enough to send a message to Mr. Wednesday. From then on, it's all about recruiting participants for the inevitable war, a clash between the gods of yore and those of today.
Most of the story is told from Shadow's perspective, but here and there Gaiman injects fictionalized segments of ancient history: Vikings coming to America, the arrival of the first natives from the Asian continent, African slaves torn from their homeland and sold into slavery across the ocean. Each mini-tale includes the deities of each of the people, and how those deities were instrumental to the events of the individual stories. The Vikings have Odin; the American Natives, their mammoth god; the African slaves, their cluster of gods.
Overall, Gaiman's knowledge of folklore and storytelling combine to form an enthralling narrative that I didn't want to put down. That to me is the clearest sign of a good read.
Before I forget, there's a TV adaptation of American Gods put out by Starz Entertainment with Neil Gaiman as an executive producer. I've only seen the first episode, but so far it's done a good job of adapting the book into TV, in some cases a surprisingly good job. Things to be aware of before you go into it, graphic violence and explicit sexuality, though there should not be much in the way of sexuality throughout the series as the book contains only a few instances, and they don't affect the main plot of the story.
The Beer
Beer and Book Club (i.e. my friend Ben and I) convened for the discussion of American Gods at a quintessentially American locale, a "barcade" (bar + arcade) The Baxter, actually. You can find it on the far west end of Franklin Street in Chapel Hill, NC.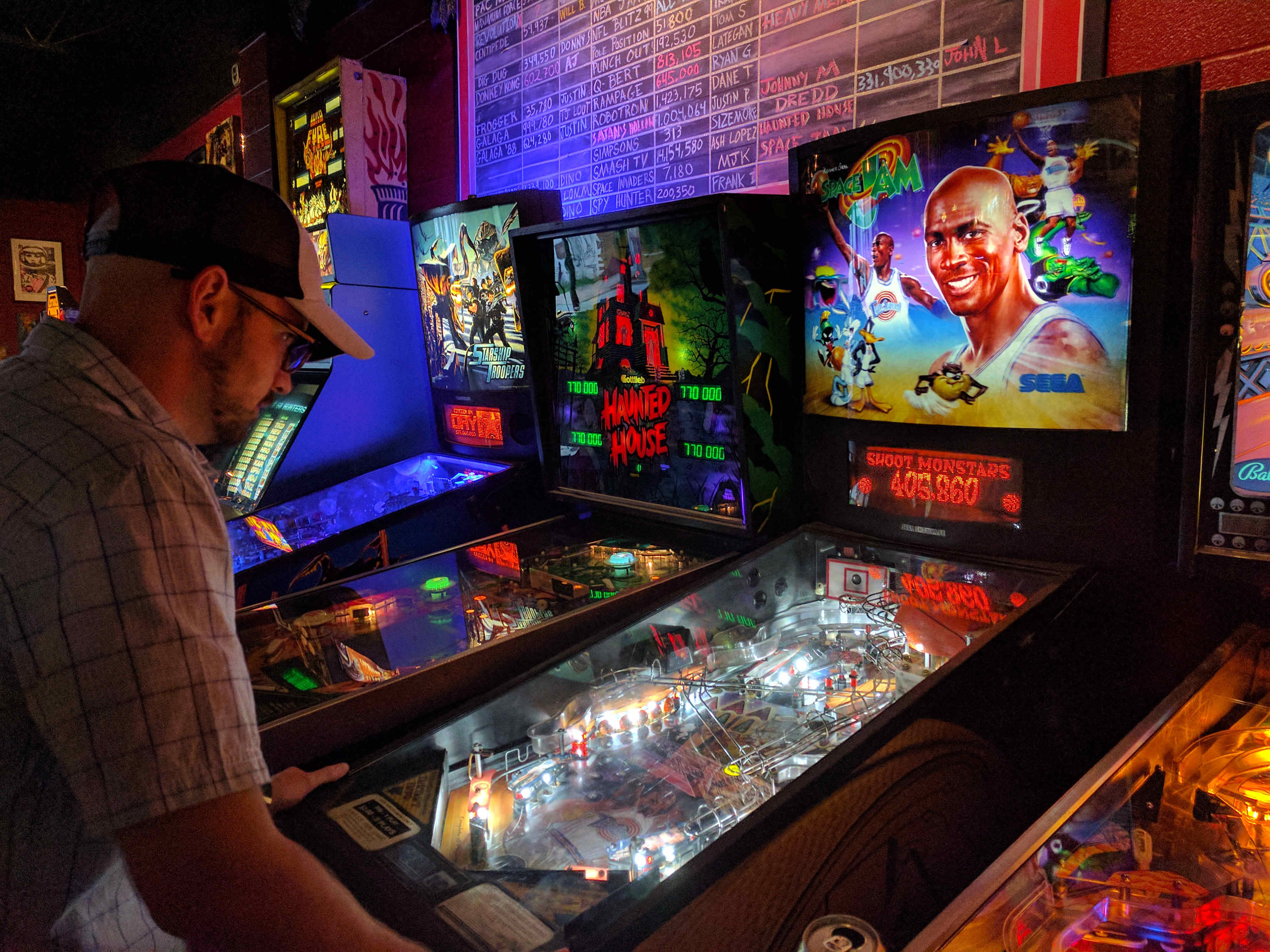 As you'll see in the pictures, it lives up to the name. We ordered beers first. Ben had Raleigh Brewing's Moravian Rhapsody and I went for Mother Earth's Berliner Weisse. He likes his hops, and I went for the sourest option on the board, per usual. Beers in hand, we returned to childhood and played Space Jam and X-Files pinball, NBA Jam, Turtles in Time, Galaga, and went head to head in Street Fighter II. I eked out the W, but just barely.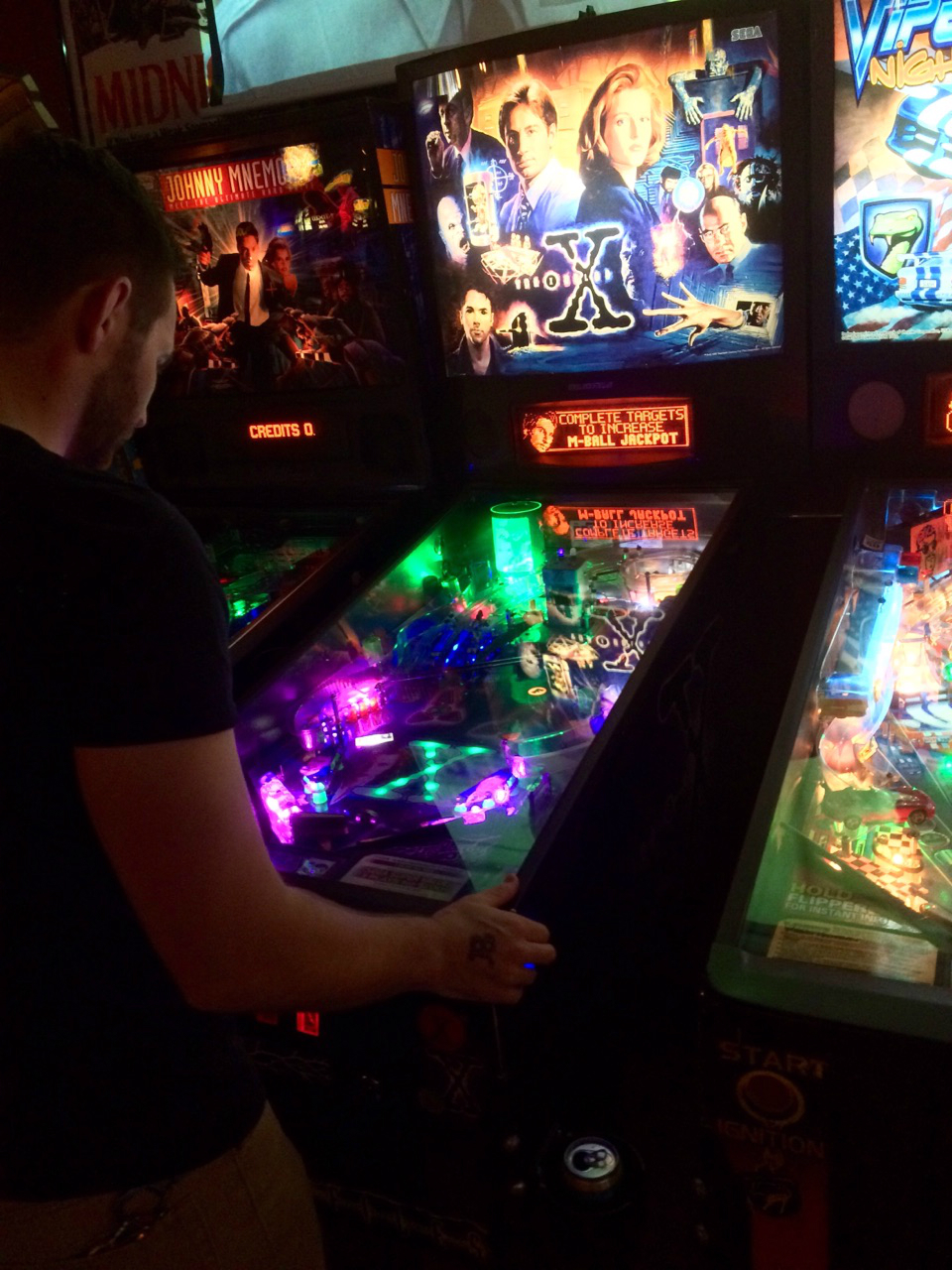 When we ran out of (Ben's) quarters — thanks, Ben — we went three doors over to Beer Study for round two of beers and the book. This time, he had Mikkeller's Centennial Eyes IPA (shocker), while I opted for Brüeprint's Summer Sour (shocker).

Discussion
Right off the bat, we agreed that the world Gaiman creates in American Gods is enthralling. The persistence of the ancient gods and the creation of the new all living side-by-side with (and deriving sustenance from) humanity is fascinating; even more so against the backdrop of Americana.
"It makes me want to take a roadtrip," Ben said. "To see all the roadside attractions that are really holy places in disguise."
The little sub-stories at the end of most chapters also captured our attention. In them, Gaiman creates histories for the existence of gods in America, who brought them and why. These vignettes broaden the horizons of American Gods, touching all corners of the earth, and bringing them together in the great Melting Pot.
We also shared opinions on many of the main characters. The crafty Wednesday was fun and funny. The crotchety Czernobog, while a pain at first, later becomes warm and endearing. And Shadow, oh Shadow, with a name like that, you have to know he's going to be a bit of an afterthought. Ben thought he was a good, neutral perspective through which to see the story unfold. I didn't disagree, but he did fall a bit flat.
Most of the things we didn't like were minor. Minor characters that didn't seem to have much point. Minor subplots that felt forced. But that's part of the paradox of writing a big book. The longer the story and the more characters you have, the harder it is to give everything depth while keeping the book at a digestible length.
Ultimately, it was a joy to read American Gods. So much so, we didn't want it to end. Of course, it did end, but we came away from it with a fascinating realization. Anyone can be American, even a god.
Next Time
Next time for PorchDrinking's Beer & Book Club (NC Chapter) we're traveling to the past for one of the OGs of science fiction: H.G. Wells. We're going to read a couple of stories because they are both relatively short: The War of the Worlds and The Island of Dr. Moreau. See you soon!
---