2 Comments
Ultimate 6er | The Bittersweet End of Summer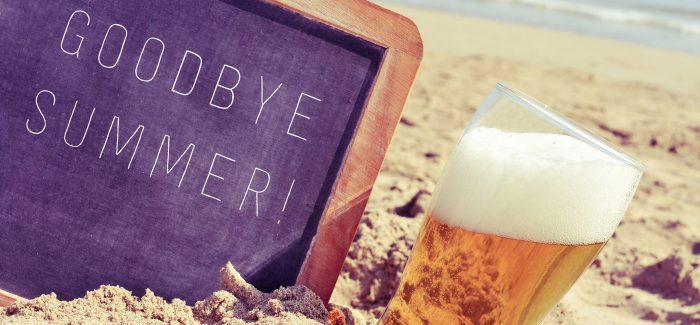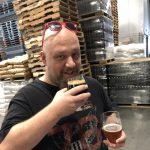 It's a well-known (if not scientifically documented) fact that as we get older, we start complaining more about the weather. Sit near an old man on a park bench sometime, there's really no condition that he can't find fault with. Too hot. Too cloudy. Too much humidity. Lots of hot air these days; very few cool breezes. Nothing's ever right or as good as it used to be. EDM music and so forth…
What if you like warm weather, yet long for the beers of winter? What about those of us who hate driving in the snow, but love football? People who are in limbo during this time of year want some beers that can meet the needs of any climate. The changing of the seasons truly is a bittersweet symphony, and as we clumsily straddle the fence that separates pre-autumn excitement from end-of-summer blues, let's look at six tasty brews that that can help us savor the remaining warmth while preparing for the imminence of gawking leafers and poorly raked yards.

ABV: 6.5%
Late summer is peach season around the Centennial State. A little-known fact about Colorado is it has some of the sweetest, tastiest peaches in the world. Something about the big temperature swing from day to night on the Western Slope really brings out the sugar in the fruit. New Image Brewing is one of the hottest breweries in the state, and they know their way around a hazy, hoppy brew or two.
Brewed with Citra hops, peaches and lactose, this milkshake IPA is a perfect way to hold on to the last few weeks of summer as you bask in its subtly sweet, hoppy goodness.
https://www.instagram.com/p/Bl_aSfFFkHF
ABV: 7.5%
Much like the never-give-up affinity for clear IPAs that some people have, fans of the hit show "Breaking Bad" have had a hard time filling the hole that Walter White blew off our collective faces when the show ended a few years ago. Fortunately, in late-summer we do have the awesome (if less violent) "Better Call Saul" to help ease some of the pain. What better way to enjoy a good TV show binge than with a beer recipe that would've made Heisenberg proud?
Made in Albuquerque, Project Dank is a tasty hop bomb from the folks at La Cumbre. Though the grains and hop varieties change slightly from year to year, one thing remains the same: delicious, dank, hop-heavy beer. Now available in cans!
https://www.instagram.com/p/BknCcxtHKLX
ABV: 5.6%
Soon we'll be out of weekends that are warm enough to camp outside comfortably. It's important to grab a tent, find (or make) some friends, buy a few bars of chocolate and a bag of marshmallows, and head to your nearest campground for s'mores. Why we love to fire-roast food with a filthy stick we just found on the ground may never be known.
But whether you like your marshmallow nicely toasted on all sides, or you're one of those sociopaths who burns the marshmallow intentionally, Denver Beer Co.'s Graham Cracker Porter is the perfect brew to complement your campsite cookery. Its slightly sweet flavor is balanced by a subtle smoke, and its easy-drinking ABV invites you to come back for s'more some more. We're better than that. No puns, not today.
https://www.instagram.com/p/BRRyOo1AiAS
ABV: 8%
Most Scotch ales are a bit heavy for summer, but they're also mild in comparison to some of the high-ABV booze-bombs that are ubiquitous in winter. This makes Kilt-Lifter perfect for an end-of-summer transition to pre-season football. California's experienced a bit of a shake-up lately when it comes to its football teams, but Moylan's Kilt-Lifter has been around for years and doesn't look to be going anywhere soon.
Malty but smooth, this wee heavy is a great example of the style. If you're looking for something to fill the beer gap between football training camp and pre-season, this should be in your seasonal rotation.
https://www.instagram.com/p/Blg0kVSF0Me
ABV: ~17%
With pickle pastry boba guano stouts and glitter beer, it seems a bit odd that there's so much hate toward pumpkin beers in some circles of the craft-drinking world. Late in the summer, we start seeing pumpkin brews hit the shelves; whether you love 'em or hate 'em, it's hard to deny that one of the kings of the style is Avery's Pump[KY]n.
Despite its staggeringly high ABV, Avery manages to tame the booze and bring out the best elements of beer, pumpkin and bourbon all at once to create a highly sought-after seasonal craft beverage.
https://www.instagram.com/p/-4xQrfzOpX
ABV: 11.4%
Stickee Monkee is one of those beers that you can probably drink year-round. It's not quite as heavy in the gut as a stout, but it's a definite departure from the lighter Belgian-style brews that come around in summer. As we hit the end of outdoor concert season, it's important to have a beer that's versatile. You don't want to be stuck out on a nippy night with nothing more than a lager to keep you warm. On the other hand, you don't want to choke down a thick, milky stout if it's 80 degrees.
The Sticky Monkey is a flower native to the central coast of California, and the brew pays homage to the Belgian monks who pioneered the quad style. It doesn't leap out at you as a Belgian, however, with its incredible balancing act between hoppy, malty, sweet and strong.
https://www.instagram.com/p/BlD10CagU_Q
---