No Comments
The Weekly Buzz | September 16th – September 22nd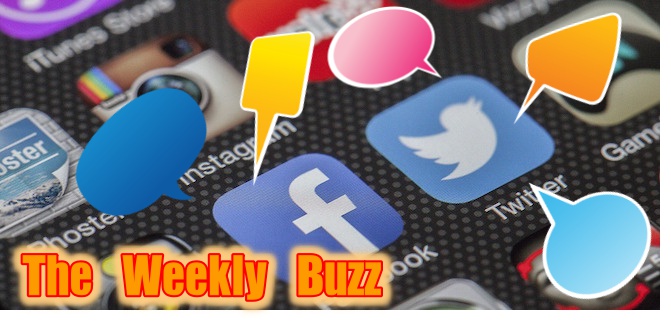 This week was chock full of event announcements, new beer releases, and breweries giving back to the community. Hmm, am I forgetting anything? Only the grand opening of Stone's location in Berlin, and a legendary collaboration brew that took place there! Ladies, gentlemen and children of all ages (but preferably over 21), this is The Weekly Buzz!
Love those briny treats from the sea? You can pair them with some craft brews at this event!
Join us for oysters + beer at @OysterFestChi Sept. 30th! Get tickets here: https://t.co/8nh87EsPtR pic.twitter.com/VZ5AYAyELd

— Founders Brewing Co. (@foundersbrewing) September 16, 2016
---
Look out Germany! The Americans are invading… with craft beer!
This week we were proud to host some of our #craftbeer friends at the Grand Opening of @StoneBistro – @StoneBerlin! pic.twitter.com/WE7dCjo4ta

— Stone Brewing (@StoneBrewingCo) September 16, 2016
---
Fresh fruit and beautiful foeders… Such funky, funky potential…
Remember all those peaches? Well, we got a few local nectarines too. Pennsylvania wild ales, anyone? #SplinterSeries pic.twitter.com/ilw8o9NTJw

— Tröegs Brewing (@TroegsBeer) September 17, 2016
---
We'd probably be more excited if they were full of beer, but a brewery expansion is pretty great, too!
Check out the size of that new tank! Keep an eye out for them as they head to Bend from Longview, WA this weekend. pic.twitter.com/bgOw6LrDhX

— Deschutes Brewery (@DeschutesBeer) September 17, 2016
---
Who wants to carpool to Michigan to snag some?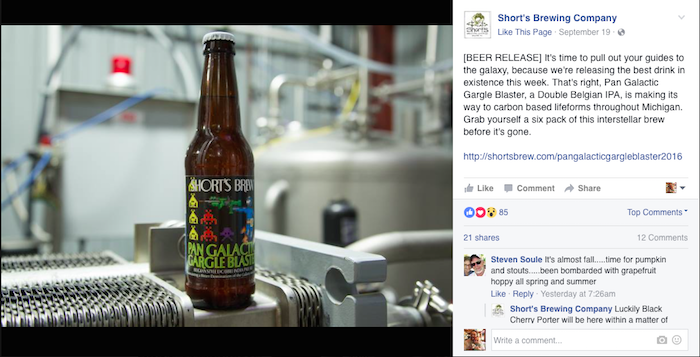 ---
Have we mentioned how much we LOVE to see craft brewers giving back?
Last weekend's @DeschutesBeer Street Pub in MPLS broke a fundraising record for the event: https://t.co/CksGcQhoMV pic.twitter.com/Hm6Ckt6J9h

— The Growler Magazine (@growlermag) September 17, 2016
---
How many of you fanny-pack-wearing tourists plan on making the trip this year?
#DYK: #Oktoberfest in #Munich is the largest festival in the world w/over 6 million attendees each year! pic.twitter.com/RNnjwzJRkO

— German Embassy (@GermanyinUSA) September 15, 2016
---
Definitely keep up with Founders' trip to hop harvest. Guaranteed high Alpha Acid content!
Our team is in Yakima Valley this week for the hop harvest – & we're taking you along for the ride! Stay tuned… pic.twitter.com/Gm46yIMvhU

— Founders Brewing Co. (@foundersbrewing) September 19, 2016
---
Another big event coming up. Are you going?
#312BlockParty is this weekend! 9/23 & 9/24! More info here ? https://t.co/X9hIsz1Kqa pic.twitter.com/W7DNxK11bk

— Goose Island Beer Co (@GooseIsland) September 19, 2016
---
Another brewery doing charity work? We're starting to get the feels!
Thanks to all your beer drinking on Saturday we raised $2,600 for @CircleofHopeTR Feel free to add it to the résumé. pic.twitter.com/OqlsvYnjI2

— Flying Dog Taps (@FlyingDogTaps) September 19, 2016
---
Do you lay beer down for a special occasion, or drink it right away?
I Don't Save Beer !https://t.co/EztvSEioAV

— John Fahrner (@sommbeerdetroit) September 19, 2016
---
This is one of the darkest chain letters I've ever seen… Spine tingling to say the least!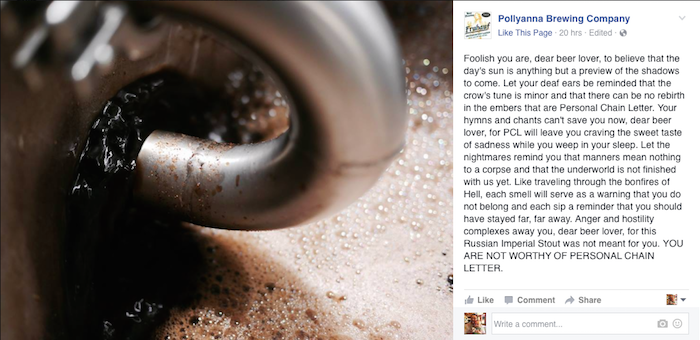 ---
That's the face of someone who is STOKED to have been elected!
#Masschusetts #BeerNews: .@MABrewersGuild elects a new president https://t.co/2iSqWzy2he pic.twitter.com/b6lCzRigbA

— The Full Pint (@thefullpint) September 20, 2016
---
Another brewery is at the hop farm for harvest. Who doesn't love this time of year?
A day well spent walking amongst the towering hop bines at @loftusranches. #HopSelection #HopHarvest2016 pic.twitter.com/bs5mTKgPnp

— Uinta Brewing (@UintaBrewing) September 19, 2016
---
Another great event coming up! Get those tickets!
Get those tickets!! https://t.co/d2gi1BjdT2 pic.twitter.com/cf0bU9pmBd

— Denver Beer Co (@DenverBeerCo) September 20, 2016
---
What got these craft beer legends under one roof?
Pre-game beers at @monterey_bar_berlin b4 brewing Saison du BUFF at @stonebrewingco #Berlin tomorrow! @VictoryBeer pic.twitter.com/x5H7oJOnQz

— Dogfish Head Brewery (@dogfishbeer) September 19, 2016
---
…They brewed up something really special at Stone Brewing in Berlin!
#Happyhour in Berlin! A batch of 'Royal Imperial' Saison du BUFF in the tank. Thx, team @StoneBerlin for a great day pic.twitter.com/99KifnTJvP

— Bill Covaleski (@Victory_Bill) September 20, 2016
---
Another brewery lending a helping hand? Where are the kleenex? I'm getting misty over here…
Gettin down + dirty mucking and gutting homes destroyed in the #LouisianaFlood w @oskarblues + @alhands pic.twitter.com/LpHF0kZ8GO

— CAN'd Aid Foundation (@CANdAid) September 20, 2016
---
I'm sure the pumpkin spice latte crowd is already lining up!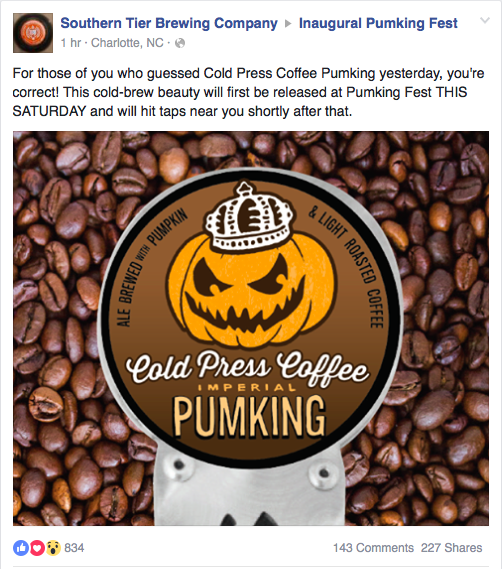 ---