No Comments
The Weekly Buzz | May 5 – 11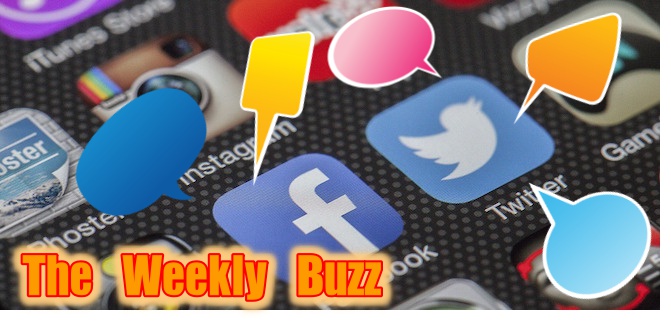 I'm getting ready to go on vacation! My destination may not be a world-renowned beer town like Portland or Denver, but I'm sure I will find a way to enjoy some delicious craft brews. For those of you who are forced to stay home and endure your normal slog, I present you with a week's worth of beer news and shenanigans. You can read The Weekly Buzz while you pretend to do your TPS reports. I, on the other hand, will be in Myrtle Beach drinking beer and pretending that I like the beach.
Here's your best chance to see what New York has to offer!
Experience NYS beer, cider, wine and spirits all at one event, alongside regional fare from local purveyors: https://t.co/0mOGRFDeyf pic.twitter.com/3MnEMmiWNF

— Taste NY (@tasteny) May 5, 2017
---
 It's time to really start enjoying the warm weather!
Friday nights just became fun again. Let the 2017 #DeckedOutLive season begin! #Hbg #HersheyPA #CraftBeer #Wine #Music #Weekend pic.twitter.com/b25jQOwJ4i

— Brewery at Hershey (@BreweryHershey) May 5, 2017
---
 Nebraska's craft beer sales are growing.
This chart shows the sales of #Nebraska made beer to Nebraskans for the last 7 years. Thanks for your amazing support! #dontkillourcraft pic.twitter.com/NwUruZodEj

— NE Craft Brewers (@nebraskabrewers) February 24, 2017
---
I hear that Cake pairs well with craft beer…
We are three weeks away from the start of our summer concert series! First up is @CAKEMUSIC on Fri. 5/26. Tix on sale now via @dspshows. pic.twitter.com/6duVBYNx9S

— Brewery Ommegang (@BreweryOmmegang) May 5, 2017
---
 Tickets are on sale now!
Tickets for The #OB #SummerKickoff go on sale this Sunday! Tickets are only $10 & include a pint glass, a pint, free pizza, and more! pic.twitter.com/gWtWJtAeDx

— Culture Brewing Co (@culturebrewco) May 5, 2017
---
What beverage did you celebrate with?
Celebrating #NationalBeverageDay Our choice is clearly #craftbeer pic.twitter.com/rUYC7ZZrnz

— MauiBrewingCo (@mauibrewingco) May 5, 2017
Did you know today is Beverage Day? It's the perfect day to relax on our patio with your favorite beer or try a new brew! 😎 🍻

— Avery Brewing Co (@AveryBrewingCo) May 6, 2017
---
 Skipping the Funkatorium Invitational? This event is for you!
Springdale Announces We're Funk'd: Sour Stroll 2017 For Dropouts Of Wicked Weed's Invitational https://t.co/DrhBX48vBz @springdalebeer pic.twitter.com/uxGcDUgwrn

— tenemu (@tenemu) May 5, 2017
---
Extended Happy Hour for educators and medical pros! You deserve it!
https://instagram.com/p/BTuH9ijFSP1/
---
 Homebrewers, we salute you!
This Sunday is #nationalhomebrewday! Tweet us your #homebrewing ?s & our Cellar Manager, Microbiologist & Brewing Manager will answer. pic.twitter.com/sU5KfcPFca

— Founders Brewing Co. (@foundersbrewing) May 5, 2017
This weekend we celebrate #NationalHomebrewDay and #BigBrew with a #TwoHearted clone recipe #homebrewroots https://t.co/m01TmCQlmo pic.twitter.com/2rDr3iiMHF

— Bell's Brewery (@BellsBrewery) May 6, 2017
Celebrate @HomebrewAssoc Big Brew Day with us & @zz_hops as they brew along our tour path today! https://t.co/4h3QHNdZWE pic.twitter.com/i1lWNxkF0V

— Boulevard Brewing Co (@Boulevard_Beer) May 6, 2017
---
 Challenge accepted!
It's Saturday! I challenge you to go out and drink a #beer in at least three local craft breweries today! Rejoice in diversity!

— Triskelion Brewing (@TriskelionBrew) May 6, 2017
---
 Are you ready?
#DarkLordDay2017 festival map is here → https://t.co/Iv5V8BNPBP pic.twitter.com/SeC5t8Tw1V

— 3 Floyds Brewing (@3floyds) May 8, 2017
---
Lend a helping hand to those in need!
Help us paint, repair, & beautify a home in need with @HeartsHammers Twin Cities! Sign up here: https://t.co/TRIeq1u9VN #volunteer #beer pic.twitter.com/ji95Ewh5gi

— Surly Gives A Damn (@SurlyGivesADamn) May 8, 2017
---
Without him, modern brewing wouldn't be the same!
In 1883 Emil Christian Hansen became the 1st to isolate a pure culture of yeast. Happy Bday to Hansen & cheers to his many contributions! pic.twitter.com/tUQeByqP19

— White Labs (@whitelabs) May 8, 2017
---
Is there kale in it?
We've got a brand new specialty beer coming out later this month. Any guesses what it might be? 😉

— 21st Amendment (@21stAmendment) May 8, 2017
---
Buy some art and drink some beers!
https://instagram.com/p/BT1c0wMjMoq/
---
You can tell that this goat is a champion.
https://instagram.com/p/BT1k_FABGtG/
---
 Looking for something to do in Philly?
Join us for the ULTIMATE Craft Cocktail Competition on 5/28! We're teaming up w/ @PhilaDistilling for a good cause! https://t.co/diL38jjc0i pic.twitter.com/y8oSWM6S3c

— Victory Brewing Co. (@VictoryBeer) May 9, 2017
---
I predict there will be a lot of sweet, sweet harmonica playing.
Come hang with us at #FoundersFest 2017 feat. @umphreysmcgee & Blues Traveler! https://t.co/8Ti0NzriEY pic.twitter.com/rfvYQceuvp

— Founders Brewing Co. (@foundersbrewing) May 9, 2017
---
Get your tickets today!
Today is the day! Early bird tickets for #CABeerSummit are on sale now. Get yours here: https://t.co/mMMr2kSGPd pic.twitter.com/LiBHZn6OSM

— CACraftBrewers (@CACraftBrewers) May 9, 2017
---
Are you a beer nerd AND a number nerd?
Famille Rue is looking for a talented Accounting Manager to join our team! For more details and how to apply, visit https://t.co/jMS4dXXoeM. pic.twitter.com/ew5RZZ1P6h

— The Bruery® (@TheBruery) May 9, 2017
---
You can never have enough beer events!
Book Now: The @upslope Get Down beer-&-music festival goes down 5/20. https://t.co/7XTy9LbeIo pic.twitter.com/XiJLHJamDo

— Zagat Denver (@ZagatDenver) May 8, 2017
---
I don't know what this is, but I'm going!
Can't say enough good things about @TheAVAM's #Kinetic Sculpture Race on Saturday in Baltimore. Could a day be more fun? #kineticsculpture pic.twitter.com/RERhRrLKFB

— Tröegs Brewing (@TroegsBeer) May 9, 2017
---
Help raise some money for a great cause!
Team Left Hand Bike MS fundraiser is 5/13 #CrushMS & head down to Left Hand for beer, music, food & a silent auction https://t.co/G5HSoBdRe4 pic.twitter.com/HdzoMFLgxL

— Left Hand Brewing Co (@LeftHandBrewing) May 9, 2017
---
New beer alert!
https://instagram.com/p/BT3wU_zA61q/
---
I'm just gonna leave this right here…
I'm around beer so much, my menstrual cycle has synced with beer events.

— Cat Wolinski (@BeerAffair) May 10, 2017
---