No Comments
The Weekly Buzz | July 14 – 20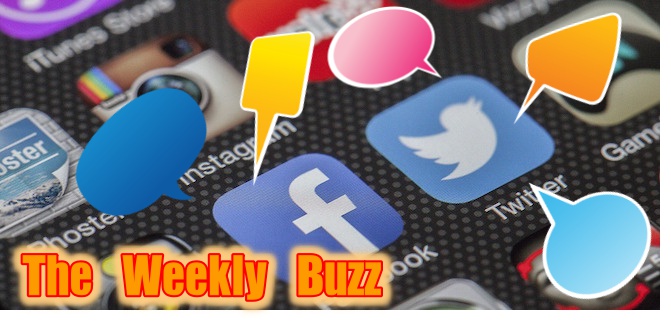 Happy Friday, PorchDrinkers! Another beautiful beer-soaked weekend is upon us, and that means it is time to recap the week's finest beer-related tweets. You could just go to Twitter and scroll through it yourself, but why subject yourself to all that political vitriol? I braved the trolls so you wouldn't have to. So sit down on your porch swing and crack open a beer. It's time to start The Weekly Buzz.

Climb aboard that Nimbus 2000!
https://instagram.com/p/BWqqURiAHOo/
---
What up, my glip glops?!
WHO ELSE IS READY FOR NEW @RickandMorty 7/30?!? #TinyRick! #RickandMorty #AdultSwim pic.twitter.com/ppge1JUxoE

— Yards Brewing Co. (@yardsbrew) July 15, 2017
---
They've earned it!
HWY 101 got slimed just north of the brewery today. @DepoeBayFire deserves a beer for cleaning it all up. https://t.co/O3I4cPmeG3 🍻 pic.twitter.com/pBAkhu2trN

— Rogue Ales & Spirits (@RogueAles) July 15, 2017
---
Do you know the whole story?
How did one one small, wooden mask inspire the #Oberon sun? Larry Bell tells the story: https://t.co/Cbvl8fXNz4 pic.twitter.com/g1zZdyjrj9

— Bell's Brewery (@BellsBrewery) July 15, 2017
---
This. This is a thing of beauty.
Our spontaneous fermentation cellar is growing! We added 70 – 500 liter puncheons today! #crookedstave #barrelaged pic.twitter.com/41IGA627Ys

— Crooked Stave (@CrookedStave) July 14, 2017
---
Who's up for a picnic?
Get your tix for @eatfeastly's SF Picnic in Golden Gate Park 7/30 feat. Anchor brews & top local chefs on the grill https://t.co/JiF0PzIeqj

— Anchor Brewing (@AnchorBrewing) July 14, 2017
---
I'll just meet you guys there.
https://instagram.com/p/BWkfk6rnUpV/
---
The Earth thanks you!
We have some exciting news, WE'RE GOING SOLAR! Thanks @CBJnewsroom for sharing our excitement! #cltbeer #solar https://t.co/Yop73KS8eH pic.twitter.com/NoNEeichfV

— Birdsong Brewing (@BirdsongBrewing) July 15, 2017
---
Pilsners in Maine. My favorite things are starting to converge!
https://instagram.com/p/BWm1onwDx69/
https://instagram.com/p/BWm_NIBDE9r/
https://instagram.com/p/BWnOdi9HHre/
https://instagram.com/p/BWnNAxMlfb_/
https://instagram.com/p/BWm5fYeloxN/
---
Wait… There's a Gluten Free Expo?
We're coming, #Massachusetts! Pouring our #CoastToCoast Route 20 IPA at @gfafexpo in #Worcester. Named after the longest road in the US! pic.twitter.com/PiiaLwqDUT

— GroundBreakerBrewing (@GroundBrkrBrew) July 17, 2017
---
I choose the 2-mile walk.
Join us at @SalemRunning for a #BEERRUN 5K or 2-mile walk! All abilities are welcome! #SALEM 7/17 @ 6PM! pic.twitter.com/ZqNQKIWG4c

— Ninkasi Brewing (@NinkasiBrewing) July 17, 2017
---
So far, so good!
https://instagram.com/p/BWpvbKshpBM/
---
Happy Anniversary!
20 years ago today, our first beer – a Tröegs Pale Ale – was sold. Thank you for being a part of the 20-year ride of independent brewing! pic.twitter.com/OMCe152QaY

— Tröegs Brewing (@TroegsBeer) July 18, 2017
---
How are they going to eat their ice cream?!
https://instagram.com/p/BWslpuwjQom/
---
The new place is coming along nicely.
https://instagram.com/p/BWss3GQlh03/
---
Did anyone cosplay as Wesley Crusher?
#HopCon is, as they say, LIT pic.twitter.com/IW8VBvVpc2

— Stone Brewing (@StoneBrewingCo) July 20, 2017
Behold: THE LINE pic.twitter.com/JuZAk4XucI

— Stone Brewing (@StoneBrewingCo) July 20, 2017
The w00tstout casks are p popular, you guys. #HopCon pic.twitter.com/u4OYjscZbA

— Stone Brewing (@StoneBrewingCo) July 20, 2017
Always good when original #w00tstout collaborator @DrewCurtis stops by to talk beer, the great state of Kentucky and bright shoes. pic.twitter.com/5uIdgbBPUO

— Stone Brewing (@StoneBrewingCo) July 20, 2017
---