No Comments
The Weekly Buzz | June 8 – 14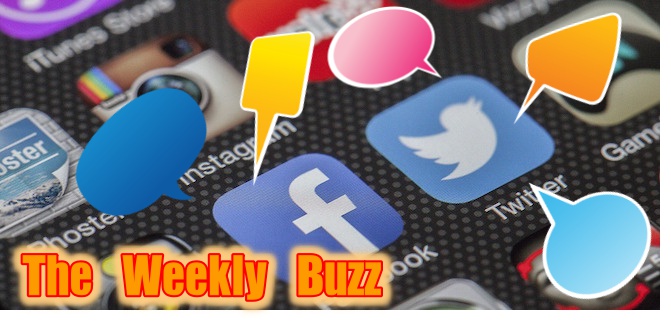 Today is my eighth consecutive day of work. Six of those days were 12-hour shifts. I work another 12-hour day tomorrow. I'm tired. I'm cranky. There hasn't been enough beer in my diet, so definitely send some of that my way. My social media time was limited, but I gladly burned the candle at both ends for you, my dedicated readers. Raise a pint for me, and enjoy The Weekly Buzz.

Sounds like a great one!
https://instagram.com/p/Bj0DMregIZ9/
---
Don't worry! There were a few made up Internet holidays this week!
#NationalRoséDay is as good a time as any to preview our next BC Small Batch beer. Also available on draft at the Brewery right now. https://t.co/rRxbjlI0ws pic.twitter.com/cjZsY9QANR

— surlybrewing (@surlybrewing) June 9, 2018
Area Man Celebrates #NationalBestFriendsDay pic.twitter.com/9sbogYNG6w

— Summit Brewing (@summitbeer) June 9, 2018
---
This was a loss felt around the world.
Anthony Bourdain had strong opinions, and many had strong opinions about him. The truth is that he inspired many people to look past their narrow line of sight and learn something about the world around them. Depression is a hell of an affliction. If you see a friend or family member struggling, offer them a hand. Don't wait for them to come to you, or it could be too late.
If the reactions of these breweries (and multitudes of other brewers, cooks, bloggers, foodies, travelers and TV enthusiasts) are any indication, Tony will be missed. In his honor, I encourage you all to get out there and travel. If traveling isn't an option, try a dish or beverage that scares you. Expand your personal horizons, and help us grow together as a global community.
We still can't believe this incredible loss. Anthony Bourdain brought culture and culinary cuisine into our homes. In honor of his legacy, we've donated $1,000 to the National Suicide Prevention Lifeline. If you or someone you know needs help, please reach out 1 (800) 273-TALK pic.twitter.com/p1vr19QcnL

— Abita Beer (@TheAbitaBeer) June 9, 2018
RIP Chef 💔
There is no doubt that you positively impacted so many people around the world. You taught us so much & we're forever thankful to have been on the journey with you. pic.twitter.com/uSZq1viQo4

— Black Shirt Brewing (@BlackShirtBrew) June 9, 2018
His adventure and bold personality will be missed. #anthonybordain pic.twitter.com/S9gmvZJS7I

— Rogue Ales & Spirits (@RogueAles) June 8, 2018
Today, we raise a glass in honor of Anthony Bourdain. Thank you for blazing trails, bringing beautiful, vibrant cultures into our living rooms, and showing the world how food and drink can bring us together, no matter what our differences may be. Cheers and RIP.

— 21st Amendment (@21stAmendment) June 8, 2018
We are deeply saddened by Anthony Bourdain's death. His wit, passion for adventure, and open-minded exploration has inspired many of us. Tonight we raise a toast in his honor and are reminded of the urgent importance of confronting mental health issues. Rest in peace Tony. pic.twitter.com/Ug9a3v1HTi

— Almanac Beer Co (@AlmanacBeer) June 8, 2018
---
Did anyone really care about the IHOb publicity stunt?
We were convinced it was gonna be International House of Breakfast (Stout). #iHOb https://t.co/OXumhobikC

— Founders Brewing Co. (@foundersbrewing) June 11, 2018
---
Can I come see it when it's done?
https://instagram.com/p/Bj5efdCAs5L/
---
The only word I have for this is "yum."
https://instagram.com/p/Bj4-F0XFv2Z/
---
It's all happening today!
https://instagram.com/p/Bj52Yu9gCrg/
---
Look at those wee beasties!
https://instagram.com/p/Bj98KEJAjxT/
---
Get your tickets today!
https://instagram.com/p/Bj8W3eMgv6M/
---
Someone read this page to my kids!
https://instagram.com/p/BkAdB9Il6cC/
https://instagram.com/p/BkAX-TxAqii/
---
Get out there and clean up some rivers!
Can'd Aid has teamed up with @rraft and @troutunlimited to support healthy rivers in the Gunnison Valley. Volunteers will float the river and help with restoration efforts!

July 21 | 10am | Gunnison Whitewater Park | Gunnison, CO.

Sign up at https://t.co/mgnIkdisoD pic.twitter.com/N8J60WyUy5

— CAN'd Aid Foundation (@CANdAid) June 14, 2018
---
Look! One more hashtag holiday!
Thank you, @WildTurkey, for making beer taste better with bourbon. #nationalbourbonday pic.twitter.com/1zqiTMflBP

— Anderson Valley Brew (@avbc) June 14, 2018
---