No Comments
Fat Tire-Inspired, New Belgium Celebrates 25 Years With Friends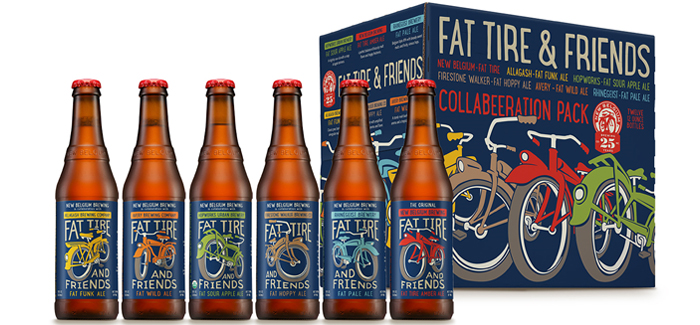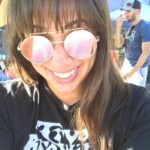 Surprise! Fat Tire is now 25-years-old. Feeling old yet? The folks over at New Belgium are–but in the best way possible! Twenty-five years is no easy feat for a brewery nowadays, that's why they've celebrated in a big way and got in touch with five collaboration partners and good friends of theirs to recreate versions of the iconic Fat Tire.
Avery Brewing, Allagash Brewing, Firestone Walker Brewing, Hopworks Urban Brewery and Rhinegeist Brewery all partnered with New Belgium and made their own creative takes of Fat Tire. You can currently find these collaboration brews in the form of a mixed 12-pack at most liquor stores and bottles shops. Use their Beer Finder to help you locate a store near you.
We interviewed the masterminds behind the new takes of the old staple amber ale and asked them what experiences they've had with Fat Tire and New Belgium in the past.
Andy Parker, Chief Barrel Herder at Avery Brewing, Fat Wild Ale
Many of us have have been enjoying the delicious fruits of New Belgium's labor for longer than we could legally drink, so when they asked us to work on a riff on Fat Tire, there was no question. They love experimentation as much as we do, and we couldn't come up with anything crazy enough to make them flinch.
Matt Brynildson, Brewmaster at Firestone Walker, Fat Hoppy Ale
I had a couple of amazing and very memorable experiences that involved Fat Tire early in my brewing career. One was a cross country beer journey that I took when I was just a homebrewer that landed me at the original New Belgium Brewery. I was handed my first 22oz bomber of Fat Tire and drank it with a couple of the NB brewers at the time, one of which was Brian Callahan. It was one of those moments when a real-live brewer took me in and shared their world with me, which left a real impression.
Christian Ettinger, Brewmaster at Hopworks Urban Brewery, Sour Apple Fat Tire
We have been friends with the NBB crew for a long time. Our paths often cross during our visits to GABF and during NBB visits to Oregon. I think we had a mutual cultural spark that made it very easy to hang out and eventually collaborate. Last year we made a few beers with them to celebrate our B Corp commonality as well.
Jim Matt, Head Brewer at Rhinegeist, Fat Pale Ale
Fat Tire is definitely an iconic brand for many craft brewers. It held a bit of mystique for me personally early on, as I wasn't able to get it when I first go into craft beer (think Smoky and the Bandit, create demand and mystique by limiting availability!) As I got into drinking craft beers in the mid 90s, there were so few available at that time, so I actively sought out what was available, especially while traveling. It is awesome to see this beer as popular as ever. It tastes the same as when I first tried it about 20 years ago, and there is something comforting and familiar about that experience.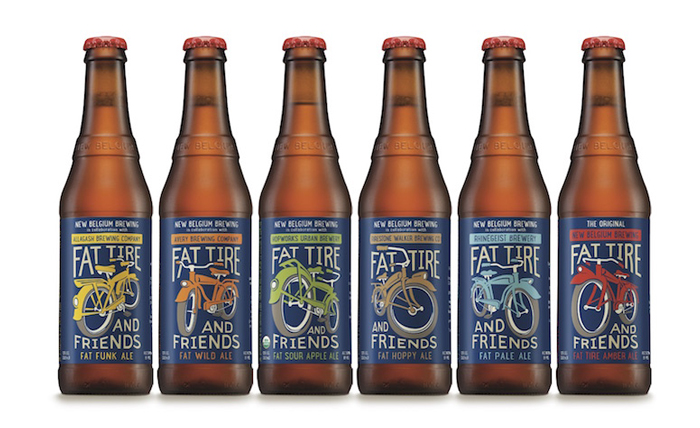 We also wanted to know more about what inspirations went into each brew. As you can imagine, each brewer wanted to stay true to the idea of what Fat Tire represents to millions of beer lovers but still add their own flare.
Fred Rizzo, Head Brewer at Avery Brewing, Fat Wild Ale
We wanted to put the Avery twist on the original Fat Tire, so we added Brett! The wild Brettanomyces yeast adds notes of apricot and pineapple to this Fat Wild Ale, and we upped the fruitiness more by using fruit-forward Huell Melon hops.
Matt Brynildson, Brewmaster at Firestone Walker, Fat Hoppy Ale
I was able to sit a sensory session with Jeff Lebesch, one of the founders [of New Belgium], and he made some comments to me about how that particular batch wasn't hoppy enough for him. Fat Tire was dry hopped, and Jeff was trying to convince folks at the brewery that the brew needed more. My riff on Fat Tire is all about that moment. It's my way of making Jeff's wishes a reality.
Christian Ettinger, Brewmaster at Hopworks Urban Brewery, Sour Apple Fat Tire
New Belgium asked us to interpret Fat Tire through our own lens. We looked at their flavor descriptions and found a reference to apple aroma that was very intriguing. We have a lot of apple experience at HUB as cider makers and it made sense to head that direction. Our previous NBB collaboration was a Sour Peach IPA and we learned a lot from NBB about the souring process. We smashed those two concepts together and voila…."Sour Apple Fat Tire."
Jim Matt, Head Brewer at Rhinegeist, Fat Pale Ale
One fun part for me was mentally deconstructing the recipe for Fat Tire, just by tasting it and trying some familiar ingredients, while throwing some less available other ingredients in there for good measure. The malt bill we came up with was: base Pale Ale malt, Belgian Style Pale Ale malt from Colorado Malting Co. (a tip of the hat to using a local Colorado product), German Caramunich malt and Belgian Aromatic malt. We then took inspiration from a unique beer here at Rhinegeist called Fiction, which uses a different variety of hops from the Southern Hemisphere (Motueka and Nelson Sauvin). We then added some Mistral and Huell Melon hops to round out the hop bill, and used the Rochefort strain of Belgian yeast, which is a fruit forward, spice restrained yeast that we particularly like.
If you're interested in trying these collaboration beers all in one place, New Belgium has partnered with Alamo Drafthouse Denver to bring you a "Collabeeration" Tapping Party on Sunday, June 26 at 6 p.m. Registration is free, all you have to do is show up and possibly enjoy a movie while you're at it.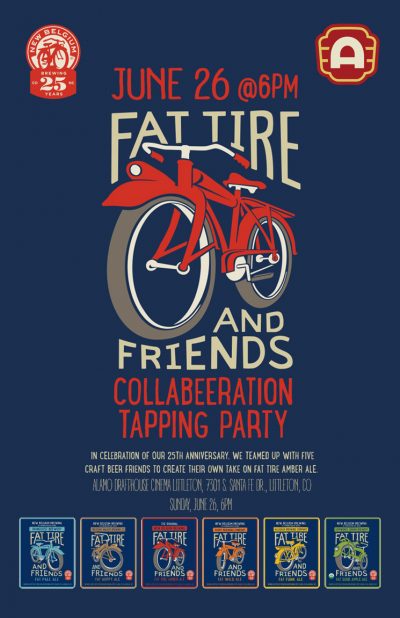 The birthday celebrations continue with New Belgium's 25th Birthday Party on Monday, June 27 starting at 5 p.m. This event is also free to attend and will be held at Avanti Food & Beverage, but there are a few Golden Tickets floating around inside of special cases of the 12-pack across the Denver area that get you VIP status. VIP includes dinner, samples of all Fat Tire & Friends beers, and more surprise specialty options including something from back in 2008 (hint, hint).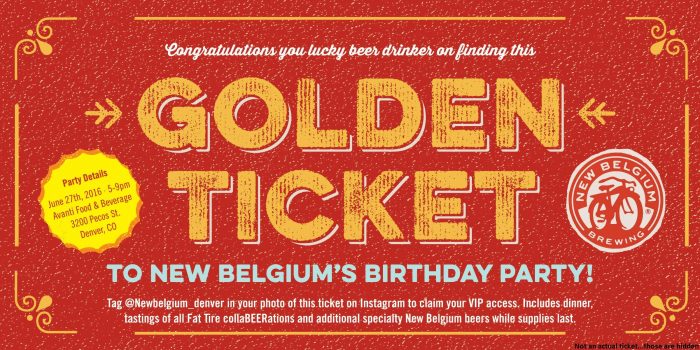 ---