No Comments
District Brew Yards | Three-Brewery Collective, Pour-Your-Own Beer Hall and Eatery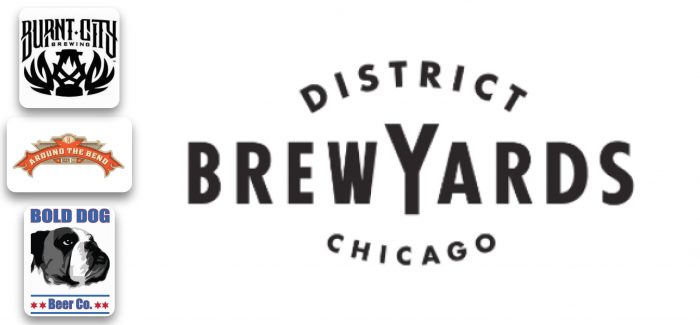 The innovative and imaginative District Brew Yards, new home to Burnt City Brewing, Around the Bend Beer and Bold Dog Beer, stands as the nation's first brewery collective, pour-your-own beer hall, eatery and swag shop all operating under one roof. With an ability to provide customers an expansive — and routinely experimental — beer menu, Brew Yards (opening Friday, April 12) adds tremendous allure to the already impressive Chicago Brewing District on the west side comprised of nearby All Rise Brewing, as well as On Tour, Great Central, Finch and Goose Island.
The ubiquitous nature of craft beer has changed the dynamic of how breweries connect with customers. Not long ago, merely offering crafted beer drew people in the door. But in today's market, breweries have increasingly gravitated towards the "craft beer plus' model including beer plus food, beer plus a beer garden, or… well, beer plus something.
Burnt City, Around the Bend and Bold Dog have not only embraced that trend, but are on the precipice of providing a model for which new breweries will seek to emulate.
The Brew Yards operate as a cashless, non-tipping facility (with higher wages provided to the staff to supplement lost tips). One enters the establishment at the gift shop and beer-to-go spot, where fresh beer has traveled only a few feet from its genesis. One can put money on a card — think Dave and Buster's meets craft beer — and then move on to the beer hall where the three breweries' forty total taps and a kitchen await them.
But it's what's going on in the brewhouse that makes the journey to the beer hall appealing.
Ben Saller, Burnt City Brewing head brewer said, "What we've built at the Brew Yards is basically a playground for experimentation and pushing boundaries."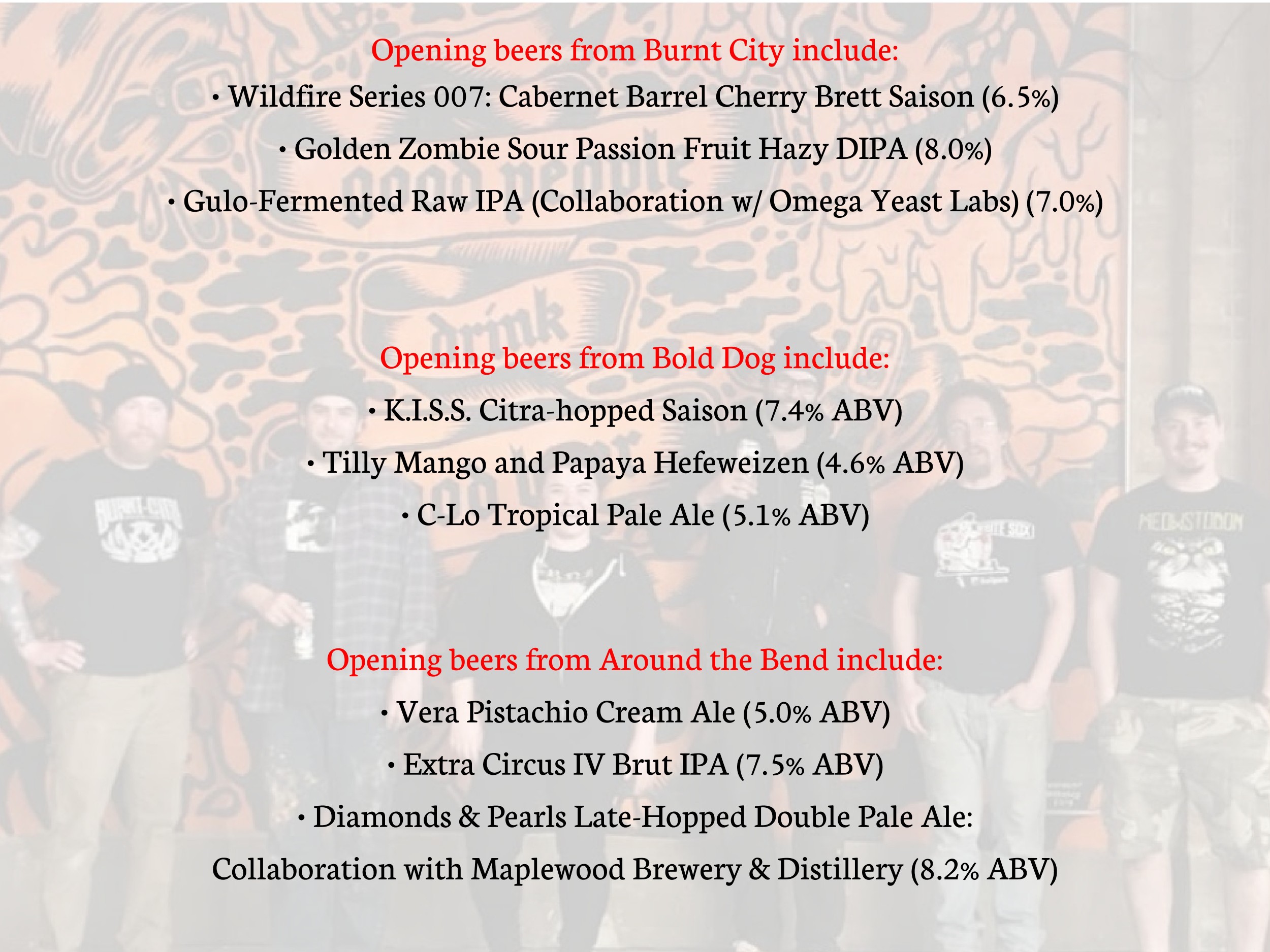 Dan Schedler, founder of Around the Bend, added, "It's only by working together that we can afford all the fun toys we have to play with. Operating a 30bbl and a 7bbl brew house means we can keep big production runs going out the door, while simultaneously doing really cool experimental beers that we otherwise might not want to try if we had to sell through a bigger batch; we can afford to fail sometimes and that's the only way, in my opinion, to really break new ground and find the things that we and our customers really love."
And, with such a big system comes the ability to contract brew some popular beers for which beer fans are quite familiar. The fourth wall can carry some of those favorites, too. All in all, the beer hall functions as a daily beer fest of sorts.
Meanwhile, a food menu full of smoked meats and culinary-minded sides add to the experience. Patrons simply head to the counter located at the back of the beer hall to order dishes that include items such as smoked brisket, house-made pastrami, smoked carrots, and rotating selection of sides.
If that's not enough, Bold Dog co-founder Jerome Stontz adds, "We are also excited to be able to give people a location where they can come and drink our beer on site, and have the ability to host on site charity events with the Chicago English Bulldog Rescue. Since the patio will be dog friendly, we will be able to have adoptable dogs when the weather is nice, so potential adopters will be able to meet them."
The entire concept was one that proved quite appealing to Dan Schedler, founder of Around the Bend Beer Co. "When Steve [Soble} and I started discussing his idea for Brew Yards nearly two years ago, it was immediately appealing. I understood right away the kind of attractive power the concept would have with beer nerds and craft-curious folks alike. Who wouldn't want to come to place where they can sample so many different beers under one roof? So many beers that they can't get anywhere else? Layer on the smoked meats, huge beer hall and fun atmosphere and it was a no-brainer."
Professional beer guides and digital menus will help customers to the perfect beer, and the proper glassware. And, beer prices start at $0.42 cents/oz (with most beers between $0.50 to $0.60 per oz, and up to $1/oz. for reserve and barrel-aged selections), so sampling almost seems impossible to resist.
But, the rich story of the Brew Yards eclipses the simple narrative that the craft beer model has evolved.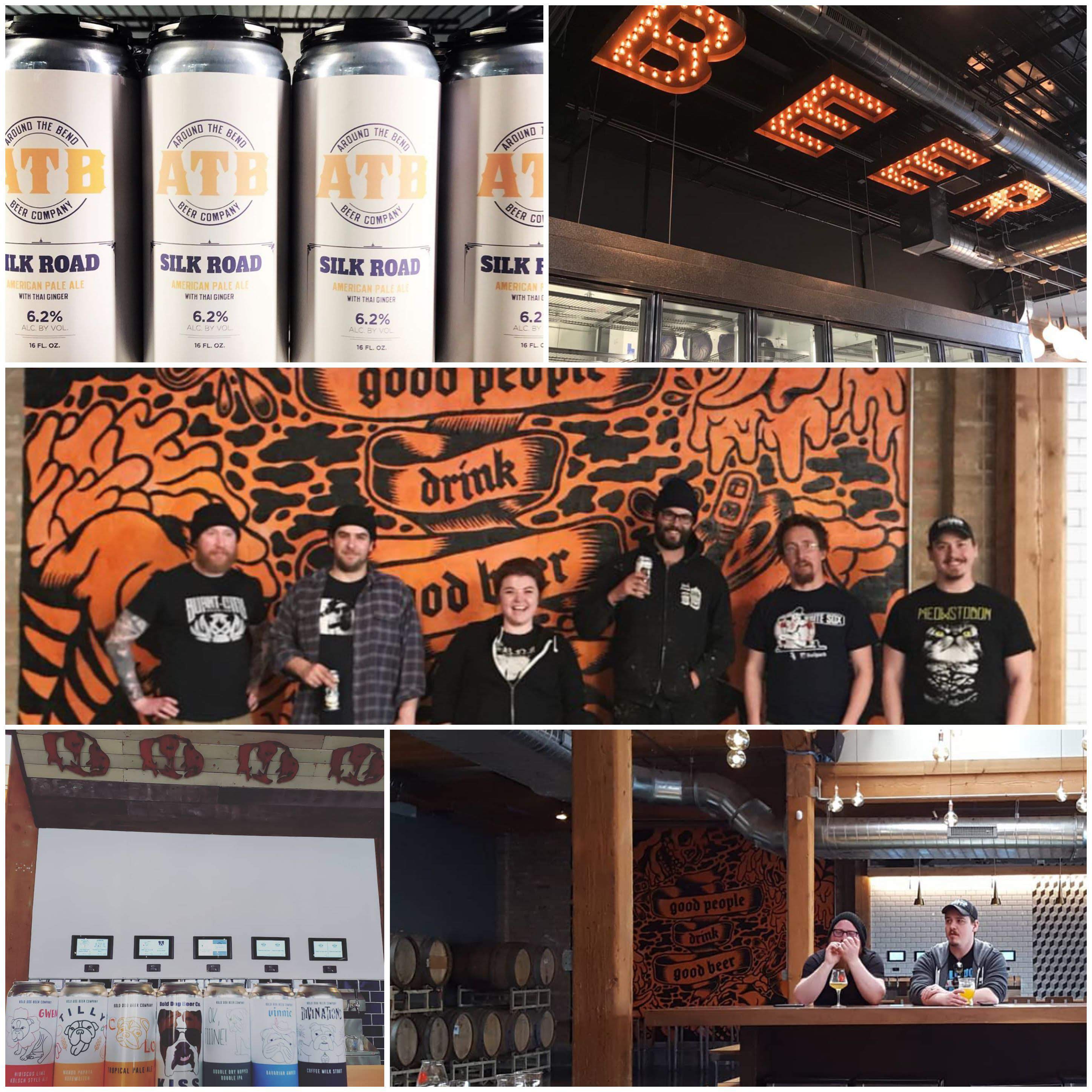 Gone are the days where Burnt City and Around the Bend had to endure court battles or sharing spaces with breweries that went under, to name a few logistical bumps and bruises. Even during the trials and tribulations, and before the idea of District Brew Yards came to fruition, the breweries kept evolving and growing. In the last year or two, Burnt City has flexed its brewing muscles by releasing a bevy of exceptionally well-crafted Brett beers and intriguing dry-hopped ales, (routinely partnering with highly acclaimed Omega Yeast labs). Meanwhile, Around the Bend recently extended its distribution footprint to places like Ohio while simultaneously expanding its portfolio, including developing fan favorites such as its Vera Pistachio Cream Ale.
Meanwhile, a brewery some might view as a newcomer, Bold Dog Beer, has actually been part of the Chicago brewing scene for roughly two years. Jerome Stonz (originally from Kewanee, Il) and Shari O'Connell-Stonz (originally from Massachusetts) found craft beer, and then each other. As a couple they dabbled in experimental homebrewing and spent some time at Lake Effect, learning the nuances of the industry before opening Bold Dog. However, without permanent home, they largely brewed while also working non-brewing day jobs. Now, they have a new home (and, happy to report, a new baby on the way, too).
Stontz commented, "At anytime, you can come to the Brew Yards and try at least 30 different beers, covering a vast variety of styles. We also can't wait to work more closely with Burnt City and Around the Bend, two breweries we were fans of before we even started down the road of opening a brewery."
In various ways, each brewery has managed to not only handle the rough waters, but pick up steam in spite of the headwinds. Now, it's calm seas and full steam ahead. All beer fans have to do is hop on board because the abundance of craft-plus amenities are plentiful at the District Brew Yards.
https://www.instagram.com/p/Bv61WxIAdLb/
---