One Comment
A Drinker's Guide to Griffith, Indiana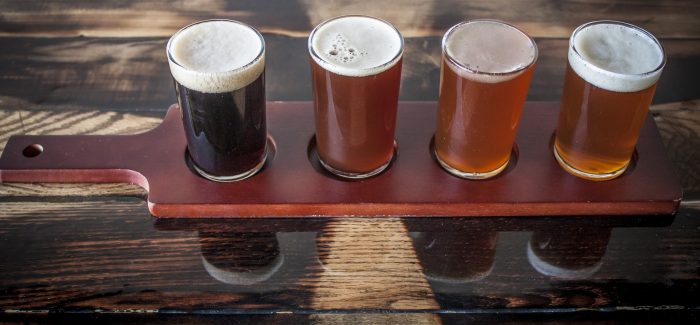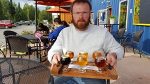 While I can't say anything bad about the Chicago beer scene (we DO have the most breweries per capita), everything else about this city is exhausting, to say the least. From the rampant corruption, violent crime, high taxes and crumbling infrastructure, there is no shortage of issues that make a resident of Cook County want to drink. When I am in need for some fresh air, fresh ale and small-town charm, my day drinking location of choice has always been my hometown: Griffith, IN, located right over the border, 30 minutes south of Chicago.
Griffith's downtown has the charm of a small town, but also the amenities of some of Chicago's most sought-after neighborhoods. It's no wonder people are leaving Illinois in record numbers; many of them are moving here. Real estate is hot and the secret is out—Griffith is a pretty hip(ster) place to be. The town of 17,000 now boasts a small but bustling downtown complete with a bowling alley (with a large outdoor patio area), gourmet popcorn shop, meat market, coffee house, arcade bar, vegan hair salon and three microbreweries. All of the three microbreweries are within a short walking distance from one another with plenty of cool local businesses between to browse, shop or grab a snack to soak up some of Griffith's fine local beer. On a personal note, I grew up here (my most of my family still lives here) so this small town and its breweries have a special place in my liver. It's my pleasure to bring you a drinker's walking guide of downtown Griffith, IN.
Driving In: A good day drinker knows to get into town early. If you find yourself with some extra time and in need of caffeine, visit the very cool people at The Grindhouse Cafe. The cafe food is exceptional, but I recommend skipping that in favor of the beer-centric pub food at the three breweries to help get you through the day. However, check and see if they have the bourbon barrel-aged coffee. If they do, you'd regret not getting it. If you're looking for some peace and quiet, grab your cup of coffee and head over to Central Park, where you have the opportunity to stare at an old World War II-era Sherman tank while mentally preparing yourself for the day ahead. Remember, day drinking is a marathon, not a sprint. However, it should always be done responsibly.
Shall we begin?
Start here—at Griffith's oldest brewery (dating all the way back to 2015). Apologetically Polish, this is your first stop on the northern outskirts of downtown Griffith. There is ample parking across the street or even in their parking lot. If you rode your bike in from the Erie Lackawana trail, don't worry: All three breweries have bike racks.
Let's drink.
Owners Joe and Robyn Pokropinski (Pokro, get it?) set out to bring their passion for homebrewing and community into one place. Joe had the homebrewing experience and his wife Robyn had the business savvy; together they opened Pokro Brewing in 2015. Pokro beers tend to focus on Belgian, English and (of course) Polish style beers. An instant success among the locals, Pokro was forced to upgrade their equipment twice to accommodate the demand.
The taproom space invites you to take a step back in time to the old world with its dark wood accents and old world decor. In the back of the building, a much larger and brighter space is used for events and extra seating for when the crowd gets too large, but right up front by the small bar area is where all the action is. Since you're here, it would be a crime to not get a plate of pierogis or a Polish on a bun. Pair this with a side of potato pancakes (because you're not on a diet today). Pokro's staff has always been very warm and welcoming, so feel free to strike up a conversation and see what's new. Pokro has several savory flavors of pierogis to choose from: mix and match. Wash it down with a glass of their flagship IPA, Race Cars and Unicorns. It's a dank IPA grown with Michigan hops and it measures up to any one of your go-to IPAs except it is always fresh and flavorful, straight out of the Pokro taps. IPAs aren't your thing? Their Raspberry Cammit! is a very popular Belgian Wit with raspberries. See their current beer menu here.
DETOUR: If you need more than pierogies to soak up the hundreds of calories of beer you just consumed, keep walking south down Broad Street until you come to Lady's Gourmet Popcorn. Popcorn and beer are a perfect pairing and any experienced drinker knows that nothing is better than soaking up alcohol with popcorn. See their expansive flavor list here and know that anything you get will only help you in the journey ahead.
Hopefully you've eaten some popcorn because you are only one-third of the way there, my friend. We still have a ways to go.
A few blocks down from Pokro, your next stop awaits you in the form of an old small town storefront that dates back to the 1930s. According to their website, "The Oberpfalz" is located in the northeast corner of Bavaria and is comprised of the frontier between Nürnberg, Germany and the German/Czech border. It is a rugged landscape, rich in brewing history and home to many great beers. New Oberpfalz concentrates their focus on traditional German ales and Lagers but also brews a mean American double IPA (it's called Toad Storm and you should drink it). The German beer is excellent and some of these styles are not seen often in the craft beer world.
The taproom is the smallest of the three, offering long tables with bench-style seating that is communal so it is a great opportunity to spark up a conversation with a fellow traveler. The taproom is often packed with thirsty customers so the brewers here must be doing something right.
If you're looking for some comfort food, look no further then the giant Bavarian soft pretzel with mustard and beer cheese sauce. Combine that with their organic chicken lemon rice soup or their Helles lager baked French Onion soup. Speaking of beer: If you're lucky enough to get their award-winning Helles lager on tap, grab a full mug of it. It is arguably their most popular German-style beer: Their multiple awards indicate this crowd-pleaser will not disappoint.
If you are there in the summer, the Hefeweizen is another popular offering. Appropriately hazy and bursting with signature spice and bubblegum flavors, it is served in the Weizen glass and best enjoyed on their small but cozy patio area. It should come as no surprise that their Oktoberfest lager is also a guest favorite. As before, many of their beers are seasonal but whatever you have a chance to taste on your visit there will not disappoint.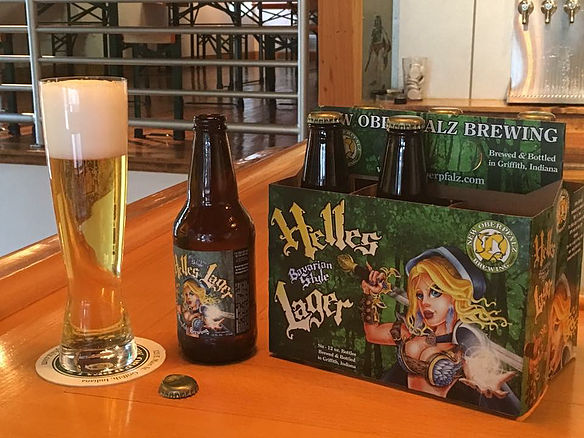 A five-minute walk east across the train tracks brings you to your final stop on your Griffith beer tour.
According to their website, Wildrose began as a dream for "four local dudes (and one chick)" and then became a reality once they discovered that their friends and family liked their beer. A Lot. Unlike Pokro and New Oberfalz, Wildrose brews and specializes almost strictly "American style" craft beer. They also have the largest space, a 10,000 square foot converted warehouse on the outskirts of town. In the summer, the large outdoor patio greets visitors to open air, live music and a relaxing atmosphere.
You might need some food and the homemade pot roast sandwich and buffalo chicken dip will surely satisfy. There are plenty of other shareables (like as cheese curds and a housemade pretzel) that perfectly compliment their beer. Wildrose has some great seasonal beers but lately their dark beers have been stealing the show. The Mad Cow is a sweet Milk Stout brewed with coconut and it is every bit as sweet and delicious as it sounds. Their Mornin' James is an Imperial Coffee Stout with Sumatra coffee is great to use as a "pick me up" to finish out your day drinking. On my last visit, they had the s'mores flavored Stout, which actually tastes like a liquid s'more. If stouts aren't your thing, a pint of Big Sexy, Wildrose's flagship American Pale Ale with Citra hops, will surely do the trick.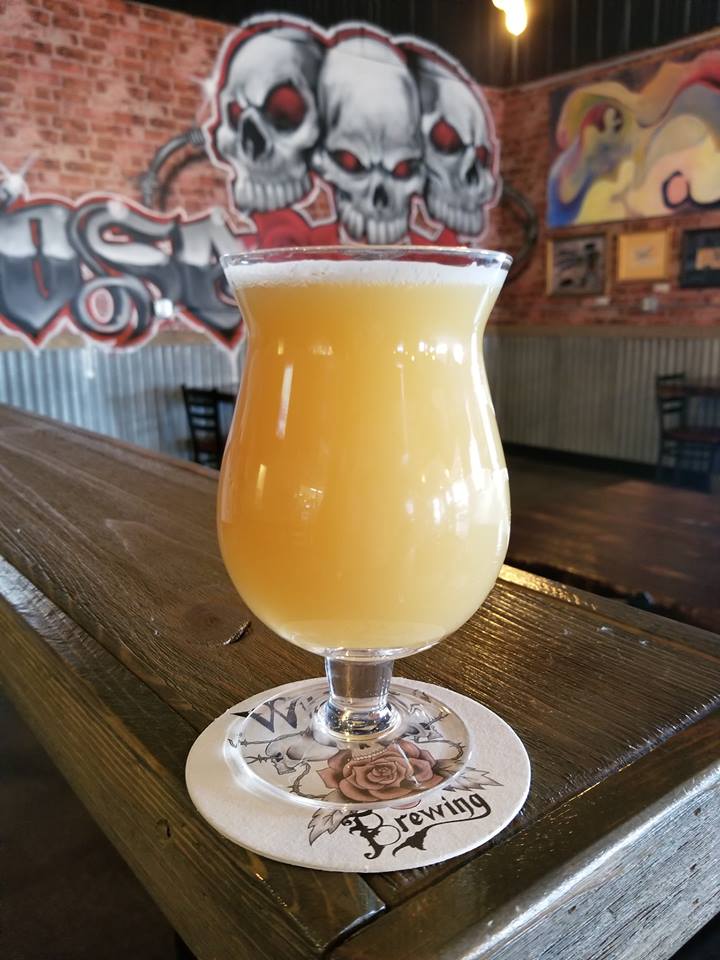 You made it and I am proud of you, friend!  But just because you're done with Griffith doesn't mean Griffith is done with you. If you're still up to up for a little trouble, it's time to…CHOOSE YOUR OWN ADVENTURE!
Do you enjoy being a little tipsy and playing video games? Go here
It's got craft beer and arcade games. Enough said.
Are you someone who needs MORE food? Like pizza? Go here
They have big, greasy slices to go for $2.50. Chicago prices, they are not.
I'm done with beer! Time for some whiskey. Go here
You can watch lots and lots of sports here, too!
Are you drinking and acting irresponsibly? Go here
Be nice and they may just let you sleep this one off 'til morning. Please drink responsibly and get home safe. Please also keep in mind Uber is available in Griffith, IN. They are few and far between, but they are available.
---