No Comments
Sun King Brewery | Fistful of Hops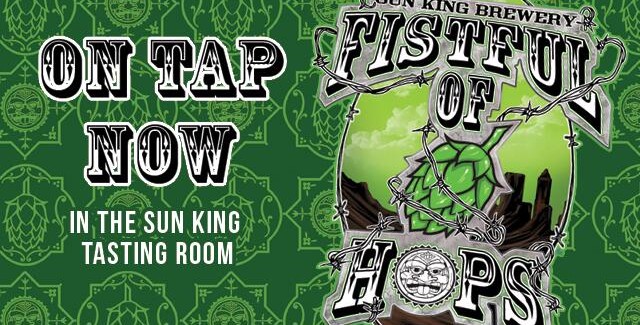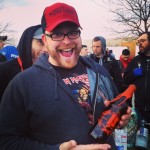 6.5 ABV, 77 IBU
Welcome to Indiana, home to my back porch. I'm excited to bring all the fermented wonders that this great state has to offer to you PorchDrinkers. Around here Sun King, located in downtown Indy has held prolonged prominence in the craft beer scene.
Today's showcase features Sun King's Fistful of Hops, IPA with Galaxy hops. Getting access to high quality hops, especially rare new varieties from the Pacific Northwest can be difficult for new breweries. Out here in the Midwest it's even harder, because the hop landscape is particularly new in this part of the country.
However, Sun King has managed to showcase an impressive rotating display of hop varieties through their Fistful of Hops IPA series. Each season's can displays a new color, and while each year's recipe utilizes the same malt bill, those color distinguishing iterations offer a unique hop build every year. It keeps Fistful fun and fresh no matter what time of year you get your hands on.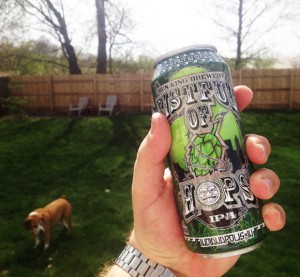 The green cans just came out last week and I was pumped to hear that this year's edition features Galaxy hops, one of my favorite hop varieties. I love the sweet, tropical fruit and citrus flavor that Galaxy brings to the table.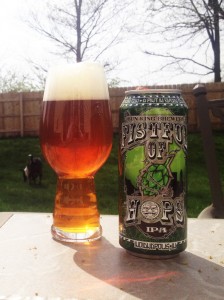 It pours out a light copper color with an inch of head floating on top like a cloud. On the initial smell, one might pick up full citrus aromas, with just a hint of the malt's sweetness. The scent conjures emotions of spring turning into summer, flowers blooming and hot summer days. Also present are the big fruit notes and just a bit of grassy aromas.
The taste opens to nice citrus rind flavor up front. It gives off a subtle bitterness without overwhelming the overall hop bouquet. The malt flavor is a tasty compliment, but subtle letting the hops really shine through. The citrus fruit hop flavors and aromas will flood your senses in the best way possible.
If you can't get enough hops to make the same great IPA year round, make four great IPAs with whatever resources you can get. Next time you're sitting on your back porch enjoying the sunshine ask yourself, How much hops do I really want on this beautiful day? I think you'll want a fistful.