No Comments
Why CBC Returned to Denver in 2019 and CBC 2020-2022 Locations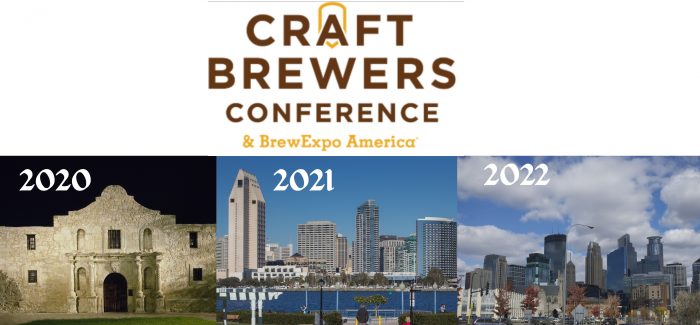 As the Brewers Association (BA) gears up for this week's Craft Brewers Conference (CBC) we decided to catch up with the governing body of craft beer to dive deeper into their decision to move this year's conference from Indianapolis to Denver, just months before GABF will once again be held in the same city. Ann Obenchain, Marketing Director for the Brewers Association, spoke with PorchDrinking.com about this year, and the years to follow.
Moving CBC to Denver in 2019
From hotel rooms and travel logistics to finding proper convention spaces, the enormous task of planning for the annual Craft Brewers Conference, "America's Largest Craft Brewing Industry gathering," begins years in advance. Indeed, this year's CBC includes 14,000 attendees, 1,000 exhibitors and nearly 100 seminars. So, what motivated the Brewers Association to, abruptly move this years' event from Indianapolis to Denver?
Ann Obenchain, Brewers Association Marketing Director, explained:
"Indianapolis was initially the target host city for CBC 2019. When we were finalizing the location back in 2015, national controversy regarding Indiana's Religious Freedom Restoration Act (RFRA) was starting to heat up. At the time, for a variety of reasons, we felt that it was in the best interest of our members and the event to find an alternative host city for 2019."
Many viewed the RFRA, backed by then Governor Mike Pence, as a means for which to justify discrimination based on religious beliefs, notably against the LGBT community. For an industry that prides itself on inclusivity, the act simply went against the organization's core values.
Luckily, the BA had another choice. "Our partners at the City of Denver, whom we collaborate with closely every year for the Great American Beer Festival, were very accommodating on short notice." 
The decision to move to Denver this year does not mean the BA has shut the door on Indianapolis, though. "Since 2015, we have stayed in conversation with Visit Indy and learned a lot along the way about how the city spoke out and took positive actions to show they're open and welcoming to all groups," explained Obenchain.
Thus, Indy may be the host site in the future.
In the meantime, Obenchain mentioned the location and dates for CBC in 2020, '21 and '22.
Confirmed Future CBC Dates:
2020 (World Beer Cup): April 19-22; San Antonio, TX
2021: March 29-April 1; San Diego, CA
2022 (World Beer Cup): May 2-5; Minneapolis, MN
First things first, of course. This year's CBC has just started. "We're looking forward to welcoming more than 14,000 of our craft brewing family to Denver for what is sure to be an exciting, educational and entertaining CBC week," said Obenchain
https://www.instagram.com/p/Bv_xUX9hkqY/
---