No Comments
Event Recap | 2017 SAVOR: An American Craft Beer & Food Experience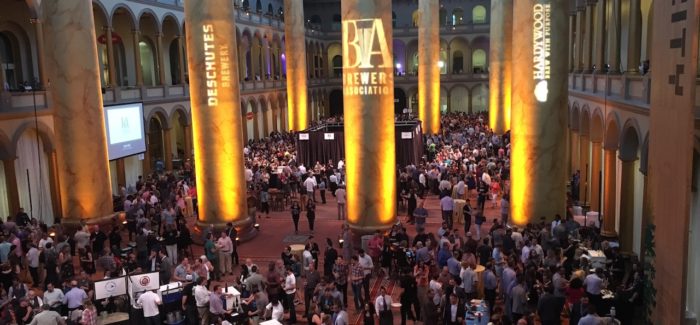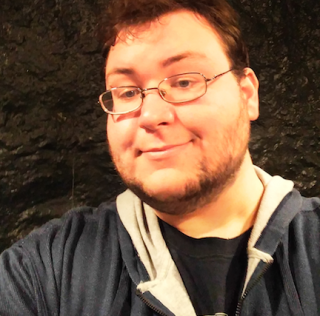 SAVOR: An American Craft Beer & Food Experience is one of the most premier craft beer events on the East Coast. The Brewers Association, in partnership with the historic National Building Museum, brings forth this incredible event to give beer lovers a chance to meet brewers, find rare delicacies and experience unbelievable combinations that bring new meaning to taste and smell. In our long history of covering this event, PorchDrinking gave me the opportunity to savor a beer festival unlike any other.
This year's SAVOR presented 86 breweries from across 30 states and Washington, D.C. Each brewery brought two beers of their choice to match with their ideal food fusion for a unique palate sensation at every booth. Every guest is free to try any and as many beers at his or her leisure, so I researched the menu to find what beer I immediately needed to try first. Prepare for your biggest hits, because there were plenty of lines!

When you walk into the National Building Museum, you're amazed by the scale and sheer beauty of the venue. This is beyond any fair-weather outdoor beer festival when you receive your glass and brochure for every brewery's location. I went to get my badge in a side room where I would discover that the luxury of SAVOR would deliver a one-of-a-kind experience.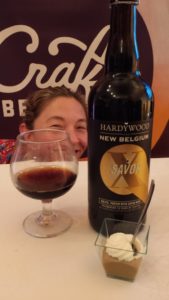 The parting gift for this year's SAVOR guests was SAVOR X: A collaboration beer between New Belgium Brewing Company and Hardywood Park Craft Brewery. SAVOR X is a 10% Baltic Porter made with cocoa husks for a milk chocolaty finish. It was the very first beer I was given upon attending the event and worth taking home, tasting like the ideal dessert root beer. SAVOR paired it perfectly with a malted chocolate mousse that accentuated every aspect of the beer's flavor profile.
For its prestige, SAVOR's environment really captured how far current craft beer trends have gone. IPAs and APAs were kings at the event in all shapes and flavor profiles. The bitterness of pale ales makes them hard to pair with certain foods, but the fruit-based and New England style pale ales made for really complimentary appetizers and desserts. You could find nearly every single small plate combined with some hoppy beer for a unique taste.
SAVOR would go out of its way to represent every style under the sun, but there was an influx of certain styles over others. Several breweries would bring heavy barrel-aged wood stouts, yet I'd only find two examples of porters or Belgian quads. I was also genuinely surprised how many people brought sours to the event. Although blended sour beers are incredible for food pairings, there were plenty of goses and Berliner weisses. The trend of kettle souring is not going away any time soon.
Discovery is the name of the game at SAVOR. As many of these breweries do not come to the DC/VA/MD area, it opened up new possibilities to what the East Coast could learn from these new brewing techniques. There's truly no better way to appreciate beer, food and new breweries all at the same time. The world becomes your oyster the second you get that tasting glass. Below are several examples of some of the great finds made at SAVOR.
---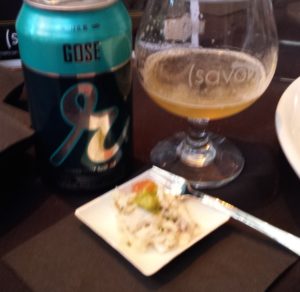 I had never heard of Rueben's Brews from Seattle until this event and they absolutely blew me away. There's no better surprise than walking up to a brewery without any prior knowledge only to be amazed by their incredible craftsmanship. Rueben's Brews brought their Gose, as based on the traditional Liepziger Gose and Triple Crush, a New England Style IPA. I'm thankful that the Brewer's Association is now further diversifying their style guide so these specific types of beers will now be recognized in their own categories. So now people will understand why the American Gose is different than the German Liepziger Gose that was always so delicious and hard to find in the states.
The saltiness of the gose brought out the best elements of the crab salad served with grapefruit and avocado. It made for the perfect little bite to brighten up the palate to start the festival. Triple Crush was paired with a blackberry pear crostada that cut through the creamy bitterness of the NEIPA with a completely new fruit profile. I'm now officially envious of all Seattleites who get access to this amazing brewery.
---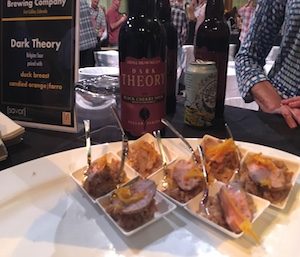 Odell Brewing Company is a classic craft brewery that everyone in Fort Collins, Colorado knows and loves, but I've never had any of their beers personally. Their booth provided an APA called Drumroll and the events only Belgian Sour, Dark Theory. Both beers were fabulous in their own ways, paired respectively with fried chicken and candied orange duck breast.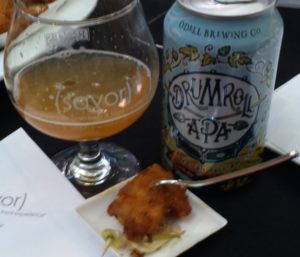 Drumroll APA stood out as my favorite Pale Ale of the night. For a 5.3% beer to have such a strong malty backbone packed with so much hop flavor is nothing short of incredible. I'd describe it as sweet, grainy canvas painted on by various hop brushes of Centennial, Mosaic, Azacca and Citra. The funky, black cherry notes of Dark Theory were beautifully highlighted by the seared fatty duck. I sincerely hope Odell grows enough so they can distribute their beers on the East Coast.
---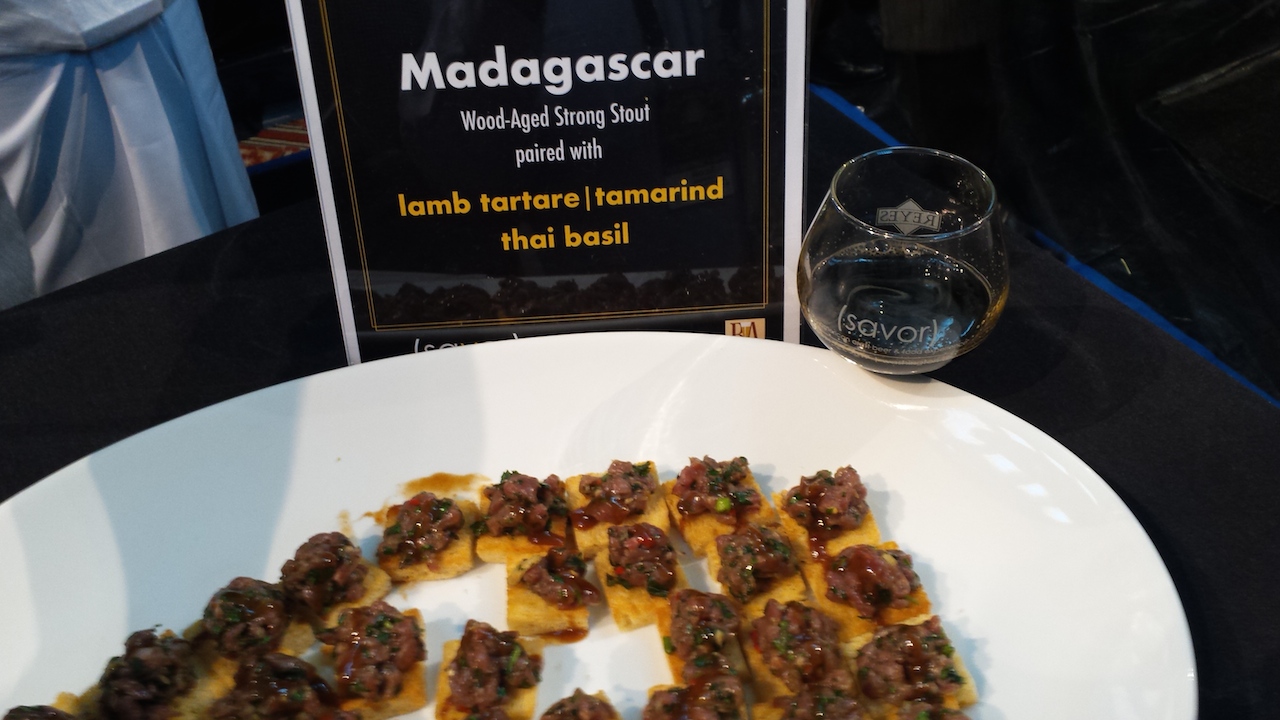 4 Hands Brewing Company out of St. Louis has had great word of mouth from previous PorchDrinking alumni and they were not kidding. Their Madagascar Imperial Milk Stout had the ideal richness from woody vanilla beans and fudgey chocolate. I didn't think something so unique like lamb tartare would work with this type of style, but the gameyness transformed the beer to a fantastic savory surprise. I quite enjoyed the tartness of their Kriek as well, even if I missed the matching cherry torte were to come of it. They were very deserving of being a sponsor for the event, as most of the conversations I overheard were over the moon for that Kriek.
---
At SAVOR you have a strong desire to try everything that's on the menu. That's why I'd rarely have two beers from the same booth from a need to constantly change up styles. So the following combos came from having only one sensational food/beer pairing because I didn't have enough time or the supplies ran out.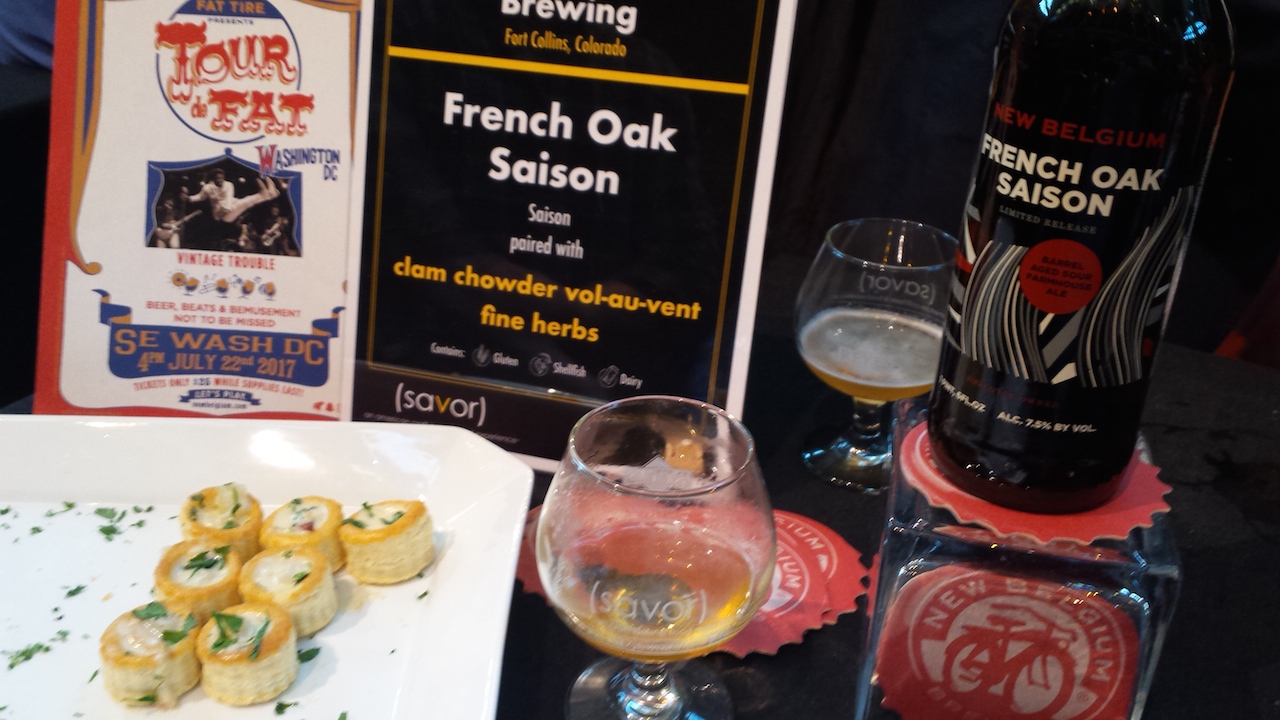 New Belgium's French Oak Saison was absolutely delectable from the woody oak character complimenting the classic saison sharpness. The food matched with the saison was a clam chowder vol-au-vent, the only small plate of its kind at SAVOR. New Belgium made a masterful choice on their part as the creamy chowder and flaky, buttery buff pastry elevated all the sour, peppery flavors. Never sleep on a nationwide brewery at a festival.
---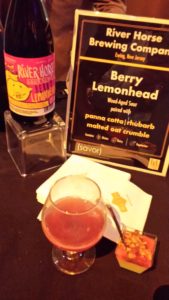 Barrel Aged Berry Lemonhead by River Horse Brewing Company was the final beer I had that night and stood out as a last minute treasure. A kettle sour barrel aged in white wine barrels exploded with the wonderful tastes of blueberries, raspberries and brettanomyces. The beer truly tasted just as described at a shockingly low 4.5%. Balanced against a velvety panna cotta, tart rhubarb compote and oat crumble; this is one beer that'd be stellar for any occasion.
Toolbox Brewing's Vivian, a Chardonnay-Aged Brett Beer gave me a whole new appreciation for Saisons as a food friendly style. Paired with the delightful combination of crab, avocado and grapefruit, I discovered that Brett works beautifully with seafood. The sweet, brininess of the crab becomes immersed in the acidic, funky atmosphere of the beer giving you a combination that is pungent, yet light. Toolbox's brilliant pairing would convince anyone of that seafood works with beer.
---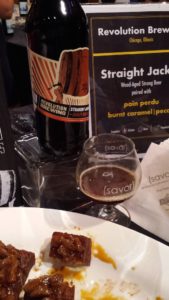 The positive reputation I had heard of Revolution Brewing Company paid off as this was the heavy beer that complimented its dessert point by point. Straight Jacket, a Jack Daniels aged Barleywine, had a very upfront, boozy caramel flavor with thick molasses/vanilla finish. I was so happy this was paired with caramel and pecan French toast because that was the first food to come to mind upon tasting this beer. You start with the dessert for the sweet and the beer comes alive with the flavor of the barrel.
My final standout was Norns Roggenbier by Fate Brewing Company. Roggenbiers are foreign most people, but the style is defined herbal, earthy spiced, tea flavors. This was my personal favorite from the upper level that matched beers with straightforward raw cheeses, oysters and meats. The German ale was matched with a Sweet Bologna seasoned with black pepper, allspice, cinnamon and cloves that could not be more fitting for a savory/sweet balance.
This event wasn't just special for me because of the prestige, but because I could attend a festival with my fellow PorchDrinkers. I couldn't cover all those beers on my own, so here's a list of other beer/food pairings that are PorchDrinking approved.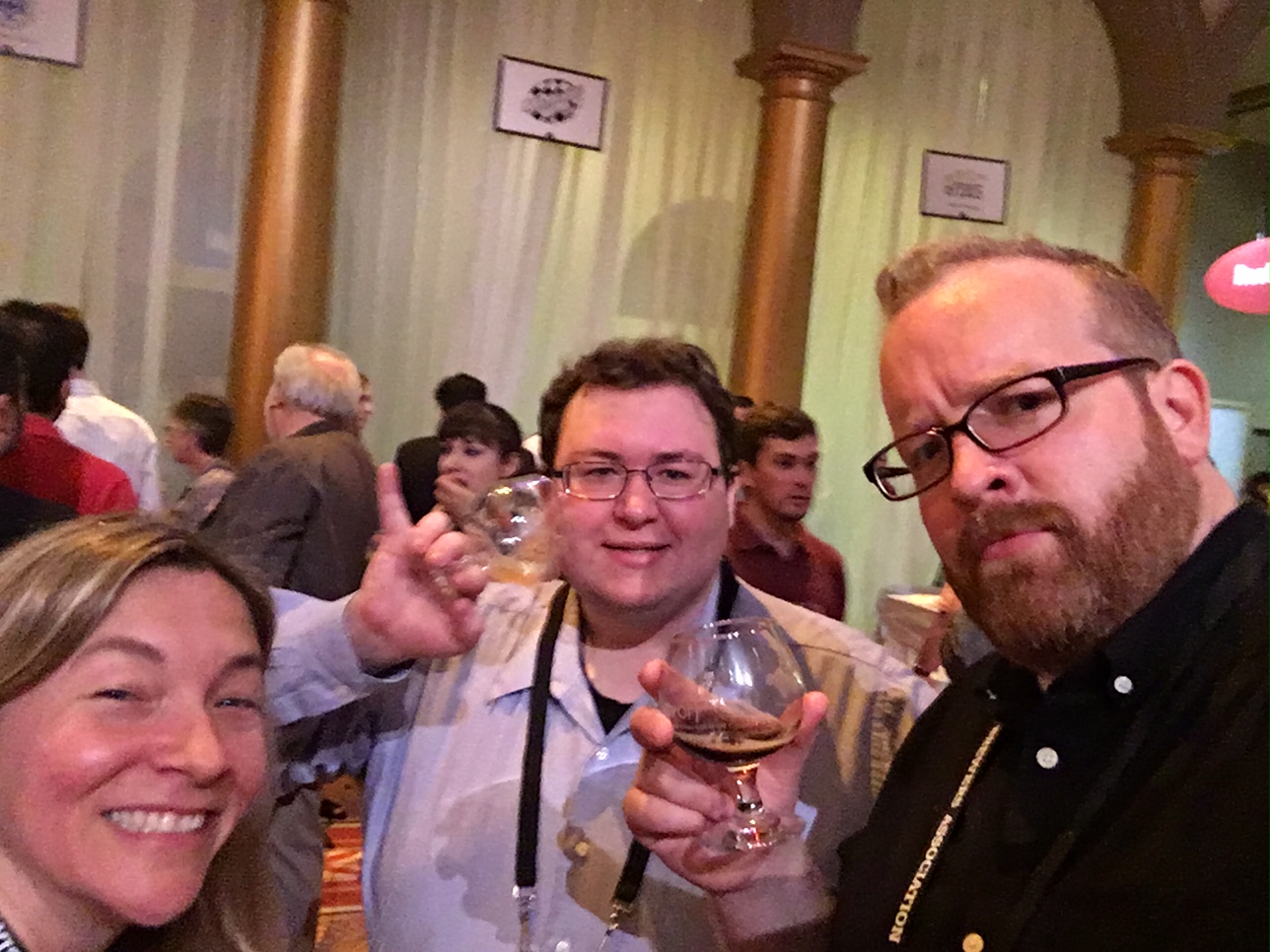 ---
Honorable Mentions
Wild Things Pearedox (American Sour Ale) by D9 Brewing Company matched with an apple butter breadstick topped with lomo (cured pork)
All I See Is Carrion (Belgian Quad) by Adroit Theory Brewing matched with an olive oil caked topped with smoked plum and rosemary
Belgian Strong Dark… Side of the Moon (Belgian Quad) by Joyride Brewing Company matched with panna cotta, rhubarb and oat crumble.
Savor X (Baltic Porter) as listed above.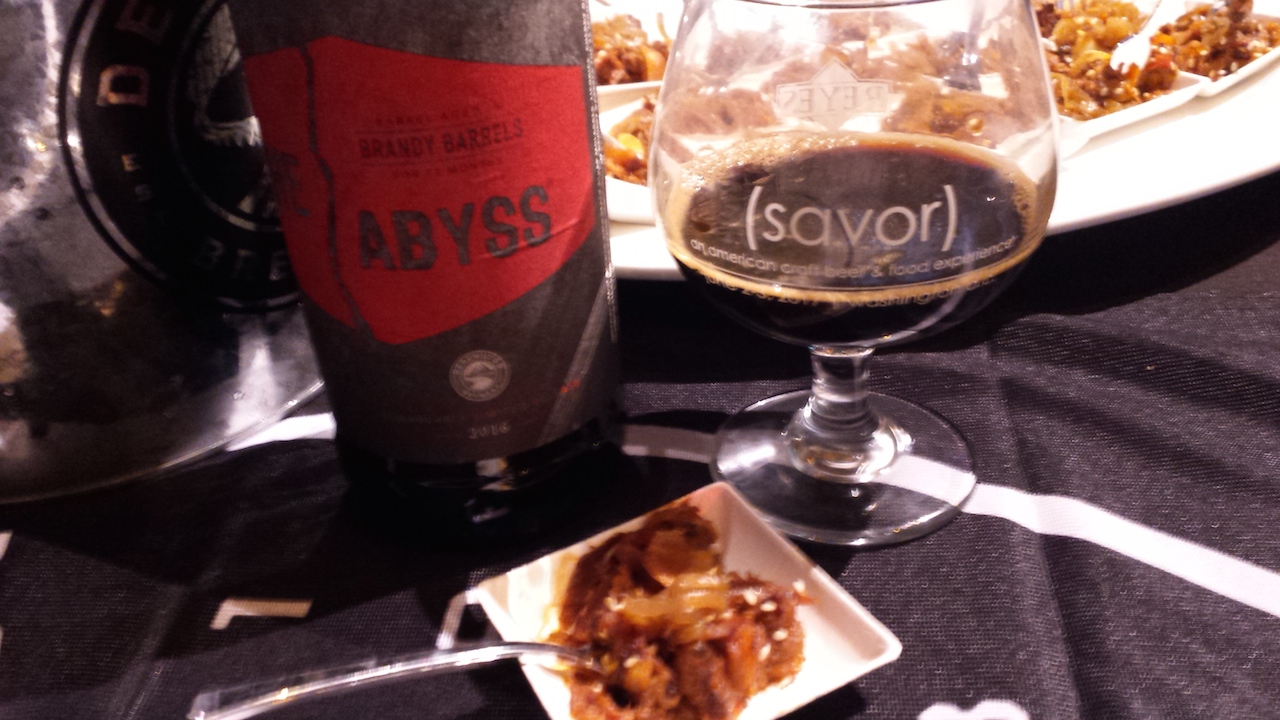 Josh Ritenour's Recommendations
Sour Golden Ale by Crux Fermentation Project matched with a pork belly steamed bun and pineapple salsa.
The Abyss Brandy (Imperial Stout) by Deschutes Brewing Company matched with Braised Oxtail, Roasted Shallots and Garlic.
Albino Stout by Butcher and the Brewer with Roasted Lamb Sirloin and Orange Marmalade. This beer was called Albino because the beer wasn't black from the coffee!
Great Commander (Rum Barrel Spiced Chili Stout) by Lickinghole Creek Craft Brewery matched with Braised Oxtail, Roasted Shallots and Garlic.
SAVOR is simply phenomenal. This festival is transcendent to loving food and beer beyond what any normal festival could provide. I couldn't get to try everything I wanted, but I walked away learning about so many fantastic breweries in the process. It makes you want to start planning your next beer vacation or a trip to a fancy grocery store. The cost and time is worth heading to DC alone. There's no better way to indulge.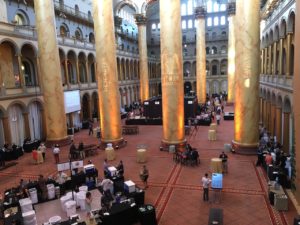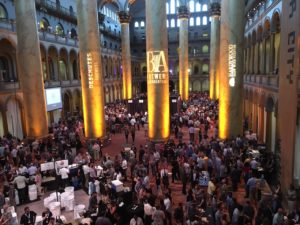 ---