No Comments
Jupiter, The Bringer of Jollity | Bell's Brewing Co.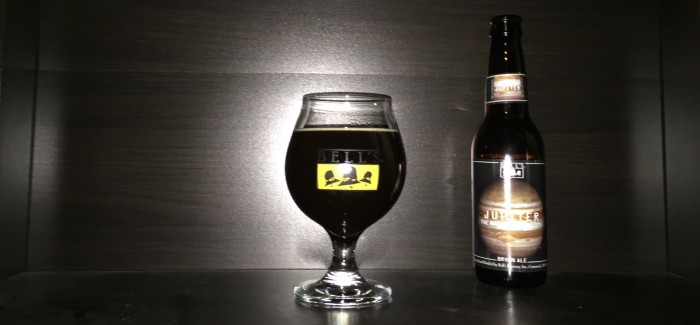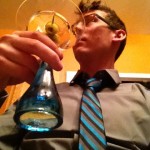 Bell's Brewing Co.
Jupiter – The Bringer of Jollity
Imperial Brown Ale
ABV: 8.0%
On February 22, I gladly welcomed the fourth Bell's Brewing Planet Series, Jupiter, into Cincinnati, and without fail it presented itself as the bringer of Jollity. A malt forward Imperial Brown Ale, Jupiter is a smooth full bodied beer that is sure to bring joy to every beer drinker.
I have not had a beer line up so well with my current situation than I did with Bell's Jupiter. It was a very very snowy week in Cincinnati, and all of my fellow beer drinkers were out celebrating a bachelor party in Denver, and I had to stay home for work. So it was a bit of a lonely week, but it gave me a chance to to check out the Cincinnati Symphony Orchestra's performance of The Planets by Gustav Holst. I was thrilled, my local symphony is performing the orchestral suite of the same beer series I have been following, AND Bell's was hosting a beer tasting of the planets prior to the performance.
It was perfect. I would be one of the first in Cincinnati to taste the delicious Jupiter. However, we were dumped on with record snow fall and the performance did not look good. But this story is about jollity right? Right! The performance was not canceled and some great musician friends of mine were still eager to go. In preparation for the performance, I thought it would be a good time to have a flight of Mars, Venus, and Mercury, to prepare for Jupiter. So after a small tasting of the Planets, we then braved the snow and headed out.
It was a light crowd due to weather, so I was sure to get a taste of Jupiter. I was right! They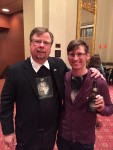 had plenty and I quickly snagged a bottle before the show. I was about to watch the CSO perform The Planets while drinking the newest release of The Planets. Could things get any better than this? Answer is, YES! After my first few sips of Jupiter, my friend calls me over to introduce me to someone. Before I even gave it a thought, there was Mr. Larry Bell of Bell's Brewery extending his hand to greet me. Bell's beer was the beer that got me hooked on craft beer and here I am meeting the man responsible for it all. Jupiter had definitely brought jollity to my weekend. I mean, just look at that happy face, and I may have been way under dressed. Nevertheless, I was ready to watch this performance.
As I got into the performance hall for the first movement, I was able to recap everything leading up to this moment and finally enjoy this jolly Imperial Brown Ale. Jupiter comes in at a nice 8.0% ABV with a strong body. There are aromas or nutmeg, chestnuts, and big malts. It is brewed with seven different varieties of malt and they blend so well together that the complexity stays consistent throughout every sip. The hops take a back seat within this beer, but are still present for a bitterness that is just right for a Brown Ale. Flavors of biscotti, chocolate, fresh baked bread, and of course, warm toasty malts all come together to make a beer that delivers joy and satisfaction. The mouthfeel is smooth, creamy, light carbonation, and all around consistent. There are lingering bitter malty notes on the finish with dark cocoa flavors that leave you satisfied, yet wanting more.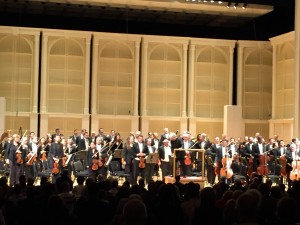 After a long snowy week, with not much hope for an eventful weekend, Jupiter, the Bringer of Jollity sure did deliver. I introduced friends to the Planets by Bell's. I tried some of the first sips of Jupiter in Cincinnati. I got to meet the man responsible for my craft beer admiration, and to top it all off, I saw the Cincinnati Symphony Orchestra perform one of my favorite orchestral suites. It was truly a weekend filled with jollity.