No Comments
The Weekly Buzz | February 9 – 15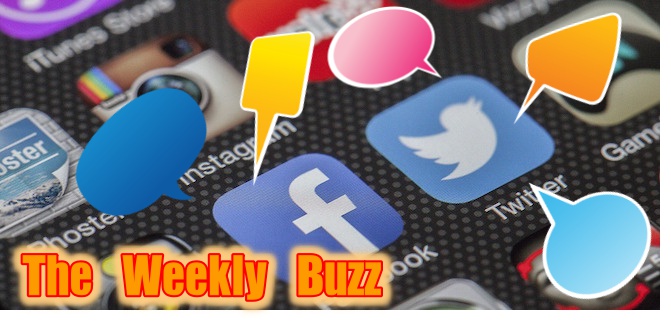 It's been another fun week on Beer Twitter! There has been so much going on that a bunch of things probably slipped past my net. Either way, I've got a fun collection of stuff for you in this week's edition of The Weekly Buzz, so make sure your boss isn't around, crack open a beer and start scrolling!

Brew unto others.
https://instagram.com/p/Be_wnz9nfa9/
---
They're doing it right with local malt!
https://instagram.com/p/Be_bixUA-R0/
---
Shots fired!
https://instagram.com/p/Be691pgAWtS/
https://instagram.com/p/Be_Ob2YlbBl/
---
Did you partake in the pleasures of SF Beer Week yet?
https://instagram.com/p/Be-uHFFA5Bc/
SF Beer Week underway! #sfbeerweek pic.twitter.com/0v7W06UIO3

— Sierra Nevada Beer (@SierraNevada) February 10, 2018
https://instagram.com/p/BfCqVe6nNiB/
2/10 #SFBeerWeek Opening Day Urban Picnic today at #SPARK 🍻 https://t.co/1aJ3rpLVLN
w/ @headlandsbrew @NuBoBrew @KarlStraussBeer @HighWaterBrew and @TripleVoodoo #SFBW #FanFest pic.twitter.com/bJLEtzIhHz

— SPARKsocialSF (@SPARKsocialSF) February 10, 2018
30 years ago, there were 70 breweries in CA.
Today, there are more than 920!

30 years ago, @celebratorbeer had a small following. . .
Today, it is a beloved & well-known beer publication covering all 10 years of #sfbeerweek & more!

Celebrate on 2/17! https://t.co/LG07srZrTA

— CACraftBrewers (@CACraftBrewers) February 13, 2018
https://instagram.com/p/BfICfGnna6P/
https://instagram.com/p/BfHrCcInSSO/
https://instagram.com/p/BfHE4ZwH4nh/
---
Speaking of SF Beer Fest, did you get any Pliny the Younger?
Beer lovers have been lined up for Pliny the Younger IPA at Russian River Brewing Company in Santa Rosa. https://t.co/AoE3qOZAUQ pic.twitter.com/qfcT7s0GYG

— ABC7 News (@abc7newsbayarea) February 2, 2018
---
Get it while it lasts!
https://instagram.com/p/BfBbvkUgknK/
---
Get those tickets!
Tickets for Battle of the Homebrewers are on sale now!

Not sure what all the hype is about? Check out the recap video from last year

Get your tix here: https://t.co/xQusEarz5X

PS this WILL sell out, don't wait! pic.twitter.com/pB3E8uScVk

— Harrisburg Beer Week (@HBGBeerWeek) February 11, 2018
---
Yeaahhhh. I like it slow.
You haven't tasted all that Prima Pils has to offer until you've had a Slow Poured Prima Pils!

Co-Founder Ron Barchet explains by slowing down the process, "the beer becomes more structured and stable." Learn more below… @thetakeout @kbernot #PilsPerfection https://t.co/mFxmH0eNbW

— Victory Brewing Co. (@VictoryBeer) February 11, 2018
---
Start checking those shelves, Nebraska!
https://instagram.com/p/BfGhTrmhOzN/
---
Uh Oh. MillerCoors pissed off the wrong guy!
Our co-founders Greg & Steve opened Stone Brewing in 1996, determined to make amazing beer and never compromise their integrity. We will not have that legacy taken from us by anyone. That's why we're suing one of the biggest beer companies in the world. https://t.co/p4P28eoEZG

— Stone Brewing (@StoneBrewing) February 12, 2018
---
What do you have hiding in your cellar?
You like beer. We like beer. Let us join forces and #drinkitnow. We raided our stash for some excellent beers we've been hanging onto. Join us on Sunday (2/18) with #drinkitnow, and crack open a special beer for the heck of it. pic.twitter.com/8D2UcOH3fO

— Allagash Brewing Co (@AllagashBrewing) February 15, 2018
We're raising a glass to the team at @AllagashBrewing for their #DrinkItNow Day idea. We can't wait to pop open a bottle with them on Sunday, February 18. Now, which bottle to choose… 🤔 pic.twitter.com/LiUkZO4aAr

— Brewery Ommegang (@BreweryOmmegang) February 12, 2018
---
Be there or be square!
Centennial Beer Fest returns for its 10th anniversary next weekend! https://t.co/tvrwYTCToo pic.twitter.com/cX27SJFLNn

— UrbanChestnutBrewing (@urbanchestnut) February 12, 2018
---
It's the perfect dad-mobile.
Finally, we're the coolest parents on the block. pic.twitter.com/hmzaZ41xxe

— Indeed Brewing Co. (@indeedbrewing) February 12, 2018
---
Hats off to Victory Brewing Company!
https://instagram.com/p/BfJvam4lNVP/
---
Gotta get those tix!
https://instagram.com/p/BfJBtTenZeO/
---
How did you celebrate Valentine's Day?
To all of our fans out there – this #Beerentine is for you. #Hopslam #justsayin pic.twitter.com/lI16lmThTZ

— Bell's Brewery (@BellsBrewery) February 11, 2018
https://instagram.com/p/BfLmh4DB_vR/
https://instagram.com/p/BfL4PengL7M/
https://instagram.com/p/BfLwnNblWe0/
https://instagram.com/p/BfL0bZaFhG3/
Love is in the air. Or maybe that's just the smell of Curieux. Either way, we're digging it. pic.twitter.com/uDVHeCeJAr

— Allagash Brewing Co (@AllagashBrewing) February 15, 2018
We all want true love for #ValentinesDay. You're lookin' at it. pic.twitter.com/kWcLfMHOhW

— Southern Tier Beer (@stbcbeer) February 15, 2018
Would you swipe right? We're spreading the #ValentinesDay love in Portland today and things are heating up. 🔥 pic.twitter.com/B6E0t0Mwab

— Rogue Ales & Spirits (@RogueAles) February 15, 2018
It's #ValentinesDay, which means today is all about celebrating #love! That's why we'll be honoring our love for #beer with a pint of our Patio Pounder Pale #Ale AND Big Shot Espresso #Stout (because why not)! pic.twitter.com/SsfKblS2so

— Twisted Pine Brewing (@TwistedPine) February 15, 2018
https://instagram.com/p/BfMGaTMFmYV/
https://instagram.com/p/BfMBD0eBxi_/
---