No Comments
The Weekly Buzz | June 23 – 29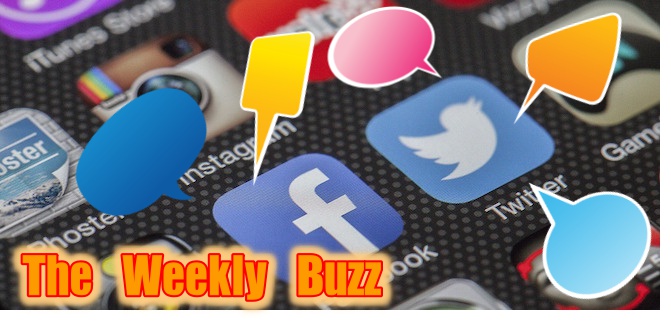 Does anyone else need a few dozen beers? It's been another knock-down, drag-out week, but it's Friday at last! Once again, we've boiled the week's beer tweets down to a sweet, sweet wort. It's time to fill the fermenter of your mind with the best content that we could cull from the annals of the internet. This, ladies and gentlemen, is The Weekly Buzz.

You're going to be late! Pumpkin beer release next week, don't they?
We're still tending to our pumpkin patch and pumpkins are still growing. No pumpkin beer yet. https://t.co/iRitgSCis8 #pumpkinpatchale pic.twitter.com/1HCR5FZrLZ

— Rogue Ales & Spirits (@RogueAles) June 28, 2017
---
Snitches get stitches!
We won't rat you out if you bring your dog to our patio and call it "work," because Friday. #TakeYourDogToWorkDay #dogsofnewbelgium pic.twitter.com/9Ls7KDsCkv

— New Belgium Brewing (@newbelgium) June 23, 2017
---
Celebrating a legendary place with a special collaboration.
So excited to be tapping our tasty collab beer with @brickstorepub today! Smooth, wheaty beer with lots of tropical fruit aromas! pic.twitter.com/ai0AbZeaxW

— Victory Brewing Co. (@VictoryBeer) June 24, 2017
---
Get your tickets while they last!
Tickets to the #TwoBrosBeer event at Arranmore Farm & Polo Club are now on sale. Tix are limited so grab them now. https://t.co/iVlW7VLLx9

— Two Brothers Brewing (@TwoBrothersBeer) June 24, 2017
---
Just a sprinkle.
Brewing a hoppy beer with the dudes at @PipeworksBrewin with just a sprinkle of Saaz @2ndshiftbrewing pic.twitter.com/NM7UGvUsbT

— Mikey Manning (@mikeymanning90) June 23, 2017
---
Do you even lift, bro?
Get ready for 2SP & @powerplantgym Beer Muscles 2017. Strongman Comp in the brewery. Sat, 8/26. @punchmedia @PhillyBeerScene @DEHopScene pic.twitter.com/eF4TBqFdro

— 2SP Brewing Company (@2spbrewing) June 19, 2017
---
I can drink beer AND look at monkeys?!
https://instagram.com/p/BVvWTyTlqbT/
https://instagram.com/p/BVvSRHGl8hB/
---
They are really earning those beers!
https://instagram.com/p/BVxRSWAAICk/
---
That's a thirsty goat!
Which beer will you buy first next Sunday, Minnesota? Make it the G.O.A.T. pic.twitter.com/FuRVuDPz9P

— Summit Brewing (@summitbeer) June 25, 2017
---
I'm jealous of anyone who went to Avery's SourFest!
Must. Drink. More. Water. Gotta super hydrate before @AveryBrewingCo #SourFest tomorrow. pic.twitter.com/vNuDuzfQqQ

— Kyle Purdon (@PurdonKyle) June 24, 2017
It's SourFest day! We will be closed to the public all day today (6/24). Sorry! For those with tickets, get ready to pucker up!

— Avery Brewing Co (@AveryBrewingCo) June 24, 2017
https://www.instagram.com/p/BVuzUlsnrPz/?taken-by=averybrewingco
Meanwhile, up in #Boulder @AveryBrewingCo's #SOURFEST, our brew crew is representin'… pic.twitter.com/QBIowqLB6l

— Marble Brewery (@MarbleBrewery) June 25, 2017
https://www.instagram.com/p/BVv2OjXhxtJ/?tagged=sourfest
https://www.instagram.com/p/BVvCcrzDun7/?tagged=averysourfest
We had such a wonderful time at Avery Sour Fest! #averysourfest pic.twitter.com/cb3gTBcaPD

— Wiley Roots Brewing (@WileyRoots) June 20, 2016
Fiction Beer does #averysourfest #puckerupbuttercup pic.twitter.com/G6elNVAvSw

— Fiction Beer Company (@FictionBeer) June 18, 2016
https://www.instagram.com/p/BGzkKncDeaB/
---
Keep tabs on what they've got going on!
https://www.instagram.com/p/BVsS7RuA_aL/?taken-by=eriebrewingco
---
It's like liquified angels!
https://www.instagram.com/p/BVze-DmBFmq/?taken-by=alch3mistb33r
---
Some brewers just can't help breaking the rules.
https://www.instagram.com/p/BVyPpE0AKgI/?taken-by=evilgeniusbeer
---
A lot of breweries are talking about clean water this week.
A discussion about climate, beer & us. @DefendPA pic.twitter.com/DItx6Lg3sZ

— St. Benjamin Brewing (@stbenjaminbrew) June 26, 2017
A very long list of craft brewers let the EPA know that the effort to kill the Clean Water Rule is bad for beer https://t.co/FI0RQDxsJ3

— Josh Mogerman (@JoshatNRDC) June 28, 2017
Help @DucksUnlimited to conserve these precious wetlands by donating or picking up some exclusive DU/SOW schwag: https://t.co/3oecy9ViSe pic.twitter.com/bCqm1a6k7Y

— SweetWater Brewery (@sweetwaterbrew) June 27, 2017
---
Do you think this will help?
The Brewers Association is excited to introduce the independent craft brewer seal. #independentbeer #craftbeer https://t.co/u0FAzM71x1

— Brewers Association (@BrewersAssoc) June 27, 2017
---
Wanna go for a relaxing ride through the hop farm?
https://www.instagram.com/p/BV4tNspHtei/?taken-by=sunnybraehops
---
Didn't Avery just have a big festival? They must love to party!
Did you know that tickets to our 24th Anniversary Party are on sale? Celebrate with us and the Monophonics! Tickets: https://t.co/BPrvHtZHpc pic.twitter.com/JFkUIwV49A

— Avery Brewing Co (@AveryBrewingCo) June 29, 2017
---
Another fest? It's like Christmas in (almost) July!
#STBCSummerfest is 7/15, who's joining us at @STBCemptypint?!
[https://t.co/7VlxrBCzUg] pic.twitter.com/EoSIiPxgKH

— Southern Tier Beer (@stbcbeer) June 29, 2017
---
Looking for a new place to drink beer outside?
Our new Beer Garden opens at 4 p.m. this Friday. Grab a picnic table, a can of beer and a bite to eat. Sunscreen not included. pic.twitter.com/uHKBhAg85B

— Tröegs Brewing (@TroegsBeer) June 29, 2017
---
And they'll still be open in time for dinner. That's how Philly does it.
https://www.instagram.com/p/BV5TXV8Fcgy/?taken-by=urbanvillagebrewing
---