No Comments
Ultimate 6er | Brewers of Sierra Nevada's Camp Fire Relief IPA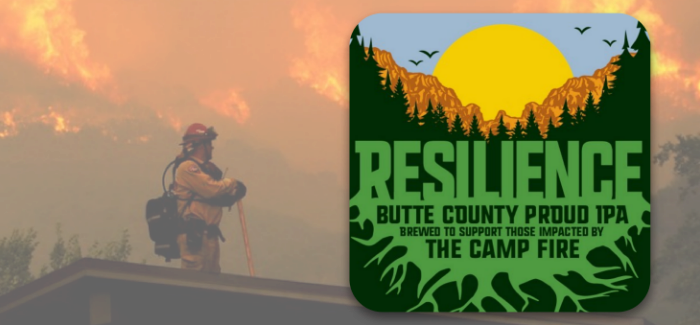 The devastation of the Camp Fire in Butte County, California has reached unmeasurable levels. The fire is now the deadliest and most destructive in California's history. The need for support for those who have been left with nothing is essential. In dire times, though, the generosity of the craft beer community is a level of support to be reckoned with and this situation is no different.
California
https://www.instagram.com/p/BqYCrTqAMcF/
The Founders. The Pioneers. Sierra Nevada started a movement of epic proportions and the response has been outstanding. Sierra Nevada Brewing Co. went from living in the midst of the chaos to helping to repair what has been lost. On top of the creation of the Resilience IPA, they have set up the Sierra Nevada Camp Fire Relief Fund and have placed $100,000 of their own money to get the fund moving. The money from the fund will be distributed to organizations working to rebuild and support the local community. You are an inspiration, Sierra Nevada, and we applaud your good deed for the local community.
---
Ohio
Resilience Butte County Proud IPA | Saucy Brew Works
https://www.instagram.com/p/BqSa3-qA5TT/
Saucy Brew Works of Cleveland, OH was quick to answer the call for help by Sierra Nevada. Saucy Brew Works is no stranger to giving. They will be pairing up with Bank of England Mortgage for their very first Toy Drive this year. Starting on November 15th, Saucy Brew Works was asking for donations of unwrapped toys to help benefit Breakthrough Schools in Northeast Ohio.
---
Pennsylvania
https://www.instagram.com/p/BqVng1IHIgs/
St. Boniface Brewing Company of Ephrata, PA will be joining forces with other local Pennsylvania breweries to help collaborate for the cause. Representatives from Funk Brewing, Bube's Brewing, Twisted Bine, Cox Brewing Co., and over 11 more breweries will be meeting at St. Boniface's brewery to create their very own batch of Resilience IPA. Approximately 15 31-gallon barrels of the West Coast-style IPA will be brewed.
---
Massachusetts
https://www.instagram.com/p/BqXqyGYA9CO/
Wachusett Brewing is joining forces with other local companies to create their very own Massachusetts version of Resilience IPA. With the help of Stone Path Malt and Four Star Farms, Wachusett will be sourcing local resources to personalize their batch of West Coast-style IPA with a bit of Massachusetts flair.
---
Arizona
https://www.instagram.com/p/BqZ5NmDlqQp/
Wren House Brewing is bringing their Arizona roots to Sierra Nevada's brewing effort. Voted Best Brewery of Phoenix 2018, Wren House was excited to jump on board to help the effort. In this time of need, breweries like Wren House understand how important it is to give to the effort. In addition to starting the Resilience IPA movement, Sierra Nevada also reopened their doors to offer meals to first responders and members in the community in need of a good meal.
---
Missouri
https://www.instagram.com/p/BqbSMvIBBpA/
Another collaboration is in the works for the Giving Tuesday brew. Six breweries in Springfield, MO gathered on November 27th at Springfield Brewing Co. to help brew Sierra Nevada's recipe. Participating brewers include 4 By 4 Brewing, Lost Signal Brewing Co., White River Brewing Co., Tie & Timber Beer Co., and Mother's Brewing Co. A Springfield-based brewing equipment manufacturer, Paul Mueller Co., will be matching the funds raised for the wildfire victims up to $2,500 and will also donate a MiniPub Serving Tank to distribute the beer.
For the full list of the breweries participating in the relief effort, click here. Let us all join together to help those who need us in these hard times.
---