No Comments
Event Recap | Hi-Wire Brewing's Stout Bout Crowns Blind Tasting Champ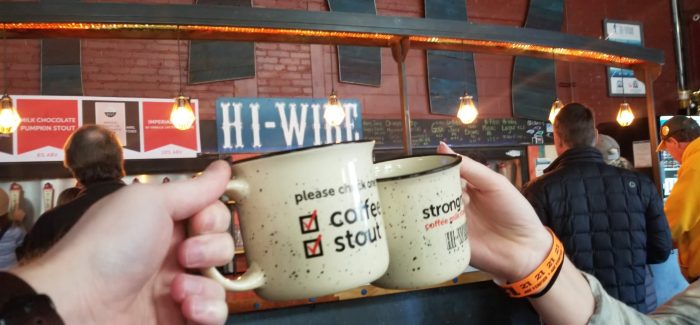 There is a slight half-season, somewhere between the end of summer and the middle of autumn, where you can start to see your breath as you walk the dog in the mornings. This same season is somewhere after the panic of "it's too early for pumpkin beer!" and after the "this post-yard work, Session beer I'm drinking in the shower isn't as refreshing as it once was" disappointment. You can feel daylight savings, and every awful thing that comes with it, lurking around next weekend's corner. 
In this strange time, I try to find solace in the shelves of the local brew market, looking for something warmer and heavier, like the blanket you pull out of the closet in anticipation for the first night the furnace might kick on. Yet, walking from one rack to another, the supply was limited. The ol' standby's of 1554 and Guinness were always at the ready, but when you're looking for something local, something to placate the hoards of leaf-peepers choking the Blue Ridge Parkway while pairing well with the squash-centric soups and roasted ducks appearing on local menus – the Stouts just aren't there yet.
This conflict came to a head as my aunt was in town and on a *hunt* for beer city's finest Stout available. After all, she was on vacation. She should drink what she craved, and on the doctor-suggested ration of one beer a day – with food – she wanted that beer to be an epic Stout — malty, chewy, resting in a glass with a fine coat of head atop. Yet, as strong as her desire was, the closest we could find for her was a sturdy glass of Malbec. 
"They just aren't rolling out the Stouts yet," our waitress informed us. A thousand reasons why: the summer IPA inventory had yet to deplete, or the local-dedicated tap list couldn't produce quickly enough, or the bar manager just hadn't thought to order any. Whatever the case, the comfort was found in Malbecs and neat servings of bourbon, at least until the squash gourds were cleared from brewing kettles and the plugs were pried loose from bungholes of last year's barrels – well well well, what have we here? 
Dark, sweet, malty. It's time to consult whatever heavy-metal or Nordic-mythology enthusiast the brewery has on staff for names, copy, and labeling: the Stout season is upon us. Button your coat and set your clocks back an hour – it's time for Stout Bout.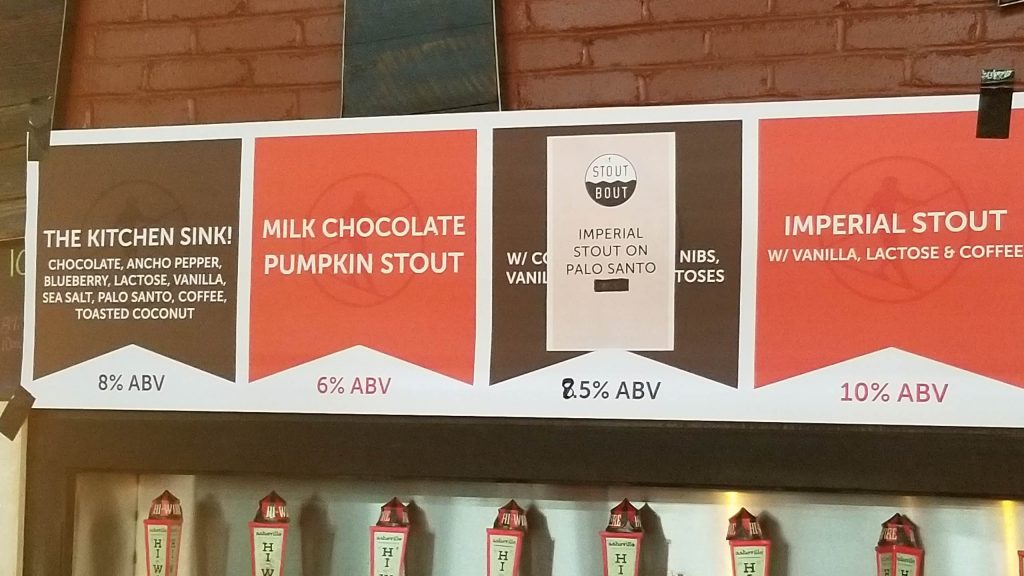 November 16, hosted at Hi-Wire Brewing's Big Top, Stout Bout featured 20 different Stouts from just as many breweries across the Carolinas. Only one would be crowned the winner, and only then would we know which brewery was to blame for what Stout. 
The premise of the bout was simple. 20 Stouts, brewed for the occasion, issued blindly to festival-goers in 4-ounce doses. Drink three, or five, or all, and indicate your favorite by dropping a ticket in the box. 
At your disposal is a half sheet with the general description of the beer, issued by the brewery, and the finest tasting vessel I have yet to receive at a beer festival – a stocky ceramic coffee mug. Against the fine, cream-colored walls of the mug, every stour poured black as ink. Like an ink, it wouldn't be until it was spread across the page of your tongue that you feel the richness and the texture, bleeding into all of the little crevices.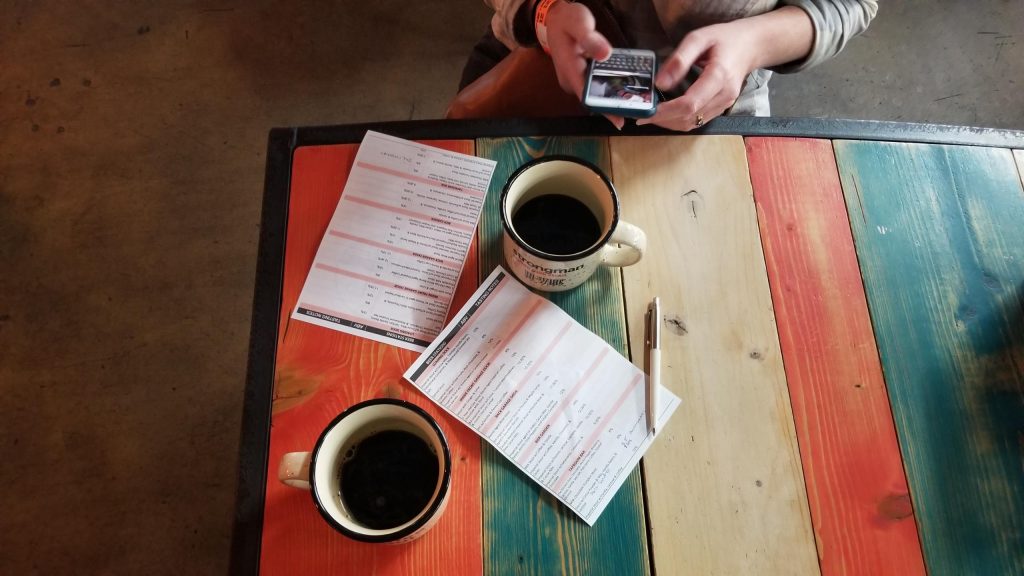 How to Drink A Stout: Find yourself a comfortable chair, preferably next to a well-managed fire, in front of a table with no fewer than five serving dishes of heavy, salty, fatty foods. Consume a bit of everything over the next few hours, then bank the coals and make your way to bed.
Or, in a pinch, grab a mouthful of whatever is in your cup – enough to swish around. Let the beer coat every part of your tongue and cheeks. Really get the mouthfeel. Get it between your teeth. Swallow. Repeat. 
My first serving was named, simply, "Stout With Palo Santo," which clocked in at an easy-enough 8.5% (they would only go higher). Palo Santo makes a few appearances today – it's known as "mystical tree" that grows in coastal South America and has traveled all this way to add notes of pine and lemon to everything it touches. This particular Stout is for Tuesday nights – not overly outrageous, sweet enough, easy enough. It's nice to you.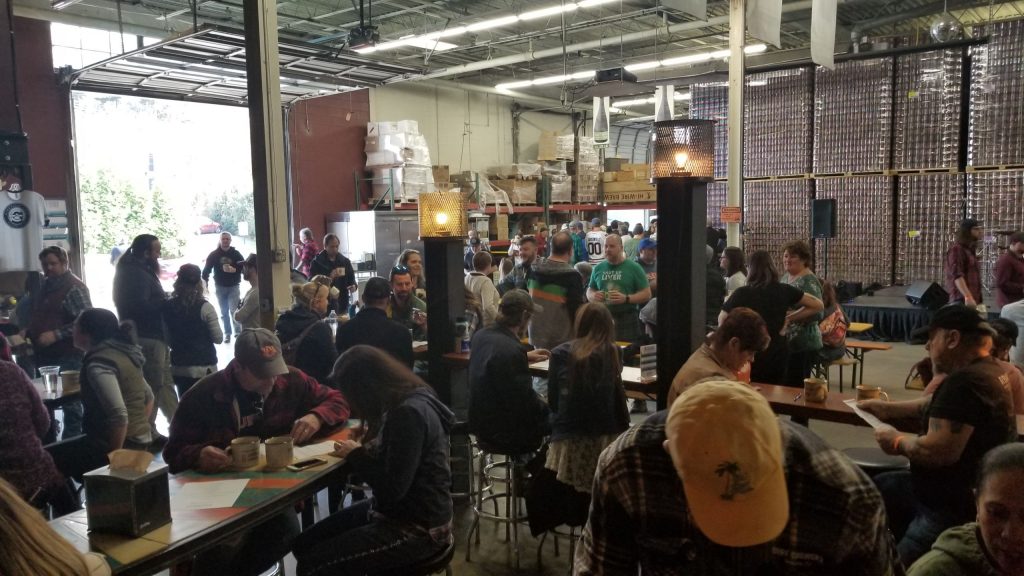 I move on to A Russian Imperial Stout featuring vanilla and Penny Cup Coffee – sitting higher at 10.1% It's a healthy pour, well-beyond the 4 ounces my token should have yielded me, and it is served ice-cold a black liquid death. For a moment, my mug rests in the sun, warming it to open up the flavors. The coffee is there; the vanilla is light, everything else is a sweetness that can stand as its own dessert. 
Spiced Stout? Why not? That'll do it for #3. Spiced with what? Didn't say, couldn't tell you. Secret family recipe? If I had to guess – a bit of chai, a bit of cinnamon, not too much of either to overwhelm.
My notes are getting hard to read. Hell, they're getting hard to take. After three pours, maybe 12 ounces. How long ago was breakfast? Why am I still standing? The band has started playing; people are talking louder, is it worth contemplating the extreme, complex borders these beers can walk? Or, hey, I found another token. 
#4 – Imperial Stout Aged on Videri, Cacao Nibs, Vanilla Bean, Ancho Chile Peppers, and Ceylon Cinnamon. This is one of the most robust ingredient lists on the board, and I start looking for clues in the copy – who could have written this? What brewery would this pair with? I make a game of it – what brewer would match this copy? I get them all wrong. 
As for the beer: peppers in the ingredients are indicative of someone who either knows exactly what they are doing or someone who gets a cheap thrill out of annoying their friends. This one is the former. Nothing is overwhelming, but the bite is present. A Mexican-style Stout – one of several available – it's a winner in my book.
The last pour I can stand for before they show me the door: the Imperial Stout with Haberneros, Cinnamon, and Chocolate. Less formality, more kick. Consume with a large plate of enchiladas. Spicy, but by no means a chili beer, and does well to balance out the sweetness. I would say you can drink it all day, even in the shower, was it not 9.5%.
Tickets were counted, winners announced and applauded, and the breweries revealed. The question: where can we get more of this? This is the challenge of these experimental beers bred for competition: we may never see them again. We have no idea how to ask our beer-nerd friends if they've had it or if the guy at the bottle shop has it in the back. At best, we can hope the best parts of these recipes are worked into next year's production. Then, after another calendar of Goses, sessions, browns, pales, and pumpkins, we can rest easy for another season of stouts. 
The Winners, and the Not-Winners
1st Place: Burial Beer Co. | Imperial Stout w/Cocoa nibs, Tahitian vanilla beans, Vietnamese cinnamon, & Maplewood Smoked Sea Salt 15%
2nd Place: Bond Brothers Beer Company | Bourbon Barrel Aged Stout w/Coffee & Vanilla 14%
3rd Place: Hi-Wire Brewing | The Kitchen Sink! Chocolate, Ancho Pepper, Blueberry, Lactose, Vanilla, Sea Salt, Palo Santo, Coffee, Toasted Coconut 8%
Bhramari Brewing Company | BA Imperial Stout w/Cocoa, Toasted Marshmallows, & Count Chocula Cereal 12.4%
Bond Brothers Beer Company | Bourbon Barrel Aged Stout w/Coffee & Vanilla 14%
Burial Beer Co. | Imperial Stout w/Cocoa nibs, Tahitian vanilla beans, Vietnamese cinnamon, & Maplewood Smoked Sea Salt 15%
Divine Barrel Brewing | Imperial Stout w/ Donuts, Lactose, Espresso, Vanilla & Cocoa Nibs 10.50%
Eurisko Beer Company | Imperial Stout with Coffee, Vanilla, Cinnamon, & Cacao 12.30%
Fonta Flora Brewery | Imperial Stout aged on Videri, Cacao Nibs, Vanilla Beans, Ancho Chile Peppers, and Ceylon Cinnamon 12%
Hi-Wire Brewing | The Kitchen Sink! Chocolate, Ancho Pepper, Blueberry, Lactose, Vanilla, Sea Salt, Palo Santo, Coffee, Toasted Coconut 8%
Homeplace Beer Company| One Year Old Eda Rhine Barrel-Aged Imperial Coffee Chocolate Milk Stout 10%
Jackie O's Brewery| BA Imperial Oatmeal Stout w/Honey & Maple Syrup aged in Bourbon Barrels 14%
Olde Hickory Breweryy | Imperial Stout brewed w/ Honey aged in Cardinal Rested Gin Barrels 11.75%
One World Brewing West | Double Mashed Imperial Stout w/Vanilla Bean & Raw Cacao Nibs 11.5%
Pisgah Brewing Company | Spiced Stout 8%
Revelry Brewing | Barrel-Aged Mole Stout 10%
Salud Cerveceria | Imperial Stout w/ Vanilla, Lactose & Coffee 10%
Sierra Nevada Brewing Co. | Stout with Ginger & Lime 9%
Twin Leaf Brewery | Milk Chocolate Pumpkin Stout 6%
Wilmington Brewing Company | Imperial Stout w/ Habaneros, Cinnamon, & Chocolate 9.2%
Wooden Robot Brewery | Imperial Stout w/ Dark Fruits, Rich Chocolate, & Roasty Coffee 12%
Zebulon Artisan Ales | RIS w/Vanilla & Penny Cup Coffee 10.1%
---