2 Comments
Cask Ale To-Go During (and After) Quarantine
Discussing cask ale on a recent episode of Beer Sessions Radio, Greg Engert, beer director and managing partner of the Neighborhood Restaurant Group, said "this is an experience you cannot replicate at home." Indeed. A critical component of cask ale is how it is handled and served, best done by an experienced professional at the pub. With venues closed, this poses an obvious challenge for brewers and consumers of this niche style of beer. However, a few breweries are now embracing bag-in-box (BiB) beer to get real ale in the hands of their customers.
There is little precedent for to-go cask ale. Perhaps that is because, as David Liechty of Hogshead Brewery bluntly puts it, "cask beer to go is usually garbage. End of story." Bill Arnott of Machine House Brewery notes "it has always been a challenge trying to serve cask ale in growlers – it just doesn't really hold up well." Due to the current state of affairs, both breweries are trying out to-go sales with BiB beer.
They're using a 5-liter box (about 10 pints), made by a brand called Astropouch. Though this is not the first time beer has been sold in a BiB, it is known more for its use in the wine industry.
A BiB functions in the same way as the polypins homebrewers often use when trying to replicate cask ale. The bag collapses on itself as it drains, helping to preserve the beer. A few breweries in the UK also sell beer in polypins, including Adnams, Harvey's, and Fuller's, but these are sold in larger volumes (10-20 liters) than what a to-go customer would typically buy. Some breweries also make mini-kegs, but these are generally pasteurized, filtered and force carbonated (i.e. not real ale).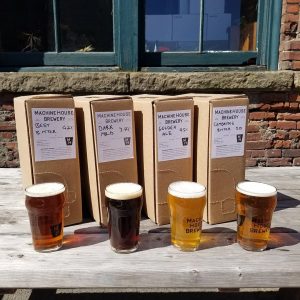 At Machine House, they are transferring beer to the bags from casks after secondary fermentation. Compared to cask ale from a hand pump, Arnott says this is "very similar" at first. However, it ultimately is more like a gravity pour, but with a faster loss of carbonation than you get from a cask.
The breweries seem to agree that while this isn't the same experience you would have at the bar, it is the best format available to provide real ale at home. As a business owner, Liechty recognizes that "sometimes, maybe" comprises need to be made if that satisfies the customer.
And the response has been great from Machine House's customers. They quickly sold out of their first batch.
As a short-term measure, Hogshead is putting their beer in growlers and crowlers. Preparations are being made right now to release their boxed beer. The brewery will first test the bags to ensure they achieve appropriate levels for CO2 and diacetyl (negligible for their beer), among other things.
https://www.instagram.com/p/B-r4YX5FLUt/?utm_source=ig_web_copy_link
The BiB may not be as good as the real thing, but consumers have already accepted this difference with other formats of beer to-go. If customers are happy, and it provides a good source of revenue for the breweries, maybe this works for now.
With uncertainty in the future of on-premise consumption, cask ale is particularly vulnerable. Having an alternative with boxed beer to-go, will people return to bars that haven't permanently closed? If they do, will they want the beer they're about to drink submerged in a spout for their hand-pulled pint?
Perhaps boxed beer is what helps cask ale survive. It may even pique the interest from a generation of drinkers that have largely ignored subtle and traditional styles of beer. Wine shouldn't be the only beverage they use when they play slap the bag.
Final question, do any of these polypins or BiB's come with an accessory sparkler attachment?
Feature image photo credit: Machine House Brewery
---