No Comments
Where to Find Colorado Strong Ale Collaboration Releases Across the State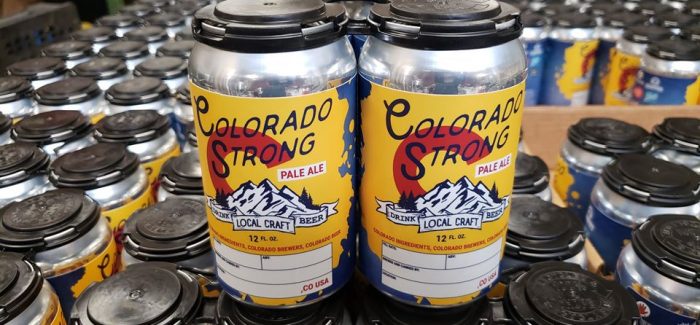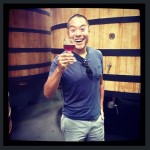 While the past three months have been a taxing time for the craft beer industry, one of the brightest aspects to emerge has been the consistent theme of breweries banding together for the greater good. As seen with Other Half Brewing's All Together Beer, and more recently with Weather Soul's Black is Beautiful Initiative, breweries have been harnessing their collective powers to unite behind great causes to fundraise for organizations in need.
As we first reported in April, breweries in the Centennial state have also teamed up on a similar collaborative fundraising effort with the Colorado Brewers Guild and the Left Hand Brewing Foundation, resulting in the Colorado Strong Fund.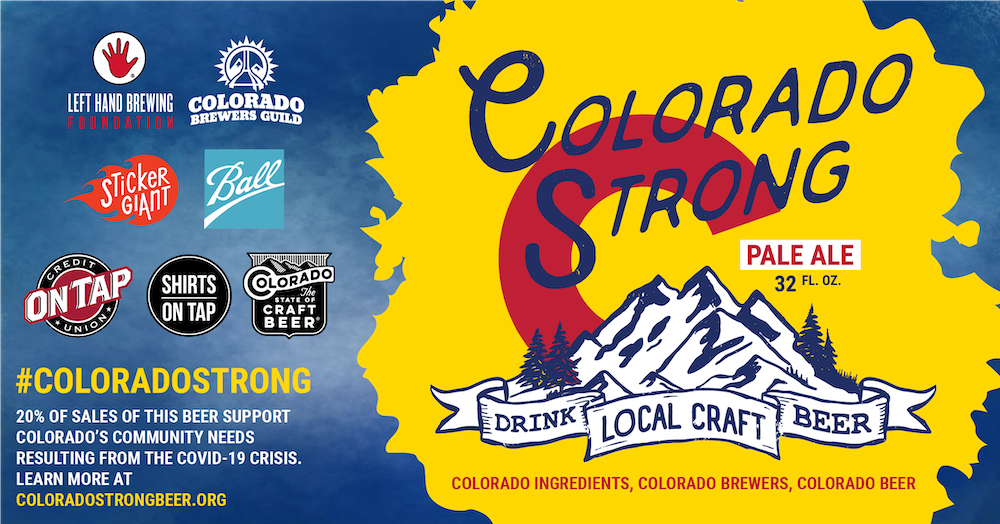 The first initiative to come from the fund called for breweries across the state to join together in releasing their versions of the Colorado Strong Pale Ale. This collaborative benefit beer uses all Colorado ingredients aimed to raise money for the CBG in addition to healthcare, hospitality, service industry, and gig economy workers across Colorado.
The Left Hand Brewing Foundation has supplemented the cost with partner suppliers for all ingredients needed to brew Colorado Strong Pale Ale, and has provided all ingredients to participating breweries free of charge. In return, participating breweries are being asked to donate 20% of sales to the Colorado Strong Fund.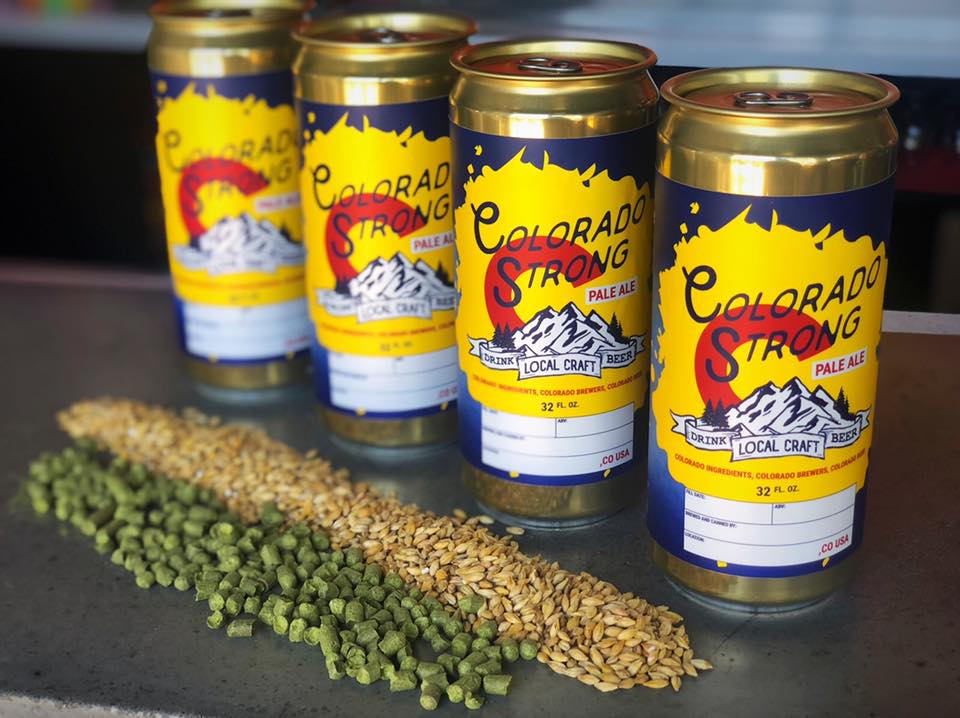 "One of the biggest goals of this campaign is to drive consumers to continue purchasing to-go and delivered beer directly from local breweries, which have been hit hard by the economic impacts of the COVID-19 pandemic," explained Shawnee Adelson, Executive Director of the Colorado Brewers Guild. "Each dollar that consumers spend at nearby independent breweries helps them keep their staff working, provide benefits, and keep the lights on."
The beer's recipe is a collaboration between Left Hand Brewing Foundation Treasurer and Great American Beer Fest award-winning homebrewer Mark Boelman along with Root Shoot Malting, and Colorado Hop Company. Additionally, Colorado Strong Pale Ale will be made possible through donated labels from Sticker Giant, beer design by Beer Murch, and additional underwriting by Ball Corporation and On Tap Credit Union. However, all participating breweries have been allowed to tweak the recipe to put their own unique touch on the beer. As such some breweries have released India Pale Lager editions, Kveik IPAs, and even a Double Strong Ale Blonde Barleywine from River North Brewery.
While some breweries are still in the process of determining release dates for their versions of the Colorado Strong Ale, we've rounded up all releases that we currently know are available. Also keep in mind now that most breweries have re-opened most of these listings will also be available on draft, but we've only listed to-go options.
On a separate but related note, today is also the release date for Golden Strong Ale, which brought together 10 Golden, CO-based breweries in a fundraiser for the Colorado Brewers Guild as well. Participating breweries include Over Yonder Brewing Company, Holidaily Brewing Company, New Terrain Brewing Company (who donated the canning materials), Ohm Brewing Company, Barrels & Bottles Brewery, AC Golden Brewing Company (who donated the local grain from Root Shoot Malting and locally grown hops), Cannonball Creek Brewing Company, Golden City Brewing (who was able to get can labels donated by Lightning Labels), Mountain Toad Brewing, and CODA Brewing Company, and also employed the help of Propagate Labs who supplied the yeast and Codi Manufacturing, also based in Golden, who helped donate the mobile canning for packaging.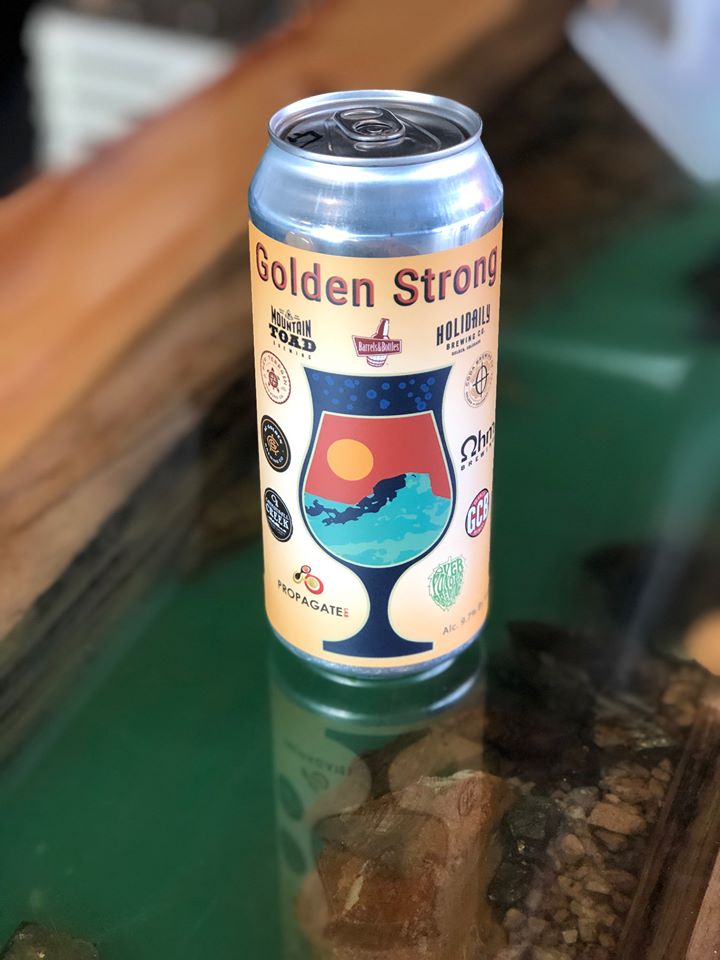 This beer is a Golden Strong Ale, with 70% of proceeds going to support the Colorado Brewers Guild and 20% of proceeds going back to the city of Golden. The Golden Strong Ale is now available at all participating Golden breweries.
Without further ado, here's where you can find the Colorado Strong releases throughout the state.
Cover Photo Courtesy of Woods Boss Brewing
| Brewery Name | City | Release Date | Format |
| --- | --- | --- | --- |
| Altitude Brewing Co | Denver, CO | Wednesday, May 6 | 12oz Cans / 16oz Cans / Growler Fills |
| Elevation Beer Co | Poncha Springs, CO | Wednesday, May 6 | 6-pack, 12oz Cans |
| City Star Brewing | Berthoud, CO | Tuesday, May 12 | 24oz Crowlers / Growler Fills |
| Grossen Bart Brewery | Longmont, CO | Tuesday, May 12 | 32oz Crowlers / Growler Fills |
| Mirror Image Brewing | Frederick, CO | Friday, May 15 | 32oz Crowlers / Growler Fills |
| Reservoir Brewing | Pueblo West, CO | Friday, May 15 | 32oz Crowlers / Growler Fills |
| Brass Brewing | Colorado Springs, CO | Friday, May 15 | 32oz Crowlers |
| Gravity Brewing | Louisville, CO | Friday, May 15 | 24oz Crowlers / Growler Fills |
| Long Table Brewhouse | Denver, CO | Friday, May 15 | 32oz Crowlers |
| Coal Mine Ave Brewing | Littleton, CO | Saturday, May 16 | 32oz Crowlers / 32oz Howlers / 64oz Growlers |
| Golden City Brewery | Golden, CO | Monday, May 18 | 16 Cans / 4-packs, 16oz Cans |
| Lost Friend Brewing | Colorado Springs, CO | Monday, May 18 | 32oz Crowlers |
| Pikes Peak Brewing | Monument, CO | Tuesday, May 19 | 32oz Crowlers |
| Spangalang Brewery | Denver, CO | Tuesday, May 19 | 32oz Crowlers |
| Baere Brewing | Denver, CO | Tuesday, May 19 | 32oz Crowlers |
| Wild Blue Yonder Brewing | Castle Rock, CO | Wednesday, May 20 | 32oz Crowlers / Growler Fills |
| DeSteeg Brewing | Denver, CO | Thursday, May 21 | 32oz Crowlers / Growler Fills |
| Periodic Brewing | Leadville, CO | Thursday, May 21 | 32oz Crowlers / Growler Fills |
| Ursula Brewery | Aurora, CO | Thursday, May 21 | Growler Fills |
| Crystal Springs Brewing | Louisville, CO | Thursday, May 21 | 32oz Crowlers |
| McClellan's Brewing Co. | Fort Collins, CO | Thursday, May 21 | 24oz Crowlers / 32oz Crowlers / Growler Fills / Cask |
| Over Yonder Brewing Company | Golden, CO | Friday, May 22 | 32oz Crowlers / Growler Fills |
| Barquentine Brewing | Edgewater, CO | Friday, May 22 | 16 Cans / 4-packs, 16oz Cans / Growler Fills |
| Bruz Beers | Denver, CO | Friday, May 22 | 32oz Crowlers |
| Bent Barley Brewing | Aurora, CO | Friday, May 22 | 32oz Crowlers / Growler Fills |
| 300 Suns Brewing | Longmont, CO | Friday, May 22 | 32oz Crowlers / Growler Fills |
| Blue Spruce Brewing | Littleton, CO | Friday, May 22 | 32oz Crowlers / Growler Fills |
| Verboten Brewing | Loveland, CO | Friday, May 22 | 12oz Cans / 32oz Crowlers / Growler Fills |
| Mountain Toad Brewing | Golden, CO | Friday, May 22 | 32oz Crowlers / 24oz Crowlers |
| Tivoli Brewing Company | Denver, CO | Friday, May 22 | 16 Cans / 4-packs, 16oz Cans |
| Deuces Wild Brewery | Colorado Springs, CO | Friday, May 22 | 32oz Crowler Cans |
| Storm Peak Brewing | Steamboat Springs, CO | Friday, May 22 | 32oz Crowlers / 6-pack, 12oz Cans / Growler Fills |
| Odd13 Brewing | Lafayette, CO | Saturday, May 23 | 6-pack, 12oz cans |
| Woods Boss Brewing | Denver, CO | Saturday, May 23 | 4-pack, 12oz Cans |
| WestFax Brewing | Lakewood, CO | Saturday, May 23 | 16 Cans / 4-packs, 16oz Cans |
| Upslope Brewing | Boulder, CO | Monday, May 25 | 32oz Crowlers |
| Joyride Brewing | Edgewater, CO | Monday, May 25 | 32oz Crowlers / Growler Fills |
| Our Mutual Friend Brewing | Denver, CO | Monday, May 25 | 24oz Crowlers |
| Gilded Goat Brewing | Fort Collins, CO | Tuesday, May 26 | 24oz Crowlers / 32oz Crowlers / Growler Fills |
| Jagged Mountain Craft Brewery | Denver, CO | Tuesday, May 26 | 32oz Crowlers |
| Downhill Brewing | Parker, CO | Wednesday, May 27 | 32oz Crowlers / Growler Fills |
| Comrade Brewing | Denver, CO | Monday, May 25 | 32oz Crowlers / Growler Fills |
| Timnath Brewing | Timnath, CO | Wednesday, May 27 | 32oz Crowlers |
| Horse & Dragon Brewing | Fort Collins, CO | Wednesday, May 27 | 16oz Cans, 4-pack, 16oz Cans, 32oz CANtainer |
| Liquid Mechanics Brewing | Lafayette, CO | Wednesday, May 27 | 32oz Crowlers, Growler Fills |
| Brewery Rickoli | Wheat Ridge, CO | Wednesday, May 27 | Growler Fills |
| Grist Brewing | Highlands Ranch, CO | Thursday, May 28 | 32oz Crowlers / Growler Fills |
| Counter Culture Brewery & Grille | Denver, CO | Thursday, May 28 | 32oz Crowlers |
| Launch Pad Brewery | Aurora, CO | Friday, May 29 | 32oz Crowlers, Growler Fills |
| Left Hand Brewing | Longmont, CO | Friday, May, 29 | 32oz Crowlers |
| Vail Brewing Company | Vail, CO | Friday, May, 29 | 16oz Cans |
| Mockery Brewing | Denver, CO | Friday, May, 29 | 32oz Crowlers |
| Seedstock Brewery | Denver, CO | Friday, May 29 | 32oz Crowlers |
| Pug Ryan's Brewing Company | Dillon, CO | Friday, May, 29 | 12oz Cans / Growler Fills |
| Halfpenny Brewing Co. | Centennial, CO | Friday, May 29 | 32oz Crowlers, Growler Fills |
| Envy Brewing | Fort Collins, CO | Friday, May 29 | 32oz Crowlers, Growler Fills |
| WildEdge Brewing Collective | Cortez, CO | Friday, May 29 | 4-pack, 16oz Cans |
| Guanella Pass Brewery | Georgetown, CO | Friday, May 29 | 32oz Crowlers |
| Black Forest Brewing | Colorado Springs, CO | Saturday, May 30 | 32oz Crowlers / Growler Fills |
| Kokopelli Beer Company | Westminster, CO | Saturday, May 30 | 24oz Crowlers / 32oz Crowlers / Growler Fills |
| Dead Hippie Brewing | Sheridan, CO | Saturday, May 30 | 32oz Crowlers |
| Locavore Beerworks | Littleton, CO | Saturday, May 30 | 32oz Crowlers |
| Burns Family Artisan Ales | Denver, CO | Sunday, May 31 | 16.9oz cans |
| Old 121 Brewhouse | Lakewood, CO | Sunday, May 31 | 32oz Crowlers |
| Broken Compass Brewing | Breckenridge, CO | Monday, June 1 | 16 Cans / 4-packs, 16oz Cans / Growler Fills |
| Copper Club Brewing | Fruita, CO | Monday, June 1 | Growler Fills |
| Rally King Brewing | Fort Collins, CO | Monday, June 1 | 16oz Cans / Growler Fills |
| Coda Brewing | Golden, CO | Wednesday, Jun 3 | 16 Cans / 4-packs, 16oz Cans |
| Tres Litros Beer | Salida, CO | Wednesday, June 3 | 32oz Crowlers |
| Florence Brewing | Florence, CO | Wednesday, June 3 | 32oz Crowlers |
| Mountain Cowboy Brewing | Frederick, CO | Wednesday, June 3 | 4-pack 16oz cans (Coffee Pale Ale) |
| Fossil Craft Beer Co. | Colorado Springs, CO | Thursday, June 4 | 32oz Crowlers |
| Tommyknocker Brewing | Idaho Springs, CO | Thursday, June 4 | 32oz Crowlers |
| Camber Brewing | Fraser, CO | Friday, June 5 | 32oz Crowlers / Growler Fills |
| WeldWerks Brewing | Greeley, CO | Friday, June 5 | 16oz Cans / 4-packs, 16oz Cans |
| Sparge Brewing | Wellington, CO | Friday, June 5 | 25.4oz Crowlers / 32oz Crowlers / Growler Fills |
| Brix Brew & Tap | Greeley, CO | Friday, June 5 | 32oz Crowlers |
| The Peak Brewing Company | Winter Park, CO | Friday, June 5 | 32oz Crowlers |
| Someplace Else Brewery | Arvada, CO | Friday, June 5 | TBA |
| Little Machine Beer | Denver, CO | Friday, June 5 | 32oz Crowlers |
| Red Truck Beer | Fort Collins, CO | Saturday, June 6 | 6-pack, 12oz Cans |
| River North Brewery | Denver, CO | Saturday, June 6 | Double Strong Ale Blonde Barleywine, format TBA |
| Black Bottle Brewery | Fort Collins, CO | Saturday, June 6 | TBA |
| Capitol Creek Brewery | Basalt, CO | Sunday, June 7 | 32oz Crowlers |
| Carbondale Beer Works | Carbondale, CO | Sunday, June 7 | TBA |
| Ball Brewing | Glenwood Springs, CO | Sunday, June 7 | TBA |
| Green Mountain Beer Company | Lakewood, CO | Wednesday, June 10 | TBA |
| Mother Tucker Brewery | Louisville, CO | Thursday, June 11 | 32oz Crowlers |
| Fraser River Beer Co | Fraser, CO | Friday, June 12 | 16 Cans / 4-packs, 16oz Cans / Growler Fills |
| Mancos Brewing Company | Mancos, CO | Friday, June 12 | 4-packs, 16oz Cans |
| Mash Lab Brewing | Windsor, CO | Friday, June 12 | 32oz Crowlers |
| Iron Mule Brewery | Castle Rock, CO | Friday, June 12 | TBA |
| Bootstrap Brewing | Niwot, CO | Friday, June 12 | TBA |
| Goldspot Brewing | Denver, CO | Friday, June 12 | IPL |
| Odyssey Beerwerks | Arvada, CO | Monday, June 15 | 6-pack, 12oz Cans |
| Dolores River Brewery | Dolores, CO | Monday, June 15 | 16oz Cans |
| Strange Craft Beer Company | Denver, CO | Thursday, June 18 | 32oz Crowlers |
| Monumental Beer Works | Grand Junction, CO | Saturday, June 20 | 16oz Cans / 32oz Crowlers / Growler Fills |
| Grand Adventure Brewing | Kremmling, CO | Saturday, June 20 | 16 Cans / 4-packs, 16oz Cans / Growler Fills |
| Wibby Brewing | Longmont, CO | Thursday, June 25 | 12oz Cans |
| The Post Brewing | Lafayette, CO | June TBD | 32oz Crowlers |
| Loveland Aleworks | Loveland, CO | TBA | |
| 14er Brewing | Denver, CO | TBA | |
| 2 Rascals Brewing Co | Montrose, CO | TBA | |
| Roaring Fork Beer Company | Carbondale, CO | TBA | |
| Ska Street Brewstillery | Boulder, CO | TBA | |
| Storybook Brewing | Colorado Springs, CO | TBA | |
| FH Beer Works | Colorado Springs, CO | TBA | |
| El Rancho Brewing Company | Evergreen, CO | TBA | |
| FlyteCo Brewing | Denver, CO | TBA | |
| TRVE Brewing | Denver, CO | TBA | |
| Living the Dream Brewing | Littleton, CO | TBA | |
| Two22 Brew | Centennial, CO | TBA | |
| Kettle & Spoke Brewery | Boulder, CO | TBA | |
| Highside Brewing | Frisco, CO | TBA | |
| Rockyard Brewing | Castle Rock, CO | TBA | |
| Pump House Brewery | Longmont, CO | TBA | |
| Phantom Canyon Brewing | Colorado Springs, CO | TBA | |
| Resolute Brewing Company | Centennial, CO | TBA | |
| Blue Tile Brewing | Denver, CO | TBA | |
| Briar Common Brewery | Denver, CO | TBA | |
---