No Comments
Braxton Brewing's Annual Dark Charge Release Goes Virtual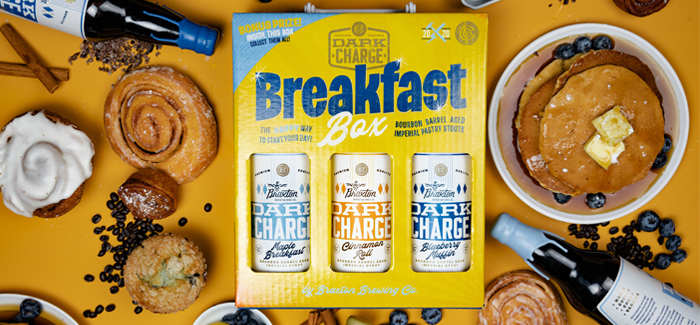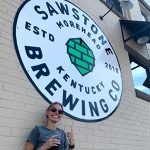 Like every event in 2020, Braxton Brewing Company's Sixth Annual Dark Charge Day is going to look different this year: The annual release of their Bourbon Barrel-Aged Imperial Stout, Dark Charge, will be held online.
The good: Instead of waking up early on a Saturday with your BA Stout loving friends and waiting in line in the cold, you will be able to purchase Dark Charge variants from the comfort of your couch. The bad: There will be no big celebration at the Covington, KY taproom.
Despite the canceled in-person bottle release, Braxton promises this year's Dark Charge variants will rival those in past years. Braxton returned core variants such as Bourbon Barrel Aged and Double Molé but introduce new ones such as Affogato and Double Barrel Aged Peach Brandy.
The Dark Charge Variants
The Braxton website describes Affogato as: "Our homage to the delicate and delicious Italian dessert that sees fresh brewed espresso poured over vanilla bean gelato. This bourbon barrel-aged Imperial Stout starts with classic Dark Charge flavor profile of rich chocolate, roasted malts and luscious oak and bourbon."
The Double Barrel Aged Peach Brandy was aged in bourbon barrels for 10 months before spending an additional four weeks in a peach brandy barrel. The website describes it as having "roasty notes of coffee, caramel and oak." The peach brandy barrel imparts a light sweetness in the forward aroma, "giving way to a subtle flavor to balance the roasty malts and lingering bitterness," the description continues.
Can't stop, won't stop. Braxton also announced the release of two special variants, Dark Charge Papas Opera Cream and The Breakfast Box. Braxton partnered with the famous Covington candy maker, Papa Candies, for the Opera Cream Candy variant. Papa Candies has been making Opera Creams and Easter Eggs in northern Kentucky for more than 60 years as a family-owned and operated candy manufacturer.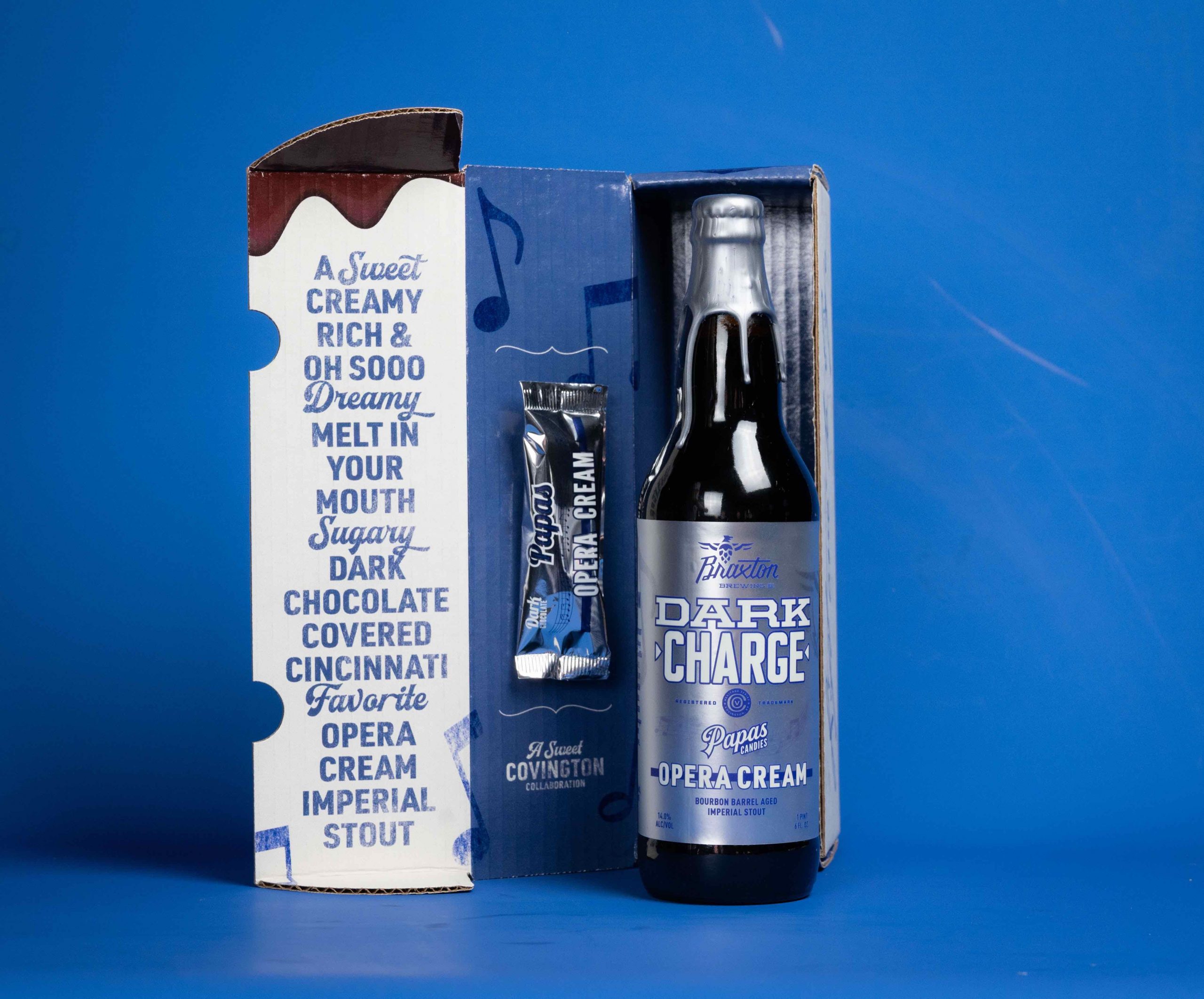 The Braxton Brewing Company's website describes Papas Opera Cream as an "Opera Cream Candy themed version of Dark Charge…loaded with Madagascar Vanilla Beans, Cocoa Nibs and a touch of lactose to give this collaboration a true nod to the famous Opera Cream Candy. The barrel-aged stout gives notes of smooth vanilla and caramel with underlying hints of oak, with the aroma and flavor dominated with dark chocolate and vanilla and a thick, slightly sweet mouthfeel provided by lactose."
The Breakfast Box includes all your morning favorites: Maple Breakfast, Cinnamon Roll and Blueberry Muffin. Braxton announced that each box includes a bonus prize in case the breakfast flavors didn't delight you enough. The Breakfast Box is available online for $60 per box; limit two per person.
Dark Charge Day 2020
Despite the difficult year, it was important for Braxton to continue with their Dark Charge celebration, and do it bigger than ever with eight total variants.
"Dark Charge Day is yet another way we're able to celebrate Kentucky's rich bourbon culture with craft beer drinkers. This year, we feel the community needs that more than ever," said Jake Rouse, co-founder and CEO of Braxton Brewing. "We're committed to pushing the boundaries of not only the craft beer industry but also challenging how the community thinks of Braxton."
Dark Charge Day is set for Saturday. Dec. 5, 2020 but bottle sales began on Tuesday, Nov. 17 and will run through Thursday, Dec. 4.
Braxton is continuing with the celebration on Dec. 5, 2020 and will adhere to all COVID-19 guidelines including no indoor dining in Kentucky. Indoor and outdoor dining is allowed in Ohio with a 10 p.m curfew.
"This year we are excited to announce that Dark Charge Day is hitting the road!" Rouse said via a letter on the website. "Each of our four brewery locations (Covington, Labs in Bellevue and Barrel House in Fort Mitchell, KY and Cincinnati, OH) will have every 2020 Dark Charge variant on tap, live music throughout the day and special experiences (remember The Cakeshop last year?!). Each facility will maintain its policies and procedures for COVID to keep everyone safe."
To learn more about Braxton Brewing Sixth Annual Dark Charge Day, visit DarkChargeDay.com. To purchase Dark Charge bottles, visit store.braxtonbrewing.com.
---