No Comments
Scout & Scholar Brewing Co. Honors Bardstown's History & Future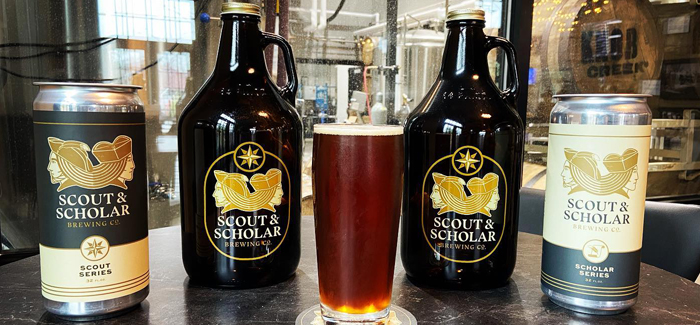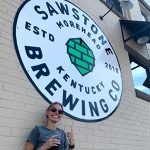 The city of Bardstown, KY was founded by two brothers, William and David Bard, in 1780. William was a surveyor, land agent and frontiersman and, after drawing the first lots of Louisville in 1779, he explored beyond Louisville and laid out the city of Bardstown 40 miles away. David was a graduate of Princeton College, where he studied theology and later became a Presbyterian Minister. His goal was to bring the community of Bardstown together. 
Now, after 240 years, Scout & Scholar Brewing Co. opened in downtown Bardstown, paying homage to William Bard, the "Scout" and David Bard, the "Scholar."
Both William and David Bard played an important part in shaping Kentucky history. Bardstown is a city with a rich history and Scout & Scholar Brewing made a point to honor that history while also being a part of the city's new growth. Part of that growth includes having two big titles: "Most Beautiful Small Town in America" and the "Bourbon Capital of the World."
In July 2012, Bardstown was named "Most Beautiful Small Town in America" in the Best of the Road Competition sponsored by Rand McNally and USA Today. The Kentucky city beat out finalists that included Jim Thorpe, PA; Danville, KY; Tybee Island, GA; Sedona, AZ and Baker City, OR.
Part of that small-town beauty is because of the 11 historic bourbon distilleries within 16 miles of downtown. Bardstown bourbon distilleries include Bardstown Bourbon Company, Barton 1792 Distillery, Heaven Hill Distillery, Jim Bean, Lux Row Distillers, Log Still Distillery, Four Roses Bourbon, Maker's Mark, Preservation Distillery, Old Samuels Distillery and Willet. Bardstown is host to the Kentucky Bourbon Festival, which draws hundreds of bourbon drinkers from all over the country.
"I feel like Bardstown is doing a very, very good job of keeping that old school feel but also having new school growth," said Scout & Scholar head brewer Lee Northcutt. "So obviously, the history here is bourbon, but Scout & Scholar's vision is bringing kind of that new flair. And we're the first craft brewery in Nelson County, which is awesome with all the tourists we get here too."
Kentucky breweries know bourbon dominates this state and they are okay with that. Bourbon and beer have learned to work together to benefit from each other. Whether it's through tourism, collaborations or the endless supply of barrels to age beer in, the two industries have really embraced each other's crafts.
"But for me, the biggest surprise is how much these distillers are really all about it," Northcutt said. "Unfortunately, I can't talk about it too much because it's still kind of under wraps, but I have distilleries wanting to work with me as far as coming in and learning the beer side and then on the other side of the spectrum, me learning the distilling. So being embraced by that culture as well has been really awesome and very surprising."
There is one advantage that breweries have over the distilleries: People can't drink bourbon all day. Once again, they are okay with that.
"I'm not knocking bourbon, but you know, you can only drink so much [bourbon]," Northcutt added. "If I'm going on a few distillery tours, I'm going to want to have come and have a cold beer and a meal."
This symbiotic relationship between the breweries and distilleries extends beyond Bardstown. From Northern Kentucky to Lexington to Louisville to Pikeville to Paducah, distilleries and breweries are working together to show people how great The Bluegrass State is.
Come for the bourbon, stay for the beer. That's what Kentuckians want you to know.
That's what Scout & Scholar is providing to the people of Bardstown–a place to enjoy a beer and food after your distilleries tour and tasting. If you want to explore like William Bard, order a beer from their "Scout Series" like Bacca, an Imperial Brown Ale or Defiant, a Sour IPA. If you want to keep it traditional like David Bard, order a beer from their "Scholar Series" like Intangipale, an American Pale Ale, or Red Clover, an Irish Red Ale. To be like both brothers, order one of each and become both a Scout and Scholar.
To learn more about Scout & Scholar Brewing, visit scoutandscholar.com.
Featured Image Courtesy of Scout & Scholar Brewing
---