No Comments
Ultimate 6er | Thriller Edition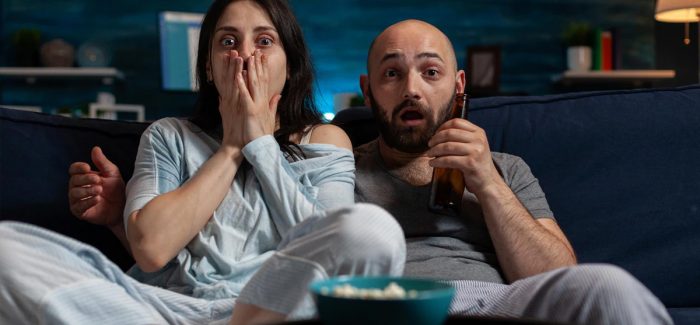 'Tis the season for mind bending flicks. If you're anything like me, though — big movie thrills satisfy your taste year-round. Whether you're a year-round thrill seeker or more of a seasonal viewer, check out the list below for movies (and beers of course!) to queue up this weekend.
Barbarian
View this post on Instagram
It's hard to justify this pairing without giving away major plot spoilers. And you'll definitely enjoy this movie more the less you know before watching. On the other hand, you know exactly what you're getting when you open a Left Hand Milk Stout Nitro. This award winning recipe delivers the perfect combination of sweetness and roastiness. The beer's coffee notes will keep you alert (not that you'll need much help there), and the nitro smoothness will keep you calm. The least spolier-y thing I can say is this movie starts with an Airbnb rental gone wrong. You might be nervous to book your next vacation, but you'll never regret picking up this Left Hand classic.
---
Calibre
View this post on Instagram
The holiday spices and warmth found in Great Divide's Hibernation Ale make you want to stay on the couch near a cozy fire. And it's likely the main characters of Calibre wish they had done the same. Instead, they embark on a doomed hunting trip. After a life-altering decision leaves the characters digging themselves deeper down a hole of no return, the tension for the remainder of the film is higher than the ABV of this strong ale (8.7%). But you can take comfort in knowing you're pairing a British horror film with an English Style Old Ale. 
---
Fractured
View this post on Instagram
Fractured follows a family of three (a man, his wife and daughter) setting off on a road trip. While stopped at a gas station, the young daughter breaks her arm after a nasty fall.  After rushing to the hospital, the wife and daughter suddenly disappear. The man is completely in the dark over what really happed. To pair with the movie's cloud of doubt, reach for a bottle (but not until the wider release on Oct. 31) of Surly's Darkness. With its signature spooky label art and mighty flavors of chocolate, coffee, cheery, and toffee; this 12% Russian Imperial Stout is enjoyable from first sight to last sip. If you're in Minnesota, you might've been lucky enough to attend Surly's Darkness Day this past Oct. 8. Surely a 'darkness' day much brighter than the one lived out in Fractured.
---
A Perfect Getaway
View this post on Instagram
A Perfect Getaway starts off innocently enough – a pair of newlyweds beginning married life with a honeymoon in Hawaii. But – the fact that this list is being published in October rather than say, February – probably leads you to conclude this honeymoon is about to be less than idyllic. Maui Brewing Company's Coconut Hiwa Porter, on the other hand, will deliver that calm oasis with its coconut flavor and rich coffee aroma. Much like the characters in this film, this beer presents a complexity of sweet & spice, keeping you guessing who is really to trust.
---
Identity
View this post on Instagram
Even though I watched this movie for the first time recently, it's in my top 5 for psychological thrillers. I had a similar experience the first time I tried Wibby Brewing Company's Double Dunkel. An imperial version of their milder Moondoor Dunkel, this 7.5% ABV malty beer packs in flavors of cocoa and vanilla. Identity follows 10 strangers who become stranded at a motel on a rainy night. The twists and turns will keep you guessing right up until the very last scene. You may even find yourself wanting to double back and immediately watch the movie a second time to see if you can pick up on the breadcrumb of clues, so be sure to have at least 2 (or 3 or 4) Wibby beers on hand. 
---
Nope
View this post on Instagram
Rounding out this list of thrills and beers is the latest film by Jordan Peele, Nope. And let me tell you, this guy knows how to make a horror film (hot take, I know). Another movie that is best experienced knowing as little as possible before going in, it's hard to pick a beer pairing without revealing any spoilers for this flick as well. Let's just say – a brother and sister discover that something might be up at their California horse ranch. For this movie, reach for a bottle of Ecliptic Brewing Company's Capella Porter. This beer combines the sweet flavors of chocolate and caramel with a subtle roastiness and a brightness of hops. It's so delicious, that you might even find yourself describing this beer (and this movie) as out of this world. 
---