No Comments
Temperance Beer Co. Announces 2022 Might Meets Right Barrel-Aged Stout Lineup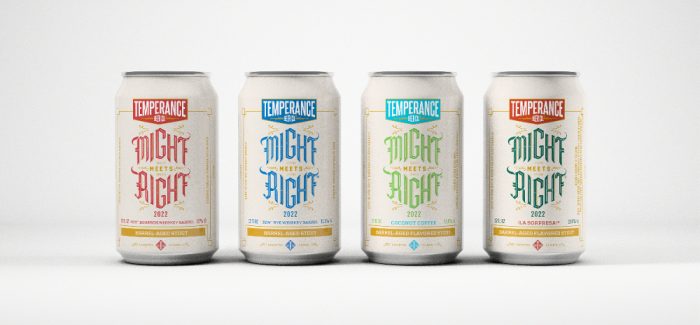 Located in Chicago's near-north suburbs, Temperance Beer Co. and FEW Spirits enjoy distinction as Evanston, Illinois' first brewery and distillery. They have come together to create the 2022 Temperance Might Meets Right Barrel-Aged Stout collection. Temperance placed its Imperial Stout in both FEW Rye and FEW Bourbon barrels, which produced two distinct barrel-aged beers. The brewery also created two variants with adjuncts. The public release takes place on November 12, but for those that can't wait that long, Temperance is throwing a ticket-only Sneak Peek Party on November 10. The party includes a host of goodies to go along with the chance to be the first to taste the 2022 release — read on for information about the event.
---
Before one can discuss the Barrel-Aged Stout, one must examine the barrels that serve as a principal ingredient. And, before one can talk about the barrels, one must understand the whiskey that provided the barrels with its flavor.
"We're trying a few new things this year," said Temperance founder Josh Gilbert. "First, we're using FEW barrels exclusively, and since we're using a mix of Bourbon and Rye barrels, we decided to offer each as separate variants so that you can really compare for yourself the nuances that the different whiskeys bring to the beer."
FEW, which champions its grain-to-glass process (they control every step of the whiskey production), creates a unique type of whiskey. The FEW Bourbon consists of a three-grain, high-rye mash bill consisting of 70% corn, 20% rye and 10% malt. Additionally, it is fermented with yeast routinely used in brewing a Saison. The high-rye percentage results in a Bourbon that's a little spicy, and the special yeast offers a bit of peppery notes. Meanwhile, they use a bit of corn in the mash bill of FEW Rye for a "genteel interpretation of the venerable spirit."  FEW, a craft distillery, also ages its whiskies in small barrels, which sets it apart from the larger brands. The combination of great recipes, ingredients and skilled whiskey producers results in acclaimed whiskies and winning prestigious awards. Indeed, both its Bourbon and Rye have recently taken home Double Gold Medals at prestigious events, which means every judge awarded it a gold medal.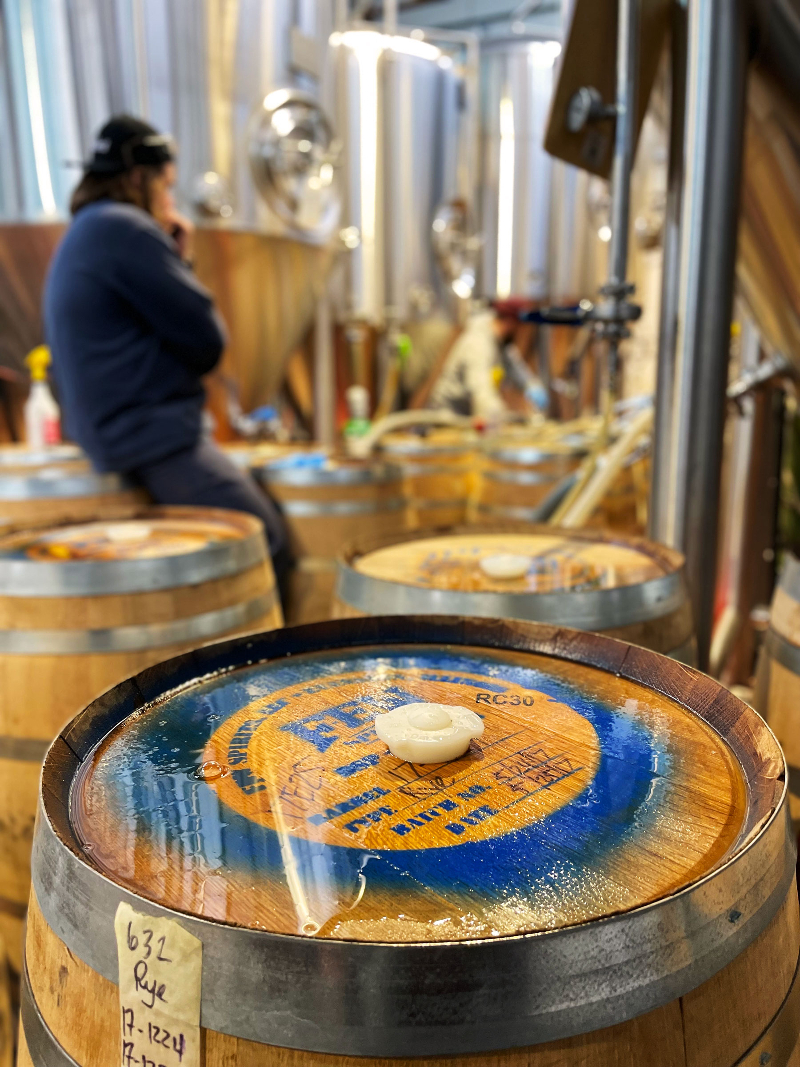 Temperance, a brewery with two Great American Beer Festival medals to its name, makes its highly rated and popular Might Meets Right Imperial Stout. They place the lauded stout into the barrels, allowing it to absorb the oak from the barrel along with all the flavors from the FEW whiskies.
Temperance head brewer Mike VanCamp and founder Josh Gilbert said:
"We love that their Bourbon has a not insignificant amount of rye in the malt bill, balancing the expected bourbon sweetness with some spice. FEW Rye is just so smooth, and we love the cinnamon and cherry notes it has. For the first time we've decided to hold off blending the two barrels until we first packaged them separately without any adjuncts."
But, yes, for you adjunct fans — there will be variants with adjuncts, too.
"¡La Sorpresa! is back," said Gilbert, "this year with four times the amount of vanilla beans as last year while dialing down the cinnamon a bit." He continued, "We can't wait for everyone to try the new Coconut Coffee variant, which came about when our brewer Connor was enjoying a coconut-infused Nescafe and could not stop telling us how amazing it was. He didn't let us try it though, so we decided to make this variant instead."
Finally, Gilbert exclaimed,  "I love that this year's Might Meets Right is a collaboration between Evanston's first (and only) distillery and Evanston's first brewery. It's hard to imagine this sort of thing happening in this town even just 15 years ago. I'm thrilled we've moved beyond imagining to making things happen."
Indeed, the Temperance name speaks to the fact that Evanston once existed as a hub of temperance movements. Even after the repeal of Prohibition in 1933, the near-north Chicago suburb remained a dry town until late in the twentieth century. But that was then, and this is now. FEW opened in 2011 as the town's first distillery and Temperance arrived two years later as the suburb's first brewery. The once dry town is now home to a bevy of award-winning beer and spirits.
The Lineup
Temperance first introduced its Might Meets Right Barrel-Aged Stout series in 2015 (with beer placed into barrels in 2014), then introduced its first variant with an adjunct —  ¡La Sorpresa! — in 2017.
FEW™Bourbon (12% ABV)
After aging in Few Bourbon barrels, "the rich dark malts mellow and take on notes of dark chocolate, sweet cherry and luscious dark fruit."
FEW™Rye (11.5% ABV)
After aging in FEW Rye barrels, "the rich dark malts mellow and take on notes of oak, vanilla and a hint of spice."
** We recommend getting your hands on both the Rye BA and the traditional BBA. Compare the two and see how each FEW Whiskey influenced the Temperance Imperial Stout differently **
¡La Sorpresa! (11.8% ABV)
"Each vintage is slightly different depending on the cinnamon, the peppers, and the barrels, but it's always inspired by spicy, cinnamon-y Mexican hot chocolate."
Coconut Coffee (toasted coconut with Tugboat cold brew) (11.8% ABV)
"After aging in a combination of FEW Bourbon & Rye barrels, we add toasted coconut and Tugboat Coffee cold brew, and the result is a beverage that blends the best parts of island delights and winter warmers."
---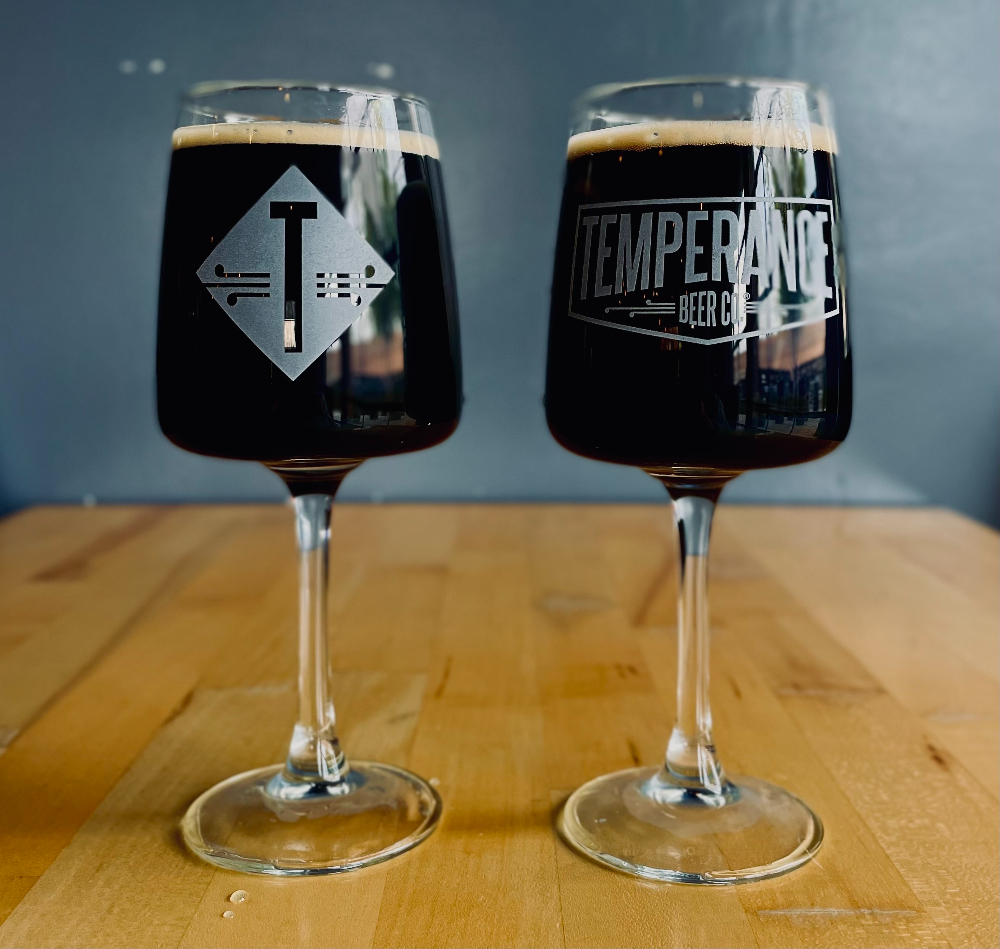 The Release
This year's Might Meets Right Barrel-Aged collection will be released to the public at noon on Saturday, November 12, in a variety four-pack that includes one of each variant, as well as two-packs of each variant, both in 12-ounce cans and on draft in the Temperance Tap Room. And, 5411 Empanadas will be serving up gourmet Argentinian-style empanadas from 2-7 pm.
Or, you can get a taste two days earlier at the..
7:00 PM – 9:30 PM 

$65

 per ticket
What does the ticket get you?
You will be the first to enjoy a generous pour of each variant ($36 value) and take home a mixed four-pack ($36.99 value).
You will receive a gorgeous Edel 35 cL stemmed glass etched with Temperance logos ($7 value) — see the photo above.
You can also mingle with the brewers who brought this year's vintage to life (priceless), along with fellow barrel-aged beer enthusiasts.
Plus, Sneak Peek ticket holders will be able to purchase additional variety four- and variant two-packs that evening.
---
Follow PorchDrinkChi on Twitter for a preview on November 7.
Now all that's left is to see how it tastes. And, we at PorchDrinking will get a little preview of the beer on November 7. Stay tuned to our social media channels as we enjoy this congruence of FEW whiskies and Temperance beer (we will note on Twitter some of our editors' TikTok and IG channels, too).
---