#alamodrafthousesloanslake Archives – PorchDrinking.com
May 11, 2017 | Cory Pelc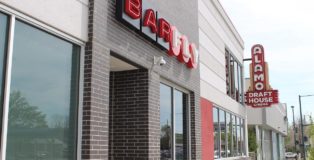 After four years of planning and community meetings and construction buildout, Alamo Drafthouse Sloans Lake (Denver) celebrated its soft opening and staffing training kickoff this week with a ribbon cutting and champagne saber'ing from the American crime fiction writer and essayist, James Ellroy (the bloke that penned LA Confidential) and Vice President of Operations for Alamo Drafthouse Denver, Walter Chaw. The stylish theater chain for new & classic films will also feature cocktails & creative bites served seat-side by BarFly and chef Seth Rexroad.
Alamo Drafthouse Sloans Lake opens to the general public and is full operable starting May 15th. You can still go to showings this week but they are training staff and there may be some hiccups in your service as they workout the kinks.
April 20, 2017 | Tristan Chan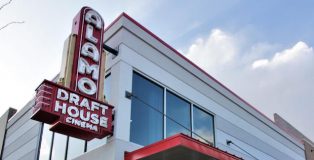 We've known for decades that movies are best enjoyed with an endless supply of popcorn and a cold beer. In fact, this marrying of these two joys has remained an earnest focus here on PorchDrinking.com, which is why earlier this past year, we were thrilled to begin a partnership with Alamo Drafthouse in Denver. We're thrilled to announce that Alamo's second Denver location, Alamo Drafthouse Sloans Lake, is set to open May 15 at 4255 W. Colfax Ave.