No Comments
7 Reasons Why We Love Alamo Drafthouse Sloans Lake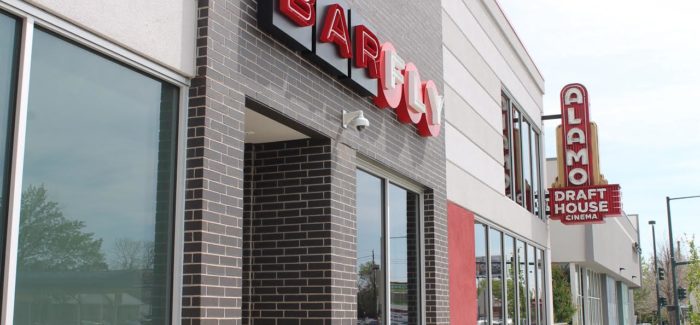 After four years of planning and community meetings and construction buildout, Alamo Drafthouse Sloans Lake (Denver) celebrated its soft opening and staffing training kickoff this week with a ribbon cutting and champagne saber'ing from the American crime fiction writer and essayist, James Ellroy (the bloke that penned LA Confidential) and Vice President of Operations for Alamo Drafthouse Denver, Walter Chaw. The stylish theater chain for new & classic films will also feature cocktails & creative bites served seat-side by BarFly and chef Seth Rexroad.
Alamo Drafthouse Sloans Lake opens to the general public and is full operable starting May 15th. You can still go to showings this week but they are training staff and there may be some hiccups in your service as they workout the kinks.
Alamo Drafthouse Sloans Lake features eight screens for new release movies, family and independent films, as well as the Alamo's unique signature repertory programming. State-of-the-art bi-amplified QSC digital audio systems provide full range multi-channel fidelity for faithful reproduction of audio soundtracks. In addition to the superior AV equipment, the layout of each auditorium has eliminated the traditional front row, ensuring there is no bad seat in the house.
We are most stoked about the Alamo Drafthouse's dedication to craft beer and the local partnerships they are forging with local brewers. From neighborhood taps on the beer list to beer cocktails and beershakes made with those beers, the Alamo Drafthouse at Sloans Lake is taking it's love of craft beer to the utmost heights.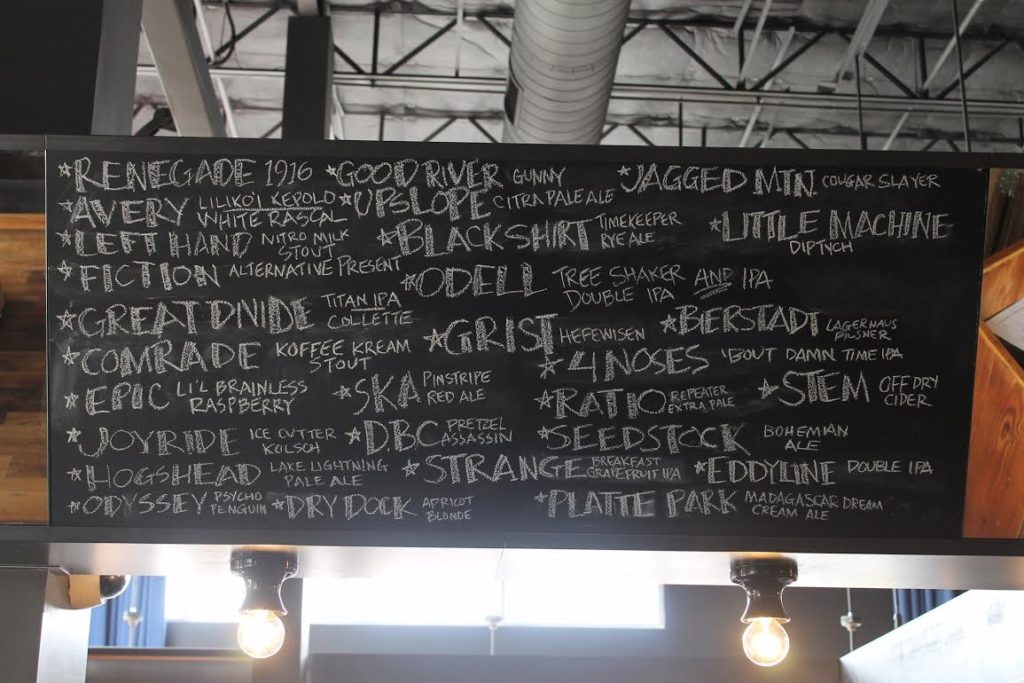 Don't just take our word for it, just look at this opening taplist and know that they are already in talks with Odyssey for a beer collaboration that can not be named at this time. These folks are the real deal.
Here are our seven reasons why we just can't get enough of the Alamo Drafthouse Sloans Lake:
7. No Texting, Talking, Cell Phone Policy – R.E.S.P.E.C.T.!!!
One of the things that makes Alamo a great place to watch movies is their fervent enforcement of the 'rules for watching movies.' In other words, they don't tolerate disruptive behavior in the theaters and they've received a lot of press and accolades for their adherence to this position.  If you are a person who likes to talk, text or use your cell phone during a movie, Alamo Drafthouse is not the place for you!  If, on the other hand, you crave a great movie watching experience free from interruptions, then you have this place dialed in. Alamo Drafthouse positions themselves as a theater that takes extreme pride in providing an excellent and undisturbed movie watching experience.  If you are a movie lover, you can expect a great environment at our theaters, free from talkers, texters, cell phone users or disruptive behavior.  Nothing is more annoying than trying to watch 2001 A Space Odyssey and have someone talking during the epic silent parts. Want a quiet theater, Alamo Drafthouse will shut them the fuck up for you.
6. Full Reserved Seating – Get to your seat on your time, order a beer. Kick back.
All seats are reserved. This is a 'pick your seat' model and the seats will be held for you up until show time. Alamo Drafthouse still recommends you arrive early enough to find your seat with the lights up (typically 30 minutes before show time). Show up early to catch the custom pre-shows before all films as there's no onscreen advertising and showcases more cinematic knowledge and education. Plus, with reserved seating, there's no reason to get in line or show up early to guarantee your seat since you already purchased your ticket and picked that shit out. Imagine that, first come, first served. Thanks Alamo.
5. That age limit, son.
All patrons must be 18 years or older or be accompanied by a parent. For certain select shows the age polices may vary, but children must always be accompanied by a parent. For details about the age policy for a specific show, please check the show description page. Sorry kids, hit the mall movie theater. This is for grown folks. And we fucking love that.
4. The Food
In addition to playing the best movies, Alamo Drafthouse Sloans Lake has a full, multi-course menu where every meal is prepared from scratch specifically for you. Favorites include the "Royale with Cheese" Burger, Omnivore Pizza, and, of course, fresh-from-the-oven, just-the-way-you-love-them warm chocolate chip cookies. Forget dinner and a movie, it's all about dinner AT the movie. Much like any other Alamo Drafthouse, we find a strong core of casual dining options to accompany your movie as well as menu specials updated at least every three months. Ready yourself for hella pairings and great one-off dinners, food that hits your table that is themed after the scene you just watched on the screen and prices that remind you of the pub; not extortion like most movie theater chains.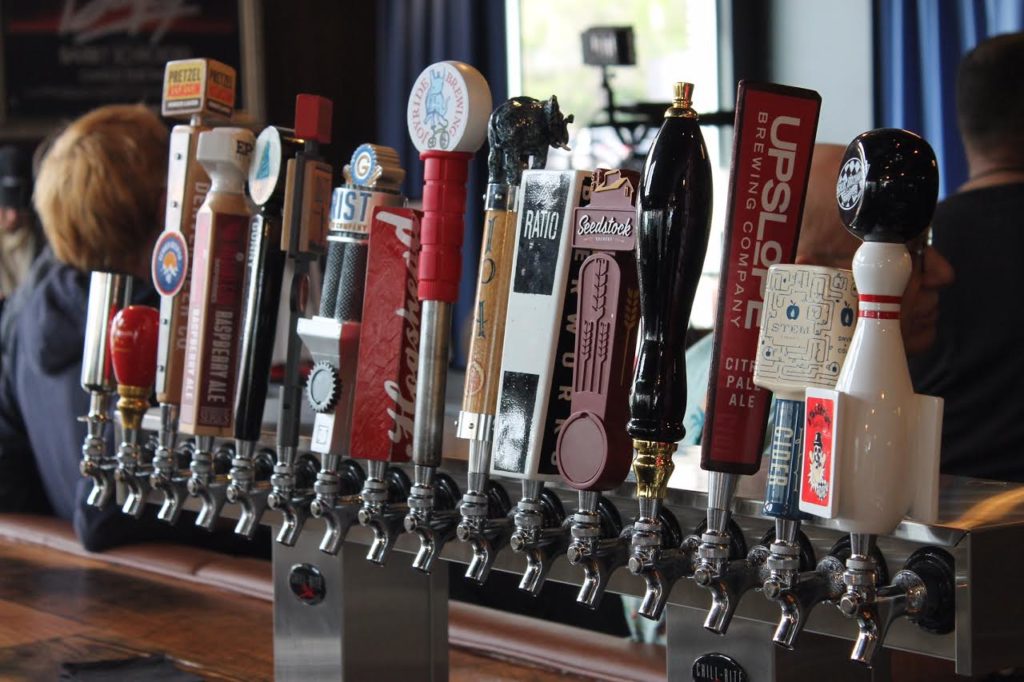 3. CRAFT BEER – Duh! It's not, like, a new reason but it's still one of the top reasons for us. Let us do what we want. We are the ones writing this article!
Did someone say DRAFThouse? You heard that right. Beer at your seat. While watching your movie. And not just domestics. We are talking delicious craft beer. We already doted on the taplist but Alamo Drafthouse's devotion to craft goes beyond any other establishment with a bar.  We love that they showcase craft beer dinners, paired with delicious food from Chef Seth Rexroad. And tap takeovers at the bar (we like to dote on yourselves a bit too, ya know?!). One glance at their taplist and you will know that someone took some time to flesh out a tasting experience that wasn't just 'checking off' the proverbial 'craft beer' boxes. Showcasing local stalwarts as well as some of the midsize brewery ramparts that built the love of craft, there is something for everyone on the menu. Want a cocktail or wine? They have that too. Also, Chimay bombers. Hellllllloooo nurse!
2. Community
Alamo Drafthouse has a membership program which we love for honoring the repeat movie-goer but community isn't just hooking people up with a punch card (they don't do that btw, they track your movie going in a sophisticated computer; they're not a fucking sandwich shop). We are speaking of community in a sense that really matters. The reason that the Alamo Drafthouse exists. There is a tribe, a general gathering of folks that consider cinema art. Alamo Drafthouse honors and showcases it's programming as such. And they are in fact, artist of showcasing the arts. So pay attention, they will educate you on some shit.
1. The CINEMA – You thought craft beer was going to be number one, didn't you?!
Alamo Drafthouse Sloans Lake features eight screens for new release movies, family and independent films, as well as the Alamo's unique signature repertory programming. Auditoriums will be equipped with the highest quality Sony 4K digital projection and equipped for RealD 3D presentations. BUT, we aren't talking about that shit. WE ARE TALKING ABOUT THE FILMS!!!!! We love the prowess and curation and care that Alamo Drafthouse puts into selecting and commandeering it's classic films. We love that they still show the new stuff. We adore their keen eye for the obscure and their tenacity to bring what WE, the cinefiles, want to see.
For the latest developments on Alamo Drafthouse Sloans Lake, follow on Facebook & Twitter.
To receive weekly emails from Alamo Drafthouse Sloans Lake, sign up for Victory: https://drafthouse.com/denver/victory/sign-in
---