chile – PorchDrinking.com
March 13, 2017 | Dan Olds 1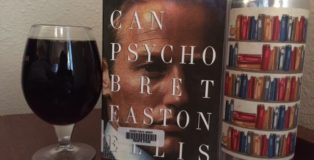 ABV: 9.5% | IBU: 25
Patrick Bateman was a 26-year-old, handsome man who worked on Wall Street. He was intelligent, wealthy and he attracted the finest of women. His charming and sophisticated nature makes an average man like myself jealous we don't have the same qualities… except for the fact that he is also a psychopath. The other half of his life is spent strolling around during the night with ferocious psychopathic tendencies. Bateman is the protagonist in American Psycho by Bret Easton Ellis. Always looking for a great book to read, several years ago I had heard great things about Ellis so decided to read the book. Half way through, my literary appreciation was blown away both by the quality of writing and character depiction but also the shock value of a dark and bleak story.
December 2, 2014 | Danny King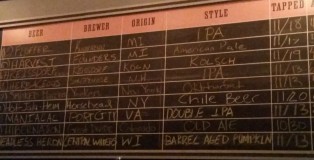 IBU: 19.2
ABV: 7.2
Guys, last week's cold snap really freaked me out. I love cold weather, but I need to be eased into it. I can't just go 0-60 (or rather, 60 degrees to 20 degrees) without any stages in between. When I went to the beer shop, body freezing and teeth chattering, I had every intention of buying some winter seasonal and writing about cinnamon, nutmeg, and other holiday spices. Then I saw this sign and knew that the Universe, in the form of Top Hops taps, had a much spicier plans for me.