#DenverPaleAle Archives – PorchDrinking.com
June 28, 2018 | Kara Rowland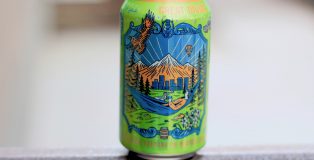 Great Divide Brewing Co. is out with a new label for its Denver Pale Ale as illustrator Rachel Jablonski takes the torch from John Vogl for the third iteration of the brewery's Artist Series.
Featuring a man relaxing on a hammock as he sips a beer with an eye toward the city and mountain skyline, Jablonski's design will now adorn cans of Denver Pale Ale, the brewery's piney and sessionable staple. Rounding out the composition are iconic Denver symbols such as a hiker, the state capitol, skis, a hawk and a deer.
Great Divide — which at 24 years old is one of Denver's older breweries — started the Denver Pale Ale Artist Series in 2016 shortly after opening its new RiNo location. Director of Marketing Shannon Berner described the series as a way to showcase local artists and pay tribute to the Mile High City that the brewery calls home.
Read More
May 31, 2017 | Tristan Chan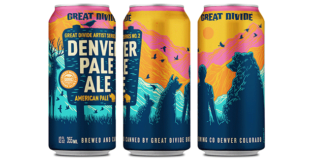 Last June, Great Divide took their iconic, but somewhat dated Denver Pale Ale and reimagined every aspect of the beer. Not only did its 20+ year old recipe receive a facelift, evolving from an English to an American-Style Pale Ale, but it's label design was re-imagined for a newly introduced canned format.
Paying homage to the artistic roots associated with its new Barrel Bar location's home in the River North Art District, Great Divide's yearly rotating Artist Series features the work of a new local illustrator each year.