jackalope Archives – PorchDrinking.com
March 12, 2021 | Jesse Valenciana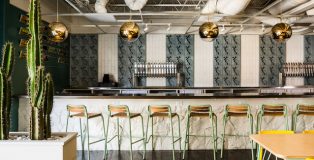 When they opened their doors, Jackalope Brewing Co. were the hip, new brand taking up space in a modest sized brewpub. Fast forward a decade and Jackalope Brewing have become respected pioneers and leaders of Nashville beer. They now operate out of a towering production facility in a rapidly growing city that seemingly sprouts one brewery for every new high-rise residential building. 
July 29, 2013 | Liz Riggs
"Put out good beer; everybody likes you," Bailey Spaulding, co-owner of Jackalope Brewing, told me as we pick at the pieces of some saran-wrapped cheese from The Bloomy Rind.
It's a sentiment Spaulding and friend/co-owner, Robyn Virball, both felt once they opened their doors in Nashville back in 2010. And, it's true; who's going to hate on two smiling girls pouring you freshly brewed craft beer? Read More