#porkbelly Archives – PorchDrinking.com
January 20, 2020 | Scott Johnson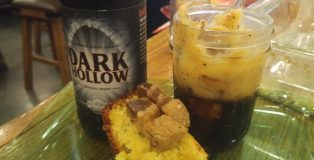 Although craft beer fans are becoming more keen on pairing beers with their favorite cheeses and meals, I've always found that cooking with beer to be a challenge. If you're not acclimated to the natural bitter flavors of hops and malts, then beer can turn your dish into an overwhelming, unwieldy experience. The upside to this we can now discover new recipes by experimenting with more beer styles. In all my years of cooking, these crowd-pleasing pork rillons may be the perfect vehicle to harness the true flavors of beer.
October 2, 2014 | Chelsea Mitchell 2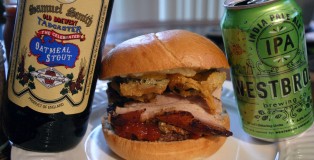 Since the Great American Beer Festival is approaching, I decided to post the ultimate Cooking with Beer recipe: the Great American Beer Burger. To properly honor the most epic festival of all time, I knew I had to come up a downright mind-blowing creation and I knew it had to be loaded with beer. I figured nothing is more American than a good ol' fashioned burger topped with about 1000 calories of ingredients – so I made this dream a reality. A whopping total of six different beers are used to create this monster of a meal plus whatever brews you decide to drink. If you make this thing, you'll be so impressed with yourself for actually putting it all together, even if you don't manage to fit it all in your belly. Hell, I'll be impressed that you actually had to balls to try. If you're on the fence and can't decide, just think of this: Why settle for just one recipe with beer when you can combine them all?