No Comments
Cooking with Beer | Sweet Pork Rillons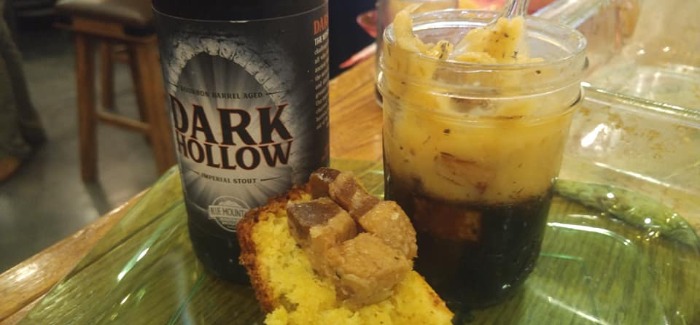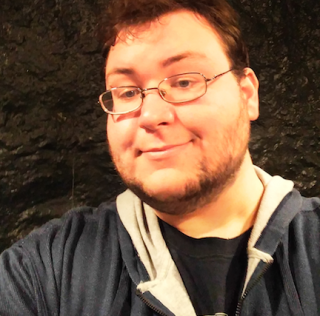 Although craft beer fans are becoming more keen on pairing beers with their favorite cheeses and meals, I've always found that cooking with beer to be a challenge. If you're not acclimated to the natural bitter flavors of hops and malts, then beer can turn your dish into an overwhelming, unwieldy experience. The upside to this we can now discover new recipes by experimenting with more beer styles. In all my years of cooking, these crowd-pleasing pork rillons may be the perfect vehicle to harness the true flavors of beer.
So, what is a rillon? A rillon (pronounced as "ree yon") is a French meat dish made from cooking seasoned pork belly within its own fat made to be potted and preserved. It's similar to rillettes with the key difference being that rillons are cut into larger pieces and cooked for less time so they can retain their shape.
My desire to reinvent this concept came from one of my favorite YouTube channels: Binging with Babish. He recently did a video about the basics of Cajun food where he introduced me to this very fascinating pork dish. When I replicated this recipe at home, I was blown away at how delicious it was from transforming the cubes of pork and leaving me with some incredible wine syrup. I had to find out if the same process could work with beer.
The Beer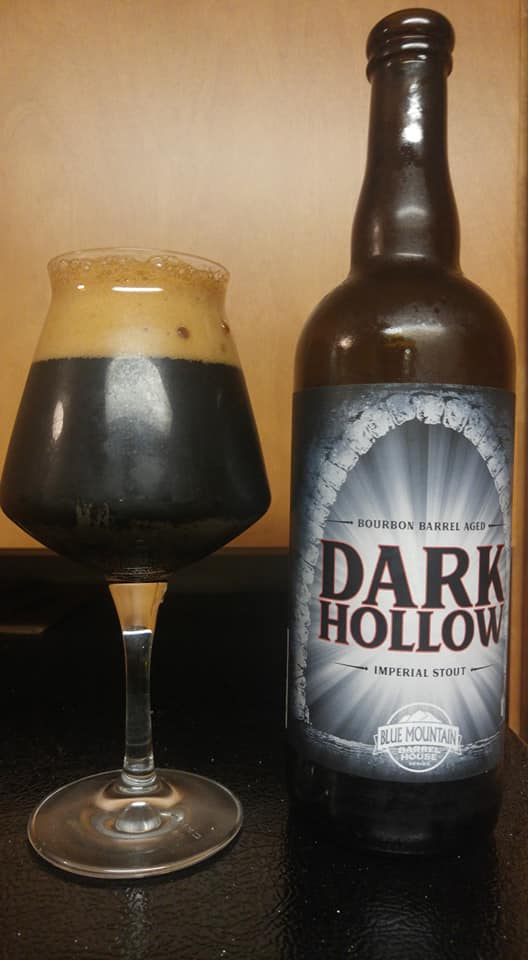 Why Dark Hollow?
Dark Hollow made by Blue Mountain Brewery is a classic in the Virginia craft beer scene. This year-round, award-winning Imperial Stout is aged in charred American oak barrels for around nine months. The smell and aroma give off unbridled levels of roasted malts, bakers cocoa, vanilla caramel and sweet bourbon. It's a body-warming, oily slick Stout that's perfect for enjoying in the colder temperature.
I went with an Imperial Stout to match the alcoholic content of a wine. The dessert-like qualities of Dark Hollow sounded promising thanks to pork's overall compatibility with sweetness. The touches of rosemary, thyme and hot paprika were added to give a spicy, woody touch with each bite. The fatty richness countered against the acidic wine was already a success, so could you overcome the difficulty of cooking with naturally bitter beer?
Let me tell you, there's no greater accomplishment as a cook then when the first reaction to your newest dish is "Oh my God!" in pure ecstasy.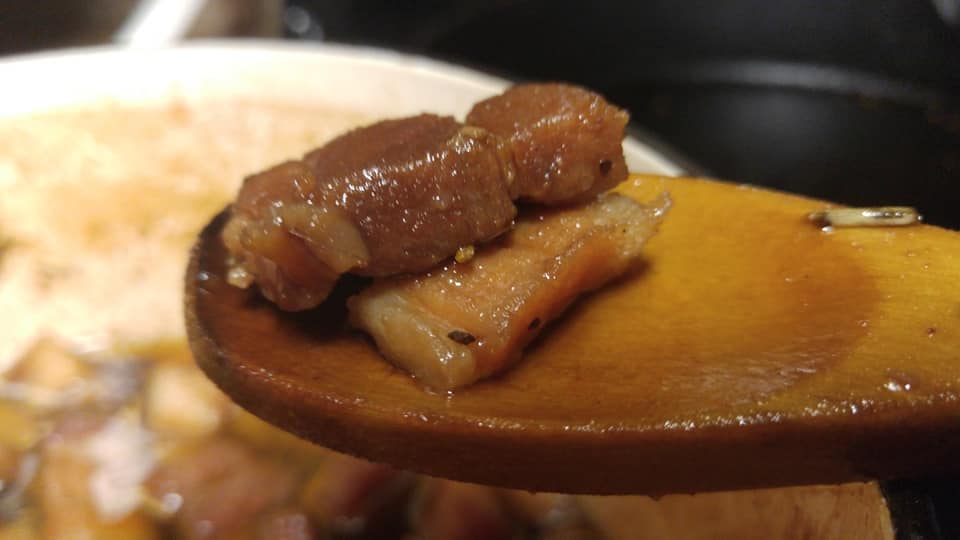 The answer is a resounding yes. One bite of the rillon transported me back to memories of dipping breakfast sausage into runoffs of maple syrup at my grandma Judy's house. The warm, pungent flavors of rosemary and hot paprika keep the sweetness from being too overwhelming. This is like taking candied bacon to it's more gourmet, culinary evolution.
The striking, mouth-salivating flavors of sweet pork fat matches beautifully with warm bread or butternut squash soup. What's fascinating is that you can eat these cold or hot. Eaten hot, you really get those herbs and spices coming through the layers of artisanal syrup. Eaten cold, you get a chewier, dense texture that makes the beer flavor comes out the longer it sits on the tongue. I highly recommend taking this to any beer share or sharing with craft beer aficionados and carnivores alike.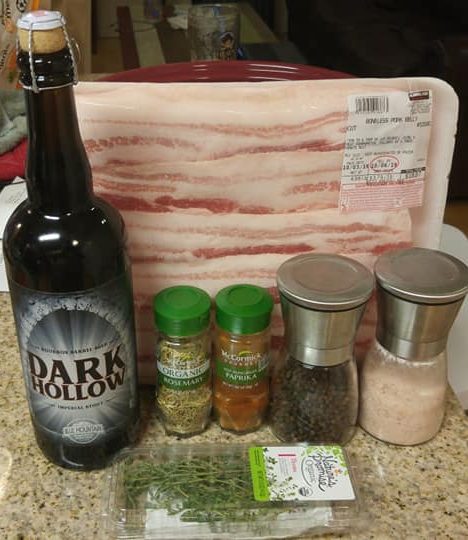 ---
Ingredients
1.5 lbs pork belly
1 1/2 cups sugar
2 tsp salt (I used Hawaiian sea salt)
2 tsp freshly ground black pepper
1 tsp thyme
1 tsp rosemary
1 tsp hot Hungarian paprika
12 oz Imperial Stout
---
Directions
Pre-heat oven to 400ºF.
Slice pork belly into half-inch-thick slices.
Place pork belly a large mixing bowl. Add the salt, pepper, thyme, rosemary and paprika to the meat then mix thoroughly with your hands.
Fill a heavy bottom saucepan with the beer and sugar. Stir with a wooden spoon until the sugar feels fully incorporated.
Turn burner to medium-low heat. Allow the liquid to reach a rolling boil. (Note: The beer/sugar will have a tendency to rise very fast due to the high sugar content and carbonation. Keep an eye on this mixture as you cook it to be sure it does not overflow or else you'll have a big sticky mess.)
Let the beer/sugar simmer for about 10 minutes until the syrup reduces.
Take off the burner.
Add pork belly to the syrup in a baking dish and stir well. Place in the oven. (I used a small dutch oven so I could use it as both my saucepan and baking vessel.)

Cook for 50-60 minutes, stirring every 15 minutes with a wooden spoon.
Allow to cool, and enjoy immediately!
If you wish to preserve the pork for storage and/or gift-giving, place the pork in a mason jar while it's still warm. You want the jar to have 60% syrup on the bottom and 40% fat on top. Fill the jar 1/2 inch away from the lid with a layer of pork fat to solidify. Once you add the lid and the ring, the jars will seal on their own from the changing heat. After they have sealed, store these in the fridge and they'll last for weeks!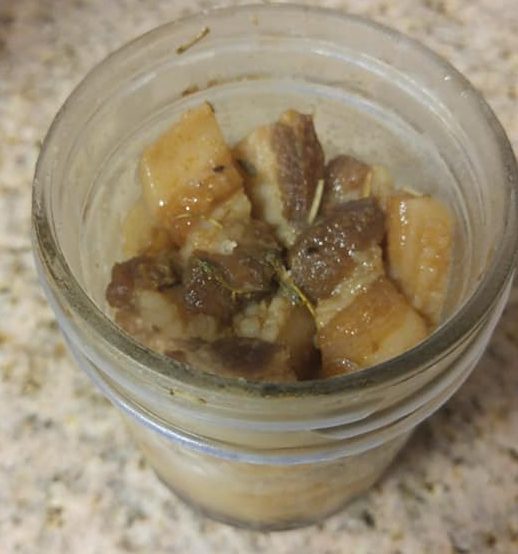 I've practiced this dish multiple times already with fantastic success at every beer function. I would even recommend trying the pork rillons with other beer styles for a different flavor profile. I've had success with white stouts, sours and spiced beers!
I hope you all try it yourself!
---