One Comment
Dogfish Head | 120 Minute IPA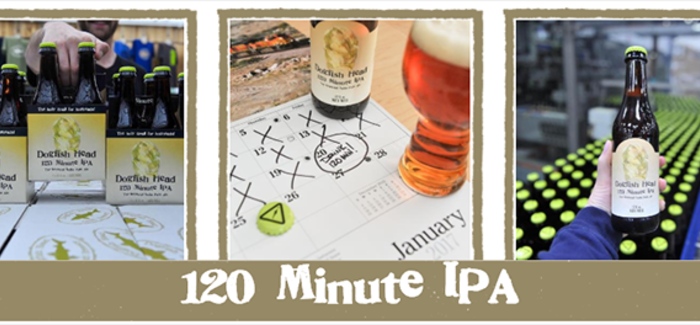 120 Minute IPA has been on my white whale beer list for a while, up there with Utopias and Pliny the Younger. So when I happened to find a bottle at random in a liquor store near my house, I was extremely surprised and needless to say I bought it immediately. Being I'm on the opposite side of the country from where its made, it's a rare find for me at least.
120 Minute IPA has a storied past of varied ABV from 20% to the current batch I was able to try of 16.5%, which is lower than the ABV mentioned in the video they released 10 years ago with Sam Caligione shown below. Although considered an imperial IPA, this thing tastes like a hopped-up Barleywine. It is so strong, they even recommend you drink one now and save another to age. Possibly the only IPA that is marketed this way, or at least in a small category as such.
Before starting, make sure you have a glass that can truly capture the aromatics, such as a Teku, Spiegelau IPA glass, tulip or wine glass in a pinch. The aroma immediately comes off as dragonfruit. Some hints of fruity pebble-like aromatics with a clear alcohol strength. A lot of stone fruits and even a bit of Asian pear.
The first sip is a pleasant surprise for the ease of drinkability and utter smoothness of this 16.5% beer. Although meant to be an intense, heavy-hitting imperial IPA, in my opinion, it relates closer to a highly hopped American Barleywine. With a medium body that's rich in hops and alcohol, this is an extremely balanced beer. This digresses off the palate with reasonable speed, it is not a hop bomb of bitterness that lingers like I thought it would be.
https://www.instagram.com/p/B7JM9b9plxr/?utm_source=ig_web_copy_link
The carbonation is light and complementary of the flavor profile and the ABV. There are a couple of vague notes that took me a while to get but settled for buckwheat honey and Tres leches as the best descriptors I could find. I give this beer a solid 4.5/5 stars.
If this was enjoyed on tap, fresh from the brewery, that could easily be a 4.8 or higher based on the complexity and balance. Most imperial IPAs are recommended to be consumed within about 60 days of packaging if sitting on a shelf, and 90 if in a cooler. The bottle date on mine was August 3, 2019, and consumed on January 9, 2020, which for a normal imperial IPA would be well past its prime, but I see why the brewery tells you it can age. Some of the notes of the malty backbone that holds up the hops are already starting to shine in this short time.
If you have never tried this beer, it is a pleasant treat to enjoy. Cheers!
Feature image compliments of Dogfish Head Brewing co. 
---