#thundersnow Archives – PorchDrinking.com
November 17, 2017 | Craft Beer Joe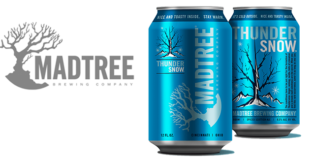 By definition, Thundersnow, also known as a winter thunderstorm or a thundersnowstorm, is an unusual kind of thunderstorm with snow falling as the primary precipitation instead of rain.
I've never witnessed Thundersnow in my area but I have witnessed the frenzy of people excited about the release of MadTree Brewing's Thundersnow.
December 6, 2016 | Andrew Sharp
The snow is falling in parts of the country. While some states have yet to see its first flurries, others got over 20 inches of snow over night this month. Before the snow piles so high we give up and resign ourselves to the couch, filling our days with binge watching Netflix, we'd like to offer a few choices for provisions to stock up on. Better prepared than sober, I say.