No Comments
Ultimate 6er | Brew Ha-Ha Hops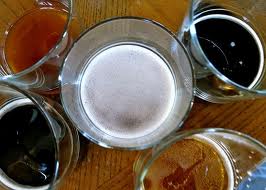 As you may have heard from our lovely Kate Stark- Cincinnati's Brew Ha Ha was a super fun time. Although I successfully ignored the comedians, I did enjoy my fair share of delicious beers. I am happy to say that out of all the beer I tasted, there was only one that I didn't like. I didn't like it so much that I'm going to call it out right now. Here it goes. Batch 19. Don't do it. Unless you love Coors light … Then I guess you'll love Batch 19, too … "To each his own."

Out of all the shiny new beers I got to drink, I picked out an Ultimate 6er with the ones that I thought were the most awesome. I stuck to more hoppy varieties while my counterpart Kate sampled the malty brews (her picks are also available for your viewing pleasure).  Looking back, I think I could have chosen  "hoppier" beers than I did- but oh well, I think I did a pretty good job in my selection process- mainly choosing the beers based on their fun titles.
1. Stone Sublimely Self-Righteous Ale, Stone Brewing, San Diego
This was the first beer I tried at Brew Ha Ha and I love it. It's caramely and super bitter and so dark it's almost black. This got my night started in the best way.
2. Sixpoint Righteous, Sixpoint Brewery, Brooklyn, NY
I got a taste of this beer simply because the word "righteous" is in the title. I had high hopes because I loved the last righteous beer I tried, but … this one wasn't as great. Meh, it did taste good but it was too light and watery for me. I would absolutely try something else from Sixpoint, though. Suggestions?
3. Agave Wheat, Breckenridge Brewery, Denver, CO
I judged this beer by it's label. Whoops, you're not supposed to do that. It worked out okay, though, because it was good. Sweet, easy, wheaty, very light and good—that's all. I could and would drink this all night.
4. West Coast IPA, Green Flash Brewing Co., San Diego, CA
"Hoppy" is the word. This is bitter and delicious. It has the familiar caramel flavor that I like but this one has quite the little bite.
5. Pumpking Imperial Pumpkin Ale, Southern Tier Brewing Co., Lakewood, NY
OMG. Yes. This is amazing. I don't know that I would be able to drink more than one of these. But if you wait all year for Pumpkin Beer season like I do, this is right up your alley. It's like the most decadent piece of bottled pumpkin pie in liquid form. What? Yes. Get it and share it with all your friends.
6. Fox Barrel Pear Cider, Fox Barrel Cider Co., Colfax, CA
Their website claims "100% Pearfection" and I believe it. Do you like pears? You'll believe it, too. If I were really sad, I could take a drink of this and I would become really happy. Yay for cider!