One Comment
4 Hands Brewing Company | St. Louis, Missouri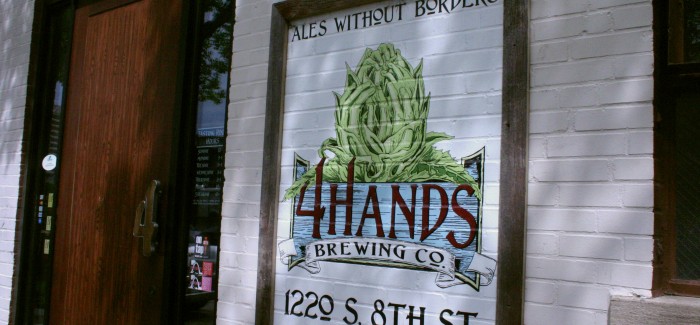 1220 S. 8th Street
St. Louis, MO 63104
Hours: Monday – Thursday 3-10pm
Friday and Saturday 12pm – 12am
Sunday 12pm – 9pm
Brewing Capacity: Right now 4 Hands can pump out about 12,000 barrels a year. They have two 15 barrel fermenters, four 60 barrel fermenters, and seven 30 barrel fermenters.
Patio: Yes, tables along the front sidewalk.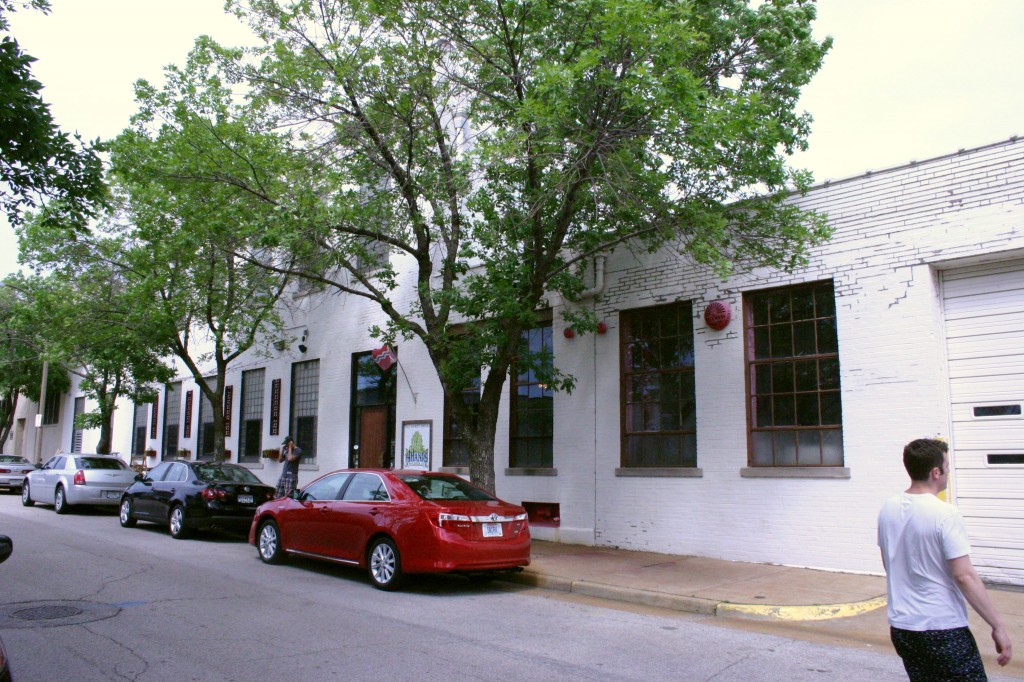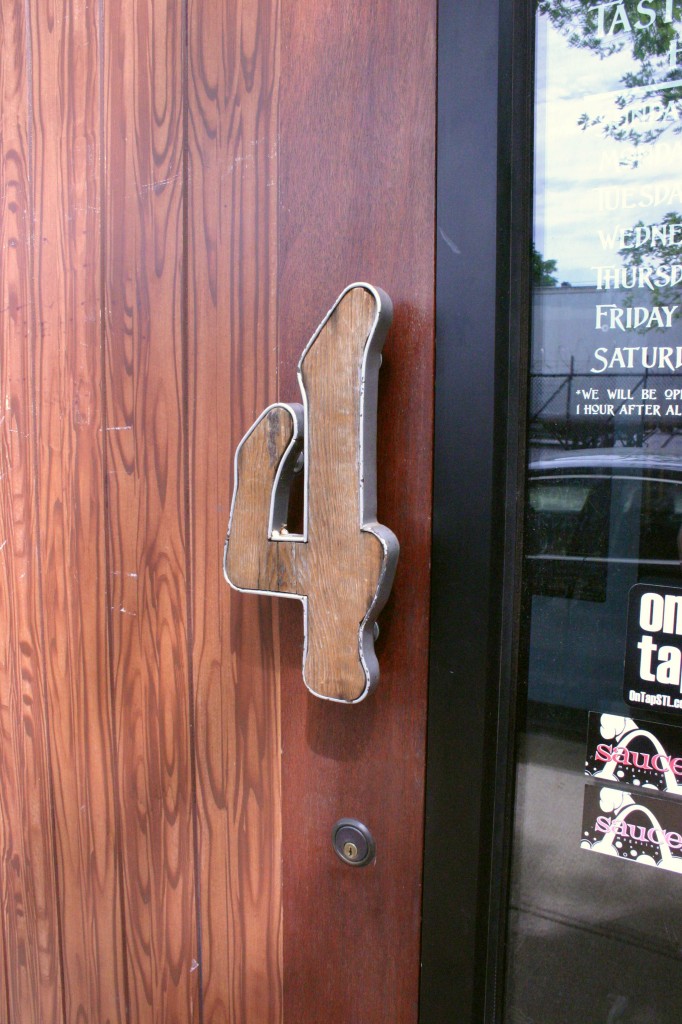 When you walk inside 4 Hands Brewing Company, prepare to be impressed by the hipster-esque décor of the taproom. The best part is, there are no hipsters in sight so you won't have to ferociously guard your delicious craft beer. There are 'antlers' made from bike seats, hop inspired wallpaper, and giant windows into the brew room that allow patrons to watch all the production as it's happening. Expect to hear music from Interpol, Edward Sharpe, and Fleet Foxes while you enjoy a cold beverage. Notice I didn't say 'cold beer' – that's because they serve more than just their freshly made brews at 4 Hands. The have a full selection of booze and wine but more impressively, they have two extra tap handles that'll pour out whatever they are feeling at the moment. When we arrived, they were pouring cold pressed coffee and a Manhattan-like cocktail made with their Cast Iron Oatmeal Brown. Future plans for the cocktail tap handle include hop-infused vodka. Chelsea, the bartender, told us they plan on creating some seasonal drinks as well. One of which will be a Bloody Mary made with the hop vodka, the brown ale, Bloody Mary mix and extra hot sauce. I don't know about you, but that sounds pretty damn delicious to me.
Since 4 Hands is fairly new to the scene, they haven't quite pinned down their style just yet. But hey, that just means there's variety! Soon, they plan on expanding to the second floor of the building to do some experimentation with sours, barrel aging, and whatever else their creative minds can come up with. I'm sure Will Johnston, the head brewer at 4 Hands and former employee of Goose Island, has a few brew tricks up his sleeve. So far, I think he's doing a fantastic job.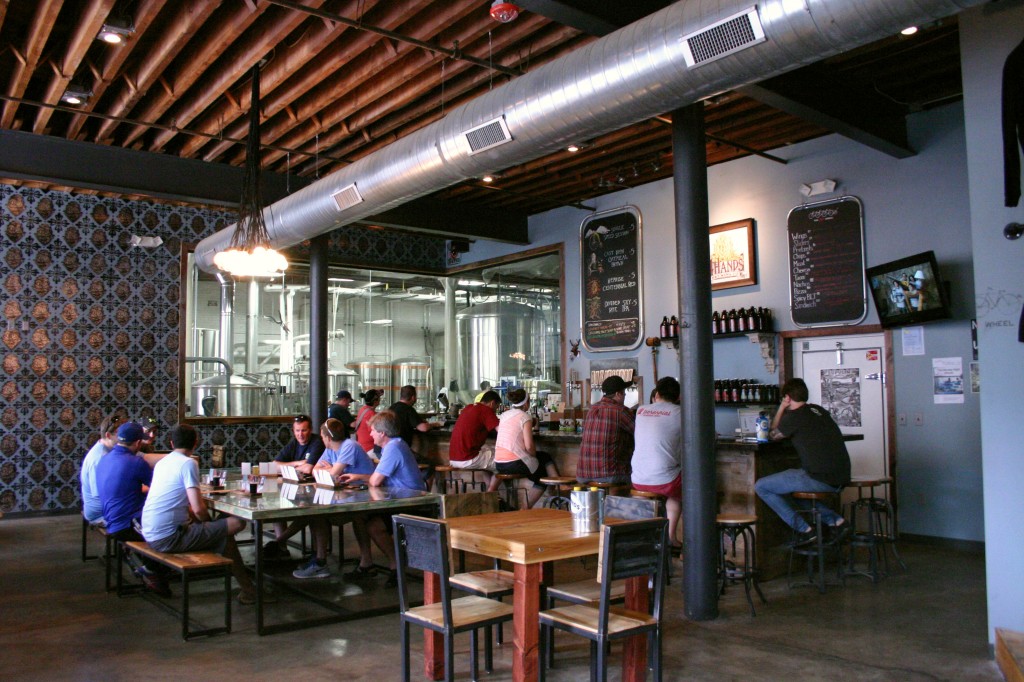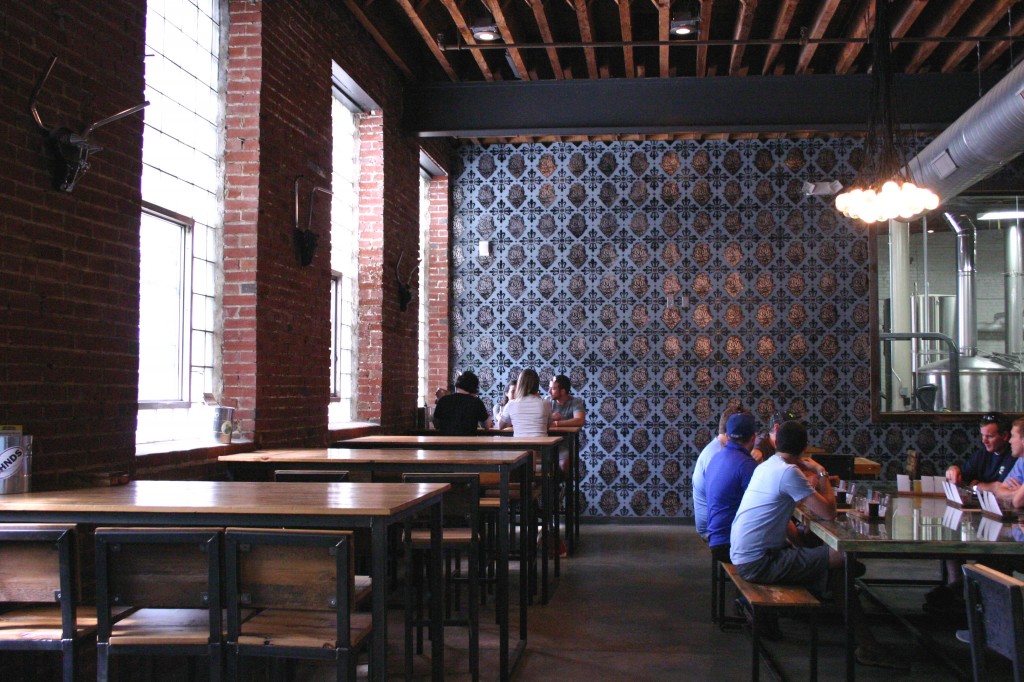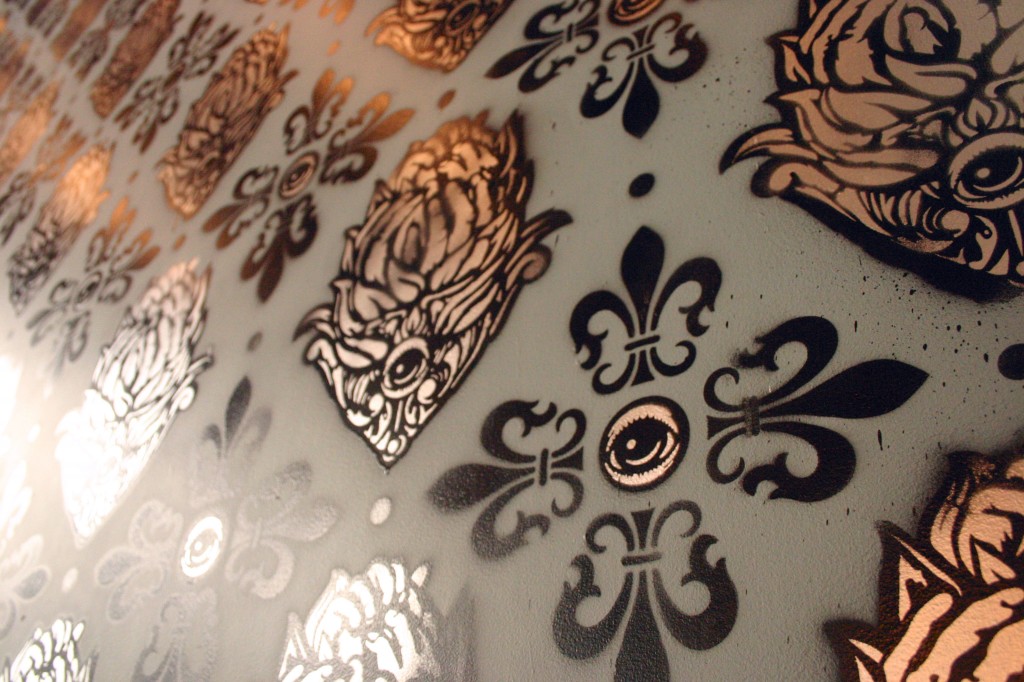 Here are some tasting notes on a few of my favorites:
Pyrus Saison: Gives off aromas of acidity and pears. At first taste, I thought of peppery notes and tart citrus. Throughout the experience, there were hints of the famous fruit added to the brew – pears. I found this beer fascinating so I grabbed two bottles to take home.
Passion Fruit Prussia: One word: Woah. 4 Hand's interpretation of a Berliner Weisse, Passion Fruit Prussia, is bursting at the seams with flavor. It smells of white wine and passionfruit (of course) and tastes like zippy, sweet candy in a glass. Definitely one of the more unique beers I've ever had. Also, if you're not into passionfruit, they have a regular version of the Prussia too.
Chocolate Milk Stout: This is by far the most chocolate milk tasting stout I've ever had. Seriously, it tastes just like chocolate milk. To the nose, it smells like roasted cocoa and in your mouth, it is a super smooth, extremely chocolatey blast of awesomeness. If I ever make stout floats again, I will find a way to get this beer.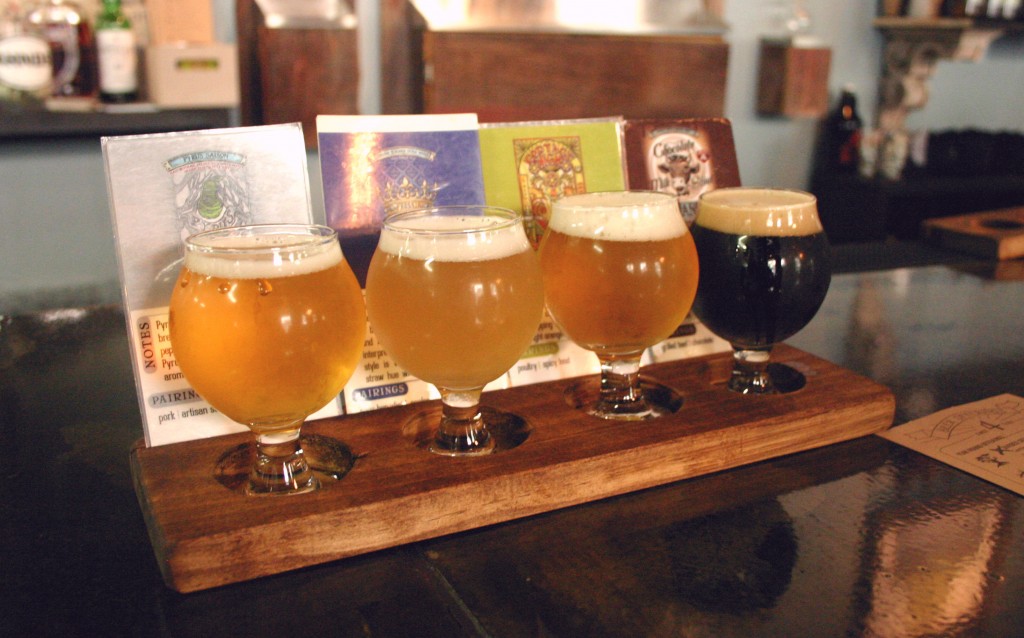 Food: They do two food truck festivals a year – one in the Spring and one in the Fall. Otherwise, you can grab some food at The Fifth Wheel, a little food counter inside the brewery but operated by an outside company. They serve all kinds of brewery favorites like pretzels, chips, and sandwiches. You can also grab a burger down the street at the classic burger joint, Eat Rite, or get some oysters at the Broadway Oyster Bar.
To-Go options: 32 oz and 64 oz growlers, bombers, bottles, and currently canning Contact High.
Special Events: 4 Hands holds food truck festivals twice a year but their main event is the Lupulin Carnival. This year, twenty-eight breweries showed up along with food trucks, fire breathers, tight rope walkers, etc. A carnival, indeed! It was held in the parking lot across the street from the brewery. Next year, they are considering taking over the whole block and planning has already begun. I wanna go, I wanna go!