No Comments
1554 – New Belgium Brewing Co.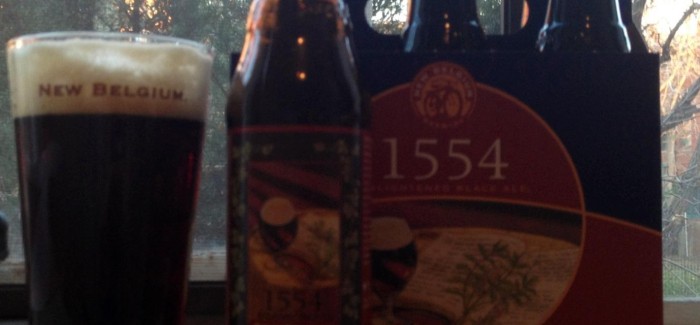 ABV – 5.6%
IBU: 21
"Never judge a book by its cover." -every mother ever.
We've all heard it time and time again, the bit of maternal guidance that we take into account every time something new comes along. If heeded, it can open doors you didn't even know existed. And beer is no exception. New Belgium's 1554 was my eye-opening beer that, after diving into a deep, black, creamy pint of it, and despite not being a "dark beer person", opened the door of infinite beer possibility. All you have to do is drink the neck; within those first few sips 1554 shows its complexity and body, as well as its smooth, softer side. A perfect warm up while reading next to the fire place in the upcoming inevitable Colorado snow storms (please!?!).
New Belgium Brewery describes 1554 as an "Enlightened Black Ale," which, like most things NB does, is spot on. Creamy coffee and chocolate notes appeal to the snobbiest of dark beer connoisseurs, while a dry start and finish book-end a smooth easy drinking libation for those who prefer not to be overrun with hops.  These typically unrelated features come together surprisingly perfectly in 1554, making it a beer that is appealing to all. The ultimate indicator of beer quality? Drinkability, and (reoccurring theme here) 1554's got it. Most black ales take all night to drink, well really chew, through and conversely most easy drinking pales take a 12 pack to feel a buzz. Not this all-encompassing winner. You'll find yourself through a 6 pack before the waiter brings dessert. This may not be advisable, however, because at just under 6% ABV, it's potency is sneakier than the Boondocks Saints. So snuggle up next to the fire, grab a blanket and a 1554, and maybe find out why the Twilight series is so damn popular … or not.