No Comments
3Beans Sixpoint Brewery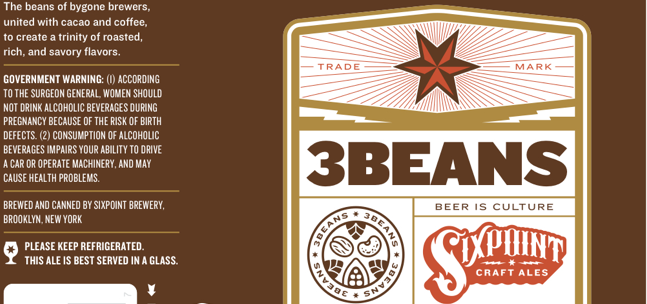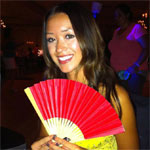 Remember Four Loko? Well, while I definitely don't remember the nights I drank this fruity poison, I definitely remember the hullabaloo it caused in the news, for parents, and for the general public. And after only a few years of availability, it was no surprise when this drink was permanently banned from store shelves. Although the taste wasn't all that great (kinda a mix of gasoline and Capri Sun) it was indeed a great concept. After all, it was a drink that got you drunk after one can (probably a little too drunk) and it gave you enough energy to stay up the entire night. However, I think we can all agree that Four Loko needed to be taken down at least one notch. Well, prayers have been answered, and whether one of my new favorite breweries, Sixpoint in Brooklyn, NY, meant to or not, I believe they created a more natural (and less terrifying) version of a Four Loko beverage. Ladies and gentlemen, I present to you, 3Beans. And don't worry, it taste NOTHING like Four Loko.
As a big fan of Sixpoint's Resin IPA, I was excited to see when another Sixpoint beer graced the shelves of my local stores, it was called 3Beans. True to its name, 3Beans combines three types of beans to give this dark ale a unique and delicious flavor while also providing energy from the caffeine these beans already naturally contain. The first bean is a Romano bean that provides hearty protein to this rich ale. Coming in second is the cacao bean which is brought to the brew from Mast Brothers Chocolate, the first "bean-to-bar" chocolate makers in New York City. Last, but definitely not least, is the coffee bean provided by Stumptown Coffee company. These three beans blend together to make a delicious dark ale with flavors of malt, molasses, chocolate, and strong notes of coffee.
Comparing a classy dark ale made from coffee beans to a chemically loaded heart-attack in a can might seem a little far-fetched. But, it's not as much of a stretch as one may think.  The first time I drank 3Beans I immediately noticed similarities to Four Loko, not in the taste, but in the effects.  After one can I was wide-awake and drunk. Yes, as 5ft 2″ girl I openly admit I'm a light weight, but my taller and heavier friends who have tried this beer all agree with my description. With loads of caffeine and 10% ABV per can, this beer can only be described as a "natural Four Loko." With Four Loko coming in at 6-12% ABV depending on the volume of the can, I'd say 3Beans has similar effects to drinking a can of Four Loko. However, with that being said, I'll comfort our readers with the fact that I did not wake up with a pounding headache and no recall of what happened the night before. But, I did have a great time and felt wide-awake while doing so.