One Comment
Our Takeaways from the 2013 MTV Video Music Awards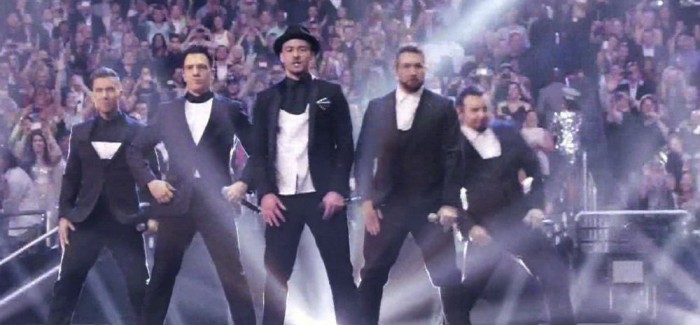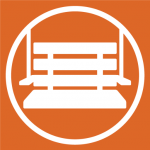 Sunday night was full of cultural revelations, and I'm not even talking about Jesse Pinkman's… But as a quick side note: HOLY BREAKING BAD!… No, I am referring to the 2013 MTV Video Music Awards. It was a time to see the latest trends in teddy bear swimwear, just how tall is Bruno Mars and possibly the worst kept secret in world come to fruition. So let's take a look at last night's big moments!
Lady Gaga
We kicked things off with Mother Monster. The opening shot was the height of her eccentricity. Hitting America with some unblinking crazy eyes, Gaga performed her latest single, "Applause." It was a strong start, featuring a number of live wardrobe changes, but it failed to live up to her 2009 "Paparazzi" performance.
Miley Cyrus
You would assume it was all down-weird-hill after Lady Gaga, but Miley Cyrus wasn't going to stand (or twerk) for that. She started her summer anthem, "We Can't Stop," by straddling a giant robot bear. Hannah, I don't think we're in Montana anymore. She proceeded to the main stage in a velociraptor-like fashion, adorned in a teddy bear one-piece swimsuit. She twerked. She motorboated. She teamed up with Robin Thicke. Miley's liberty with a foam finger and general contortions mimicked the feeling in most of the audience's stomachs. What would Billy think?!?!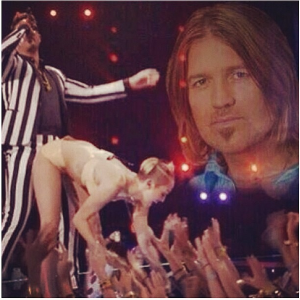 Billy couldn't be reached for an answer, but what say you, Smith family?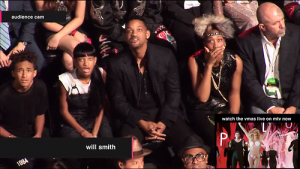 Justin Timberlake
JT was honored with the Michael Jackson Video Vanguard Award… and one of the worst kept secrets in recent memory. The "President of Pop" started off with his latest single, "Take Back the Night," before transitioning into a medley that ranged all the way from "Like I Love You" to "Mirrors." What started as fire turned into an inferno at 10:11 p.m. E/ST when four boys men surfaced from the ground. Time stood still as Lance, JC, Justin, Joey and Chris faced the world together for the first time in 11 years. Nailing a "Girlfriend" rift to the infamous "Bye Bye Bye" chorus, the guys gave the world what it wanted… what it needed… with no strings attached. Well, there were some strings. Was the performance too short? Maybe. Were Joey and Lance *NSYNC*? Not particularly. What was with JC's solo run at the end? Who knows? Regardless, it was amazing. Justin ended up finishing his set by himself before accepting his award from newly-ordained hype man, Jimmy Fallon. As if it weren't enough, he won Video of the Year for "Mirrors" at the end of the show as well.
Drake
Drake brought his album cover, Nothing Was The Same, to life in his performance, but just as compelling was his literal 5 head.
No? Just me? Well, he performed "Hold On, We're Going Home" and "Started from the Bottom." If you want to know how good he was, just ask Jaden Smith.
Katy Perry
K. Perr closed out the night on top of the Brooklyn Bridge. Her hit new single, "Roar" is all about empowerment, having the "eye of the tiger," and you can't have the "Eye of the Tiger" without thinking about boxing. And that's exactly what she gave us! She was so committed to her craft, all the way from her outfit to actually jumping rope during the song, the only way it could've been better is if she had Sara Bareilles standing in the opposite corner.
Katy may have received a championship belt at the end of her performance, but, in the end, few people are going to be talking about her 'fight.' It will be Miley squaring off at the water cooler against JT, and, like most things in life, Justin will probably come out ahead. Justin Timberlake and Britney Spears essentially run the VMAs. Sorry, Beyonce, it's true. So expect the world to end this time next year when the two of them perform together in a tell-all song about their lives together. Dare to dream, guys. Dare to dream!
Random Parting Shots
Kevin Hart was there to NOT host the Awards, as he made it very clear over and over again. He wasn't asked to host. He must not have been asked to be funny either.
Kanye West performed. Just as noteworthy, however, was the man who introduced him, Jared Leto. Leto's stylist has apparently accepted an apprenticeship with Drew Barrymore.
Taylor Swift really likes to dance.
Macklemore & Ryan Lewis performed "Same Love" with a surprise Jennifer Hudson appearance.
If a live musical event on TV doesn't have a Bruno Mars performance, did it really happen? Mr. Mars gave another solid performance yet again. He sang his latest single, "Gorilla," a quality song, but I would have been totally fine if he had done "Valerie" again.
Eminem's new album release was announced during a commercial break: November 5, 2013.
Were you a fan of "Lost" and/or "Drake & Josh?" They were pretty popular TV shows back in the day, but they were missing something! Well, if you said, "dancing," then you might be right! We will find out September 20!
A scrub is a guy that thinks he's fly… and doesn't watch the TLC straight-to-TV movie in October!
-Alex Cadice
Our founder Tristan watched approximately 5 minutes of last night's VMAs before he started irrationally throwing things in a fit of anger and catching the rest of the highlights on YouTube. Here are his thoughts….
I realized last night that nothing makes me feel like more of a grumpy old man than watching MTV's VMA's. Let me clarify, perhaps nothing makes me feel like more of a grumpy old man these days than watching MTV period.
Watching the VMA's is like watching a really ridiculously long, and ridiculously more infuriating episode of My Super Sweet Sixteen.  You know what's even more depressing? I just made a reference to perhaps the genesis of shitty MTV programming, a show that debuted in 2005, and yet the largest demographic watching last night's VMA's has no idea what I'm talking about.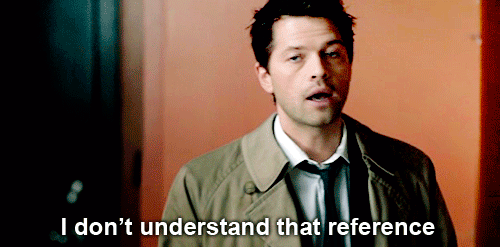 Full disclosure, I had just finished watching one of the best episodes of one of televisions more intelligent shows, Aaron Sorkin's The Newsroom, before spiraling into the pit of lunacy that was the VMA's. It was literally transitioning  from a discussion on Journalistic integrity to a discussion on whether or not Taylor Swift just said  "Shut the fuck up."
Needless to say, the VMA's have turned into one giant contest of which performer can one up the other in shock value, so I decided to rationally take a step back an examine the miscues from last night's show as a grouchy old man.
Is this really an awards show? No but seriously how the hell is this an awards show?
Justin Timberlake's Mirrors won video of the year, yet it didn't win best pop video of the year?
Selena Gomez ended up winning that aforementioned Pop Video of the Year category over the likes of Bruno Mars, fun, Justin Timberlake, and Miley Cyrus… how?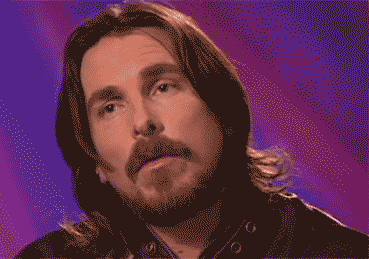 How does Pink and Nate Ruess beat out a collboration between JT and Hova?!?!
Best Video With a Social Message was the most blatantly made up, Macklemore glorifying, thisawardsshowisnotlegitimate category of all time.  Sure it involves a social cause, but seriously? This is not real.
It's been like 60 years since the Rock genre was created can we get a clear definition?  Because I don't consider Fall Out Boy, Mumford and Sons, or Vampire Weekend as rock.
One Direction's "Best Song Ever" won best song of the summer… I have never heard said song, meanwhile I am considering getting deneurolyzed because I hear Robin Thicke's Blurred Lines Marvin Gaye rip off everywhere I go.
There was a category called Best Direction and for once One Direction was the literal choice… see what I did there?
The obvious question…Why did this happen?
Why hasn't the Latin American Association dropped a bomb on Taco Bell for their tagline "Live Mas" yet?! Seriously Taco Bell, you were so lazy that you couldn't translate the word live? Or do you think Americans are really THAT dumb?  Ok… never mind we were watching the VMAs… touche'.
Finally, why couldn't this just been the entire show?