2 Comments
Brew Bites | Lucky Andes Mint Guinness Brownies
It's so frustrating when you are lying in bed, exhausted, yet cannot fall asleep. This past Monday was a long day and I had been yawning non-stop but when my head hit the soft, fluffy pillow, I was wide awake. This was not a situation where I was tired but could not fully fall asleep; I felt ready to get up and get some work done but I knew I would be hurting the next day.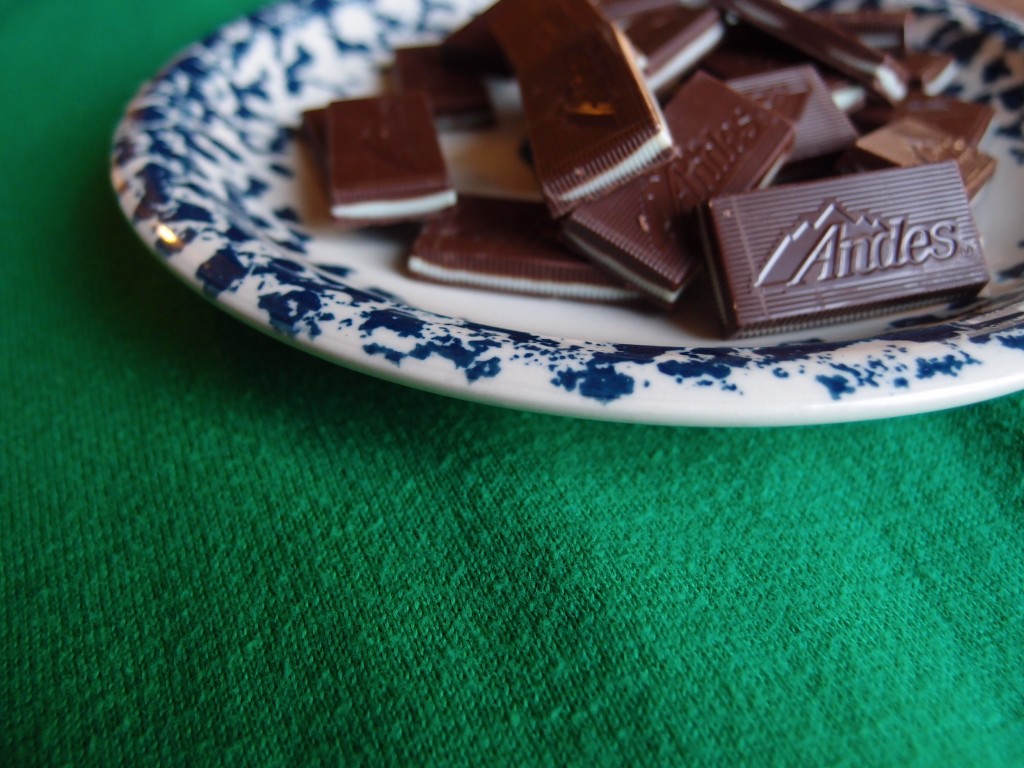 Instead of falling fast asleep, my thoughts went to St. Patrick's Day… which made me think beer, green and Irish! With Guinness being one of the most popular St. Patrick's Day beers, Guinness Beer Brownies seemed in order. And for a little something "green," an additional Andes mint topping sounded like the perfect touch 🙂
Luckily for you, these rich, fudge-like, chocolaty treats were made just in time for Green Day. I mean, these are stick to your mouth, need a glass of milk, chocolaty 😉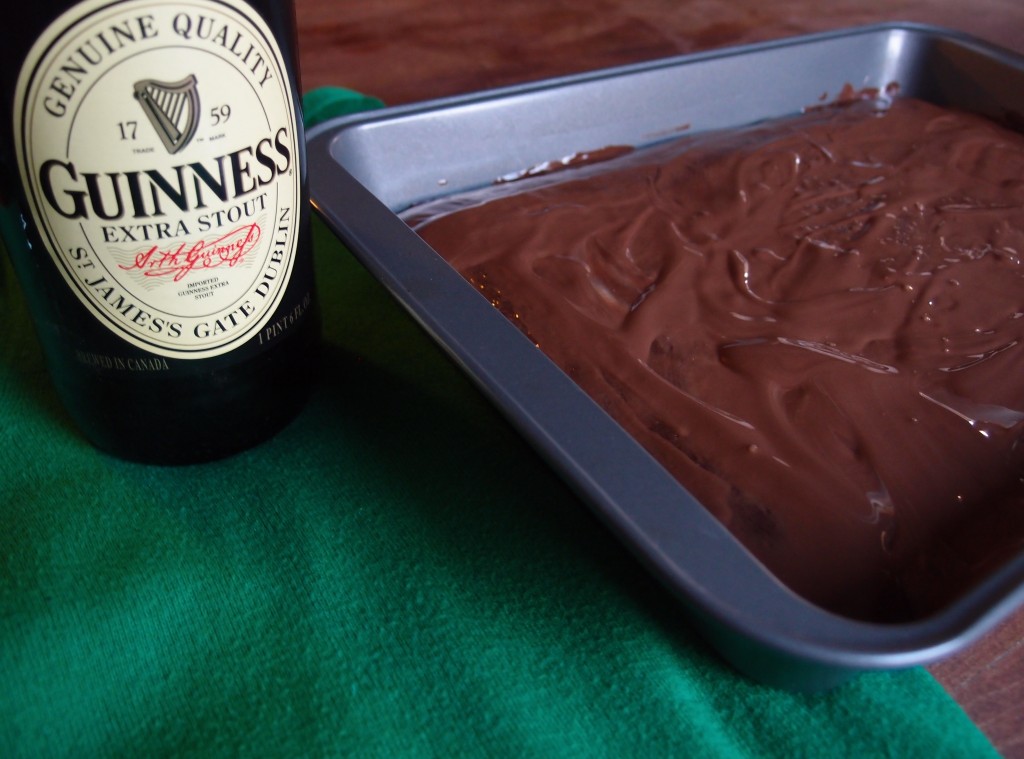 Andes Mint Guinness Brownies
Adapted from the original Guinness Brownies Recipe
6 tablespoons unsalted butter
8 ounces dark bittersweet chocolate, chopped
3/4 cup semi-chocolate chips
4 large eggs, at room temperature
1 cup granulated sugar
1 cup all-purpose flour
3/4 cup unsweetened cocoa powder
1/4 teaspoon salt
1-1/4 cups Guinness Extra Stout, at room temperature (or other stout)
1 package Andes Mints
What to Do
Pre-heat the oven to 375 degrees F.
Melt the butter, dark chocolate and semi-sweet chocolate chips in a double-boiler on medium-low heat. Remove from heat when done.
While mixture is melting, mix the flour, cocoa powder and salt in a bowl.
In a separate bowl, beat the eggs and sugar. Add the melted chocolate and mix again.
Fold in the flour mixture until combined. Pour the Guinness stout into the bowl and mix again.
Pour batter into a greased 9 x 13-inch baking pan.
Bake 25-30 minutes. While the brownies are baking, unwrap 20-30 Andes mints.
When a toothpick or knife inserted into the center comes out clean, the brownies are done. Pull them out of the oven and place the Andes mints along the top. Spread minty chocolate all around. Let them cool.
The original recipe calls for white chocolate instead of semi-sweet chocolate but since I was already adding the Andes Mint on the top, I felt it would be too much. The original recipe also calls for 1 cup of semi-sweet chocolate chips for topping the brownies but they were chocolaty enough! For those that don't want to add the delicious mint layer, you can dust the top with powdered sugar (about 1/8 cup).
Only one package of Andes Mints is needed per batch of brownies with a few extra for you to taste. Or if you are like me, you will purchase 2 boxes just to make sure there are enough to consume 🙂
For more recipes, visit Lilly Sue's Bites and Brews.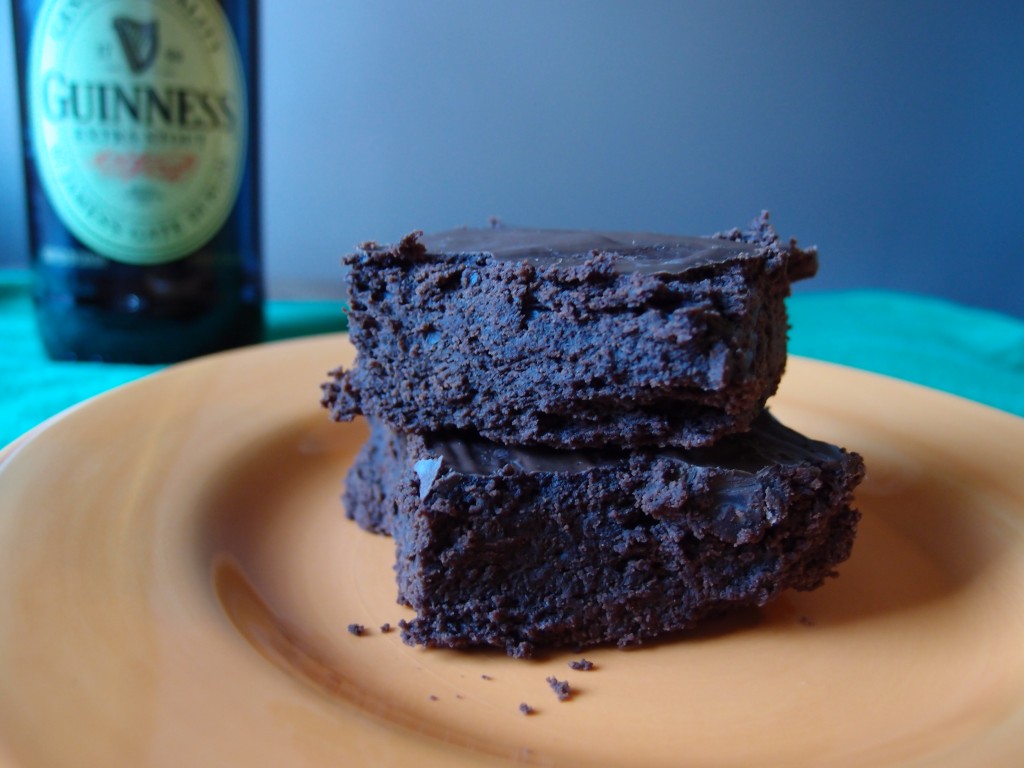 ---