No Comments
Bluegrass Brewing Co. | American Pale Ale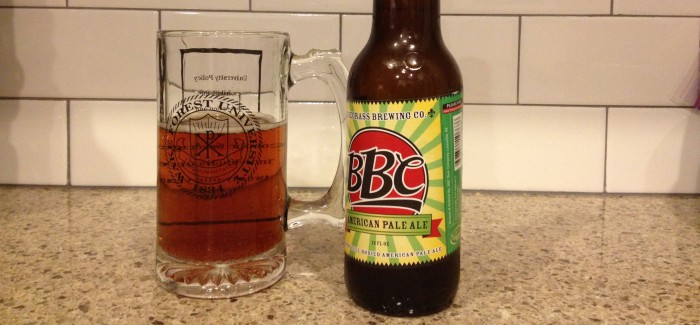 ABV: 5.79% | IBU: 55.2
I'm sitting at a bar in suburban Louisville waiting for my sister to get out of a bible study. This is a true story. I've dropped her off in hopes of finding a place to write this post, but there didn't appear to be many laptop-friendly bars around, and the bar I've landed in doesn't have any local beers (uhhhh?).
So, I get aggressively hit on by a blacked-out married man who assures me that we will, in fact, hook up later on in the evening, and I sip on a Harpoon IPA and Schlafly's Dry Hopped APA. Not at the same time.
Later, the owner of the bar apologizes to me for this young(ish) man, whom we'll call Peter (because his name was Peter), and I head off to pick up my sister from her bible study/youth group/situation.
When I get home, I have a Bluegrass Brewing Company American Pale Ale. I know my brother-in-law will have one stashed in the basement that he's not drinking, and this beer will make the rest of the evening seem like an afterthought.
It's pretty hoppy for an APA — which I like, and it feels like the kind of beer that should just be consumed in Kentucky, amidst the bluegrass and the wild (highly-trained) horses. It has more of an aftertaste than most APAs, and it definitely settles on the hoppy-end of the APA, much closer to an IPA. In fact, I wouldn't send this beer over to a newb; it's just hoppy enough to taste great to a hop head and just too much to turn a soft palette off.
It's the kind of beer that's worth trying and is even more worth ordering at the bar when you're in Kentucky; after all, it is the Bluegrass State, and this is the Bluegrass Brewing Company American Pale Ale.
---