No Comments
GABF App: There's an app for that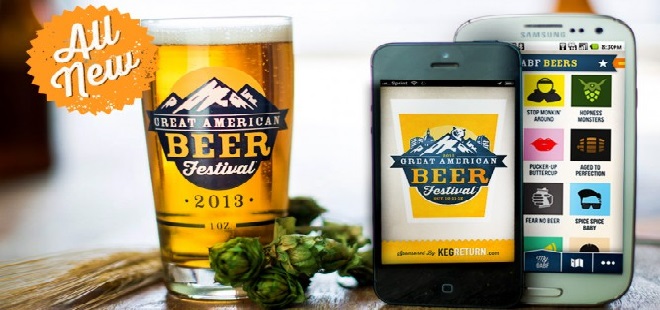 Finding your way around the festival will be a breeze
With 600 breweries and 3,000 beers at GABF (Great American Beer Festival for all of those folks that aren't privy to the acronym lingo of the Brewer's Association), it can be a little daunting to find what you're looking for, or even decide where to begin. Who would have thought that sampling beer would be so difficult! No worries good friend, there is a delightful little app that will help you. And you can do it all with one hand!
Download the all new GABF app for Apple or Android devices!

How does the GABF app work this year?
Search or browse the brewery list, or see what's near you by tapping on a section in the GABF Map tab.
Find a brewery you love and add them to "My Breweries" in the My GABF tab.
Locate them on the GABF App map.
See what beers they are serving.
Check off the breweries you visit.
Taste beers, take notes and enjoy!
So, I can map out and save all of my go-to breweries, but there are no beers in my app!
The beer list will be released Wednesday, October 9. At that time, the Brewers Association will send you a push notification via the GABF App. Simply open the app and click the red "update" banner at the top of your screen to download the beers. Do this before you show up to the festival. Service is sometimes spotty in the event center and we would totally be bummed if you didn't have your to-drink list plotted out accordingly.
Not entirely sure which breweries or beers you'd like to try? Take one of 18 different festival tours based on the flavors and beer styles that you love. Or, use the GABF app to track down GABF competition medal winners on Saturday. For the indecisive, there's always the random "Surprise Me!" option.
Tips for successful tasting and tapping with the GABF app:
Download the app (iTunes or Google Play) before you get to the festival, ideally using a strong WiFi connection.
The beers will be released on Wednesday, October 9. Open the app to check for updates. Do this before you leave for the festival. Again, a WiFi connection is ideal.
Minimum system requirements for the GABF App: iOS 5 or later; Android 2.2 or later.