No Comments
PorchDrinking.com's Weekly Denver Beer Beat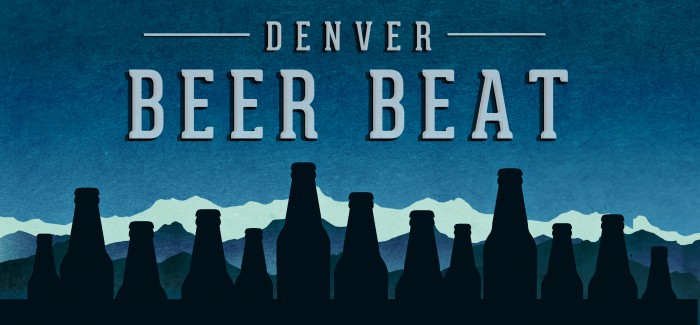 Welcome to this week's Denver Beer Beat. Lots of bottle release events, a few tap takeovers, new beers on tap, and the winter brew fest. Did we miss anything? Let us know.
Wednesday, January 22
Yak & Yeti Brewpub (Arvada) – New tap  for the porter series will be the Orange Chocolate Porter. Coming in at a 5.2% ABV, and 32 ibu's – this ale is made with real orange zest and Hershey's cocoa. Think of breaking open one of those holiday orange chocolate cordial deals. This past Saturday, the film crew from Colorado Brews came and recorded an episode at the Yak & Yeti Brewpub for their upcoming season 1. Colorado Brews is a TV show, hosted by Ed Sealover, about craft beer in Colorado and they will be aired on PBS early this summer.
Thursday, January 23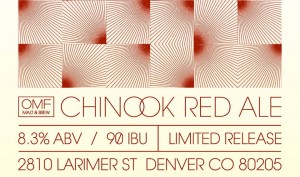 Our Mutual Friend Malt & Brew (Denver) – Our Mutual Friend will tap a brand new beer, Chinook Red Ale, today at 4 p.m. Quiero Arepas will be serving food, Ryan Means will spin soul and jazz.
Parry's Pizza (Greenwood Village) – On Thursday, January 23rd at 5pm, Parry's in Greenwood Village will be hosting a Boulder Beer Pint Night. Boulder Beer reps will be on hand chatting about their beer. They will have their pint glasses on hand to give out to folks that purchase one of their beers. Their Shake Chocolate Porter will be $3 for this event.
Jakes Brew Bar (Littleton) – Jakes Brew Bar is letting you know it is time to make plans for Thursday. One of their absolute favorites is heading their way and they're bringing beer with 'em.  Tap takeover with their friends from Elevation Beer Company is set for this Thursday, January 23rd. Tell a friend, tell a friend's friend, heck tell them all.
Friday, January 24

Winter Brew Fest (Denver) – The two-day annual Winter Brew Fest kicks off today at Mile High Station with about 45 breweries and cideries in attendance, two-thirds of which are from Colorado. The event runs from 7 to 10 p.m. both days.

General admission tickets are $30 in advance and $35 at the door (although they will likely sell out beforehand), cash only, and include unlimited tastings and a souvenir glass. VIP tickets are $40 and $45 at the door and that helps you get in an hour early (at 6 p.m.) and includes Mouco cheeses paired with a beer. As always, look forward to live local music, food, and other vendors. This event benefits Swallow Hill Music Association.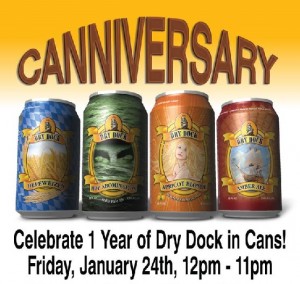 Dry Dock Brewing (Aurora) – Dry Dock Brewing will throw a party at its original taproom today to celebrate one full year of canning beer. The brewery, which opened a major production facility in Aurora in January 2013, now cans four offerings. Those offerings are their Hefeweizen, Hop Abomination, Apricot Blonde and Amber Ale. The all-day Canniversary party includes giveaways, prizes and a chance to win free beer for a year (one mixed case of Dry Dock cans once a month for a year and a growler of the month package).
Saturday, January 25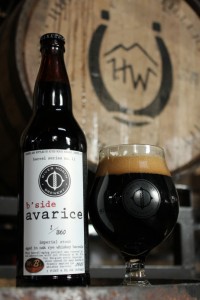 River North Brewery (Denver) – River North Brewery   Debuting Saturday, January 25th, B-Side Avarice was aged entirely in rye whiskey barrels. Smooth oak and spicy rye whiskey notes meld with the robust dryness of Avarice. A slow sipper, this beer will blossom as it warms in your glass. Enjoy it fresh, or age for as long as you can stand.
On the 25th, we'll release our bottles at 1pm in the taproom. Mr. B's will have another release later that afternoon, so those who want more than the taproom limit can hit both. Just like B-Side Quandary, this beer will be limited and only available at those two locations. We bottled thirty cases total. Of course, it'll stay on tap throughout that day, even once bottles sell out.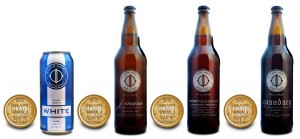 In other RNB news, River North Brewery brought home four medals from the 2013 Craft Beer Awards International Competition, winning gold for each beer entered. Hoppenberg Uncertainty Principle, River North White, Quandary and J. Marie all received top honors. This is the second medal for J. Marie in three months. The brewery's classic farmhouse ale also won a silver medal in the Belgian and French Ale category at the 2013 All Colorado Beer Festival.
"I always enjoy the opportunity to get feedback on the beers we brew, and I certainly won't complain about getting a few medals in the process," River North Founder Matt Hess said.
Like River North Brewery on Facebook and follow on Twitter and Instagram (@rivernorthbrew) for the latest insights.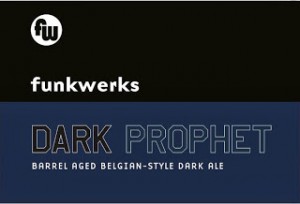 Funkwerks (Ft. Collins) – Funkwerks will release of Dark Prophet, a barrel aged Belgian-style dark ale. After aging a portion of this deep mahogany dark strong ale in bourbon barrels for two months, they blended it back with the base beer to produce the fast-selling winter seasonal that sits before you. Rich aromas of vanilla, caramel, and dark fruits carry into the flavor; Oak tannins from the barrel aging balance notes of dark chocolate and spice.  A touch of alcohol warmth in the dry finish will warm you up on a cold night. 9.5% ABV; available in bottles for a limited time. Did we just give you a date to mark on your calendar? We think so!!
Sunday, January 26
Elevation Beer Co (Poncha Springs) – Señorita Imperial Porter & Oil Man Barrel-aged Imperial Stout return to a shelf near you. If you know what this means; you are as stoked as we are! Elevation Beer Co make some of the finest beers in Colorado and these are two sophomore releases that we are sure you will love if you did not get to try them last year!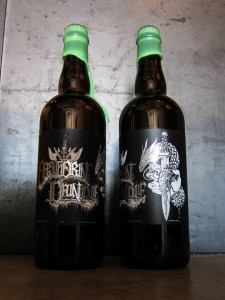 TRVE Brewing (Denver) – This Sunday TRVE is releasing batch three of Eastern Candle, dry hopped with Citra and topped with thrash metal green wax on the bottles. This one's gonna be best enjoyed fresh, so come and grab some quick! Limit 4 bottles per person. Also, stay tuned for word on their Winter Zephyr release.
Odell Brewing (Fort Collins) – Odell rolls out their Lugene Chocolate Milk Stout. If you've ever been to the brewery, you've likely seen the old, beat-up truck that hauls away their spent grain. That truck belongs to Lugene who's been feeding his dairy cows the hearty malt for over a decade. Named in his honor, Lugene Chocolate Milk Stout is brewed with milk sugar and milk chocolate. The rich and creamy brew reminds us of a cold glass of chocolate milk and their hometown "Aggie" roots.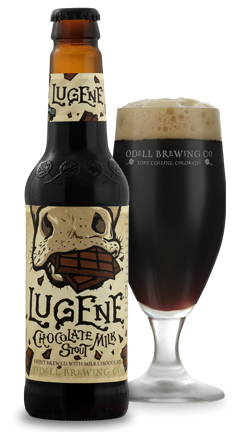 The release event will feature live music on from 3:30-5:30pm, a food truck, and Lugene himself will be there with a couple of his calves. They'll also have ice cream from Cozy Cow Dairy!
Monday, January 27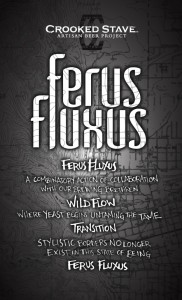 Crooked Stave Artisan Beer Project (Denver) – The brewery is proud to announce the beginning of their collaboration series with the beer: "Ferus Fluxus". This is their first installment with Upslope Brewing Company. Ferus Fluxus, means "Wild Flow". This series will allow Crooked Stave to work alongside fellow brewers to showcase the contrast that occurs from fermenting with Brettanomyces. The concept for this series came about after many late night discussions while drinking beers fermented with Saccharomyces, and the curiosity behind what these beers would taste like with Brett. There are so many fantastic beers being brewed all over the country, and the Ferus Fluxus series gives us a good excuse (and opportunity) to collaborate with their friends at other breweries, as well as continue to introduce craft beer drinkers to Brettanomyces.
Tuesday, January 28
Strange Brewing (Denver) – The folks at Strange Brewing are now hosting cheese-making classes with Jackie Rebideau. Watch for discounts on Living Social, Denver Daily Deals and Deal Chicken. Classes run from one-and-a-half to two hours. Class starts at 6pm so don't be late! They are currently serving up delicious food from trucks every day except Mondays. Call the brewery or check out their Facebook page at That Brewery On Zuni for what truck is here that day.