No Comments
PorchDrinking's Weekly Denver Beer Beat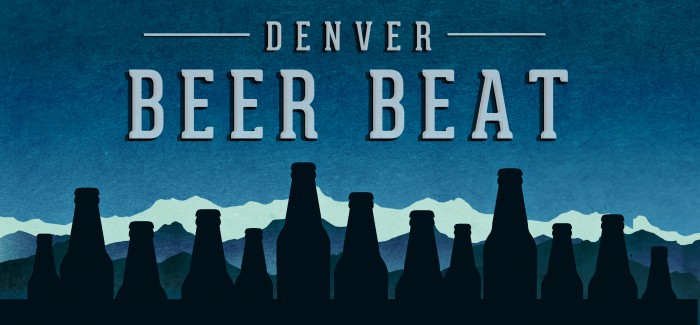 Sours, porters, ladies clubs, gluten free, beer releases, beer vs wine pairings, tap takeovers, anniversaries, chocolate, stout month, girl scout cookies . . . did we miss any events in this week's Denver Beer Beat? Let us know.

Wednesday, January 29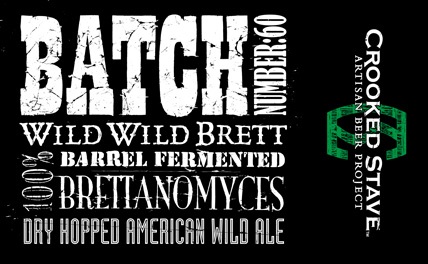 Crooked Stave Artisan Beer Project (Denver) – Last night, the folks over at Crooked
Stave released their Batch 60 is an American Wild Ale Dry-Hopped with Amarillo & Citra! Get over there while you can!
Yak and Yeti Restaurant & Brewpub (Denver) – On Wednesday, January 29th at 4pm they'll tap a 100% Kona Coffee Porter as the final part of their Wednesday Porter Firkin series.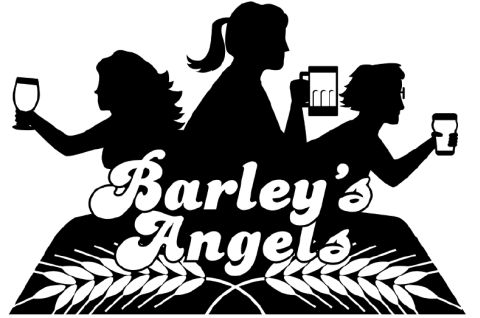 Sanitas Brewing (Boulder) – Colorado's women beer enthusiasts have a new reason to rejoice! Barley's Angels, the international organization for women who enjoy craft beer, is opening a new chapter in Colorado. The chapter will be a roving chapter, visiting new taprooms along the Front Range each month. Initially, one meeting per month will take place in the Denver area and one will take place in the Boulder area. The first meeting in Boulder is scheduled for Wednesday, January 29th at Sanitas Brewing Company, 3550 Frontier Ave. Unit A in Boulder. At this meeting, Cheese educator John Scaggs of Haystack Mountain Goat Cheese will lead a beer pairing class featuring Sanitas beers. The class features a set of four tasters that will he will pair with the cheese. Meetings are designed to be roaming meetings, going to a different location each time, so that members can experience a wide variety of craft beers — and taprooms — that are available to brew fans in Colorado.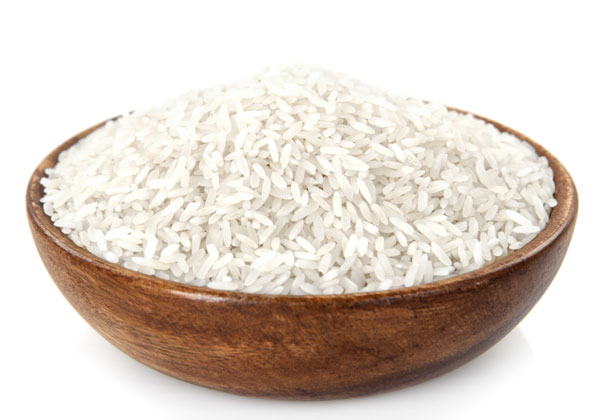 Copper Kettle (Denver) – January is "New Years Resolution" Cask Month, so Copper Kettle will be tapping a different cask every Wednesday in hopes of checking off those New Year's resolutions for 2014!
NEW YEAR'S RESOLUTION #4: "Reduce Gluten from My Diet"
A 100% rice ale it is theoretically gluten free but they wanted to get it tested first. This is a 10 gallon batch of a specialty cask. Once it's gone, it's gone!
River North Brewery (Denver) – For todays's Wayward Wednesday tapping, River North will be pouring their Unified Theory fermented with wine yeast and infused with fresh grapefruit. With one keg of this, you should jump on it! The first pour is at 3pm.
Thursday, January 30
Illegal Pete's New Belgium Snapshot Picture Day– Illegal Pete's Lodo 1530 16th St. 6pm- 9pm
Remember picture day at school? You dressed in your best school attire and made sure your hair looked just right. In partnership with New Belgium Brewing and their new beer, Snapshot, we aim to bring you another opportunity to get your "Class Photo". Join the New Belgium and Illegal Pete's team for this SnowSports Industries America after party, take a photo with the perfect picture day background, enjoy a Snapshot, and get a hi-res photo to print or share with your friends. Free to attend!
Station 26 Brewing (Denver) – The brewery's new Firkin Thursday's have recently begun this month and will commence this Thursday, January 30th at 4pm with a tapping of a Belgian-American Pale Ale with blood oranges. They also put out the short video about their Firkin Thursday process on Facebook. Peep this link to view it.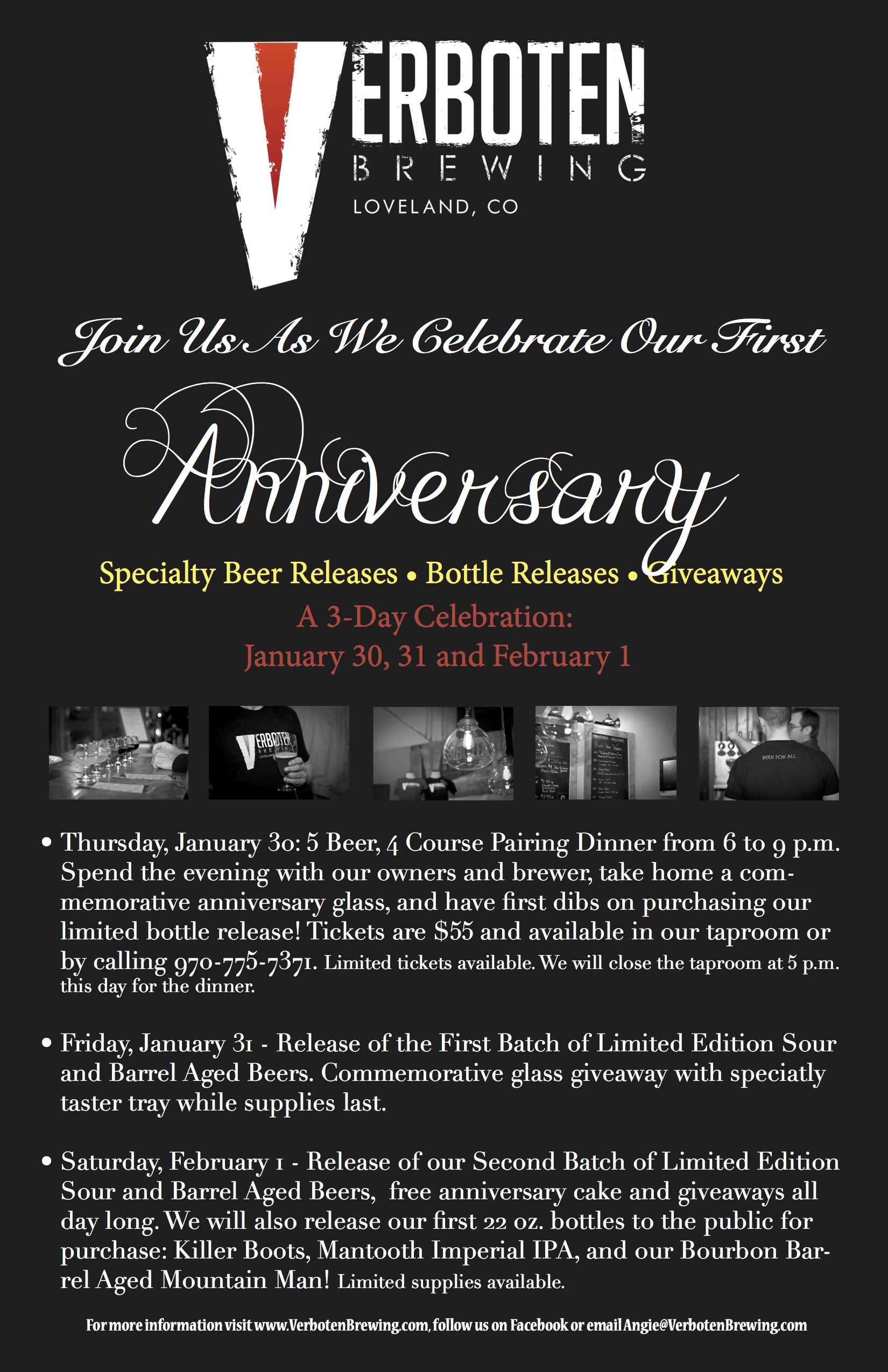 Verboten Brewing (Loveland) – In collaboration with Großen Bart Brewery (opening soon) collaborated on a special anniversary beer for Verboten called "I Must Break You", a Collaboration White Russian Imperial Stout. This brew has both coffee and milk sugar added and weighs in at 9.0% ABV. The beer taps at 3pm as part of Verboten's 1st year anniversary party. Additional specialty sour and barrel beers will be tapped, free anniversary cake, and their bottle releases are open to the public. Limited supplies available.  Angie and crew are some of the best, most honest people in the scene right now.
They will have their first bottle releases: Killer Boots Caramel Porter, Mantooth Imperial IPA and a very limited amount (100-120 bottles) released of their Bourbon Barrel Aged Mountain Man that they poured at Big Beers (it was flat out amazetown, USA, btw). Anywho come to their Anniversary Dinner on Thursday, January 30 to has first dibs on bottle purchases, otherwise you can't buy until Saturday, February 1. Get there, Get there, Get there!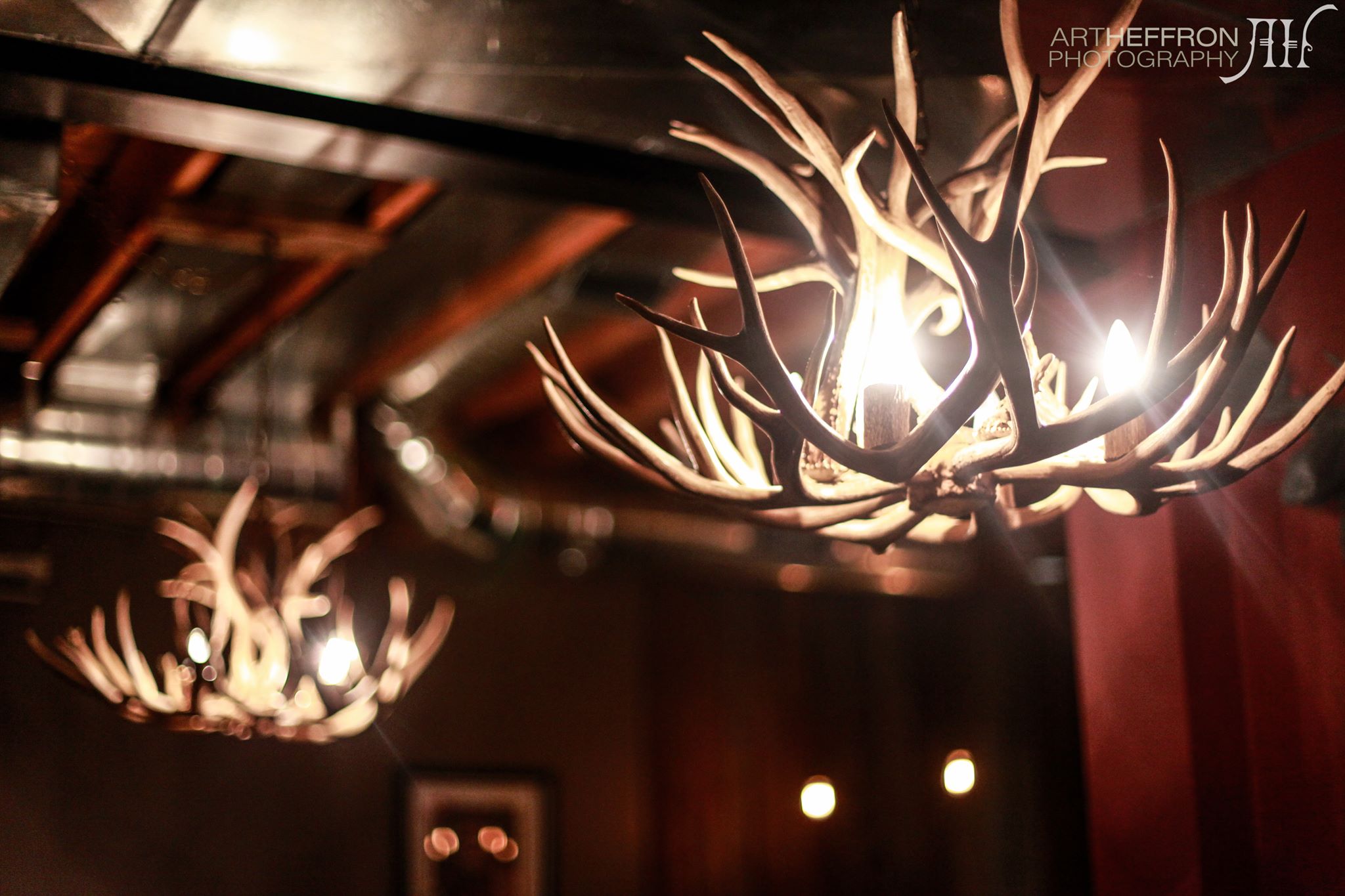 Denver Beer Co (Denver) – Mikes 2 Kitchen has created an amazing menu and the folks at DBC have paired it with some great beers! The dinner includes 4 beers and 3 courses for $55. (tax & gratuity included) Call the taproom for tickets. 303.433.2739 – Doors at 6:30pm. Dinner served at 7pm.
Welcome Beer: Hopper Dropper Pale Ale 5.8%
First Course: Potato and Bacon Chowder with a white cheddar crostini, chives paired with Bell Ringer Belgian 5.9%
Second Course: Smoked Pork Belly, sautéed Brussel Sprouts with roasted garlic, Red Pepper and Jalapeño Jelly
paired with Burrleywine 9.5%
Third Course: Chocolate Espresso Torte, Chantilly crème and macerated berries paired with Cocoa Crème Graham Cracker Porter 7.4%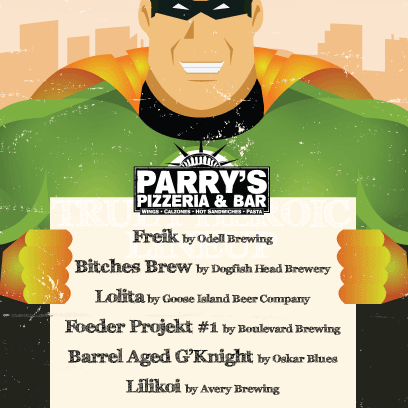 Parry's Pizza (Highlands Ranch) – Calling all craft beer enthusiasts in the Denver area! This Thursday, January 30th at Parry's Pizzeria & Bar in Highlands Ranch, there will be a super duper tapping of some very delicious craft beers. Parry's HR crew happened to get these kegs in at the last moment and decided, "What the hell?", let's tap these suckers. So, here they are with a compliment of some rare offerings. The tap list for the event will start pouring at 11AM:
Friek by Odell Brewing
Bitches Brew by Dogfish Head Brewery
Lolita by Goose Island Beer Company
Foeder Projekt #1 by Boulevard Brewing
Barrel Aged G'Knight by Oskar Blues
Lilikoi by Avery Brewing
Ale Yeah!
West Flanders Brewing (Boulder) – In honor of residing in the state of Colorado, West Flanders will be releasing "Orange in Brew Championship Ale", a special keg of their Canniption Pale Ale spiked with the zest from 18 oranges, a toss of dried orange peel, and a special dose of Omaha hops flown in by Nebraska Brewing Company in Nebraska. The Bronco beast of an ale will go on tap at West Flanders on Thursday, January 30th at 5:00pm. Go Broncos!
Friday, January 31
Yak and Yeti Restaurant & Brewpub (Arvada) – On Friday, January 31st at 4pm, they'll tap "Raj Mahal", a 7.9% 21 IBU Belgian-style Red Ale. The moniker for this Belgian-style Red Ale was coined by Brian Leppla, a Facebook contest winner that pulls on our heartstrings as we are huge fans of the phrase, "braj mahahl!" Cheers Brian and Y&Y crew!
Dry Dock Brewing Co (Aurora) – This Friday Dry Dock will be tapping the U.S.S. "Chai"yoming, a chai spiced Belgian-style Abbey Ale. As always it taps at 3pm and goes til it's gone.
Saturday, February 1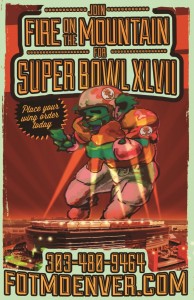 Fire On The Mountain (Denver) – Since wings & football go together like Hall & Oates, it's going to be a pretty big day over here at the eatery. For Pete's sake, get your orders in now (303-480-WING). We're rocking a limited Super Bowl menu. Check it out and call in your order as soon as humanly possible. Please and thank you!  In other news, we will be CLOSED on Monday the 3rd, the day after the Super Bowl, for a deep clean of the restaurant and our long-awaited employee party. We'll reopen Tues 2/4 and be ready to rock and roll all over again! We'll be open from 11 AM onward on Super Bowl Sunday for dine in, take out, and delivery. Contact Doorstep Delivery (303-993-7293) to have food delivered.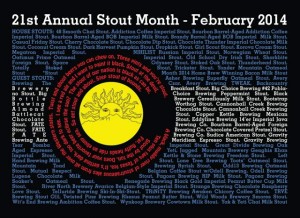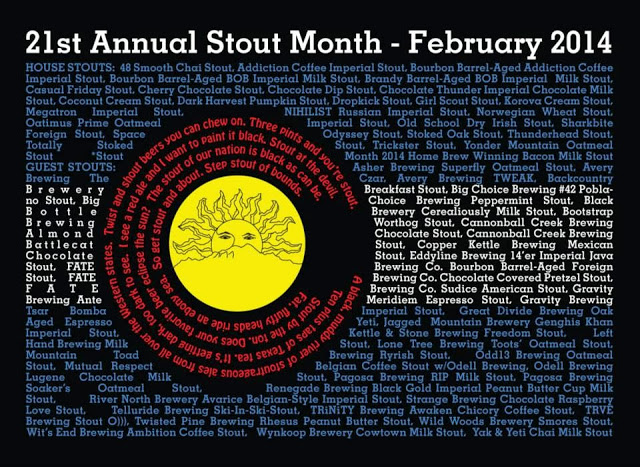 Mountain Sun Breweries (Boulder & Denver) – Here's today's poster of the day. It's all about the 21st Annual Stout Month – February 2014. This poster lists all of the names of all the stouts they plan to roll out during the full month of February this year. Plus, it's an awesome tribute to the Colorado state flag. What are you going to drink during stout month?
Left Hand Brewing (Longmont) – Stock up for the Big Game. On February 1st and 2nd, if you purchase a growler or 6-pack at the tasting room you'll receive a "Free Pint" card. Plus, if you need a keg of their sweet liquid cheeba for your big game party, kegs of Left Hand beer will be 20% off those days.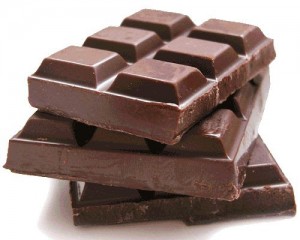 Copper Kettle (Denver) – Chocolate Milk Stout Release. What could be more perfect than starting February off with beer? Starting it off with Copper Kettle's chocolate milk stout! This ebony stout is here to please with a velvety sweetness and a rich chocolate finish. Join the CK crew starting at noon until 10:00 PM at Copper Kettle Brewing Co. They will have a food truck and will be pouring the goodness all evening long.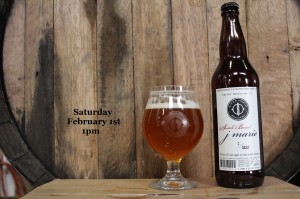 River North Brewery (Denver) – This Saturday, February 1st at 1pm, the brewery will release Scotch Barrel J. Marie, combining the classic esters of the brewery's farmhouse ale with notes of oak, smoke and peat. In total, the brewery bottled 110 cases of Scotch Barrel J. Marie. The lowest-numbered bottles will be available at 1pm on Saturday at the River North taproom, 2401 Blake Street in Denver, with the beer on tap as well. More bottles will appear on store shelves throughout Colorado the following week.
Sunday, February 2
Loveland Aleworks (Loveland) – What's up, NorCo? Looks like the fine folks up at Loveland Aleworks are looking to party hard for the Super Bowl festivities. In addition to hosting a Big Game party Sunday, Loveland Aleworks will also be tapping an exclusive small-batch beer. They will be unleashing ORANGE Zest Imperial IPA. Plus, there will be FREE BBQ (yeah, mothertruckers, you read that correctly) on hand for their potluck.  Just bring in a side dish to share with your fellow Bronco fan. Wear your best Broncos hats and bolo ties and be ready to have some fun with games and prizes included
Strange Brewing (Denver) – Strange Brewing Co (Denver) – The blokes and ladymisses at Strange Brewing are planning a potluck party. Bring a dish and share the awesomenesses. They open at 1pm on Sunday and will stay open until the party is over. Go Broncos!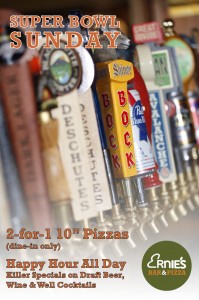 Ernie's Bar & Pizza (Denver) – Broncos are in the Superbowl!  So Ernie's Bar & Pizza is celebrating Super Bowl Sunday by rocking 2-for-1 10″ pizzas (dine-in only) and Happy Hour ALL DAY!  They'll have all of our TVs tuned to the game, volume up and they will be doting on the masses with their selection of craft suds to go along with their scrumptious 'za.  Reservations are filling up fast.  Give them a shout to make yours at 303-955-5580.
River North Brewing (Denver) – The biggest game in 15 years is almost here! As many of you know, the folks at RNB choose to NOT have TVs in the taproom to stimulate conversation. But they still want to provide you with some great beer to celebrate a championship! So this Sunday, they'll hold special hours and promotions. They'll open at 11am and close shortly after kickoff at 5pm. All "session" beer-to-go will be discounted. They'll be offering $10 growler fills of Hello, Darkness, River North White and BPR, and 4-packs of River North White pint-cans for $8!
So start your game-day right with a few pregame drafts, and show up to your viewing party with the best beer in the house! Holla!
Monday, February 3
Brewery Rickoli (Wheat Ridge) – The brewery is announcing their very first Vinyl Monday! They have a turntable, you provide the tunes. Blow that dust off your old albums and bring them in to relive the good ol' days and get a buck off your first brew. Think of the children and bring in the best you have to offer.
Tuesday, February 4
Fate Brewing Co (Boulder) – On Tuesday, February 4th, the brewery will celebrate turning one years old. Stop in and party with Fate all day long.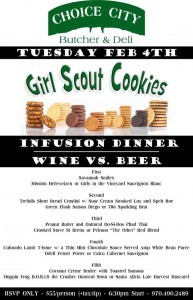 Choice City Butcher (Fort Collins) – Join this beer-friendly eatery for a true showdown of libations on Tues, February 3rd! To showcase the ongoing beer-vs-wine debate in the best way possible, the folks at Choice City Butcher are pairing beer and wine in style with a Girl Scout Cookie Infusion Dinner! Pictured above is the menu. Give them a call 970.490.2489 to RSVP!